11 Best Foam Rollers For Runners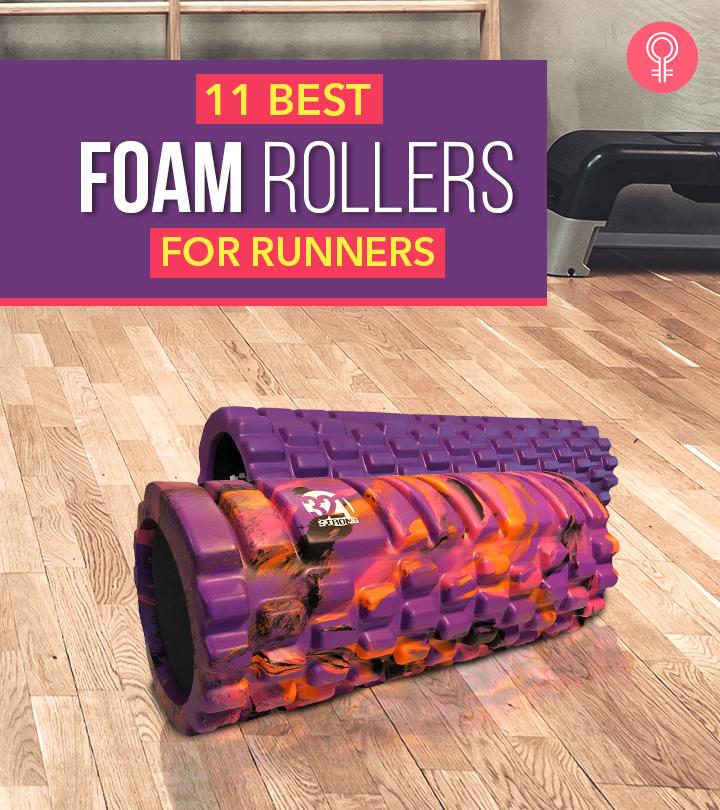 Are you serious about working out every day? If yes, you should also be serious about recovering after workout sessions. And foam rolling can help in recovery after intense workouts. It may help improve blood circulation, flexibility, and performance, and reduce soreness. Foam rolling will also keep you safe from any workout- related injuries and reduce muscle tension. It might be overwhelming to choose the best foam roller among numerous options. In this article, we have listed the 11 foam rollers available online. Scroll down to check them out!
11 Best Foam Rollers For Runners
The Day 1 Fitness Foam Roller helps you release tightness from the back, neck, TFL, and feet. It is versatile and provides full control and range of motion. This roller can be aids recovery from sports injury and chronic pain and alleviates musculoskeletal issues like plantar fasciitis, shin splints, and tennis elbow. The product is made from EPP foam that has high-density and resists bending or breaking under tension or weight. This lightweight roller provides a firm, deep tissue massage that is helpful for long-term therapy.
Pros
Durable
Sturdy
Lightweight
Versatile
Travel-friendly
Cons
None
The 321 Strong Foam Roller is a lightweight and rugged foam roller. It has triple grid 3D massage zones that mimic the finger, palm, and thumb of a therapist's hand. The roller is soft to relieve pain from a lower back injury, sciatica, or plantar fasciitis. It also enhances your performance and flexibility, increases blood flow to the massage site, and flushes away stored lactic acid. This roller helps in stretching overworked and strained muscles of the legs, arms, and feet.
Pros
Sturdy
Durable
Lightweight
Travel-friendly
Triple grid 3D massage zones
Ideal for beginners
Cons
The Rollga Foam Roller is great for back pain relief, hip stabilization, mobility, and shin splints. It increases the circulation of oxygen-rich blood flow that helps in the regeneration of damaged tissues. The roller is useful for people of all fitness levels, ages, and body types. It is made from EPP foam core, and the round ends offer additional positions for comfort. This product contours your body to target muscles while avoiding the bones and tendons.
Pros
Durable
Sturdy
Ideal for all fitness levels, ages, and body types
Ultra-lightweight
Travel-friendly
Cons
None
The Gimme 10 Foam Roller is made of medium-density EVA foam and uses dual-zone technology to get the best massage. It has triple grid massage zones that mimic a therapist's finger, palm, and thumb. This heavy-duty ABS hollow-core muscle roller soothes the back, leg, hands, and forearm and reduces scar tissue and cellulite. It also helps you get relief from sciatica, plantar fasciitis, and strained lower back and neck. The ribbed ridges apply acupressure on all your pain points.
Pros
Sturdy
Reduces scar tissue
Travel-friendly
Compact design
Spiky texture
Cons
The Original Body Roller is a 3D textured foam roller with triple massage zones that replicate the fingers, thumbs, and palms of the human hand. It is helpful in stretching muscle tissue and removing painful trigger points. The roller is made from heavy-duty EPP that is tough for athletes yet comfortable for a beginner. This lightweight foam roller helps speed up recovery, treat muscle pain, and increase performance and flexibility. The dual grid design has a finger zone with ridges on one side and spiked bumps on the other.
Pros
Durable
Lightweight
Travel-friendly
Easy to use
Cons
The Planet Fitness Foam Roller is your perfect companion for yoga, pilate session, and balance training. Its soft texture is great for beginners to start the myofascial release. This roller can be used before a workout for stretching and preventing injuries. It is made of a rugged PVC core that helps in flushing lactic acid from muscle tissues and increasing blood flow and circulation. The spinal channel of the roller keeps the bumps off your vertebrae. It offers therapeutic deep tissue massage in the comfort of your house. The roller's size is also well-suited for rolling on your back and shoulders.
Pros
Sturdy
Comfortable
Ideal for beginners
Cons
The Fitindex Electric Foam Roller gives you high-density therapeutic vibration for physical therapy and exercise to relieve muscle soreness. This electric foam roller is lightweight, durable, and portable. It has four vibration speeds and allows offers four hours of continuous use. This deep tissue massage roller helps you recover after running, yoga, climbing, weightlifting, martial arts, cycling, and boxing.
Pros
Portable
Lightweight
Easy to use
10-minute auto-shutoff
4-speed vibration
Cons
The Yes4All Foam Roller is made of high-quality PE that is 30% firmer and gives a deeper massage than standard foam rollers. It is smooth and lightweight and can retain up to 250 lbs of weight. The foam roller is great for improving muscle mobility, flexibility, and prevent soreness for sports enthusiasts. It also helps in stretching the muscles and expanding the range of movements.
Pros
Lightweight
Portable
Anti-slip grip
Available in various colors and sizes
Cons
None
The Costco Foam roller is lightweight, portable, and great for personal massage therapy. It has four speed vibrations that apply pressures for relieving muscle soreness and joint. The roller is equipped with rechargeable lithium-ion batteries that run for 180 minutes.
Pros
Lightweight
Portable
Long battery life
4-speed vibration
Cons
The Invincible Fitness Foam Roller is an ultimate massage, fitness, and exercise kit to ease pain and soothe aches quickly. It is made from EPP material that is firm yet lightweight. The roller is perfect for back and thigh muscle relaxation, while the muscle roller stick works for the shoulders, arms, legs, back, thighs, hamstrings, quads, calves, and shins. It comes with two massage balls and three resistant loop bands that are good for hard-to-reach areas. The resistance bands also help in improving strength, flexibility, and physical endurance.
Pros
Lifetime warranty
24-hour customer service
Lightweight
Cons
None
The Moji Heated Foam roller is great for easing back pain and tight muscles. It uses heat therapy to enhance all the benefits of foam rolling and release myofascial trigger points. The roller has a unique two-piece design that is suitable for both large and small muscles. The heat increases blood flow near the target muscles and improves the circulation to the affected areas.
Pros
Cons
None
You might wonder when you should use a foam roller. Scroll down to the next section for the answer.
Should You Foam Roll Before Or After A Workout?
Foam rolling can be performed before and after a workout. If you use the foam roller before working out, it will increase tissue elasticity, range of motion, and blood flow. You will be able to workout with ease and avoid injuries. On the other hand, using a foam roller post-workout is ideal for enhancing recovery.
Listed below are a few factors to consider while buying a foam roller to choose the ideal one.
Key Elements To Keep In Mind Before Buying A Foam Roller
Firmness: Foam rollers can be of a soft, medium, or hard density. Soft foam rollers are cushioned, while medium and hard foam rollers are firm and provide intense massage. Determine the firmness based on your objective of use.
Texture: A textured foam roller helps you get a cross-friction massage. This massage involves leaning on the foam roller and moving the targeted area sideways. A textured foam roller also helps in breaking up scar tissues.
Portability: A foam roller that is easy to carry can be used anytime, anywhere. Hence, look for one that is lightweight and portable.
Foam rolling is a great way to keep your body safe from injuries. Go ahead and try one from our list of the 11 best foam rollers!
Expert's Answers For Readers' Questions
Is foam rolling good for runners?
Using a foam roller before running can be beneficial for the runner. It stimulates blood flow to the muscle and prevents you from getting injured.
Should you foam roll every day?
Foam rolling every day is beneficial for your body. Even if you do not work out, foam rolling helps in decreasing the negative effects of sitting all day.
Can foam rolling be harmful?
Although foam rolling is not harmful, you should avoid it if you have serious injuries like muscle tear or break. In such cases, consult your doctor.
Recommended Articles
The following two tabs change content below.

Latest posts by Sucharita Mishra (see all)

Sucharita Mishra
Sucharita Mishra has a Master's degree in Biotechnology and specializes in writing on Health and Wellness. She has worked on determining various heavy metals present in green tea for her Master's dissertation at CSIR- CFTRI, Mysuru. After completing her degree, Sucharita decided to pursue her passion for writing. She is addicted to all things black and aspires to become a bat one day.