Munch On These & Foods To Your Heart's Content Without The Fear Of Gaining Weight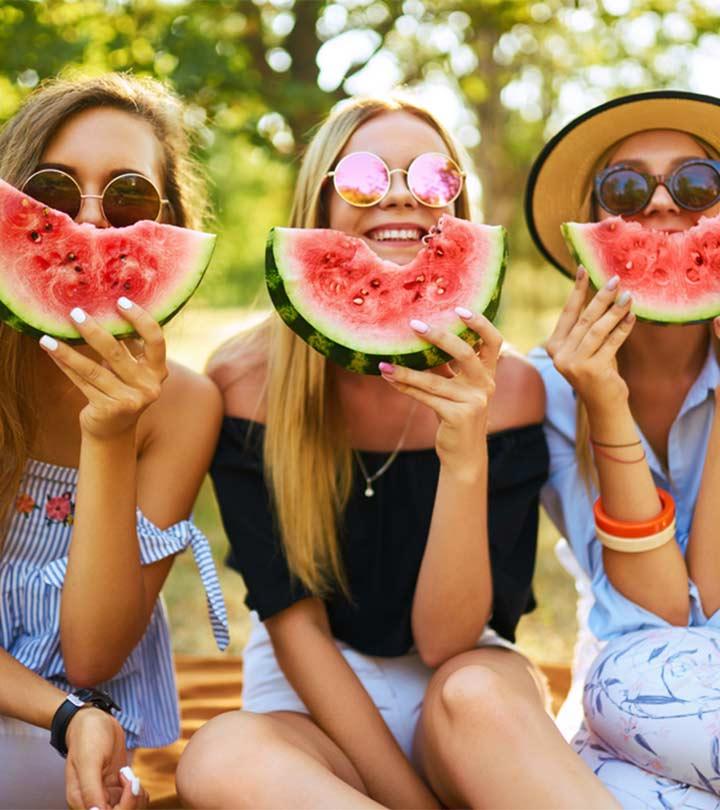 Many of us have charted a strict diet at some point in time and tried to follow it religiously for various reasons. Be it fitting into your favorite jeans, looking perfect for an event, or switching to a healthy food regime. But the thing about dieting that hurts the most is the quantity! What good will the tiny piece of cheesecake do on the side of your plate? Or the little bite of ice cream that melts away in your mouth before you can even taste it. We are not saying you should take a bigger piece of cake or a larger scoop of ice cream, but some foods can be eaten in large quantities but don't make you gain weight as other food items would. And the best part? They are absolutely delicious! Read on to know them all!
1. Watermelon
Most fruits remain low in calorie content and can be consumed in large quantities without causing significant weight gain. Fruits should be a regular part of everyone's diet. We should eat at least one and preferably two portions of fruit every day due to the health benefits provided by their vitamins and minerals. Fruits can also be blended into smoothies or used to make a fruity custard.
2. Vegetables
If you're trying to trim down, salad is a great way to eat your veggies. Without making you gain extra pounds since they include a lot of fiber, salads help in regulating your glucose levels and bowel movements and preventing you from overeating.
3. Peanut Butter
Peanut butter is the best food for weight loss since it is protein-rich and low in carbohydrates. Incorporating peanut butter into your diet is beneficial as it has been shown to reduce hunger and stabilize blood sugar levels.
4. Seeds
The health benefits of pumpkin & sunflower seeds are well-documented. These seeds are versatile and may be eaten as a snack, a topping for cereal or yogurt, or even a smoothie. Look no further if you're looking for a snack that will keep you full for a while. They are an excellent site of beneficial fats and vitamins while also being low in calories and suitable for daily consumption.
5. Popcorn
Popcorn is typically thought to be detrimental to attempts at weight reduction, so this may come as a surprise to some. However, unflavored popcorn is a great snack and will keep you feeling full even if you get a small bucket of it.
6. Fox Nuts
Because of their high vitamin content, fox nuts (also known as makhanas) are an excellent choice for a nutritious snack, especially when trying to cut calories and shed pounds. They weigh almost nothing, have few calories, and provide plenty of calcium. In addition, they're great for diabetes since they have a low Glycemic Index, are substantial in fiber, and satisfy hunger without causing overeating.
7. Amaranth Flour
Amaranth is a healthier alternative to other grains that are popular nowadays. Also known as rajgira and ramdana, this is often regarded as a highly nutritious and vitamin-rich food. In addition to being low in calories, Amarnath is also gluten-free. So you may eat them regularly to get your iron and calcium.
Foods That You Must Avoid
Now that you know the foods you can eat in plenty that will not make you gain weight, you also need to get rid of food that is common snacks but should be taken in limited quantities. Read on to know them all.
1. Fruit Juices
Juices are healthy, but because the fiber is eliminated during juicing and the amount of sugar is increased in its liquid state, fruit juice is rich in calories and can contribute to weight gain.
2. Fried Food
Avoiding fried meals, whether at home or in a restaurant, is a good idea because of their high calorie and fat content. In addition, anything fried in carbonated oil and stored for a long time is more harmful to your health than you know.
3. Soda
Sodas are heavy in sugar, which is counterproductive to weight reduction. In addition, they make it difficult to lose weight because they prevent the body from absorbing iron and other minerals.
4. Sugar
High-sugar diets should be avoided since they increase the likelihood of developing heart disease and increase risk factors such as obesity, inflammation, high blood sugar, and cholesterol levels.
5. Chocolate
Even while chocolate tastes great, it may be bad for your waistline. It's hard to imagine maintaining that discipline for the rest of one's life if one's diet consists solely of chocolate. As a result, keep your chocolate intake in check.
You eat what you become, and even though our busy lifestyle takes us away from home-cooked food, it is something you should stick to. Make sure you pay attention to your meals and keep them as healthy and organic as possible. So, which of these foods is your favorite? Let us know in the comments section!
The following two tabs change content below.