Top 10 Foundation Palettes Available In India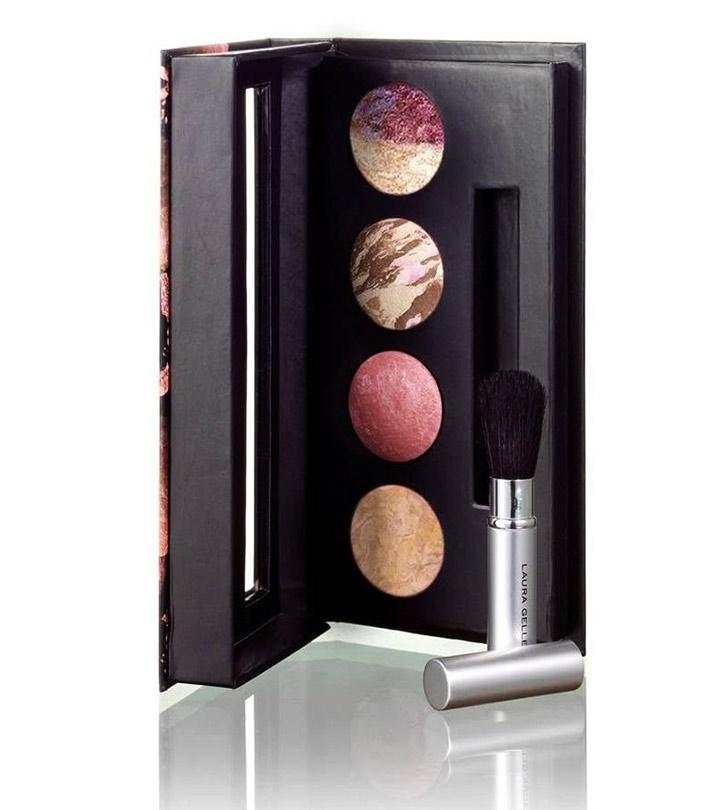 Are you a professional makeup artist? If yes, then a foundation palette is a must have for you. No matter whether you are a professional or simply a newbie in this business, a palette containing a great variety of cream or powder foundations is essential for you to offer flawless faces to your clientele. In this post, we have compiled a list of top 10 foundation palettes admired by makeup professionals around the world.
Here are top 10 foundation palettes. Pick the one that works best for you and your budget!
Being the first brand to launch pro-only foundation palettes in the market, Cinema Secrets has now become the most appreciated name in the beauty industry. It offers highly pigmented, creamy formula for complete correction and coverage.
Features: 
It includes 5 shades in 1 palette to match different skin tones. The formula is waterproof with no lanolin, petroleum derivatives and mineral oil. Its natural formula lasts long (up to 12 hours), offering a matte and easy to remove finish.
2. Make Up For Ever (MUFE) 11 Foundation Palette:
This 11-in-1 MUFE palette is inspired by various beauty events, where makeup artists use hand-filled palettes. The buildable formula of each of these panstick foundations is capable of providing all types (from high to sheer) of coverage.
Features:
 It includes 11 shades in 1 palette (medium beige, warm beige, dark beige, golden beige, chocolate beige, pink beige, light beige, caramel, ivory, porcelain, white). It contains plant waxes and nylon powder. It contains no mineral oil. It is easy to set up.
This HD Glamour Crème Palette from Graftobian is a true delight for makeup professionals. It is enriched with highly pigmented creamy formula, which offers amazing coverage for both blemishes and discolorations.
Features:
It is available in a vast range of shades (cool #1 and #2; warm #1, #2 and #3; neutral #1, #2, #3 and specialty; ultra-lites) and each shade contains 5 different variations that are designed to offer a silky smooth texture and a flawless high-definition finish.
This Ben Nye palette has been launched with as much as 50% more product and an advanced packaging to offer greater built-in mixing experience. The buildable sheer formula of the foundations allows the users to get full coverage and stunning makeup looks for any purpose.
Features:
It is available in 3 different forms (diverse harmony, fair and global), and each of them include 18 distinct shades that matches all sorts of skin tones. It offers a smooth and moist texture to the skin. It is easy to apply and easy to blend. It offers a natural (no-makeup) matte finish with long-lasting results.
[ Read: Best Waterproof Foundations Available In India ]
RCMA or the Research Council of Makeup Artists is considered as the first choice of most makeup artists these days. The high pigmentation of the products offers wonderful coverage; so that you can give your clients the perfect HD makeup looks as desired.
Features: 
It is available in 2 forms (Shinto #11 Palette and KO #10 Palette) and each of them contains 18 shades. The formula contains pure waxes and vegetable oils. It contains no lanolin, petroleum derivatives, mineral oil and perfume. It blends easily and offers a long lasting, matte finish. It requires no powdering or touch-up.
The Coloressence HD Makeup Base Palette with a lightweight formula helps create the perfect base for your makeup. It conceals imperfections, dark patches, and blemishes, providing radiant skin. This HD base palette is suitable for every Indian skin tone.
Features
It features 10 shades that work as a foundation and a concealer. The darker shades are perfect for contouring, while the lighter shades cover dark patches and fine lines. This product is also available in two palette shades.
7. Kryolan Ultra Foundation Palette 8 Colors:
If you are an avid follower of the makeup industry, Kryolan should be quite a common name to you. The Ultra Foundation palette from this reputed brand is equipped with 8 creamy shades that can be mixed and matched for a number of uses.
Features:
This Kryolan foundation palette comes in 3 distinct forms (Nr. 1, Trafalgar dark and Trafalgar light) and each of them consists of 8 elegant shades. The formula contains no mineral oil and offers complete coverage, natural-looking matte finish. It is suitable for all skin tones.
The Celebré PRO-HD Makeup Foundation 20-in-1 Palette is a revolutionary product that is developed by experienced chemists of Mehron. The creamy buildable formula offers the best coverage for each and every kind of occasion.
Features:
It offers a wide array of 20 exclusive shades. The non-greasy formula claims to contain no mineral oil or fragrance. It comes enriched with antioxidants (aloe vera, Vitamin E and pomegranate extract), which soothes the skin.
The world-famous makeup brand Bobbi Brown has recently come up with its limited edition face palette, which includes a foundation stick, a concealer, a pressed powder and a corrector. The products are made of creamy formula which is ideal to achieve an unblemished look.
Features:
This Bobbi Brown foundation palettee is available in 6 shades (porcelain, sand, beige, honey, almond and natural). The formula blends easily to give a flawless finish and long-lasting results. Best for corrective applications, it suits almost all skin tones. It is available in a travel-friendly packaging.
[ Read: Best Stick Foundations Available In India ]
10. Eve Pearl HD Pro Palette:
This high-definition pro palette from Eve Pearl is believed to fulfill all professional requirements of makeup artists in one go. It contains a dozen of HD dual foundation shades, which are perfectly accompanied by salmon concealer, HD cream blush, mattifier, illuminator, and lip treatment.
Features: 
Rich in Vitamin E, it contains 12 discrete shades of HD dual foundation. It is easy to blend and smooth to apply. It has a non-greasy, no-fragrance formula. It provides amazing coverage (sheer, medium and full), long-lasting finish. Suitable for all skin types and tones, it is available in a sleek travel-friendly packaging.
These amazing products will go a long way in giving your clients the look they desire. But why just limit their use to professionals? You can easily use them as part of your own personal makeup routine! Give them a try!
*Subject to Availability
Do you use professional makeup foundation palettes? Which one is your favourite? Share your choice with us in the comments section below.

Recommended Articles:
The following two tabs change content below.