10 Of The Best Foundations For Combination Skin
Foundation formulas that can pacify both oily and dry areas of your combination skin.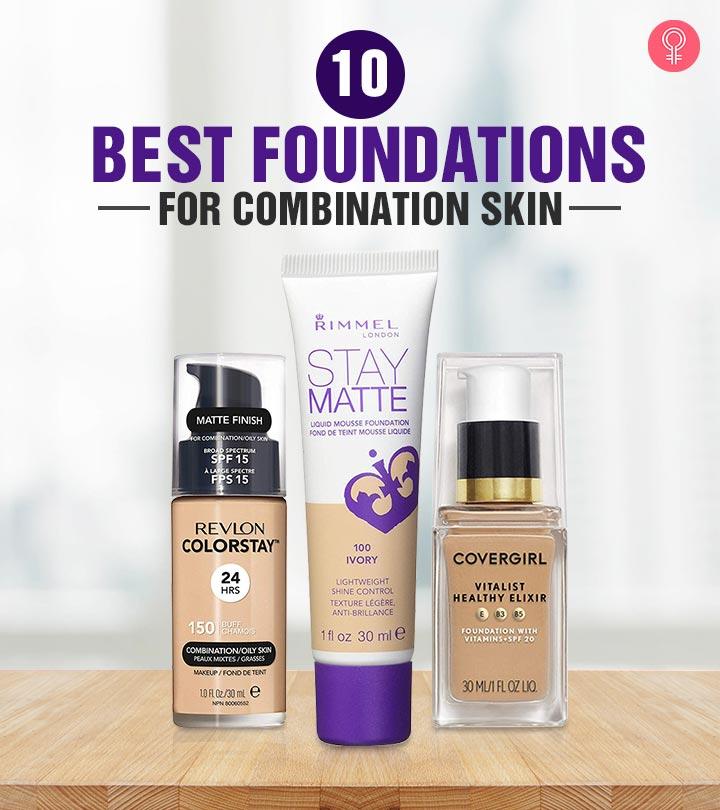 If you're someone with combination skin, you perhaps understand the struggle of finding the right foundation for your skin. The struggle is very real! Combination skin can be confusing as some areas of the skin, mainly the cheek region, are dry, while the rest of the face, particularly the nose and forehead, are oily and even breakout occasionally. That's why picking out a foundation for combination skin can be super tricky. To help you out, we've rounded up 10 of the best foundations that work beautifully on combination skin. Keep reading to find out more.
10 Best Foundations For Combination Skin
Review
This drugstore gem from NYX cosmetics allows you to customize your coverage like a pro. It provides sheer-to-full coverage and leaves your skin with a soft matte finish. Its formula blends quickly and sets well. Also, this will not further dry out dehydrated areas of your skin and will help control oil production in the oily areas. You can find your match from its range of 30 shades. As per consumer study conducted by the brand, the product has a proven efficacy of blurring imperfections and providing natural coverage. These visible results of the foundation were confirmed by most the participants. To know more about the nuances of the NYX Total Control Drop Foundation, have a look at this YouTube video and check out the reviewer's experience.
Pros
Lightweight
Easy to use
Good color payoff
Long-wearing
Budget-friendly
Cons
None

Price at the time of publication: $8.95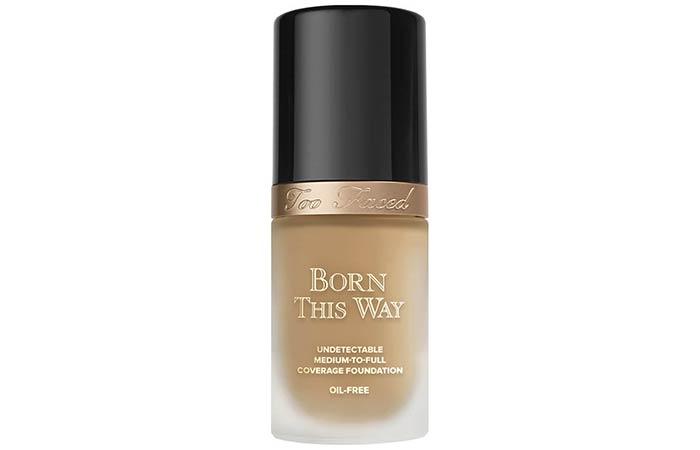 Review
This oil-free foundation with anti-aging benefits masterfully diffuses the line between skin and makeup for the perfect natural finish and undetectable coverage. Its formula is enriched with coconut water that delicately helps replenish your skin's moisture levels without over hydrating it and provides a flawless complexion. It also contains hyaluronic acid that provides visible results and gives you plump, smoother, and younger-looking skin. This all-day wear formula comes in a range of 35 shades. If you want to know more about the after effect of using this foundation, click on this video for the tester's experience with it.
Pros
Medium-to-full coverage
Lightweight
Long-lasting
Oil-free
Ideal for sensitive and mature skin
Cons
Price is on the higher side.
Price at the time of publication: $5889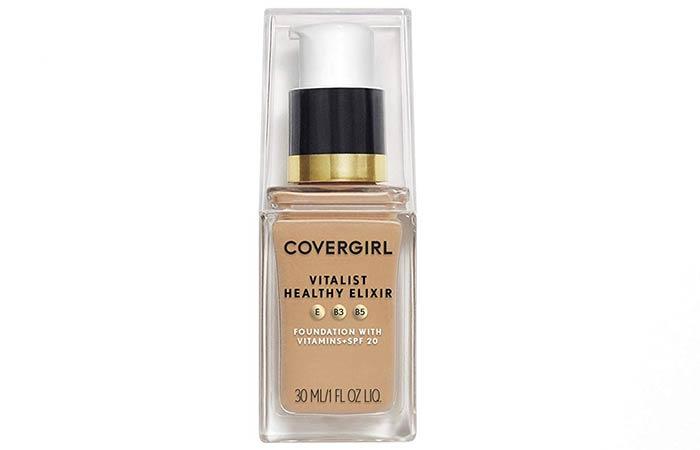 Review
If your combination skin is more on the sensitive side, try Covergirl's Vitalist Healthy Elixir foundation. It is a hydrating, vitamin-infused formula that's actually good for your skin. It contains vitamins E, B3, B5, a special antioxidant and vitamin complex, and SPF 20. If you want a healthy, luminous, radiant glowon a budget, this one's a must-try. It is presently available in 14 shades. To find out more about this foundation, check out this YouTube review for the tester's experience.

Pros
Suitable for acne-prone skin
Lightweight
Won't oxidize
Dewy finish
Buildable coverage
Cons
Limited shade range options
Price at the time of publication: $16.65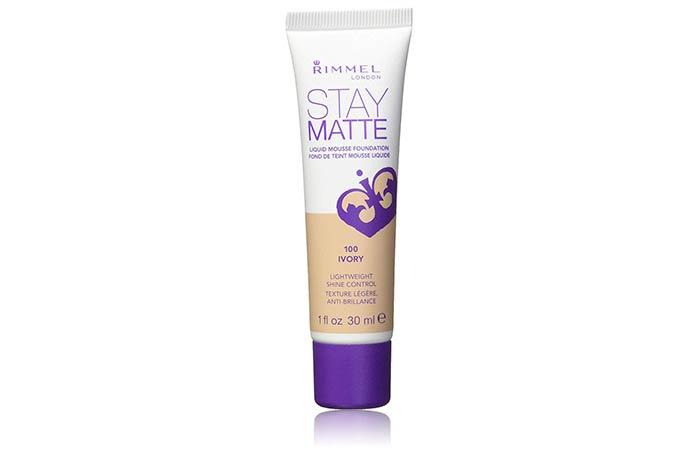 Review
This cult-favorite pore minimizing foundation from Rimmel contains a unique shine control complex to give you up to 12 hours of flawless matte coverage. Its feather-light liquid formula blends effortlessly for natural-looking, all day shine control. This blurring effect foundation is especially great if you want to minimize the appearance of large pores or fine lines on your skin. It has a range of 24 shades.
Pros
Silky smooth formula
Lightweight texture
Oil-free
Medium-to-full coverage
Long-wearing
Cons
None
Price at the time of publication: $8.4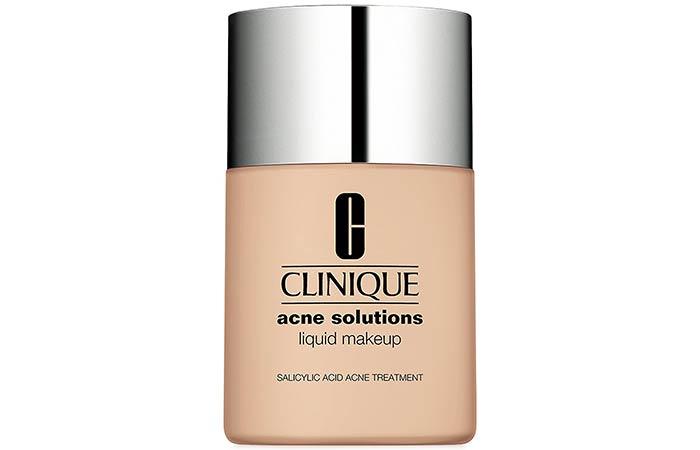 Review
If you are looking for a top-notch foundation formula for skin that is prone to breakouts, this one from Clinique is an excellent choice. Its non-irritating, oil-free formula instantly blends away blemishes and minimizes the appearance of redness. Its medicated ingredients help treat existing breakouts and keep them from coming back. This is available in a range of 14 shades.

Pros
Ideal for combination and oily skin types
Lightweight
Long-wearing
Non-acnegenic
Fragrance-free
Cons
None
Price at the time of publication: $22.0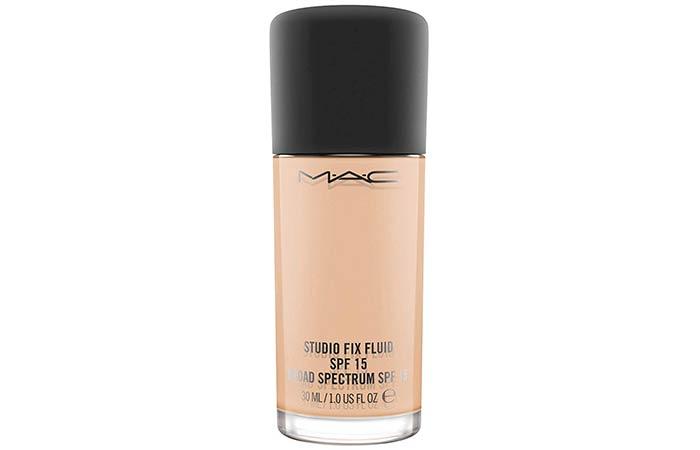 Review
If you are looking for outstanding coverage and wear-time, there is nothing that can beat MAC's classic Studio Fix Fluid. This foundation combines a matte finish and medium-to-full coverage with SPF 15 protection. It applies, builds, and blends seamlessly and evenly while controlling oil and minimizing shine. The product is non-acnegenic and dermatologist-tested. Your skin will look smoother and literally poreless by the end of it. You can find your perfect match from its range of over 60 shades.
Pros
Provides stay-true color
Super long-wearing
Photo-friendly
Non-streaky finish
Ideal for oily/combination skin
Cons
None

Price at the time of publication: $33.34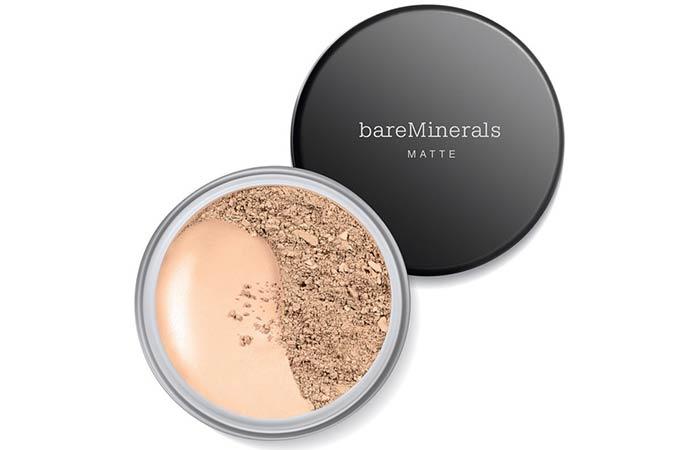 Review
This clean, loose powder foundation is made with just six ingredients. It delivers breathable, buildable sheer-to-full coverage with a silky matte finish while controlling excess oil through the day. It's non-comedogenic, has a weightless feel, and contains minerals that are 100% vegan. It does not clog your pores or cause breakouts. The product is clinically examined and confirmed to absorb excess oil and reduce shine as per a 6-week clinical study of 30 people conducted by the brand. It is also backed by another 19-day consumer study of 90 people according to which 87% of the participants saw a reduction in the appearance of pores and 84% of them experienced an improved skin appearance. Thus, the foundation is proven to deliver visible results. This non-greasy formula is available in 30 shades.
Pros
Buildable formula
Feather-light
SPF 15
Will not settle into pores or fine lines
Long-wearing
Cons
Price is on the higher side.
Price at the time of publication: $19.96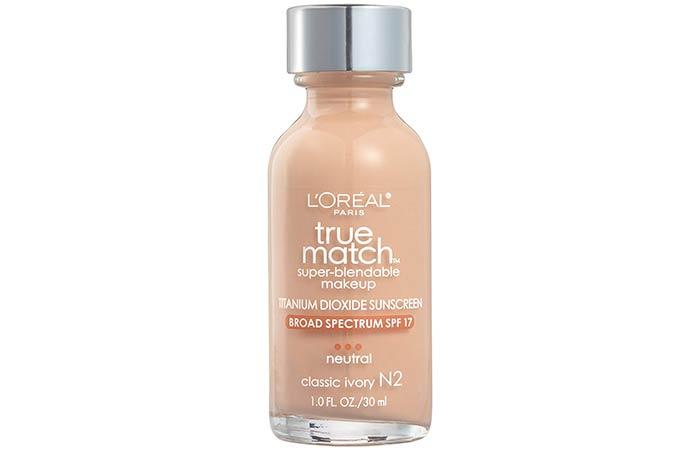 Review
L'Oreal's True Match Super-Blendable foundation is super hydrating and provides medium coverage with a natural finish that is so blendable – you can't tell where your foundation ends, and your skin begins. Its formulated with Pro-Vitamin B5 and Vitamin E to keep your skin looking radiant and healthy all day. This has a range of 45 shades for every skin tone.

Pros
Oil and fragrance-free
Easy to blend
Lightweight
Long-wearing
Value for money
Cons
None
Price at the time of publication: $13.9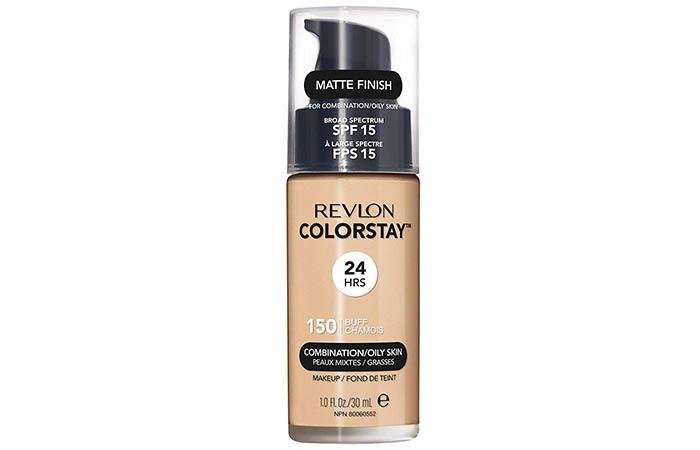 Review
Another drugstore favorite is Revlon's Color Stay foundation that is specially designed for combination and oily skin. This cult-classic, oil control formula delivers a flawless matte finish and is also oil-free. It is fortified with SPF 15 protection to shield your skin from harsh sun rays. It is currently offered in 43 shades.

Pros
Medium-to-full, buildable coverage
Easy to blend
True to color
Controls oiliness
Affordable
Cons
None
Price at the time of publication: $6.98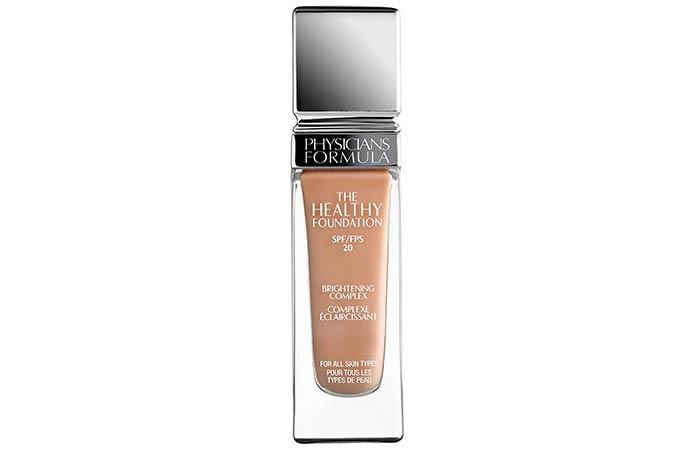 Review
The Healthy Foundation from Physicians Formula is compatible with all skin types and features an exclusive Brightening Complex and hyaluronic acid to hydrate, brighten, and improve your complexion. The added boost of vitamins A, C, and E provides flawless, healthy coverage and even skin tone. If you are looking for a dermatologically-approved and clinically-tested formulation, this foundation is a must-try. This comes in 24 shades.

Pros
Long-wearing
Buildable and breathable formula
Lightweight
Medium coverage
Budget-friendly
Cons
None
Price at the time of publication: $15.04
Now that you know which are the most suitable foundations for combination skin, it is time to know what to consider before buying one.
What To Consider When Buying Foundations For Combination Skin
Choose a foundation based on your skin type. For combination skin, the composition of ingredients like vitamins, peptides, and hyaluronic acid work the best. For acne-prone skin, choose a foundation that contains salicylic acid.
Hyaluronic acid helps revive, moisturize, and increase skin elasticity without causing any breakouts or allergies. The ingredient has a proven efficacy of delivering plump and radiant skin. A combination of vitamins like vitamin E and B3 helps hydrate and smoothen the skin. It also reduces signs of aging like fine lines, wrinkles, and hyperpigmentation. Peptides or amino acids boost collagen production to enhance skin texture. You may also look for dermatologist-tested and clinically-tested foundations to ensure it is safe for your skin.
Foundations come in either matte or shiny finish. You can opt for any finish according to your choice. If you feel your skin looks too oily and greasy, opt for the matte finish. Whereas, if your skin is drier, go for a glowy finish.
Any foundation with sunscreen makes an ideal choice as it eliminates the need to apply an additional coating. Besides, it also protects your skin from the harmful sun rays. You may either go for a broad spectrum sunscreen foundation or one with SPF more than 30.
In addition to this, you may also check the review of the products you intend to purchase to learn about the reviewer's experience with it. Further, make sure to perform a patch test if you are using any product for the first time to prevent irritation.