25 Best Foundations For Dry Skin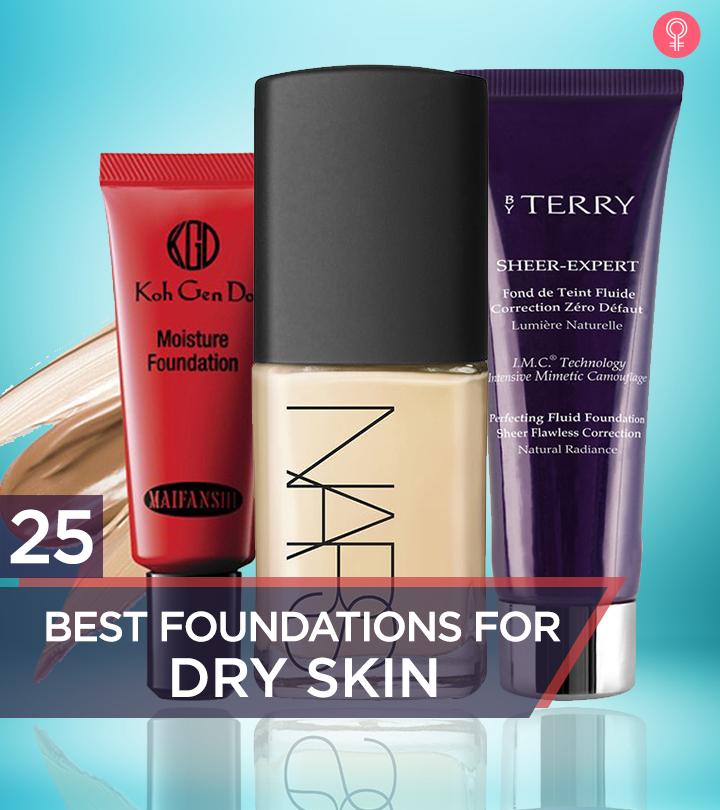 Are you sick of dealing with dry, dull, or flaking skin? It can be more than frustrating to apply foundation to a cheek covered in dry patches, and after all that effort, your "dewy finish" foundation looks chalkier than ever by 1:00 PM. You dry-skinned ladies need to amp up on moisture and choose a foundation that's made for your skin type, because sometimes, no matter how diligent you are about your skin care routine, you'll be cursed with dry patches at a certain point of the year. Here's our roundup of the 25 best foundations for dry skin that will put an end to your misery.
25 Best Foundations For Dry Skin
Pros
Lightweight
Blends easily
Does not settle into pores or fine lines
Loaded with natural botanicals
Leaves you with a natural, dewy finish
Cons
Jar packaging is unsanitary
Review
This foundation from Chantecaille is one of the top rated foundations for dry skin as its formula deals with dry skin with issues like dullness and redness. It's lightweight owing to its oil-free, gel-like consistency. It does not cling onto dry patches, neither does it look cakey. This one's infused with ingredients like aloe, chamomile, and arnica, which work to soothe sensitive skin and calm irritation. Although its price is on the higher side, this foundation is worth every penny, all you dry-sensitive skin types! Priyanka Jajoriya, makeup artist and hair stylist, says, "Chantecaille's Future Skin Oil-Free Foundation offers buildable coverage for a custom finish."
Price at the time of publication: ₹11421
Pros
Hydrating and lightweight
Long wearing
Non-comedogenic
Light to medium coverage
SPF 20
Cons
Its price may be a concern for some
Review
This foundation blends like a dream, and it's perfect for dry, sensitive skin type, and an uneven skin tone. It's easily the best foundation for dry skin as it does not cling to dry patches. If you're looking for a medium coverage foundation formula that gives your face a luminous effect – you have to try this foundation from La Mer! This one's also great for mature skin as it provides ample hydration. Priyanka Jajoriya, makeup artist and hair stylist, says, "It seamlessly blends and diminishes the appearance of pores and imperfections, while SPF and antioxidants help protect a newly flawless complexion."
Pros
Blends easily
Lightweight
Super hydrating
Leaves your skin with a luminous finish
Natural-looking
Cons
Heavy, glass bottle without a pump
Review
This foundation is a light, buildable, liquid formula that imparts subtle luminosity with a rather weightless feel. This is a holy-grail foundation for dry, patchy skin. If you prefer a natural-looking, glowing, luminous skin with light coverage – you will love this! However, it only comes in eight shades and those of you with very pale or very dark skin tones may not find a shade that works for you. It contains ingredients like Hyaluronic Acid, Vitamin E, C, and Green Algae Extracts – all of which hydrate and condition your skin from within.
Price at the time of publication: ₹9463
Pros
Rich, creamy, hydrating formula
Natural, dewy finish
Does not cling to dry patches
Contains SPF 15
Light coverage
Cons
Won't cover major imperfections
Review
The best way to apply this skin tint, which is leaning more towards a foundation, is by using a makeup sponge. It goes on beautifully and hides redness and pigmentation well, but it won't do much to hide acne scars or very dark undereye circles. Its formula is very hydrating and does not cling to dry patches or accentuate them. It's paraben-free and is perfect for winter wear as it contains Hyaluronic Acid.
Pros
Easy to blend
Long-wearing
Medium to full coverage
Compact and travel-friendly packaging
Cons
No SPF and the limited shade range
Review
This foundation is one of the best foundations for dry skin as it provides you with exceptional coverage. It leaves you with a velvety, slightly powdery finish, so you can use a hydrating finishing spray to set it. Its key ingredients include jojoba oil, chamomile, and calendula, lemon peel oil, and sunflower seed oil, all of which are very soothing and nourishing for dry skin. This one's great for acne-prone dry skin or aging skin with fine lines and wrinkles.
Pros 
Ultra-matte finish
Long-lasting
Creamy consistency
Highly pigmented
Paraben-free
Cons
None
Review 
The L.A. Girl Pro Matte Foundation provides a soft, suede-like finish and keeps your skin shine-free all day. The creamy formula provides buildable coverage and can be used for day and nighttime wear. This foundation is enriched with vitamins E and B5 and sunflower oil. It minimizes the appearance of enlarged pores and fine lines, offering even-toned skin.
Price at the time of publication: ₹1063
Pros
Feels like skin
Dewy and velvety texture
Photographs well
Non-comedogenic
Cons
It has a strong fragrance
Review
This foundation from By Terry lasts all day long and hides imperfections well without looking like you have a mask on. It does not emphasize dry patches on the skin and works beautifully for sensitive skin. It makes your skin look fresh, luminous, and healthy. The formula offers light to medium coverage. If you want a skin that looks and feels like yours, but only better – you ought to try this. It's not cheap, but it's worth every penny!
Pros
Silky formula
Easy to blend
Medium coverage
Contains hydrating ingredients and antioxidants
Cons
The push-top dropper dispenser causes wastage of product
Review
This foundation is easy to blend and feels more serum-like, rather than a liquid foundation. It's filled with the goodness of plant-based antioxidants, some of which are reparative in nature. Now it definitely is one of the few lightweight foundation formulas on the market that won't break you out or dry out your skin further, but here's the catch – it tends to look a little artificial when worn during the day. The intensity of shimmer in its formula may hold you back when it comes to this foundation. However, it can be worn during the evenings or for special occasions.
Pros
Medium to full coverage
Glowy, satin finish
Fragrance-free
Available in 20 shades
Cons
No SPF and its pump is sold separately
Review
This is an incredible foundation for dry skin, and it blends like a dream, provided you have the right tools for application. Using a buffing brush is a good choice for applying this formula and for blurring out tricky areas around the nose, forehead, chin, and around your mouth. It contains turmeric extract, which is great for acne-prone, sensitive skin. It does not feel too heavy on the skin, and its coverage is buildable. Also, it leaves your skin looking healthy and fresh while adding a nice, subtle glow to it.
Price at the time of publication: ₹8999
Pros
Lightweight
Acts as a moisturizing skin treatment and a foundation
Contains high-quality, natural ingredients
Leaves you with a dewy finish
Cons
Review
Looking for a foundation with a whole bunch of natural ingredients? This one by Josie Maran is a treat for dry skin as it contains pure Argan Oil. If you're going for a dewy finish, this oil-based foundation for dry skin does wonders and it won't emphasize dry areas on the skin. It also contains Blueberry Argan Extract, Ginger Root Extract and White Bird of Paradise Extract that helps restore skin luminosity and recapture your skin's radiant vitality.
Pros
22 shades to choose from
Long-wearing
Feels extremely light on the skin
Does not oxidize
Cons
Review
If you like to keep it minimal and prefer natural-looking makeup, this Smashbox foundation is meant for you. Despite being an oil-free formula, this foundation is quite hydrating, and it blends into the skin seamlessly, leaving you with a natural finish. It stays on easily for 10 hours or more, and it applies evenly without clinging to dry patches. Offering sheer to medium coverage, this foundation makes for a great day and night formula for dry-skinned beauties.
Price at the time of publication: ₹27.2
Pros
Easy to apply
Medium to full coverage
Long wearing
Lightweight formula
Cons
The fairly limited shade range
Review
This foundation from Covergirl makes your skin look healthy and radiant with a touch of glow. Apply this using a dampened beauty sponge for the most flawless look. It works beautifully for dry skin, and you'll get that desirable dewy glow through the day. It contains antioxidants and vitamin complex, plus SPF 20, which helps make your skin look healthy all day long. However, if you have super sensitive skin, you might want to avoid using this every day as it contains fragrance and several pore-clogging ingredients like wax and silicones.
Pros
Easy to apply
Pigmented
Blends well
Lightweight formula
Cons
Review
Looking for a foundation to hydrate and plump-up your skin? This foundation works well for very dry skin – it provides dewy, natural coverage, without looking made-up. If you have redness, freckled, dry, and sensitive skin – this is something you ought to try. It indeed is 'deeply hydrating' without being greasy.
Price at the time of publication: ₹4939
Pros
Easy to use
Lightweight
Blends well
Does not dry out the skin
Cons
The fairly limited shade range
Review
If you have dry, mature skin or sensitive skin type, this formula by Japonesque is a must-try for you! Its coverage is sheer, and this looks very natural on the face. It does not sink into fine lines or wrinkles, neither does it clog pores or feel heavy on the skin. This comes in a range of ten shades and is also quite long-wearing.
Pros
Light to medium coverage
Fragrance-free
Non-comedogenic
Soft, luminous finish
Cons
The packaging is heavy and not travel-friendly
Review
If you're looking for a buildable coverage foundation that leaves you with a natural-looking, luminous finish, this one by Laura Mercier is made for you. It's easy to blend and evens out your skin tone, covering all your problem areas without looking cakey. It also covers redness well and looks very subtle on the face. Is this the right time to mention that this is the best foundation for dry flaky skin?
Pros
Blends well
Goes on smoothly
Light to medium coverage
Contains SPF 15
Cons
Does not come with a pump dispenser
Review
This foundation from Clinique makes for a great daily wear foundation. It's perfect for sensitive, acne-prone dry skin as its non-comedogenic and feels very light on the skin. It also has SPF, which is a major plus. The formula is allergy tested and is also 100% fragrance-free. Clinique stands up to its claims – "feel naked, yet covered to perfection."
Pros
Good staying power
Non-streaky finish
Hydrating
Makes skin look plump and healthy
Cons
No SPF and limited shades
Review
If hydration is your priority, this foundation from It Cosmetics will leave your skin looking naturally glowy and radiant. It's lightweight, does not cling to dry patches, and leaves your skin feeling extremely smooth. Also, its staying power is great as it lasts for a good 7-8 hours. However, here's the catch – this foundation is available in only five shades, making it difficult to find an exact match for all skin tones.
Pros
Lightweight and natural-looking
Easy to apply
A wide range of shades available
SPF 15
Cons
No pump dispenser and bulky packaging
Review
This Bobbi Brown foundation will only work for you if your skin is free of dark spots. It covers redness and evens out skin tone, but it's a little too sheer to hide spots.  On the other hand, it's a moisturizing foundation for dry skin and will leave your face with a beautiful, dewy finish. It's staying power is decent, and it does not dry out your skin or make it look dull throughout the day.
Pros
Does not cling to dry patches
Covers redness and acne scars
Buildable coverage
Cons
Price is high for the quantity you get
Review
If you're on the hunt for the best coverage foundation for dry skin that won't budge for a good 10+ hours, this Japanese foundation is what you need. It helps deliver a very natural finish, making your skin look fresh and flawless instantly. This one's on the expensive side, but it does feel like silk on the skin! Highly recommended if you're looking to try something different.
Pros
Lightweight
Easy to use
Blends seamlessly
Cons
Contains fragrant plant extracts and alcohol
Review
If your skin is very dry and dehydrated, this Tarte foundation is a must-try! It offers sheer to medium coverage and makes skin look even-toned and airbrushed. It leaves you with a dewy and radiant finish. It comes in a wide range of shades from fair to deep skin tones. The matching concealers from this range are equally good!
Price at the time of publication: ₹8989
Pros
Sheer to buildable coverage
Long lasting
Super dewy finish
Cons
Review
This foundation photographs amazingly and is so easy to apply. It has a small opening to dispense the product, which is convenient because you don't get too much product coming out at once. It gives you over eight hours of wear time without any touch ups. It is the best MAC foundation for dry skin as it does not emphasize or cling to dry patches on the skin.

Price at the time of publication: ₹35.82
Pros
Blends seamlessly
Long wearing
Does not feel heavy on the skin
Cons
Can accentuate fine lines
Review
If you have very dry skin, it's best if you use this along with a hydrating finishing mist or spray. This formula has customizable coverage and a huge shade range. A little goes a long way, and if you use too much, it will end up looking cakey. It has a light synthetic fragrance, but it does not linger on for long.
Pros
Feels light on the skin
Buildable coverage
Has added benefits of a skin serum
Cons
Review
Looking for a 100% cruelty-free and vegan foundation? Your search ends here with the 100% Pure Second Skin foundation. It's enriched with the goodness of ingredients like Vitamin E, turmeric, and calendula. It also contains anti-aging antioxidants! If you have dry, mature skin, definitely give this a try!
Pros
Goes on smoothly
Long wearing
Affordable
Cons
Does not provide adequate sun protection
Review
This is one of the best drugstore foundations for dry skin. It's available in a range of extensive shades for light to deep skin tones. It applies and blends like a dream, leaving you with a radiant glow. This one provides light coverage and covers redness, evens out skin tone, and makes your skin look healthy. Also, the packaging is hygienic and travel-friendly.
Price at the time of publication: ₹11.97
Pros
Leaves you with a luminous glow
Medium coverage
Long staying
Cons
It tends to settle into fine lines
Review
If you're looking for a foundation for dry skin with lasting coverage and is suitable for daily wear, this one from Clarins fits the criteria perfectly. It's lightweight and looks very flattering once it sets. The packaging is unique, and its pump gives you full control over how much product you dispense.
The foundations listed above work very well on dry skin. Now, let's look at the factors to consider before buying any of these foundations.
Things To Consider Before Buying Foundation For Dry Skin
Foundations have water-based, oil-based, or powder-based formulas, depending on the skin type they are intended for. Incorrect selection of base can lead to skin issues like flaking and creasing. Oil-based foundations are the most suitable for dry skin as they add moisture and hydration to it. It is best to steer clear of foundation sticks, powders, and mousse as they can look cakey or creasy on dry skin.
Coverage is important to consider because it changes your whole makeup look. Foundations are categorized based on the coverage they provide – sheer, medium, or full. For dry skin, medium or light coverage works the best as they let your skin breathe. Full coverage foundations can make your face look cakey or painted.
Your facial skin is much more sensitive and delicate compared to the skin onthe rest of your body. Therefore, it is important to choose a foundation that does not cause any irritation or rashes. Go for paraben-, sulfate-, and silicone-free foundations as they are gentle on the skin and suitable for dry and sensitive skin. Ingredients like salicylic acid should also be avoided as they tend to absorb the natural oil from the skin, which can cause dry skin to become even more dehydrated.
Hydration is essential for dry skin. A hydrating foundation increases the level of natural skin oils and moisturizes your skin from deep within to make it look smooth and glowing. Look for ingredients like hyaluronic acid and ceramides that help in boosting skin hydration.
Choosing the right foundation shade for your skin is essential, especially if it is dry. Anything that makes your skin look unnatural will ruin your entire look. Therefore, ensure you go for the right shade according to your natural skin color. Additionally, always test the foundation on your jawline before purchasing it.
Tips: How To Choose And Apply Foundation To Dry Skin
Now that you have an understanding of your options, here are a bunch of tips you should keep in mind while selecting your product.
The key to a flawless finish lies in prepping. You need to exfoliate well, moisturize with a nourishing lotion or face cream, and wait for it to seep into your skin. Also, apply a primer before going in with your foundation.
To quench your dry skin throughout the day, choose a light coverage, hydrating foundation. Look for words like 'moisturizing,' 'nourishing,' and 'hydrating.'
It's also ideal if your foundation has ingredients like Shea Butter, Vitamin E, and essential oils.
Look for textures like lightweight, light-reflective, and creamy because these give you the illusion of dewy skin.
If you have dry skin that is prone to breakouts, avoid oil-based products; instead, use a lightweight, liquid foundation or serum that is water-based.
Always test out a sample before purchasing your foundation.
It's also advisable to use tools such as a makeup sponge or a brush instead of using your fingers to apply the foundation.
Hydration is crucial! You can never get enough water – which moisturizes you from within. Drink a lot of water, eat fruits and veggies with high water-content to sneak in some extra H2O.
While applying your foundation, use a damp makeup sponge and press it into your skin for added hydration.
If you have dry, mature, and aging skin, avoid pressed powder foundations as these will settle into lines and only accentuate them further. Use a formula with anti-aging ingredients like hyaluronic acid instead.
Frequently Asked Questions
What are some common mistakes people with dry skin make when choosing a foundation?
Some common mistakes that people make include using matte or powder-based foundations that can accentuate dry patches, selecting a foundation with heavy coverage that can feel cakey on dry skin, and not properly moisturizing the skin before applying the foundation, which can lead to a less smooth and flaky finish.
Can you suggest a lightweight foundation that provides ample coverage for dry skin?
The NARS Sheer Glow Foundation is a great option that gives your skin a radiant and natural-looking finish. Its hydrating formula helps to keep dry skin moisturized throughout the day, making it a favorite among those seeking a luminous and comfortable foundation.
How can I find a foundation that won't emphasize fine lines and wrinkles on my dry skin?
The Honest Beauty Everything Cream Foundation and the Japonesque Luminous Foundation are some of the best products that will not emphasize signs of aging. Look for a hydrating and lightweight formula labeled as 'anti-aging' or 'moisturizing'. Test the foundation on your skin to ensure it doesn't settle into lines, and opt for a dewy or satin finish, as matte foundations can highlight the texture.
Recommended Articles: