50 Best Fringe Bangs Hairstyles For Women To Try In 2023
Super easy ways to revolutionize the look of your mane and make you a head-turner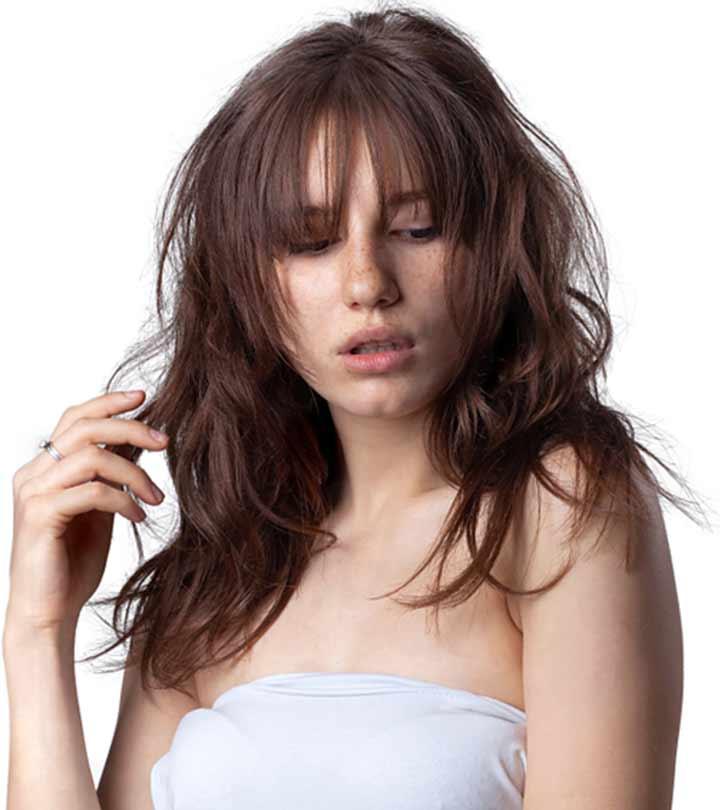 When looking for the best fringe bangs hairstyles, making sure they suit your face cut is essential. People have experimented with cutting fringes like no other, but before you set scissors on your hair, let us tell you why it could be a bad idea. For starters, cutting bangs takes a lot of precision, skills and hair maintenance. So, you should only attempt it once you get the green light from your hairdresser that the haircut will suit you. This article lists some interesting bang ideas to make you look drop-dead gorgeous. Keep scrolling to check them out!
Celebrity hair stylist Emilio Uribe says, "I'm a huge fan of fringe bangs. The chopped style brings character to any face shape and skin tone. It sets a vibe, from rocker chic to polished beauty, depending on how choppy you cut the bangs and how close to the brow line they sit." This article lists some interesting bang ideas to make you look drop-dead gorgeous. Keep scrolling to check them out! This article lists some interesting bang ideas to make you look drop-dead gorgeous. Keep scrolling to check them out!

Before You Get Started
Fringes are high maintenance and dry quicker than the rest of the hair. Therefore, they must be styled first. They also need regular grooming and haircare like trimmings every 2 to 3 weeks to maintain your look.
For fine hair, the fringes need to be super thick. Otherwise, they will stick to the forehead when it's humid.
Use texturizing hair products for your fringe if you are going for a shaggy, beachy hair texture look. Otherwise, a holding spray is ideal for salon-like finish.
Heavy blunt bangs are not suitable for round and square faces. However, blunt bangs at the center with long, chin hair length layers can make the face look slimmer.
The History Of Fringe Bangs
When I was a little girl, I had Cleopatra bangs for the longest time. I always saw pictures of Cleopatra with blunt bangs and short hair. I hate to break it to you, but chances are that she more likely sported curls or wore a wig of curls. So, when did bangs really come around and become a fashion?
Bangs didn't enter the hairstyle scene until the 1800s. That was the time when hair was cut short in the front and the rest was styled in tight curls.
The 1900s were when the bangs trend really came to the forefront. They gave rise to brushed parted bangs (1910), the blunt fringe (1920), the curled and slicked-down fringe (1930), bumper bangs (1940), baby bangs (1950), side-swept baby bangs (1960), wispy front bangs (1970), cap bangs (1980), gothic bangs, curly bangs, and side bangs (1990). Wispy bangs and grown-out bangs came around in the early 2000s.
Now, let's look at some fringe bangs styles that you can try out to reinvent yourself!
50 Trendy Fringe Bangs Hairstyles In 2023
1. Choppy Uneven Fringe
An unevenly chopped fringe adds not only volume to your hair but also dimension to your face. It covers up a broad forehead, frames your eyes rather poetically, and gives you a young and fresh look.
2. Piece-y Fringe
This look involves spreading out your fringe across your forehead in pieces of random thickness. If you have fine hair, this will create an illusion of thickness. It will also cover up enough forehead to balance the length of your face.
3. Fringe Beneath Braided Crown
Doesn't this look like a hairstyle straight out of a fairytale? The fringe is swept to one side while a section of hair from the side is braided over the head like a crown. The fringe seems to be peeking from underneath it, creating a double-layered style for a princess-y look.
4. Disheveled Fringe
This is a fringe for anyone who loves sporting that I-woke-up-like-this look. The fringe itself is chopped shorter than the usual length. Play around with it for a tousled look, and there you have it – an effortlessly stylish look!
5. Tendril Fringe
Style your hair in the front in a bunched tendril or spread a few pieces out. This little detail will look especially great on curly hair. The style will give you a young and playful vibe.
6. Thick Fine Blunt Fringe
Blunt bangs are bangs that are cut straight across. They are not feathered at the end. A blunt fringe is a great way to flaunt your hair's thickness. Keeping your bangs and layers separate helps flaunt your hair's thickness.
7. Thick Highlighted Bangs
A great way to flaunt your bangs and frame your face is to add in some soft highlights. These highlights act as subduing elements. Eyebrow-grazing bangs help cover a large forehead and showcase the lower half of your face.
8. Side-Swept Fringe For Thick Hair
Side-swept bangs are a top favorite among women! This is because they suit most face shapes. These bangs give your face a slender appearance and cover up a large forehead. "This popular hairstyle of the early 2000s is now making a comeback. The latest rendition of this classic do is upgraded for the contemporary woman. As we head into the new year, it is all about embracing one's unique spin on classic hairstyles, and side swept bangs, especially for women with thick hair, are a great addition to compliment one's features," says Uribe.
9. Blinding Bangs Cosplay Fringe
I've seen many cool anime characters with this hairstyle! This is why it is often spotted at Comic Con and other cosplay events. These slick bangs add mystery and drama to your look. And if you're trying a cool eye makeup look, this fringe hairstyle will draw attention to it.
10. Glossy Curved Bangs
This smooth curved fringe is reminiscent of Barbie. It's a great fringe hairstyle to make thin hair appear thick. It also makes a round face look heart-shaped. These bangs draw attention to the center of your face, focusing on your facial features.
11. Tri-Parted Side-Swept Bangs
As random as this bangs style might look, there's more to it than meets the eye. It's designed to shows off the forehead while covering it at the same time. This type of fringe helps even out any asymmetry in facial features. It also helps cover a large forehead.
12. Full Thick Side Fringe
So, you've got a dark eyeliner and that classic red lip look going. Flaunt your makeup with a full thick fringe that's slightly parted in the front. Get the layers cut right near your face to help frame it. The bangs paired with the layers give your face a central focus on your facial features.
13. Thin Long Side-Swept Bangs
If you have a long face, use these bangs to outline it to your advantage. These long, dramatic, side-swept bangs cover your face partially, making it appear a bit smaller. It also accentuates the lower half of your face.
14. Uneven-Ended Bangs
If you have fine hair, this is the perfect style of fringe for you. Bangs with uneven ends give your face more dimension and a more contemporary look. They soften your facial features, as well.
15. Heavily Layered Fringe
Tyra Banks is truly a beauty queen when it comes to style. These heavily layered bangs made such a hullabaloo when she first flaunted them that they are also known as "Tyra Banks" bangs. These bangs give any hairstyle a chic edge.
Uribe offers his insights on this style: "This modern take on bangs adds more texture and dimension and even adds some height if styled properly. Before you really go for heavily layered fringe bangs, ease into this transition to make sure you are ready for the maintenance that comes along with it – especially styling. It's best for women with straighter, thicker hair."
16. Light Wispy Bangs With Long Sides
Hailey Baldwin looks stunning with these wispy bangs. They have a French feel to them. But, the long sides give this hairstyle a Japanese twist. These long wispy bangs are perfect for all face shapes.
In Uribe's expert opinion, "Light wispy bangs are great for women who want the option to wear their hair up or down. With this type of style, you have more variety and flexibility when it comes to styling."
17. Five-Parted Fringe
If you have a large forehead, finding a hairstyle can be tough. Pair any hairstyle with these five-parted bangs. They show off parts of your forehead to balance your face shape. And, they look stylish!
18. Short Uneven Bangs
If you have a round or heart-shaped face, opt for uneven side-swept bangs. Feather the uneven ends so that they soften your facial features. Keep the bangs tapering to one side. This is a great way to spice up your asymmetrical bob.
19. Full Centered Baby Bangs
Baby bangs are difficult to style. If your face is wide and angular, I don't recommend this style of bangs to you. These bangs suit square, diamond, oval, and long faces. They flaunt your cheeks and jawline well.
20. Curved Bangs For Curly Hair
If you have an oval face, check out Zooey Deschanel's hairstyles. Almost all fringe styles suit this face shape. A great way to jazz up these bangs is to curve them at the ends. This draws attention to your eyes.
21. Thick Blended Bangs
Ever heard of the notorious hairstyle, i.e., the bowl cut? This thick fringe was clearly influenced by it. It is the best part of getting that cut. This fringe draws all the attention to your facial features.
22. Bronde Fringe
Bronde has been a highlighting craze in recent years. The mix of brown and blonde gives your hair more depth and dimension. It also softens your face. If you have sandy blonde or light brown hair, get some face-framing bangs and color them bronde.
23. Thin Faux-Feathered Bangs
That's right, these aren't real bangs. These faux bangs are created with the ends of your hair. Tie your hair in a high top knot and leave the ends hanging over your forehead. Make sure the ends of your hair are feathered to make the bangs look light and breezy.
24. Beyonce Bangs
You know when Queen Bey does something, everyone's gonna follow in her footsteps. The same goes for her hairstyles as well. These side-swept bangs work for all face shapes. Notice the bangs tucked underneath her hair at the ends. This gives this hairstyle a slick look.
25. Deep Wind-Swept Fringe
A fringe meets side-swept hair in this hairstyle. This is a great way to add a messy touch to your glamorous hairstyle. Part your hair in a deep side parting and comb your bangs over your forehead. Spritz on some hairspray and step out to allow the wind to style it!
26. Dash-Of-Color Fringe
Adding a dash of hair color can add oodles of character to your tresses. It can also be a representation of your personality. It can infuse a sense of mystery and intrigue, especially when you add the color to your fringe. It's a great and subtle way to change up your look.
27. Choppy Blunt Fringe
Blunt bangs are cut straight across. They are not feathered, but you can make them choppy to accentuate them. If you want a softer blunt look, have your stylist point-cut the ends of your bangs
28. Side Fringe With Curly Ends
When we talk about side bangs, I always envision long sections of hair on the sides. This is another style of side bangs that meet halfway with a fringe. Instead of splitting your fringe completely, part it slightly near your eyes. It makes your forehead look smaller.


Trivia
Taylor Swift sported this look while receiving her honorary doctorate at New York University in 2022.
29. Messy Uneven Bangs
This is a new edgy fringe style. The fringe is cut messily and uneven, with the ends cut wispy. Sweep your fringe to the side, placing it across your forehead. Part the hair slightly so it does not cover your eyes.
30. Over-The-Eyes Bangs
This fringe style accentuates your cheekbones, jawline, and the lower half of your face. Women with oval or long faces can pull this look off easily. Take a page out of Beyonce's lookbook and straighten your hair to finish off this look.
31. Wispy-Ended Long Fringe
Wispy ends help in framing your hair and adding dimension to your hair. They make your hair look soft and smooth. They also draw attention to your face and streamline your facial features.
32. Long Messy Layered Fringe
Jennifer Lawrence once again shows us how to flaunt bangs. These bangs are layered and messy. When styling these bangs, use some mousse and your fingers. It adds to the messy look. The upturned ends make this hairstyle look cooler.
33. Heavy Blunt Bangs
If you have thick hair, this is the fringe for you! Blunt bangs naturally show off your hair's thickness. Instead of opting for a finely-cut bangs haircut, go for heavy bangs that draw attention to your eyes, nose, and mouth. "These bangs are best for women with longer faces who want to opt for a shorter hairstyle, or if you have long thick hair, this type of bangs makes a true statement," remarks Uribe.
34. Front Swept Bangs
Jennifer Lawrence has sported many fringe styles with her stunning short hairstyles. Here, her hair has been swept to the front to create the fringe. The bangs cover her forehead partially and draw attention to her eyes.
35. Ariana Bangs
Ariana Grande is known for her voice and her ponytail! But in 2016, Ariana sported a new ponytail look with bangs. The bangs are cut blunt and just below her eyebrows. This simple touch and minimal accessories elevates her signature ponytail look to a whole new level.
36. Light Bangs With Long Hair
Elizabeth Olsen looks stunning with long hair. The layers at the end add volume to her hair, but the light fringe here takes the cake. It draws attention to her eyes and accentuates her cheekbones.
37. Straight Full Fringe With Curly Hair
If you have thick hair, try out this look. This full thick fringe showcases your hair's thickness and adds a nice twist to your regular hairstyle. Part it slightly near your eyebrows so a little bit of your forehead is visible.
38. Parted And Thinned Fringe
You're probably wondering what's so different about this fringe style. Well, if you look at the center of the full fringe, where the hair is parted, you can see thin bangs. While the thick sides make her eye color pop, the thin center draws attention to her nose.
39. Curly Fringe With Curly Afro
Bangs can be a great addition to your afro. Beyonce sported this curly bangs look in 2002. She looks stunning and makes it work effortlessly. Depending on your face shape, you might have to thin down the bangs.
40. Flicked-In Feather Cut With Curved Bangs
The shag cut was huge in the '90s. Meg Ryan and Jennifer Aniston changed the look of the shag cut. Instead of going for the classic flicked-out ends, they combed their ends inward. Pair this cut with thick curved-in bangs, and you've got a winner!
41. Straggly Curls Bangs
Gabrielle Union looks flawless with this low 'fro look with thin, straggly bangs. It highlights her eyes, nose, and perfect smile. It accentuates the lower half of her face. Her outfit elevated this hair look to the next level!
42. Thin Central Bangs
Keep the center of your bangs thin and light to change up your look. Cut the sides long to blend them into the rest of your hair. This makes the bangs add a longitudinal focus to your face, nose, and jawline.
43. Thick Blunt Bangs With Blunt Lob
Thick hair comes with its own issues, the main one being styling it so it showcases its volume and weight. A blunt bob is a great way to flaunt the volume of your hair. Styling it with thick front bangs makes it look stunning and sharp.
44. Sectioned Front Fringe
If your hair gets greasy fast, embrace it! Spritz on some texturizing spray and part your bangs in small thin sections with your fingers. Then, sweep them to the side and leave them messy.
45. Three-Shaped Fringe
There is a very serious question to consider with curly bangs: how much curl is too much curl? The best bet is to opt for three-shaped waves. The shape of the waves is neither too straight nor too curly, and it pairs perfectly with kinky curls.
46. The "Winnie Harlow" Bangs
Winnie Harlow sported these simple bangs but made them completely her own. The flicked-out ends and choppy blunt bangs work elegantly together. The bangs frame her eyes perfectly.
47. Full Side-Swept Bangs
This is the perfect punk-rock fringe. It also works well with hairdos. Apply gel to your hair and style the bangs with the tail end of a rat comb. Tie the rest of your hair into a bun at the back.
48. The "Mariah Carey" Bangs
She has the voice of an angel and the hair of a goddess. You know you've got to try a hairstyle when Mariah Carey sports it. The best part? These light one-sided bangs work for all face shapes.
49. Curved-In Center Bangs
Curving your bangs in one direction gives your face a lateral focus. This means that you focus on the eyes and the mouth first. Part the bangs slightly so they show off your forehead a bit.
50. Vintage Bumper Bangs
Vintage looks never go out of style! Bumper bangs are making a strong comeback this year. They are created by folding and pinning your hair in the front. They are pinned to fall over the forehead and have a rolled-in look.


Trivia
Kristen Stewart sported blonde bumper bangs and a high ponytail during Met Gala 2021.
Audrey Victoria, a Youtuber, shared her personal experience and experimented with cutting her own bangs on her YouTube video. She states, "I drew hair inspiration first from a popular type of bang in South Korea, often referred to as air bangs or see-through bangs (i)." She then proceeds to style her tresses and shares, "I feel like for this being the first time that I have ever tried to cut bangs, they came out pretty good. The tutorial was pretty easy and quick."
Infographic: Most Stylish Bangs Hairstyles For Women Ever
If your schedule is tight but you want your hair to look chic every day, we are here to help. We have selected the best hairstyles with bangs that are super easy to style. Scroll down to find our picks in the infographic below.



Adding a fringe to your hairstyle is the best way to zhuzh up your look without changing or cutting your hair too much. While these 50 fringe bang hairstyles may give an abundance of inspiration, you might be confused about which type of fringe would really suit you. The best way to pick a fringe is to focus on your face shape. Depending on your face shape, there may be certain fringe styles that suit you and some that don't. You can go for a side-swept fringe if you have a round face or straight-cut bangs if you have a long and slender face.
Frequently Asked Questions
What is the difference between bangs and a fringe?
Bangs and fringe are the same. While they are referred to as fringe in British English, they are called bangs in North American English.
Does a fringe make you look younger or older?
Fringe makes you look younger by covering unwanted forehead lines.
How do you do a lace braid for beginners?
1. Take a small section of the hair at the start of the side part and split it into three. Cross the right section over the middle, then the left over the right.
2. Start adding small sections of hair, but only from the right side until you reach your cheekbone or jawline.
3. Continue braiding as a regular braid and secure the end with a small clear elastic.
Check out this video to learn how to do the twisted fringe and get ready to give your current style a modern twist!
Personal Experience: Source
i. Cutting My Own Bangs | Korean Style Inspired Bangs (an attempt)
https://youtu.be/n4_ObBUU9XY?feature=shared
The following two tabs change content below.