Top 21 Fruits For Hair Growth
The secret to strong, healthy hair could be as simple as eating your favorite fruits.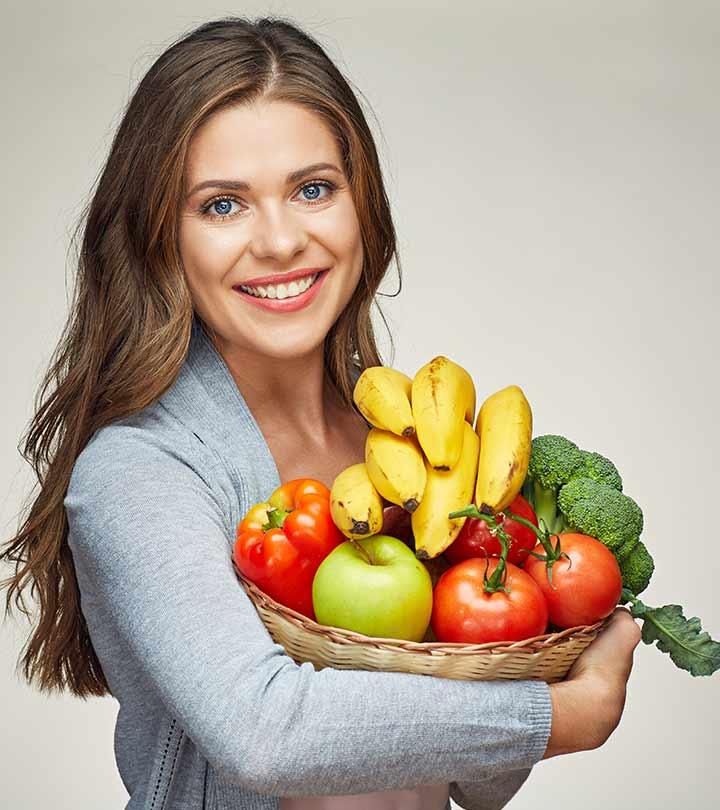 Getting proper nutrition is critical for hair growth. Apart from veggies, consuming certain fruits for hair growth will be an added advantage. Yes, several fruits contain the necessary nutrients to boost your hair health. They may not directly affect hair growth but contribute to strengthening the follicles and roots, maintaining scalp health, preventing hair damage, and maintaining its elasticity. These factors are also crucial to maintaining healthy hair and reducing hair fall issues. You must be wondering which fruits are good for hair growth? Here, we have compiled a list of the top 21 fruits that encourage hair development and health. Incorporate these fruits into your diet, and you will see results.
Read on.
Best Fruits For Hair Growth
1. Oranges
Vitamin-rich fruits like oranges have antioxidant, antifungal, and antibacterial properties (1). These properties may help reduce free radical damagei  XUnstable molecules of oxygen that cause harm to other healthy cells and lead to cell damage. and hair fall and prevent dandruff and other scalp infections. Oranges are excellent sources of vitamin C. The deficiency of vitamin C is known to cause corkscrew hair and hair loss (2). Instead of opting for supplements that may have more than the required amount of vitamin C, opt for an orange.
2. Apples
Apples contain procyanidin B-2, which promotes hair growth in hair epithelial cells (3). It also contains antioxidants, which reduce hair damage from free radicals. Apples can also increase hair density and protein content in the hair (4).
3. Strawberries
Strawberries have antioxidant properties and also contain vitamin C, which helps enhance hair health (5). Anecdotal evidence suggests the silica in strawberries may slow down hair loss and baldness and boost hair growth, which may improve hair thickness as well. However, there is no scientific evidence to back this claim. It can also help treat dandruff and make the hair soft and shiny.
4. Banana
Bananas can stimulate hair growth (6). They can also improve scalp quality by preventing dandruff and unclogging pores. Bananas make your hair more manageable and impart shine. They contain potassium, carbohydrates, vitamins, and natural oils that protect your hair's natural elasticity and prevent split ends and breakage. They can also help control dandruff, play a role in hair strengthening, and enhance the shine of hair (7).
Doro Cubillo, a beauty and lifestyle vlogger, tried bananas on her hair for 7 days and shared her experience in her YouTube video. She states, "The more ripe the banana, the more conditioned and more soft your hair. I really like how the texture of my hair feels, and it has not been frizzy, dry, or rough. Also, it makes your hair stronger and thicker (i)."
5. Avocado
Avocados contain protein, vitamins A, B, B1, B2, E and C, beta-carotene, linoleic acid, lecithin, calcium, iron, potassium, phosphorus, and niacin (8). These nutrients help condition the hair and also promote hair regrowth.
6. Pineapples
Pineapples contain calcium and vitamin C (9). Both these nutrients are important for keeping the hair healthy. Calcium keeps your hair healthy, and its deficiency can lead to hair loss (10). Vitamin C helps reduce hair loss and also boosts collagen. Vitamin C is an antioxidant that protects the hair from photodamagei  XChanges in the skin due to prolonged exposure to the sun, such as wrinkles, fine lines, coarseness, freckles, or pigmentation. and free radical damage.
7. Grapes
The procyanidinsi  XA class of plant chemicals that works as an antioxidant and provides protection against heart diseases. found in grapes have antioxidant, anti-inflammatory, and antifungal properties (11). These antioxidant properties protect the hair follicles from damage by free radicals. A study showed that procyanidins could promote hair regeneration and induce hair growth (12).
8. Apricots
Apricots contain two essential fatty acids, linoleic and linolenic acidsi  XAn essential fatty acid that is used in cosmetic and personal care products as a moisturizing agent. . They help promote hair growth (13). Apricot oil has been traditionally used in India as a hair oil due to its softening and moisturizing effects (14).
9. Peaches
A plant mixture containing peach extracts was shown to promote hair growth in human dermal papilla cells by prolonging the anagen phasei  XA phase in the hair growth cycle during which it grows 1 cm every 28 days. This phase is followed by the catagen phase. (15). Peaches also have antioxidant, anti-inflammatory, and antimicrobial properties  (16). These properties may help promote scalp and hair health.
10. Plum
Plums have a high phenolic content, which makes them good natural antioxidants (17). Antioxidants scavenge the harmful free radicals that cause hair fall and hair damage. It also has anti-inflammatory properties, which can help soothe the scalp and prevent scalp infections.
11. Guava
A herbal shampoo containing guava leaf extracts was found to promote hair growth and resolve hair-related issues (18). Guava also exhibits antifungal properties (19). This can help prevent dandruff and other scalp infections.
12. Gooseberries
The Indian gooseberry, or amla, promotes hair growth by prolonging the anagen phase of the hair growth cycle (20). It is also known to prevent premature graying of hair and strengthen the hair follicles (21). It also has the highest natural concentration of vitamin C, whose deficiency is known to cause hair fall.


Trivia
Ayurveda considers amla or India gooseberry as an elixir for hair growth. It's been a part of Ayurvedic hair growth remedies for over 5000 years.
13. Lemon
A study showed that lemon could help reduce hair loss and balding. It also helps reduce dandruff, lice, and scalp acne (22). Lemon also contains vitamin C, which is known to prevent hair loss.
14. Cherry
Cherries have antioxidant and antifungal properties (23). These may protect your hair and scalp from oxidative stress and promote hair health.
15. Coconuts
The coconut oil extracted from coconuts is a well-known hair care ingredient. Studies show that coconut oil can penetrate the hair shaft and nourish it from within with its fatty acids (24). It also prevents hair damage. Coconut contains lauric acid that promotes hair growth.
16. Papaya
Papaya is a rich source of antioxidants and phytonutrients and contains vitamins A, C, and E (25). It helps condition hair. It also exhibits potential hair growth stimulating activity (26). Papaya also has antifungal properties that help treat dandruff (27).Papaya contains fruit enzymes that strengthen and improve hair texture.
17. Grapefruit
Grapefruit, like orange, contains citrus oils that are enriched with antioxidant properties. These antioxidants help reduce hair fall by combating free radicals. Grapefruit extracts were found to exhibit anti-lice activity in children (28). It can also soothe your scalp and make your hair soft and shiny.
18. Dragon Fruit
Dragon fruit juice is often used to treat colored hair (29). Dragon fruit is rich in vitamin C, which prevents photoagingi  XSkin damage caused by prolonged exposure to UV rays in sunlight that can lead to wrinkles, pigmentation, and fine lines. (30). It contains essential fatty acids that not only nourish your skin and hair but also prevent dandruff.


Fun Fact
Dragon fruit has many names. It is also known as pitaya, strawberry pear cactus, zamorano, and Costa Rican sunset.
19. Mangoes
Mango is rich in vitamin C, which promotes healthy hair. It is also a good source of vitamin A, which stimulates hair growth and promotes the production of sebum that keeps your scalp moisturized and healthy (31), (32). Anecdotal evidence suggests that mangoes impart shine to hair and make it soft. However, there is no scientific evidence to prove these effects.
20. Blueberries
Blueberries contain flavonoids like anthocyanins and proanthocyanidins that can help reduce oxidative stress and prevent inflammation (33). Combating oxidative stress may help prevent hair loss. Research also suggests that proanthocyanidins may have the potential to promote hair growth. In a study on mouse hair follicle cells, these compounds were found to increase hair density (34).
21. Lychee
Lychee is particularly rich in vitamin C (35). This nutrient is a potent antioxidant that helps fight oxidative stress and, possibly, the associated hair loss (36). Vitamin C also boosts iron absorption in the body. This way, it also may reduce hair loss due to iron deficiency (36).
Infographic: 8 Super Fruits For Hair Health
Fruits have been revered for their health benefits since time immemorial. But did you know that they can also contribute to healthy hair growth? The abundant nutrients and compounds in fruits can provide multiple benefits for hair – and a few tweaks to your regular diet can ensure that you reap them. In the infographic below, we have listed some super fruits that are great for hair health. Check them out.

A healthy and balanced diet plays an essential role in hair growth. Apart from vegetables, regular consumption of certain fruit as smoothies or juices can contribute to smooth and healthy hair. Fruits such as oranges, strawberries, lemon, and pineapples are rich in vitamin C, which boosts collagen production and protects the hair from photodamage. If these fruits do not sound appealing, you can also opt for other fruits for hair nourishment and growth like gooseberries, mangoes, papayas, cherries, coconuts, guava, or other berry fruits to get moisturized, healthy, and soft hair.
Frequently Asked Questions
Is kiwi good for hair growth?
Yes, kiwi helps improve hair health. It can be applied to your hair to remove dirt and promote hair growth (37).
Are dates good for hair growth?
Dates are rich in iron, which may promote hair growth. However, there is not enough research to support this claim.
Does pomegranate regrow hair?
Pomegranate exhibits anti-dandruff activity, and the alcoholic and aqueous extracts of pomegranate have been found to promote hair growth (38).
Key Takeaways
The antimicrobial and antioxidant properties of oranges, pineapple, and lemon promote hair growth. They also prevent hair fall and dandruff.
Fruits such as avocado, banana, and papaya are rich in vitamins, minerals, and natural oils, which can increase hair elasticity and prevent split ends.
Some fruits such as peaches and gooseberries prolong the growth phase of hair to promote growth. They also prevent premature graying.
Dragon fruits, coconut, and apricots are rich in essential fatty acids. They deep nourish the hair from the shaft and soften hair.
Discover the top 10 fruits for promoting hair growth! Watch this video to get invaluable tips that will elevate the appearance and vitality of your hair.
Personal Experience: Source
i. I tried BANANA on my hair for 7 days & this happened! *before & after results*;
https://www.youtube.com/watch?v=m51FloQenjU
Sources
Articles on StyleCraze are backed by verified information from peer-reviewed and academic research papers, reputed organizations, research institutions, and medical associations to ensure accuracy and relevance. Check out our editorial policy for further details.
The following two tabs change content below.