Top 12 Fruits For Hair Growth
The secret to a shiny and voluptuous mane is no longer just the result of using expensive hair products. To get rich, strong and shiny hair, you must follow a healthy and balanced diet. Fruits have always been a good source of vitamins and nutrients, making them a major constituent of healthy diet. It is therefore not surprising to know that fruits can enhance hair growth, strength, and quality.
Best Fruits For Hair Growth
Given below are the top 12 fruits for hair growth. They can work wonders for your hair:
1. Oranges
Oranges are a great source of Vitamin C that is an essential ingredient for healthy and shiny hair. Apart from its antioxidant properties, vitamin C also contributes in producing skin collagen and retaining Vitamin A and E. Besides being a storehouse for Vitamin C, oranges are also rich in beta-carotene, flavonoids, and magnesium that boost hair growth.
2. Apples
An apple a day not only keeps the doctor away but is also a natural remedy for hair growth. Besides being a sweet and delectable fruit, apples are the most natural hair growth boosters. This fruit has soluble fiber, vitamins, and antioxidants that can do wonders for your hair and it is the presence of phenolic compound and biotin in apple skin that strengthens the roots and promotes hair growth naturally.
[ Read: Vitamin C ]
 3. Strawberries
Strawberries have always been the most sought after fruit by health and beauty enthusiasts for their nutrient power. They are a great source of silica that works as a key component to check hair fall and stimulate hair growth.  Additionally, strawberries also provide Vitamin B and C that aid in strengthening hair.
[ Read: Strawberries ]
 4. Bananas
Bananas have always been a key constituent of a healthy diet. Besides providing instant energy and ensuring overall well-being, it is also the best fruit for hair growth.  Bananas are loaded with potassium and a variety of other minerals like pectin, fiber, and magnesium to name a few. These vital nutrients in this wonder fruit ensure that every single strand of your hair is strengthened from within, thus preventing hair loss.
Bananas contain an abundant amount of Vitamin A and minerals which are very essential for hair health. Scalp sebum production needs Vitamin A, and thus, your hair stays shiny and healthy. Intake of fresh bananas every day will provide you good hair nutrition for a healthy looking beautiful hair. We can also use bananas in our topical treatments that can be easily done at our home. The following banana hair mask repairs damaged hair and provides that silky shine.
Mash a ripe banana and add required olive oil to it. Blend this mixture until smooth and apply to your scalp and hair. Leave on for half an hour to let your hair absorb the nourishment. After 30 minutes, wash your hair with fresh water and mild shampoo.
5. Avocado
Avocados are one of the top five super fruits for hair growth.  They are the powerhouse of Vitamin B, C and E, and beta-carotene that are crucial for hair growth. These key vitamins in avocado ensure that the capillary walls get sufficient oxygen, hence promoting scalp circulation. The high fat content in avocado also makes it a great choice as a hair conditioner.
[ Read : Hair loss ]
6. Pineapples
Pineapple is a common tropical fruit that is loaded with vitamin C and known worldwide for its health benefits. It has properties to ease digestion and fight other illness and disease in the body. Pineapple is also a great source of beta carotene that is then converted to Vitamin A in our body. Adequate Vitamin A helps produce essential oils that enhance scalp health.
[ Read: Hair growth ]
7. Grapes
Since ancient time's grape seed oil have been used extensively to prevent hair fall and promote scalp health.  Besides, grapes are also an excellent source of hair care vitamins, antioxidants, and minerals. The high water content in this fruit also detoxifies our body and prevents hair fall.
If you have gone pillar to post looking for hair fall remedies, you are sure to have tried grape seed oil and found solace. Grapes are rich in vitamins and antioxidants that do wonders to restore glory to your crown. Hair packs with grape seed help a lot. But also consume them with your meals, as they clean out your system of impurities which in turn promotes hair growth.
8. Apricots
The sweet, juicy golden orange colored apricots are a great summer fruit.  They are an important diet food that is rich in antioxidants, fiber, and low in calories. The nutrient content in apricots helps boost hair growth while treating hair loss and damaged scalp naturally. Apricot oil works as an excellent hair conditioner.
[ Read: Vegetables That Boost Hair Growth ]
9. Peaches
Also known as "Persian Apple", peaches are natural hair growth boosters. Biotin, a natural hair growth steroid, is found in abundance in peaches. Besides, peach kernel oil and leaves are also used widely to enhance hair growth and strength. They can be eaten to reduce hair fall and also be made into a hair mask for applying on the hair. This hair mask helps cleanse your scalp, which in turn, reduces hair fall!
10. Plum
Plums are an awesome source of key nutrient bioflavonoid that is essential to maintain connective tissue of the scalp and hair follicles. Eating plums regularly will ensure that you have strong, healthy, and thick hair naturally.
[ Read: Curry Leaves For Hair Growth ]
11. Guava
Guava is rich in Vitamin A and is known to promote hair growth. It also increases the functioning of the mucous membranes. Having dandruff can aggravate hair fall, but worry not, for guava also attacks dandruff on your scalp. Make a mash out of guava, add honey and lemon to it, and apply this generously on your scalp. Within a few weeks, you will see that the dandruff has abated, and hair fall reduced.
12. Berries And Cherries
These fruits are a favorite of many; even kids relish eating these fruits that are rich in bioflavonoids, which naturally help reduce hair fall. This chemical increases the blood circulation in the scalp and keeps your mane thick and shiny.
Other Fruits For Healthy Hair 
1. Gooseberries
We all know that gooseberry, also called as Amla is just one of the edible fruits, but it has great hair benefits too. It enriches hair health and pigmentation and hence used as an ingredient in many hair oils, especially the ones formulated for gray hair. Yes! Gooseberry does wonder on your gray hair if used regularly in your hair care routine. We can also consume gooseberries every day to achieve good hair health and immunity. Premature graying of hair can be noticeably controlled and cured with this below homemade Amla oil treatment.
Gooseberries should be chopped and dried in the shade until hard. Powder these pieces and mix with coconut or olive oil. Heat this oil mixture until it turns brown and switch off the stove. Store this hair oil in an air tight container and use every night on your hair and scalp for a cooling hair massage. Regular use results in gray hair free beautiful looking jet black hair. This makes one of the best home treatment in premature graying of hair.
2. Lemon
Are you suffering from itchy scalp? Is your dandruff coming back within 2-3 days of your hair wash? Here is an interesting lemon remedy for you. Of course yes! Lemon has incredible natural citrus properties that can result in dandruff free shiny looking hair. Follow your comfortable lemon remedy below to get rid of dandruff problem.
Collect lemon peels, chop and soak them in your regular hair oil. This can be used daily to massage your scalp and hair to control dandruff effectively. The warmer the oil, the better the results are. So make sure to heat the oil before every usage.
Squeeze juice from a big fresh lemon and mix this with two tablespoons of warm water. This mixture can simply be applied to your scalp one hour before every hair wash to achieve a clean and clear, dandruff free hair.
Soak your hair brushes and combs in lemon juice mixed warm water to sanitize them and prevent spreading of dandruff.
Make sure to include all these best fruits for hair growth in your list of healthy foods.
If you seek beautiful hair, skin, and a healthy body ensure that your daily diet consists of a healthy portion of fruit. If eating fruits is just not your thing, you can always make fruit smoothies, which possesses all the goodness of fruits and added yumminess.

The following two tabs change content below.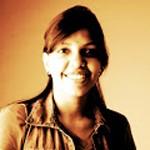 Latest posts by Shruti Goenka (see all)