8  Fun Yoga Poses That Your Kindergarten Kid Will Enjoy And Benefit From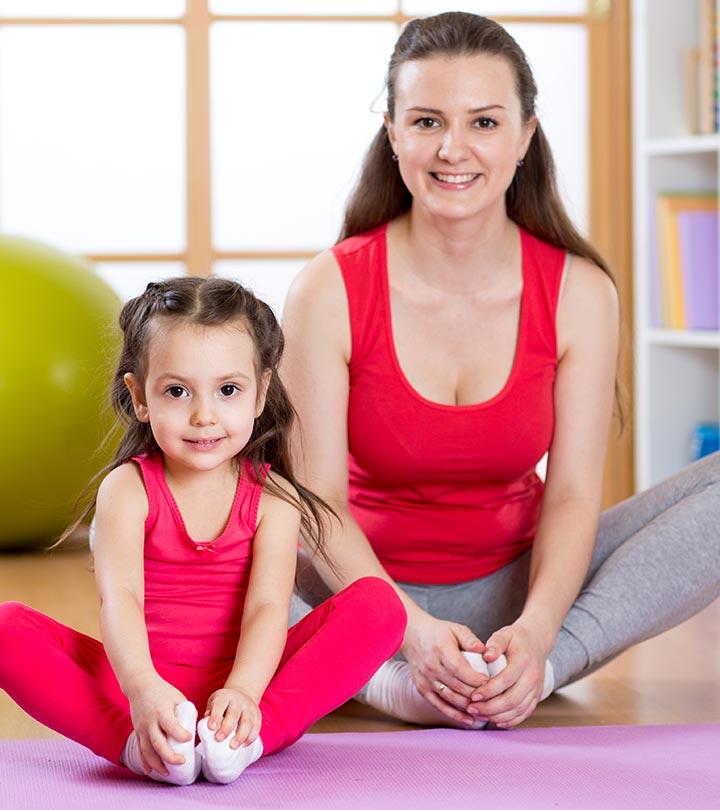 Kids are angelic and free-spirited. They have a vivid imagination that takes them to places we will never understand. Their delicate minds and limbs need to be handled and molded with care. And that's how yoga comes into the picture.
Why Is Yoga A Great Mind And Body Workout For Kindergarten Kids?
Yoga is a systematic workout regimen that has rejuvenating and calming effects on our body and mind. Young kids go through conflicting emotions, and yoga helps calm them down. They are also extremely flexible and therefore, a practice like yoga will help them contort their bodies in different ways.
Usually, when yoga is taught in kindergarten, it is done in a story form to appeal to the child's imagination. The poses included in children's yoga are slightly modified forms of the traditional asanas that help improve coordination, focus, and balance. Yoga helps calm the children down, making them more confident and disciplined naturally.
Kindergarten yoga also helps the children relax. It improves their mood and motivates them to do well at school. Studies say that yoga stimulates neurogenesis in the brain, which enhances the cognitive control in kids.
A good 45 minutes of yoga every day for children is good enough to improve their inner peace. It helps them cope better with the fast-paced learning. Yoga for kindergarten kids is a combination of deep breathing, meditation, moral teachings, and exercise.
Interesting Yoga Poses That Kids Will Love
1. Adho Mukha Svanasana
This pose inculcates reverse blood flow, and therefore, it is a great pose to oxygenate the body. It also becomes a resting pose that helps the child gain stability. It is a home base for yoga, and when the child does the asana perfectly, he must be thoroughly grounded through both his hands and feet. The more effort the kids put in this asana, the more their mind is prohibited from wandering free.
This pose resembles a tunnel, and a lovely story revolving around things or animals being able to pass through will entice the child's mind. Alternatively, the story of a dog stretching can also be used to teach this asana.
2. Vrksasana
This asana helps to work on the sense of balance and also quiets the mind. Holding balance in this pose needs the tightening of the core and lots of concentration too. Children find it hard to relax the mind and draw focus from within. This asana eases the mind and the mouth and keeps everything in place as you breathe in and out through the nose.
The story of an old rooted tree in an ideal accompaniment to this asana.
Know More: https://www.stylecraze.com/articles/the-tree-pose-how-to-do-and-what-are-its-benefits/
3. Tadasana
This is one of those powerful yoga poses. It is very simple, and yet, it imparts light, strength, and peace.
The story of a soldier's discipline is an ideal pairing with this asana.
Know More: https://www.stylecraze.com/articles/amazing-benefits-of-tadasana-yoga-for-your-body/
4. Ananda Balasana
Ananda Balasana or the Happy Baby Pose is such a lovely asana for kids. This asana entails the tailbone being planted on the ground, which further massages and aligns the spine as required. This asana is also a great hip opener, which makes it ideal for kids.
This asana can be done while playing with the child.
5. Baddha Konasana
The Cobbler Pose or the Baddha Konasana is a great hip opener. It also gives the child's ankles a good stretch.
Since this asana resembles an open book, that reference can be made while teaching the child how to do the asana.
Know More: https://www.stylecraze.com/articles/baddha-konasana-butterfly-pose-cobbler-pose/
6. Balasana
The Balasana or the Child Pose is a place of safety for the child. It is a grounding pose that soothes the mind and also acts as a restorative pose. You must make sure you remain calm and quiet while doing the pose so that the kids use that as a reference too.
Know More: https://www.stylecraze.com/articles/balasana-child-pose/
7. Sukhasana
The Sukhasana or the Meditative Pose is a great stress buster. It gives the child peace of mind and completely relaxes the body.
The story of a saint or Buddha will work well while teaching the child this asana.
8. Dhanurasana
The Dhanurasana or the Bow Pose improves the child's body posture as it stretches their whole tiny bodies and also strengthens the muscles in the back.
This asana can be thrown to the children as a challenge. They will yearn to perfect it then.
Kids will love yoga, especially when it is taught with a story. It is a great idea to introduce this incredible practice while they are still so young and tender. It will sharpen their minds and strengthen their bodies in ways you never knew were possible. Indulge them, and see them flourish.
Recommended Articles:
The following two tabs change content below.