35 Fun Things To Do With Friends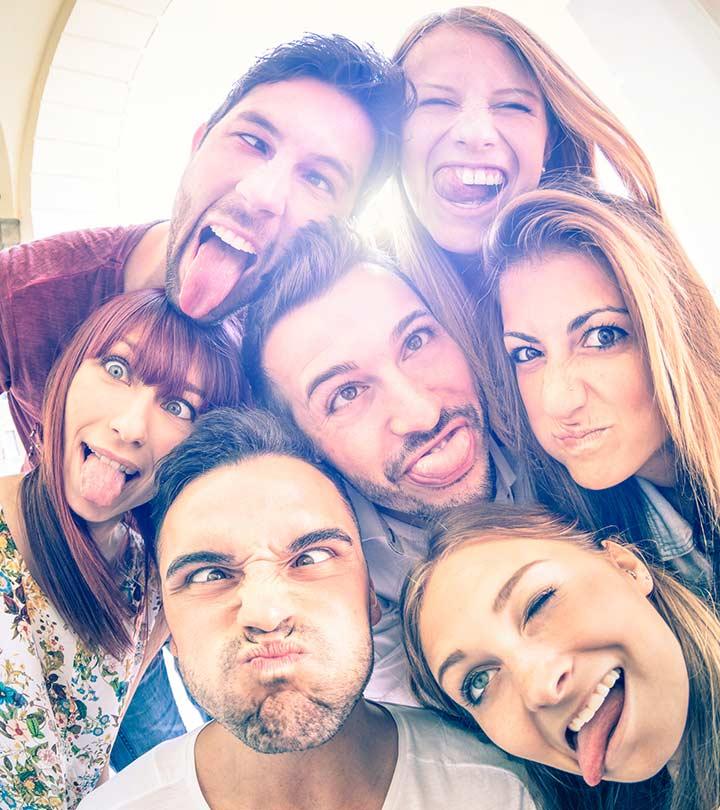 Looking for some new and fun things to do with your buddies? Well, all you need to do is look around!
If you all always hang out at eateries, clubs, or pubs, it's time to try something new. It doesn't matter where you live – there are so many amazing places to go to and fun things to do that don't cost much. If you and your friends keep nudging each other to come up with something to do over the weekend or even on a weekday, all you need to do is take a look at this list. Choose the ones that you all like and go and have a blast!
Fun Things To Do With Friends
1. Organize A Bonfire
This is a great idea for winters. Set up a bonfire, and roast s' mores, marshmallows, and other tasty stuff. It is the perfect opportunity to tell each other ghost stories or maybe even have some heart-to-heart conversations. You can also get sleeping bags and simply camp around it.
2. Amusement Park
This is a no brainer – you will have crazy fun no matter what. And remember, riding the giant wheel is a must.
3. Pottery Painting
Are you a creative lot? Try painting pottery. Find a local pottery store, buy some pottery, and go crazy. You can also get coffee mugs or wall hangings to paint and decorate your room with. Make sure you buy paint that could be put on earthenware.
4. Bake A Cake!
Making fresh-baked cake, bread, and cookies and then devouring them is something you all need to experience if you want to reach the Zen level of happiness. In fact, you can even split into teams and have a contest of who can bake the best dish. The winning team eats it all!
5. Horseback Riding
Stroll the neighborhood on horseback! If you and your friends are into this sort of thing, you can have a great 'Western' day. You can get Wild West outfits and have a fun photoshoot as well!
6. Go To A Concert
Check out which artists are performing in your area. Yes, the tickets may be expensive, but you guys better save up for this than spend it at clubs. Anyway, being with your buddies will make it super-duper fun no matter where you guys are sitting!
7. Go And Visit The Local Animal Shelter
If you all love animals, go and cuddle with some cute animals at an animal shelter. Show them some love, and maybe even take the dogs on a walk. They will adore you for it!
8. Go To The Zoo
On a nice, cool day, go and check out the newest exhibit at your local zoo. Walk around with your buddies and take pics of your favorite animals. You can have a nice outing and buy souvenirs from the zoo outlet as well.
9. Go Zip-Lining
Are you up for an exhilarating day with your buddies? Go zip-lining! It will be a day to remember. You will get to glide through the treetops and have that adrenaline rush. In some places, you can even get to experience this thrill at night.
10. Laser Tag
Get your group of friends to play a game of laser tag. Many places offer fun themes, and you can have a great time doing this.
11. Go To A Park
Goof around on the playgrounds, play some Frisbee, or even go exploring. Whatever you decide to do, it will be super fun because you are getting to spend time with your friends.
12. Find A New Coffee Cafe
There are so many different kinds of coffee cafes that have their own theme. Find a new, funky one and enjoy the music, a super delicious latte, and a great chat with your friends.
13. Go To A Festival
Check online for upcoming festivals or fairs in your city or town and have fun going around with your friends. There is something for everybody – music festivals, craft fairs, food festivals, and so many more things!
14. Go To A Factory Outlet
Is there anything better than getting stuff from your favorite brand at a huge discount? The feeling is amazing, and it will be even more awesome if you will get to experience it with your pals.
15. Take Up A Craft
There are some awesome DIY ideas on Pinterest. Get together and get this thing done! You can gift it to your teacher or someone you all adore.
16. Go To An Aquarium
Plan a trip to your nearest aquarium. You will get to see your favorite sea animals and snap some pictures of them. Find out what the latest exhibit is and go and enjoy. If you go at the right time, you may even be lucky enough to see aquarium babies.
17. Participate In A Color Run
Ever heard of a color run? If you guys are fitness enthusiasts, you will love this. You need to start out with a clean, white t-shirt. As you run, people will throw color at you, and eventually, you will get covered in the colors of a rainbow. Find out when your place is doing a color run, sign up with your friends, and enjoy the amazing experience!
18. Try Mini Golf
Mini golf is a super fun activity. It is a great way to spend time with your friends and have some lighthearted competition. Look for a place that offers fun themes like glow-in-the-dark mini golf – you will have a lot of fun.
19. Try Skiing Or Snowboarding
When the season is right, try skiing or snowboarding. If you have never tried it before, be warned – it is going insane fun. Just be safe and have loads of fun on the slopes!
20. See A Play Or Musical
Are you all a classy bunch? Then, this one is for you. Whether you are in high school, college, or even working at a company, you are never too young or too old to enjoy some amazing acting or awesome music. Gather your friends, sit back, relax, and get ready to be entertained!
21. Try A New Restaurant
Trying out a new restaurant with your friends could be super fun, especially if you guys are foodies. Try going to a restaurant that has a theme and offers foods you normally don't get elsewhere. Even if you only go for desserts, it can be a super fun way of having a new experience with your buddies.
22. Go To A Water Park
This is a great one for the summers! Water parks are always an amazing choice if you want to have some good, clean fun. Have fun splashing around and pushing your friends down the waterslide!
23. Watch A Match
Whether it is cricket, football, hockey, or any other game, attending a match with your friends is a super fun way of spending time with them. Get yourself some popcorn and enjoy the match.
24. Try Skating
Skating can be an ah-ma-zing way to spend time with your friends. Play your favorite songs on the speaker and have fun gliding around!
25. Go To The Beach Or The Lake
Take a trip to the nearest beach or lake and have a lazy day relaxing. You could also go boating and swimming. Don't forget your sunscreens!
26. Ice Skating
Ice skating, whether indoor or outdoor, can be a wonderful experience. You can have a lot of fun with your friends and even play with snow later on.
27. Go Bike Riding
Choose a beautiful day with great weather and gather a group of friends to go on a long bike ride. Find a safe bike trail and enjoy the wind and the exercise.
28. Photo Scavenger Hunt
Photo scavenger hunts are a great way to have fun. All you need to do is make a list of specific things around town, such as a stop sign, an ice cream shop, or a park. Divide yourselves into teams and start looking for these items. Snap a picture when you find them. The first group to find all the places/items wins! You will have tons of fun doing this.
30. Go Canoeing Or Kayaking
If you guys love water, this is what you all need to do. Go for canoeing or kayaking if you are looking for something different to do.
31. Movie Or TV Show Marathon
Log on to Netflix and watch the Harry Potter series or Stranger Things. Get into your pajamas and have a fun, lazy day.
32. Have A Potluck Party
Host a potluck party and ask all your friends to bring a dish to share with others. If you can't cook, maybe you can get snacks or desserts.
33. Host A Spa Day
If you and your girlfriends are in the mood for some TLC, you can do this spa thing. Try out new hairstyles on each other, give each other manicures, try facial masks, drink mojitos, and enjoy the day!
34. Go-Karting
Go-karting is a great way to have fun and some friendly competition. The winner gets a voucher for bragging rights!
35. Have A Video Game Tournament
How about having a video game competition? Whether it is PUBG or Call of Duty, play against each other and hand out pizzas to the winners.
You don't have to get bored of doing the same old things with your buddies ever again! Just go through the list and go for activities you know you and your buddies will like. Whether you are a couch potato or a marathon runner – there is something for everybody! Have lots of fun, and see your beautiful bond with your friends grow stronger.
Which of these activities are you going to try with your buddies? Share the details with us in the comments section below.
Recommended Articles:
The following two tabs change content below.

Latest posts by Harini Natarajan (see all)

Harini Natarajan
As Chief Editor, Harini sets the tone and editorial direction for StyleCraze to deliver engaging, interesting, and authentic content revolving around women's health, wellness, and beauty. She has over 14 years of experience in content writing and editing for online media. She specializes in the areas of Beauty, Lifestyle, and Health & Wellness and is proficient in Medical Sciences (Biology, Human Anatomy and Physiology, and Biochemistry). Her background in Biomedical Engineering helps her decode and interpret the finer nuances of scientific research for her team. Harini is a certified bibliophile and a closet poet. She also loves dancing and traveling to offbeat destinations.