50 Sassy Short Punk Hairstyles
Flaunt your tresses in these edgy, defined, and messy hairdos to look stylish and sassy.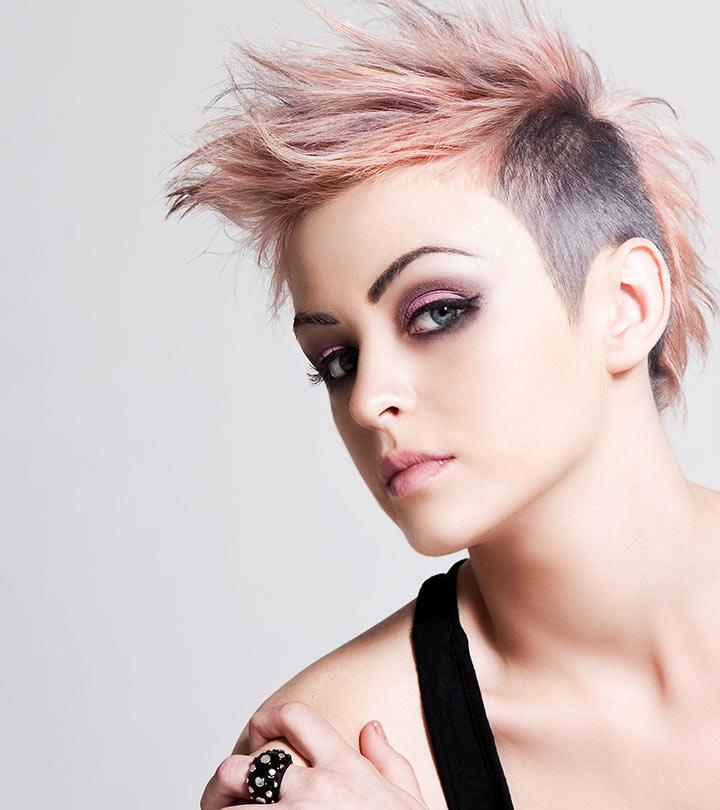 If you are tired of your daily boring look and want to notch up things and get into edgier hairdos, we have just the thing!
Say hello to your new friends – short punk hairstyles! Many celebs like P!nk, Kristen Stewart, and Miley Cyrus have brought back the punk hairdo craze, but with a short twist. So, we have 50 edgy and modern punk hairstyles for short hair that will let you release your wild side like never before.
Scroll down and get some edge in your hair! Keep reading to pick out your favorite punk hairstyles.
50 Sassy Short Punk Hairstyles!
1. Basic Mohawk
You know P!nk had to be my first choice! The mohawk is one of the punkest looks you'll ever lay your eyes on. Use gel or mousse to create this mohawk look. If you want a messier look, use your fingers to tousle and arrange the mohawk.
2. Punk Quiff
Any hairstyle P!nk sports is punk. And she pulls it off so well! Take a leaf from her book and channel your inner punk with this sassy look. Don't forget to pair it with a brilliant red lipstick!
3. Slick Back
Miley Cyrus has given us some killer punk hairdos over the past few years. The best part about having a pixie or a buzz cut that is growing out is being able to pull off a stunner like this one. All you need is some hair gel to achieve this look.
4. Mild Undercut
An undercut is as punk as it gets. But if this is your first time trying it, opt for a mild undercut. Also, check with your hairstylist if this cut will suit your face shape.
5. Killer Quiff
What would this list be without a quiff style? And who better to mimic than the stunning Miley Cyrus! Apply some gel to your hair and slick down the sides. Use a comb to style it in a quiff.
6. Textured Mohawk
The mohawk is a versatile punk hairstyle. You can opt for a simple one or go for something a bit more modern like this look. It is sure to stun and bring your inner rocker out to play!
7. Dark Rooted Pompadour
If you have an oval face, this hair look is for you. You can achieve this look with the help of a comb and some hair gel. I love the lines left behind in her hair by the comb. They give this hairstyle a more defined look.
8. Pointed Mohawk
Who doesn't love a good ol' pointed mohawk? And Smiley Miley pulls it off so well! You can achieve this look by just messing with your hair with some hair gel rubbed between your palms. Yes, it's that easy!
9. Spiky Mohawk
Spikes were big in the '90s, but the spiky mohawk has been around for much longer. Instead of styling your mohawk in long sections, opt for this modern stunner.
10. Curly Mohawk
This looks so badass! P!nk really knows how to rock the punk style. I love the pastel pink shade of her hair, and the curls turn this normal mohawk into a perfect ten.
11. Long Quiff
If you have thick hair, you'll want to flaunt it. This is perfect hair look for it! Let your overgrown hair shine this punk season with this long quiff hairstyle.
12. Messy Punk
Messy is the new "in" thing with hair, so, of course, I added it to this list. Punk hairstyles started out with slick gelled looks, but over time, they've become artsier with spectacular looks – like this curly look.
13. Subtle Mohawk
If you are new to the punk scene, opt for a subtle mohawk. Why? Because the mohawk is the punkiest hairstyle there is. You get on board with that, and you're definitely a punkster!
14. Punk'd Mohawk
P!nk channels a lumberjack look here with flawless feminine finesse. She is a queen, and if punk is your thing, she should be your queen too. I love how edgy this look is!
15. Rad Sidecut
That's right! The side cut is one of the coolest punk looks right now. If you don't want to take the plunge and shave off all your hair, you can always opt for a faux undercut hairstyle by braiding your hair on the sides.
16. Victory Rolls
A deep side parting, curled ends, and a stunning dress – that's how they used to roll in the '20s. You too can look that fabulous. Just style your pixie in some victory rolls to make it punk.
17. Slick Straight
Sleek and uber chic! Fashion meets punk in this stunning side-parted pixie hairstyle. It is perfect for showcasing your punk side at major events.
18. Faux Undercut
Looking for a hairstyle that shows off your face shape and your hair texture? This is it! The undercut draws attention to your face while showing off your hair cut.
19. Spiky Long Mohawk
What's a punk hairdo list without a long spiky mohawk? I bet this was the first hairstyle you thought off when you saw the title of this article.
20. Sculpted Quiff
Sculpted hairstyles look glamorous and are perfect for red carpet affairs. If your style leans more towards the punk side, opt for a sculpted quiff to any fancy event. You'll have everyone staring you all the livelong day!
21. Upright Hair
If bobs and pixies have are more your style, try this upright mohawk look. It is easy to achieve and super punk. Pair it with a leather jacket and nude makeup, and you are good to go.
22. Curved Quiff
In all honesty, not all face shapes can pull off this curved quiff hairstyle. Wide cheeks can look wider with this look, but an oval face will be accentuated. Keep the ends feathered to draw attention to your jawline.
23. Candy Roll
Punk hairstyles are all about the colors. And who says that you can't go candy when you go punk? Take a leaf out of P!nk's hair lookbook and dazzle with this stunning candy pink rolled mohawk.
24. Curled-Back Quiff
The curled-back quiff looks amazing, and I'm not sure anyone could've pulled it off better than P!nk. I love how she always brings shows off her personality with her hair.
25. Lifted And Gelled
The gelled-up lifted hair look has been a part of the punk hairstyle community for some time now. It adds volume to your hair and is perfect if you have a round face.
26. Bristle Mohawk
Short and bristled. If this hairstyle is not a punk look, I don't know what is. This look can be achieved with some gel and a brush and not a comb because it will add unwanted slickness to the look.
27. Blue Dash
If you love grungy styles, go for this look. It will not let you down. You don't need to worry about the top of your hair getting too messy as it adds to the cool vibe of the look. And that dash of blue dash is just so punk rad!
28. Chic Pompadour
This is what I call a sophisticated punk hairstyle. Opt for this stunning curly lob if you want to draw attention to your jawline and cheekbones while adding height to your face. This look is also perfect if your pixie is growing out.
29. Moussed Down
If you have a wide or short face, you know how difficult it is to sport the "wet" look. But if you have an oval face, you don't need to worry about that. Apply some gel to your pixie and slick it down in a side parting to achieve this look.
30. Messy Punk
This look suits all face shapes, but it looks especially great on an oval face. Add in layers to draw attention to your face. The layers create a horizontal focus that brings out your eyes, lips, and cheekbones. "A matte paste or wax is great for styling this look with your fingers," recommends Danielle Wilkinson Brucklacher, a licensed cosmetologist.
31. Punk Mohawk
Does it get any punker than this? I think not! Opt for this mohawk if you love edgy and punk styles. It is a perfect blend of the two. You will definitely be the center of attention wherever you go.
32. Combed Bangs
Apply some gel or mousse (depending on your hair texture) to your comb and slick down your pixie in a side parting. This way, the product really gets into your hair, and your hairstyle stays put for a good amount of time.
33. Messy Mohawk
The messy mohawk is a punk favorite, and Miley Cyrus pulls it off like the punk queen she is. If you have an undercut hairstyle and your hair is growing out, this look is for you.
34. Long Bangs
Miley is a true punk icon! She's known for trying different looks and experimenting with her hair. But when she was hit with hair loss, she handled it well. She chopped off her locks and rocked styles like this one.
35. Side Bent Quiff
Here's a look for you if you like edgy layers. The messy, choppy, and heavy layers of this pixie cut can be flaunted beautifully on an oval face. Style it in a quiff to draw attention to your jawline and cheekbones. Danielle Wilkinson Brucklacher, a licensed cosmetologist, adds a word of advice saying, "Set your style with a strong hold humidity control hairspray."
36. Full-On Punk
Are you a punk fiend? If so, this is perfect hair look for you. It will make you look like a punk rockstar and turn everyone green with envy. Pair this hairstyle with a simple graphic tee, black jeans, and boots, and you are ready to slay!
37. Long Side Bangs
If your short hair is growing out, cut it in a slick long pixie like this one. Though it is a punk look, it also looks sophisticated enough to sport to work. Just part it on one side to finish off this look.
38. Shadow Root
Shadow roots are all the rage right now, and the punk world is embracing them as well. Keep your hair short and do it up in a shadow root style to let your inner punk shine. Trust me, you won't be sorry.
39. Gelled-Back Hair
Kristen Stewart sports edgy hairstyles like nobody else. This gelled-back hair look is proof of that. This hairstyle looks great on oval- and diamond-shaped faces. Go for pink eye makeup and nude lips to finish off this look.
40. Messy Bangs
Bangs can make or break a hairstyle. If you love a good punk hairdo, go for this long pixie look with sculpted bangs. You'll be surprised by how punk it makes you look. Pair it with a cold lip color to amp up the look.
41. Buzz Cut
If you are in a daring mood, chop your hair into a buzz cut. Kristen Stewart brings us this stunning short buzz cut that will make every punk soul happy. Opt for contrasting colors if you plan on coloring your locks.
42. Platinum Punk
Wondering how you can make your super short pixie cut more punk? With platinum blonde, of course. But remember, you need to keep your skin's undertone in mind when choosing the shade for your hair.
43. Finger Pouf
Style your hair with your fingers and some hair gel to achieve this look. I love how Kristen Stewart has been embracing punker and grungier looks these days compared to when she was playing Bella Swan in the Twilight series.
44. Wavy Punk
This hairstyle looks so badass! The light waves are on point. If you love grungy styles, go for this look. It will not let you down. It looks especially great over an all-black outfit.
45. Twirly Bangs
A small twist can make a big change. Twirl your bangs to add a nice punk twist to any hairstyle. It will draw attention to your eyes and mouth. Pair it with oversized sunglasses and nude lipstick to look punk-ready.
46. Accessorized Curls
Here's Gwen Stefani showing us that accessories can be punk too. Gather all your hair in a messy bun, allowing the curls to hang loose all over. Clip on a punk accessory (a spiky metal barrette, maybe?) to finish off the look.
47. Curly Pompadour
You know when Alicia Keys flaunts a hairstyle, it has to be gold. Follow in her footsteps with this stunning punk hairdo. I absolutely love this look. It is edgy but perfect for formal events as well.
48. Fiery Punk
Fierceness and punk go hand in hand. Add some red highlights to your locks to create a punk look. The shade of red is up to you, but opt for something slightly electric and bright.
49. Lilac Undercut
Lilac has turned the world upside down. It's great to see the punk world embracing it as well. It just shows that all colors are for everyone! Style your lilac hair in an undercut to create the perfect punk-chic look.
50. Edgy Mohawk
The meanings of 'edgy' and 'cool' have been redefined by Kelly Osborne. If you want to go all out punk, there is no better look than this mohawk braid with completely shaved off sides.
Let your hidden punk star shine through with these short punk hairstyles. These styles are perfect for those looking to express their rebellion and edgy side out. Whether you are looking for bangs, side-swept styles, or cool mohawk ideas, this collection has something for everyone. Experiment with hair dyes and color your hair to a brilliant tone to go with the punk hairdo for an added punch. You can style your mane with gel to slick your hair to a particular parting to achieve the desired look.
Frequently Asked Questions
What does punk hairstyle mean?
The punk hairstyle is a unique and edgy hairstyle that was popular in the seventies and eighties. It is characterized by bright colors, mohawks, spikes, short, or shaved hairstyles.
What are liberty spikes?
Liberty spikes are a popular punk hairstyle that is characterized by upright and thick spikes. It is named after the spikes worn by Lady Libertas on the Statue of Liberty.
The following two tabs change content below.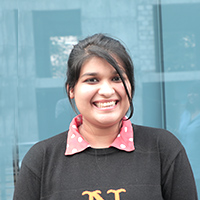 Anjali specializes in hairstyles and hair and skin care and has written over 200 articles in these domains. Her philosophy...
more