Revealed! Gal Gadot's "Wonder Woman" Workout And Diet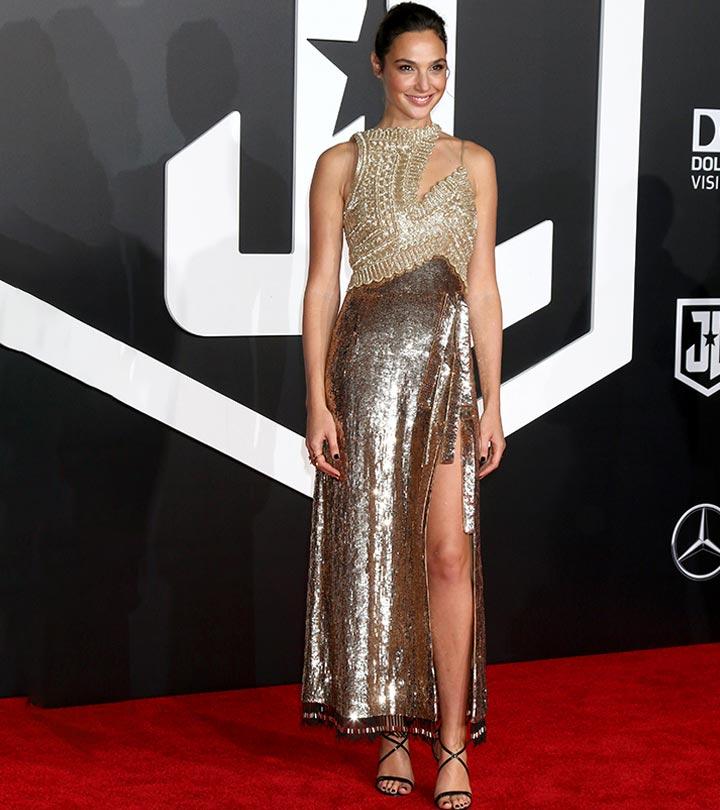 Gal Gadot never fails to impress us. In reel life, she is saving the world and in real life, she is busy being cute and sexy at the same time! But saving the world needs training, even in reel life. Ever wonder about Gal Gadot's workout routine? Well, we can give you a sneak peek. If you do not know, Gal Gadot is from Israel and is former Miss Israel (2004). As part of their life, the people of Israel need to serve in the military for a year. So, guess where that toned body, agility, and strength come from! Today, she is Time magazine's one of 100 most influential people globally.
But before Wonder Woman propelled her career, she was a struggling actress, wife, and mother. So, how did she nail the action scenes in Wonder Woman after so many years? Read this post to know Gal Gadot's workout and diet and get a slim and toned body. Scroll down!
Gal Gadot "Wonder Woman" Workout
Fitting in a costume and looking strong and being able to do those fight scenes is not easy. And for that, she had to start training. Because though she was lean, her body did not look like that of a warrior. So, how did she get that ripped body? Well, find out below.
Gal Gadot Trained For Six Hours
Gal Gadot trained in the gym for 2 hours, did fight choreography for 2 hours, and horse riding for another 2 hours. But in real life, she is not a gym lover. She paddleboards and does TRX training, which keep her lean. Gal Gadot also likes rock climbing. And since rock climbing needs a lot of upper body strength, it helped her get chiseled and achieve strong shoulders, chest, lats, and abs. Her trainer for the movie, Mark Twight, was shocked to see her when he first met her. She was lean and needed to add muscle to look the part in the movie. And Gadot did not want to look muscular. According to Twight, "women's testosterone levels are lower than those of men's, so they don't build muscle as easily. But the real difficulty is to change habits and to confront the expectations regarding exercise intensity and body image."
However, after intense training with Twight, Gal Gadot became, "someone who carried muscle, lived in and with muscle, and was happy with it." Here's a list of workouts that Gal Gadot did in circuits.
Cardio
Warm-up – Jogging or running for 5-10 min
Rowing – 5 min
Mountain Climbers – 1 min
Burpee Broad Jumps – 1 min
Bird Dog – 1 min
Push-ups – 5 sets of 3 reps
Pull-ups – 7 sets of 3 reps
Strength Training
Warm-up – Jogging and rowing for 5-10 mins
Romanian Deadlifts – 3 sets of 5 reps
Bent Over Row – 3 sets of 5 reps
Reverse Curl – 3 sets of 5 reps
Weighted Squats – 4 sets of 3 reps
Cool Down – Light medicine ball throw for 5 minutes
Arms And Abs Circuit Workout
Plank – 30 seconds hold
Push-ups – 30 seconds
She makes sure to workout for 2 minutes and then takes a break for 2 minutes to prevent injuries. But Gal Gadot also had to watch her diet to make all that training show some results. So, let's talk about her diet now.
Gal Gadot Wonder Woman Diet
Gal Gadot and her trainer Hayley Bradley decided that she should be on a lean protein and greens diet. She also stayed hydrated and made sure to control her food portions. Hayley Bradley said, "Balance each meal with equal amounts of protein and greens, and be wary of seemingly healthy choices like green juice, which can be highly caloric thanks to the large amounts of natural sugars in some fruits and veggies." She also consumed green juices made of spinach and kale. These high-fiber, low-cal, and nutritious foods helped keep her hunger pangs at bay and kept her healthy.
In an interview with Harper's Bazaar, Gal Gadot said, "I am a foodie and I love to eat." She continued, "I love to experience food, but at the same time I look at food as fuel and I want to give the best to my body. So, of course, I have my bad things that I eat like burgers or ice cream with chocolate. I don't restrict myself, I can eat everything. It's all a matter of measurements and quantity of the food; just enjoy your food and don't eat while you drive and don't eat when you talk on the phone. Just give food the respect and give yourself the respect to enjoy it."
That makes sense, right? As long as you don't overindulge in junk food, and continue to eat healthily and lead a healthy lifestyle, you will remain lean and fit. Another important aspect of fitness is body image. Let's see what Gal Gadot has to say about it.
Gal Gadot Body Image
Body image is how you see yourself in the mirror or how you think you look like. Some people, even if they are not overweight, feel the need to lose weight. And women have distorted body image because we are constantly judged by our looks. That's why many fashion models struggle with eating disorders. Gal Gadot had a poor body image of herself post-pregnancy. However, her fitness trainers and diet coach made sure she got in shape not only physically but also mentally. And now, she loves her new body and the strength she has. Isn't that inspiring?
From becoming Miss Israel, serving at the military, studying law, to playing Wonder Woman with precision – Gal Gadot has done it all. In fact, her sense of humor will take you by surprise and instantly convert you into her fan. Her life-changing story is like a dream-come-true. But she had to work hard to make it come true. So, pour your energy and time to develop a skill, and you will succeed. If you want to get fit or lose weight, go for it with full power. Be your own Wonder Woman. Cheers!
The following two tabs change content below.