Gallbladder Diet: Foods To Eat And Avoid, & Recipes
Protect your gallbladder and keep it in top shape with the right foods!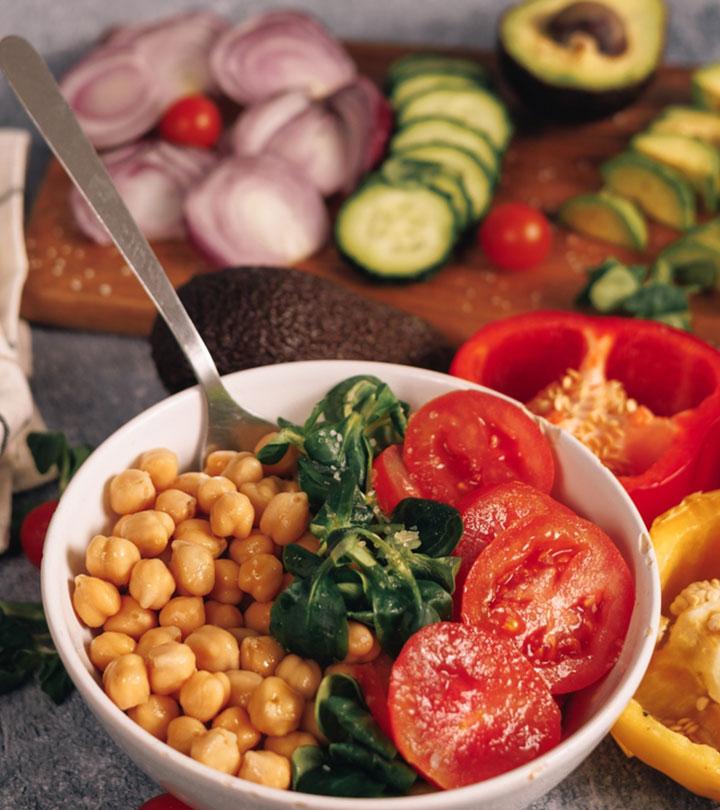 The gallbladder is a pear-shaped organ beneath the liver, and the gallbladder diet is designed to specifically take care of this organ. It stores and releases the bile juice secreted by the liver that helps in digestion (1). Unhealthy dietary habits or following rapid weight loss diets may release extra cholesterol into the gallbladder over a short period of time (2). This oversaturation of cholesterol in the gallbladder can lead to the formation of stones, which may further cause inflammation, digestive problems, and abdominal pain and discomfort.
A gallbladder diet may be prescribed to help cope with these symptoms. It may also help support the digestive processes of those who have their gallbladders removed. Read the following section to learn more about a gallbladder diet and how it can be beneficial.


At A Glance: Gallbladder Diet
Principle: A low-fat and fiber-rich diet that restricts the intake of refined carbs.
Purpose: To manage digestive discomfort and reduce the risk of gallstones.
Who Is It For: For those with gallbladder issues, high cholesterol, or those at risk of forming gallstones.
Duration: Varies from case to case from a few weeks to 12 months.
Who Should Avoid: People with celiac disease or gut inflammation should avoid this diet, as it is rich in fiber and whole grains.
Cons: May lead to nutrient deficiencies and reduce the absorption of fat-soluble vitamins.
What Is A Gallbladder Diet?
A gallbladder diet is designed to give your gallbladder time to heal. It involves the consumption of food items that can be digested easily, which also helps reduce inflammation and discomfort of the gallbladder.
This diet plan may differ from person to person based on the severity of the symptoms. Generally, it comprises eating healthy fats and fiber-rich foods (3).
Gallbladder stones are mainly formed due to deposition of either of these three (4):
Cholesterol

Bilirubin

i

  X

A yellow pigment produced during the breakdown of red blood cells, which is then processed by the liver and excreted in bile.

Excess bile (not properly released)
This diet is beneficial in reducing the risk of gallstones in healthy people by keeping cholesterol levels in check (5), (3). It may also help manage gallbladder disease and reduce its risk. However, more research is required in this area (6).

Did You Know?
Obesity increases the risk of gallbladder stones due to high levels of cholesterol in the body (
2
).
To learn about the healthy foods to include and foods to avoid in a gallbladder diet, explore the next sections of this article.
Foods To Eat On A Gallbladder Diet
According to a study published in the International Journal of Preventive Medicine, consuming a healthy, fiber-rich diet comprising fish, vegetables, fruits, vegetable oils, etc. may reduce the risk of gallstones (5),(7), (8), (9). Moreover, consuming protein-rich foods helps reduce cholesterol levels and improve metabolic health, which is also important for preventing gallbladder issues. Therefore, you may include the following food groups into your diet:
Fibrous Fruits And Vegetables
Consume fruits such as apples, pears, guavas, bananas, citrus fruits and berries, melons, etc., and vegetables such as carrots, pumpkins, lettuce, spinach, green beans, sweet potatoes, celery, and broccoli (10).
Consume foods with healthy monounsaturated fatty acidsi  XHealthy fats found in foods like olive oil, nuts, and avocados; known for their heart-protective benefits (MUFAs) such as fish, dairy products, whole grains, poultry, eggs, nuts and seeds, olive oil, peanuts or peanut butter, etc. (11), (12).
Consume healthy plant proteins such as whey, soy, canola, potato, pea, quinoa, chickpea, lentils, barley, rice, oats, wheat, peanuts, and corn. They may reduce bad cholesterol levels and the risk of gallstones (13).
Try to consume at least 200  grams of vegetables per day to reduce the risk of gallstones by 4% (9). Consuming 6-8 servings of fruits, vegetables, nuts, and whole grains may also help prevent gallbladder issues (14). Now take a look at the foods that need to be avoided for gallbladder health.
Foods To Avoid On A Gallbladder Diet
Since cholesterol plays a huge role in the development of gallstones, avoid consuming fatty and fried foods that are high in saturated fats (15). Also, limit the intake of hydrogenated fatsi  XFats that have undergone a chemical process called hydrogenation, which solidifies liquid oils, resulting in trans fats. to minimize the risk of gallbladder stones (6). Here's a list of foods you should stay away from when following the gallbladder diet (15), (16), (17), (18):
Processed meat
Beef
Milk
Cheese
Coconut oil
Rice bran oil
Pork
Cakes
Cookies, crackers,
Fried potatoes or potato chips
Breakfast cereals
Candies

Did You Know?
Around 10% to 15% of the US population is estimated to have gallstones. In most cases, gallstones will remain asymptomatic throughout life (
19
).
If you have undergone gallbladder removal surgery, that will affect the functions of your digestive system. While you may follow the food-related dos and don'ts of the gallbladder diet, it's better to prioritize a few foods over others to ensure speedy recovery and minimize the risk of other side effects. Check out the next section.
What To Eat After Gallbladder Surgery
Follow a low-fat and fiber-rich diet after cholecystectomyi  XA minimally invasive procedure to remove the gallbladder through small incisions. to reduce diarrhea or bloating (20), (21). Here are a few low-fat foods you may consume (22):
Plain low-fat yogurt
Fat-free cheese
Milk with reduced-fat (2%) or low-fat (1%)
Part-skim milk ricotta cheese
Reduced fat granola
Wholegrains
Vegetables
Fruits
Unsaturated oils such as sunflower, soybean, olive, and flaxseed oil (23)
Egg Whites
Chicken and turkey breast without skin (24)
Apart from consuming these foods, ensure to stay hydrated and drink at least 6-8 glasses of water to promote better gallbladder health. The next section contains a sample diet plan comprising foods that are easily available. Take a look to get an idea about the gallbladder diet meal plan.
7-Day Gallbladder Diet Meal Plan
| | Breakfast | Lunch | Dinner |
| --- | --- | --- | --- |
| Day 1 | ½ cup of cooked oatmeal with 1 banana and ½ cup of skimmed milk | Grilled chicken salad with mixed greens (85g) and ½ cup of tomato salad | Baked salmon (100-120 g) with ¼ cup of roasted asparagus and ¼ cup of brown rice |
| Day 2 | 100 g of Greek yogurt a handful of strawberries | Stir-fried tofu (75 grams) with ¼ cup of brown rice | 1 serving of Turkey chili and a cup of brown rice |
| Day 3 | 2 scrambled eggs with 2 slices of wholewheat bread | 1 serving of grilled shrimp skewers with a cup of roasted vegetable | Baked chicken (85-100g) with a cup of mashed sweet potato and 1/2 cup of beans |
| Day 4 | A glass of spinach, banana, and almond milk smoothie | A bowl of lentil soup ⅕ cups of preferable veggies (steamed) | Baked cod fish (225 g) with ¼ cup of quinoa |
| Day 5 | 45 grams of organic low-fat cottage cheese with 2 sliced peaches and 2 teaspoons of honey | 1 serving of chicken wraps with 2 tablespoons of hummus and 3 cups of chopped lettuce | Grilled chicken (85 g) with a cup of sauteed Brussels sprouts |
| Day 6 | 2-3 Whole wheat pancakes with 3 tablespoons of organic honey | 1 serving of Grilled salmon with a cup of mixed greens | 1 cup of baked tofu with 1 cup of roasted vegetables and ¼ cup of brown rice |
| Day 7 | 2 avocado toasts with 3-4 spoonfuls of mashed avocado and a cup of any fruit | 1 bowl of quinoa and mixed vegetable salad and some lemon vinaigrette for dressing | 1 serving of baked turkey meatballs with a cup of zucchini noodles |
This detailed plan will help you figure out your meals of the day while managing the painful symptoms. However, remember that it's a sample diet plan. You must consult a doctor and a nutritionist to get a proper meal plan as per your nutritional requirements and preferences. Move on to the next section to check out lip-smacking recipes for a gallbladder diet.
Easy Gallbladder Diet Recipes
1. Chicken Stroganoff
Ingredients
2 tablespoons of olive oil
320 g of steamed green beans
150 g of natural yogurt
80 g of baby spinach
2 long shallots, thinly sliced
200 g of chestnut mushrooms, thickly sliced
A small bunch of flat-leaf parsley, chopped
2 cloves of garlic, crushed
1 teaspoon of lemon juice
450 g of skinless chicken breasts, thinly sliced
1½ tablespoons of cornflour
150 mL of chicken stock
1½ teaspoon of Dijon mustard
600 g of cooked brown rice
How To Prepare
Heat 1 tablespoon of the oil in a non-stick frying pan. Saute the shallots until softened.
Add the mushrooms until they turn soft and golden. Add garlic and cook for one minute. Take all of it out in a bowl.
Place the chicken in a large bowl and coat it with cornflour. Heat the remaining oil in a pan and fry the chicken for 5 minutes until
it turns golden.
Add the chicken stock, the mushroom mixture, and mustard to it. Simmer for 5 minutes or until the chicken is cooked.
Add spinach and yogurt and bring to a gentle bubble.
Add the lemon juice to taste. Serve it hot with cooked brown rice, green beans, and parsley.
2. Sweet Potato And Lentil Curry
Ingredients
2 teaspoons of olive oil
400 mL of vegetable stock
4 cloves of garlic, crushed
2 teaspoons of ground cumin
1 thumb-sized piece of ginger, finely grated
75 g of red split lentils
6 fresh or dried curry leaves (optional)
2 teaspoons of dry and ground coriander
1 teaspoon of ground turmeric
400 mL of fat almond milk
1 lime, wedged
2 medium sweet potatoes (about 500 g), cut into chunks
1 large red onion, finely chopped
A handful of coriander leaves
How To Prepare
Heat the oil in a large pan and add ¾ of the onions to it. Sprinkle salt and saute for 10 minutes over medium flame. Add the ginger, garlic, and curry leaves and stir for a minute.
Add the ground coriander, turmeric, and cumin, and cook for a minute.
Add sweet potato and lentils followed by almond milk and vegetable stock. Stir fry till it comes to a boil, then let it simmer for 15 minutes on medium flame.
Add water if it gets too dry and let the potatoes and lentils cook.
Garnish it with coriander leaves and the remaining onion on top. Squeeze the lime to taste and serve it hot.
3. Mushroom Risotto With Wild Rice And Roasted Garlic
Ingredients
1 full bulb of garlic
4 shallots (diced)
3 teaspoons of olive oil
100 g of arborio rice
300 g of red Camargue or wild rice mix
125 mL of white wine
200 g of mixed mushrooms, cleaned and sliced
2 sprigs of thyme
2 liters of vegetable stock
2 tablespoons of low-fat crème fraîché
How To Prepare
Preheat the conventional to 200 °Celsius. Cut the tops of the garlic bulb, rub a teaspoon of oil on it, wrap it inside a foil, and put it down onto a baking tray. Roast it for about 30-45 minutes until the garlic softens.
Heat 1 teaspoon of oil in a pan and stir fry the shallots. Mix the wine and steam until it is reduced to half.
Add the wild rice mix and 1 sprig of thyme to the same pan followed by the stock.
Mix the arborio rice and boil it for about 20 minutes in the stock. Add a little water if the stock dries out before the rice is cooked.
Stir fry mushrooms with 1 teaspoon of olive oil until golden and tender. Season with the remaining thyme leaves.
Add the fried mushrooms and crème fraîché to the pan with boiled rice.
Squeeze the garlic cloves out of their skins. Mash them and stir in the soup. Your dish is ready to be served hot.
Infographic: Healthy Foods To Include In A Gallbladder Diet
A gallbladder diet comprises fiber-rich foods that are also low in saturated fats to help regulate cholesterol levels. It may also treat the symptoms of gallbladder disease and further prevent the condition from worsening. There are various day-to-day foods that you can easily incorporate into your gallbladder diet plan. Check out the infographic below for more information.

A gallbladder diet plays an important role in managing gallbladder-related issues and helps in post-surgery recovery. It emphasizes consuming fiber-rich foods with healthy fats and lean proteins and eliminates saturated fats. These healthy dietary choices help improve the function of your digestive system and reduce the risk of gallstones, and other issues that may affect your gallbladder health. However, remember that the severity of symptoms varies from person to person. Therefore, it is important to follow medical advice and maintain a healthy lifestyle to manage gallbladder issues and speed up recovery after gallbladder surgery.
Frequently Asked Questions
Should I take dietary supplements on a gallbladder diet?
Yes, you may take vitamin C, folate, and magnesium supplements on a gallbladder diet. Their consumption is linked to a lower risk of gallbladder disease or gallstone formation (25). However, do not take them without consulting a doctor.
Is a gallbladder diet a long-term requirement?
It depends. If you are at risk of developing gallbladder stones or have them it's best to stick to a gallbladder diet to prevent any further risks. If you have undergone gallbladder surgery, you may follow it for a couple of weeks or months, as per the doctor's advice.
Is alcohol consumption allowed on a gallbladder diet?
Yes. Multiple studies have found links between alcohol consumption and a lower risk of gallbladder stones (26). Moderate alcohol intake may decrease the risk of symptomatic gallstone disease as compared to irregular or excessive alcohol intake (27). However, avoid it right after you have undergone gallbladder removal surgery.
Can I still enjoy flavorful meals on a gallbladder diet?
Yes, you can still enjoy flavorful meals on a gallbladder diet by using herbs, spices, and creative cooking techniques that are easy on the digestive system and are as per the dietary restrictions.
Is chapati good for gallbladder?
Yes. It is even better for the gallbladder if the chapati is made of whole grains such as wheat or millet (28).
Is paneer good for the gallbladder?
Yes, low-fat paneer or lean cottage cheese is easy to digest and is considered good for the gallbladder (29).
Key Takeaways
A gallbladder diet may help aid digestion, reduce inflammation, and prevent the risk of gallstones.
It emphasizes consuming healthy fats, fiber-rich fruits and vegetables, low-fat dairy, and lean proteins to help regulate gallbladder contractions.
The diet eliminates saturated and trans fats, refined sugar, and hydrogenated oils that interfere with gallbladder function.
The diet also helps with post-gallbladder surgery recovery and may reduce symptoms like bloating and diarrhea.
Following a gallbladder diet may help prevent the risk of gallstones and may even speed up your recovery after gallbladder surgery. Check out the video to learn more about the dietary dos and don'ts for maintaining optimal gallbladder health.
Sources
Articles on StyleCraze are backed by verified information from peer-reviewed and academic research papers, reputed organizations, research institutions, and medical associations to ensure accuracy and relevance. Read our editorial policy to learn more.
The following two tabs change content below.