21 Best Fun Games For Couples
Spice up your relationship and grow closer to your partner with these exciting and fun games.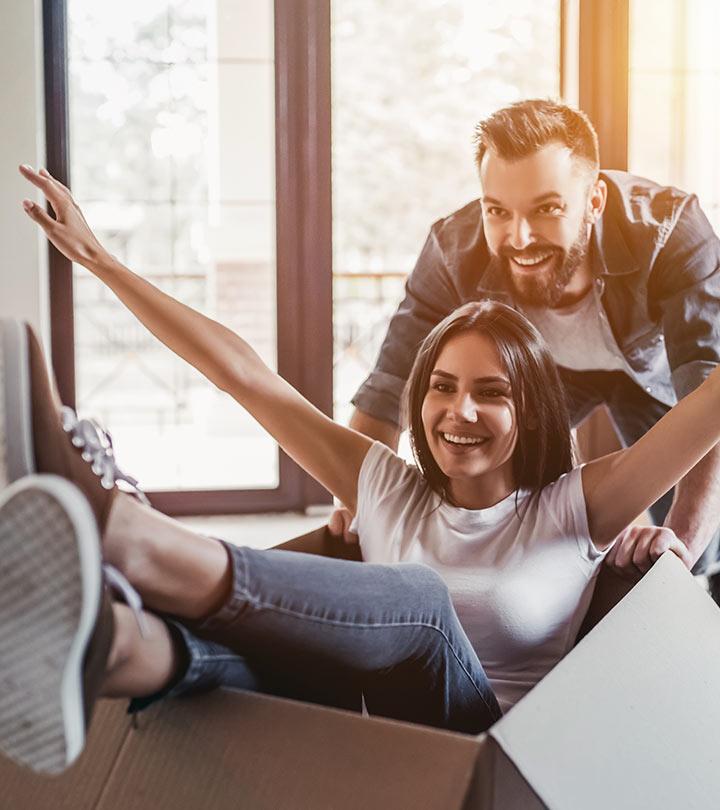 If you and your partner have the same boring schedule every day, it might eliminate all the charm in your relationship and your affection for each other. The best way to break the monotony is to incorporate some fun games for couples that are not overly complicated and are easy to play.
Couple games can improve your problem-solving abilities and communication while cultivating feelings of closeness and connection. This allows couples to interact in a new and unique way that strengthens their connection and builds a strong foundation of friendship. You can play any of the couple games we have compiled for you and see your relationship change. This article presents the top 21 fun and romantic games for couples that you should both try out to boost your relationship. Check them out below!
21 Games For Couples
1. The Picture Game
It is not that bad to make your own rules while playing a romantic game. Take a small cubical box and paste pictures on all sides. You can choose what the pictures can be – but the naughtier, the better.
Take turns to throw the box like a dice. Your boo has to do what the image displays. When he throws it, you need to do what the picture displays. You can use pictures that show a kiss, cuddling, biting an ear, etc.
2. Romantic Scrabble
Scrabble is a game everyone has played at least once in their lives. But, have you ever tried to play this in a romantic manner? You can play romantic scrabble and make up rules, such as you can only use a sexy or romantic word to play.
You can also add variety to this game by choosing a category like Strip scrabble or Kiss scrabble. On scoring a particular number of points, your SO has to kiss you – or remove a piece of clothing. It is a must-play couple game that is sure to heat things up.
3. Drinking Roulette
To play this, you need some drinks – preferably wine – and two glasses. However, it doesn't necessarily have to be alcohol. If you guys don't drink, just get a soft drink of your choice. In the game, one of you will ask a question, and the other one will have to answer with a 'yes' or 'no.'
If the answer is a 'yes,' the person who is being asked the question will have to take a sip. If the answer is a 'no,' no one has to take a sip. If you guys are in a bar, you can have flaming tequila shots to play this drinking game. But if you are at home or in a restaurant, you can simply have a sip of whatever is available – even coke. The main objective is to have lots of fun, so you can customize the game according to what you guys like and make it more enjoyable.
4. Sink The Ship
Sink the ship is a popular fun game for couples. In this game, you need to pour your drink in a shot glass that is floating in liquid in a bigger glass. The objective is not to allow the shot glass to sink.
However, you have to personalize it a bit to play it in a romantic way. Ask your bae to play the game, and whoever is losing has to do what their significant other asks them to do. Use your imagination to make the game wilder. Include naughty punishments whenever you can.
5. Never Have I Ever
This game is easy to play and involves a lot of fun. If you both are at home on the weekend or a holiday, this is the perfect game to play. Get a piece of paper or cardboard and write 'Never' on one side and 'I Have' on the other. That's it – you are all set!
Start asking questions to your partner. For eg., if you say "I have been arrested for a traffic violation," you and your partner will show your placards at the same time. If it doesn't apply to you, show the side that says 'Never.' But if it does apply to you, show the side that states 'I Have.' This way, you and your boo will get to know each other even better. In fact, you can also play this game with other couples. Check out this article for more ideas.


Quick Tip
You can also play this with cards that have pre-written statements which you both can answer.
6. Truth Or Dare
Truth or dare never gets old. It can easily be turned into one of the best fun games for couples to play at home. Don't have a bunch of friends around to play it with? No problem! Just go ahead and play it with your baby boo. You can ask funny or personal questions if they choose 'Truth,' and turn the heat up if they select Dare. Here are a few truth or dare questions you can ask.


Trivia
This game is believed to be a variant of an ancient game "questions and commands" which existed in the 1700s. It was often played as a Christmas game.
7. Romantic Scavenger Hunt
Remember playing Treasure Hunt? Why not play it in a romantic way and personalize it to be one of the best fun games for couples? Design a hunt and leave some cute notes to guide your significant other towards the amazing treat you have planned in advance for them. The gift can be anything from a watch they had been pining for to a romantic candlelight dinner – or you!
8. Pretzel Challenge
When was the last time you and your SO spent some time in the kitchen? If you don't even recall the time you guys cooked together, the time has come to drag your bae over to the kitchen and enjoy cooking up something like pretzels. You can even compete against each other.
To make the game more exciting, you can even set a time limit. Find out who the faster or better cook is when it comes to the kitchen. However, if you are anything like us and would rather eat pretzels than make them, you can convert this game into an eating challenge game.
9. Deal Or No Deal
You can play Deal or No Deal, and take it to a whole new romantic level. A small change can turn this normal game into one of the most exciting fun games for partners. Put a fat envelope of cash along with a romantic wish of yours in front of your partner and let them choose.
10. Origami Games
For couples who are creative, making origami can be an amazing pastime. Doing fun and creative things together can add more spice to your relationship.
You don't even need to be an origami expert to pull something like this off. Search for videos on YouTube and choose the ones you want to create with your partner. All you will need is a bundle of colorful papers. You can make this into a fun game by competing against each other or making it a timed challenge.
11. Romantic Tic Tac Toe
Never thought that tic tac toe could also be a couple game? You can make this game a lot more romantic by personalizing it. Take sheets of paper, make cards out of them, and describe intimate actions on them. Take another sheet, draw boxes, and describe a few activities, such as a kiss, cuddle, etc.
When both of you have chosen your spot, you both have to complete the action described and then play the next turn. Whoever wins a complete round can ask their SO to do anything!
12. Staring Contest
A staring contest may seem like one of those boring old school games – but it's not! You will soon realize that it is not that easy to play once you actually start playing the game. If you have been together for a long time, you should definitely try playing this game. Stop and think for a moment – when was the last time you actually looked into your bae's eyes with pure love?
If you ask your boo directly to have a staring contest, they probably won't be up for it. Do this – simply fix your eyes on their eyes. Don't say anything. Feel the moment together. Focus on looking at their eyes with love. Try it – you will thank us later.
13. Two Truths And A Lie
This is a great game to play if you just got into a new relationship. You can use this game as an opportunity to learn more about one another. To play this game, you and your partner will have to take turns telling one false thing and two true things about yourselves. The other one has to guess which of the statements is the lie.
14. I Spy
There are many different ways to play 'I Spy.' You and your partner can cozy up and try to find things in an I Spy book, or hop into the car and drive out somewhere. It can be anywhere from a park to a mall. Take turns in giving one another clues of what you observe. It is an awesome game to play when you both are going on a road trip together.
15. Ding Dong Ditch
This version of the Ding Dong Ditch game is much more fun than the kind that little children play. Yes, you will be ringing doorbells and then running off before anyone answers the door, but you will leave behind a treat to surprise people.
This is an especially fun game for you and your significant other to play during Christmas or Halloween. You can leave things like a tin of cookies or a basket of treats. Add a cute message and spread the joy among your neighbors.
16. Charades
Charades are usually played by forming teams. However, it is definitely possible for two people to play charades. When it's just you and your boyfriend playing, you can put up clues that are personal to just you two. Ideas for the clues include favorite movies, inside jokes, phrases that you both use a lot, and common interests. You can also try playing charades with other couples.
17. Card Games
While there are common card games like slapjack, blackjack, war, and strip poker, there are also games that are played using a set of cards that are not strictly traditional. Here is a list of fun card games that you can play with your partner during a date night – Monopoly Deal, Five, Set, Crowns, and Uno.
18. Roleplay
Roleplay is a super flirty game that you can play in public as well as in private. Look up characters that you and your significant other both like and then pretend to be those characters. They can be characters in real life like celebrities or actors or even characters in books or TV (or even anime!).
To make it more fun, you can try and dress up like the character that you are trying to be. Try to behave like that character as well, and use mannerisms that they have and phrases that they say. This is a great way to spice up your sex life as well.
19. Board Games
Here is a list of two people player games that you can play with your partner on a date night: Yahtzee, Mancala, Clue, Ticket to Ride, Stratego, Hive, Scrabble, Flash, Castles of Burgundy, Carcassonne, Trivial Pursuit, Life, Checkers, Backgammon, Rivals for Catan, Bananagrams, Lost Cities, Forbidden Island, Dragonwood, Sushi Go!, Onitama, Morels, Battleship, Rummikub, Farkle, Qwirkle, Pandemic, Jenga, Battleship, Uno, Connect 4, Guillotine, Battle Line, Machi Koro, Libertalia, Monopoly, Forbidden Island, Scattergories, Last Word, Codenames Duet, Blokus, Boggle, Dominion, and Exploding Kittens. These are just some of the most popular board games out there.
20. Video Games
Video games are mostly played alone but can be even more fun when played with your partner. Here is a list of games you can play with your bae: Portal, Guitar Hero, Wii Sports, Cuphead, Warcraft, Super Smash Bros, Borderlands, Diablo, World or Overwatch, Snipperclips, Rock Band, Halo, Bomberman, Love in a Dangerous Space Time, Mortal Kombat, Tekken, Minecraft, Mario Kart, Overcooked, Lego games, Little Big Planet, Guacamelee, Secret of Mana, and Mario Party.
21. This Or That
This is a fun game and awesome for getting to know your partner. It is an amazing game to play, especially early in the relationship – you will get to know so many new things about your significant other. Those in long-term relationships can ask more complicated questions. Here are examples of questions you can ask:
Beach or mountains?
Showers or baths?
Pizza or burgers?
Wine or beer?
Ice cream or cake?
TV or books?
Cats or dogs?
Chocolate or vanilla?
Indoors or outdoors?
Fancy restaurant or fast food?
Infographic: Fun Games For Couples
Games aren't only for kids; they can also be an entertaining opportunity to spend time with your significant other!
Play these games to get closer to your partner and discover more about their quirks in a fun and exciting way.
Discover why playing games with your loved one can be therapeutic, what research supports this, and what are the trendiest games you can play in the infographic below.


Relationships might lose their initial spark after the honeymoon period, and you may find it difficult to beat the monotony of the daily grind. Therefore, it helps to regularly engage in fun activities and games with your partner and keep exploring new things about them. It will also help you two grow closer as you delve deeper into each other. For instance, Romantic Scrabble, Scavenger Hunt, and This or That will provide a good opportunity to leave behind your inhibitions and have a great time together.
Check out this article for more 'this or that' questions.
Frequently Asked Questions
What game can I play with my boyfriend over text?
There are many games you can play with your boyfriend over text, such as 21 Questions, This Or That, Would You Rather, etc.
What games can couples play at home?
Couples can indulge in couple versions of games such as Truth Or Dare, board games, card games, staring contests, etc., conveniently at home.
Couples can indulge in couple versions of games such as Truth Or Dare, board games, card games, staring contests, etc., conveniently at home.
What activities bring couples closer?
Activities that require couples to work together as a team, such as doing chores together, playing games, solving puzzles, taking couple workshops, etc., promote communication and healthy interaction between couples, therefore bringing them closer.
Key Takeaways
Playing some fun games with your significant other can help you break away from the dreary routine and lend a romantic touch to your relationship.
Couples can interact on a new level while strengthening their relationship and nurturing a strong friendship through these games.
Whether you wish to enjoy a fun scavenger hunt with your partner or a witty round of Scrabble, you set the pace of the game to fit your schedule.