14 Exciting Games To Play On A Road Trip With Friends & Family
Fill your trip with fun and laughter by playing these fun and interesting games.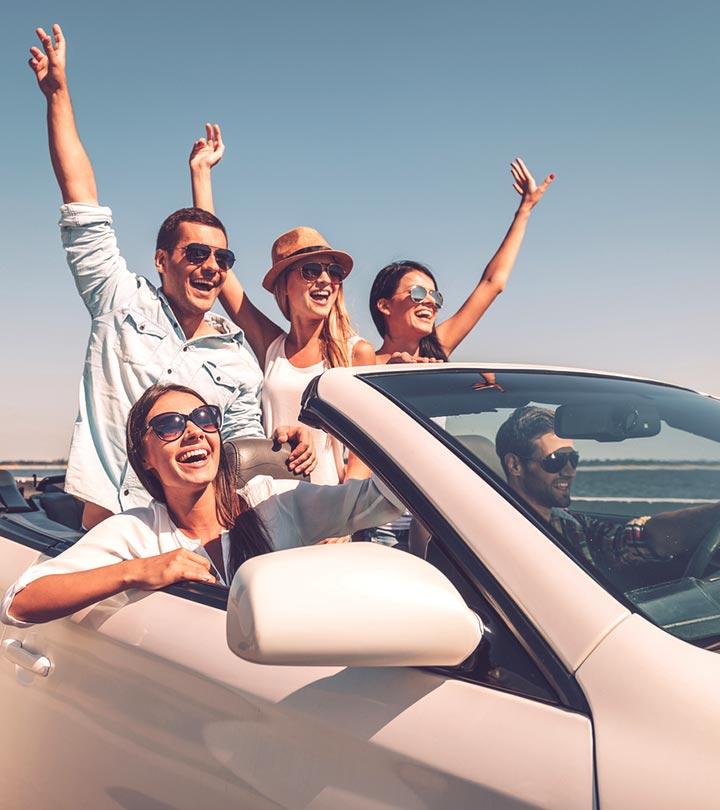 The word "road trip" conjures up images of fun with friends and family, "chill out" tunes, and plenty of time pass and gossip. So, get your list of games to play on a road trip prepared before heading out. The truth is, long journeys can be boring and tiring, despite the adventure and exploration that awaits. Whether you are playing "Who am I?" with the kids or putting crazy "would you rather" scenarios on the table, these road trip games will have everyone laughing. Check out the bunch of fun games to play for your next road trip below.
Fun Road Trip Games For Kids In The Car
If you are on a family vacation and want to keep your kids' minds occupied in the car, check out these road trip games for kids to have a memorable time.
1. I Spy
This group activity is ideal to play in the car for kids during a road trip. We can all recall spotting something with our small eyes that our siblings couldn't have guessed.
For those who require a revision of the rules, one person discreetly spies something that others can see but won't immediately guess. Keep in mind that the object must be visible for some time. The player says, "I spy with my little eye, something that is…" and delivers a hint – color, initial letter, or shape of the item. The other participants will ask yes-no questions until someone makes the right guess.
2. Who Am I?
Who am I? is another all-time favorite game that encourages kids to put on their detective hats and use logical reasoning.
Whoever begins the game imagines an animal or person. The other participants take turns asking questions to figure out who or what that person is. Players can ask anything that can be answered with a yes or no. They will then have to come up with an answer with the help of clues from the answers.
A fun way to play this game is to form teams. Each team can ask a defined number of questions. They get a maximum of three chances to guess the right answer. This increases the challenge level while teaching kids how to collaborate.
3. Don't Say It
Here's a tip to make a long ride more exciting. This road trip game for kids will keep them awake and on their toes throughout the ride. Players (or creative parents) can come up with 3-5 words or phrases that are forbidden for the rest of the trip or until an event occurs. At the end of the ride, the player with the lowest penalty wins.
4. I Packed My Bag
Whether or not your children are old enough to pack their luggage, they will have to do so in this game. This memory game produces large lists of packed objects. The kids will choose an imaginary vacation spot and take turns stating, "I packed my bag and in it is…" and adding an item after reciting what has already been said by other players in the correct order.
5. A Treasure Hunt
Scavenger hunt, like 'I spy', involves spotting objects. Prepare a list of riches for the youngsters to find or spot along the way while you travel. The person who finds all of the objects first wins. You can keep track of the score on a piece of paper.
6. 20 Questions To Ponder
It sometimes seems like the questions never end, especially with younger children. An exciting and fun method to get it out of their system is by asking them 20 questions. You may have played it before, but here's a quick refresher – one player imagines a person, location, or thing, and the others take turns asking yes-or-no questions. They get a guess as to what, where, or who it is after each question. The players lose if they don't solve the guessing game after 20 questions.
Family time can be fun with some cool and exciting car games to play on a road trip. You can enjoy the games listed in the next section with your entire family, including kids, elders, and youngsters. Scroll down to take a look.
Best Road Trip Games For Family
1. Game Of The Alphabets
Players attempt to find words beginning with each letter of the alphabet from A to Z. You can choose to play in teams, with each player building on the group's progress, or individually, with each person working through their alphabet.
When players find their next word, they scream out the letter and the word so that everyone can keep track. Some players follow the rule that all the players must return to 'A' if they see a graveyard.
2. Guess The Song
Turn on the radio or shuffle your Spotify, radio channel, or CD player. The first person to scream out the song's name as soon as the music begins will win.


Quick Tip
You may also make it more challenging by asking more questions about the music, like who starred in it or sang the song, if you all are music lovers.
3. The Infinite Word Game
In this fun game for a family road trip, one person begins with a word of their choice. The other players will say a word that begins with the initial letter. What's the catch? Every time a player says a word, a letter is added to the starting sequence. So, the players cannot use a word that has already been named. Let's see how far you can go with a bit of cooperation! (Hint: don't start with long words.)
4. The Trail Of Words
The rules of this game are simple. Players take turns naming compound words that begin with the last word of the previous compound word. For example, the series would go like this: animal barn – barnyard – yardstick – stick figure…and so on.
Traveling with friends on vacation? It is almost impossible to keep quiet when you are in the car with your friends for a vacation. Check out these fun games to play with friends on your next road trip and enjoy every moment.
Games To Play On A Road Trip With Friends
1. Two Truths And A Lie
This game is fun for both old and new friends and is one of the best games to play in the car with friends, depending on the truths and lies you choose to tell about your life. Three statements are made by each player, one of which is a lie. The others have to figure out which statement is a lie. You can be delicate in your mixture of truth and fantasy, retell a former incident that your co-travelers were a part of, and include one small lie.
2. Never Have I Ever
This is probably the most revealing of all the games to play on a road trip with friends. Players take turns saying things that begin with the phrase "never have I ever…" The rest then make guesses as to whether or not the assertion is true. The more rounds you play, the funnier the statements become.

Quick Tip
You may also make the person narrate the story of things they claim to have done to make the trip exciting and fun.
3. While You Were Sleeping
When people start falling asleep on a long car trip, it is the best time to play this game. After ensuring that the person is fast asleep, players make up a story about what happened while sleeping. Everyone awake contributes to the story. When the person gets up, others try to persuade them with their fabricated story. Whoever breaks character first or is discovered speaking a false story gets a dare to perform or a penalty work.
4. Retell A Story From The Past
Consider this a game of "who can lie better?" One player begins by narrating an incident about their life, which can include dating stories. Other players have to guess if the person is telling the truth or fabricating a story. Each player is given two follow-up questions, which they can use to guess whether the story is true or false. Finally, the loser has to reveal an actual, embarrassing incident of their life.
Infographic: What To Pack For A Road Trip
Indeed, road trips are all fun and games. But you must remember that you would be on the road for long hours, which would require packing various trip essentials.
Below is an infographic to list them all so you can have a fantastic road trip experience. Check it out!



Road trips are adventurous and amazing, but the long hours on the road can make anyone feel bored when conversations dry up and the music starts to feel too loud. That is why you need to be prepared with ideas for fun games to play on a road trip. Keep note of the road trip games for kids like I spy, Who am I?, I packed my bag, etc., to keep the kids entertained – because who wants bored and cranky kids in the car? Take your pick of games like two truths-one lie, while you were sleeping, the game of the alphabet, etc., and have a blast together.
Frequently Asked Questions
Are road trip games fun?
Yes, road trip games are fun because everyone is having fun, strengthening their bond, and making new memories together.
How do you make a solo road trip fun with games?
If you are on a solo road trip and happen to cross paths with friendly strangers, games are a great way to make friends with them. You can play Never Have I Ever, Who Am I, or 20 Questions to create a bond with your fellow passengers.
Can electronic devices be used for games on a road trip?
Yes, you can use electronic devices like smartphones, tablets, and handheld gaming devices to play games on a road trip.
Can games be adapted for different age groups?
Yes, you can theme it according to the age of the children on the trip. For example, you can go for simpler word games if you have younger kids.
Are there any games we can play while driving?
Even though drivers must focus on driving to ensure safety, they can participate in games that do not require them to take their hands off the wheels or their eyes off the road. Simple word games, storytelling games, guess the song, etc., are some games that the driver can participate in.
Can games help to reduce travel-related stress?
Long travels can be stressful, and games help ease the travel pressure and improve the bonding between the travelers. It can also help to fight boredom.
Are there any games to educate children during a road trip?
The "Alphabet Game", " 20 Questions," and "I Spy" are educational games that can impart knowledge while traveling.
What are some road trip games that can be played solo?
You can play crossword puzzles, sudoku, and word search solo. You can also play solo games like solitaire, jigsaw puzzle, minesweeper, and chess on your tablet or smartphone.
How can technology be incorporated into road trip games, such as GPS or social media?
Nowadays, everyone has a smartphone, and you can play interesting games like geocaching, road trip bingo, and social media challenge games to keep the travel duration interesting.
Key Takeaways
Playing games during a road trip adds extra fun to the journey and makes the trip memorable.
The Guess The Song game is one of the most amazing games to play during a road trip.
Get everyone involved in the games and have a good time together while traveling without getting bored.
Let's get ready for the best road trip ever! The following video takes you through the best road trip games to keep you entertained on your journey.