23 Best Garden Party Ideas For An Ultimate Outdoor Celebration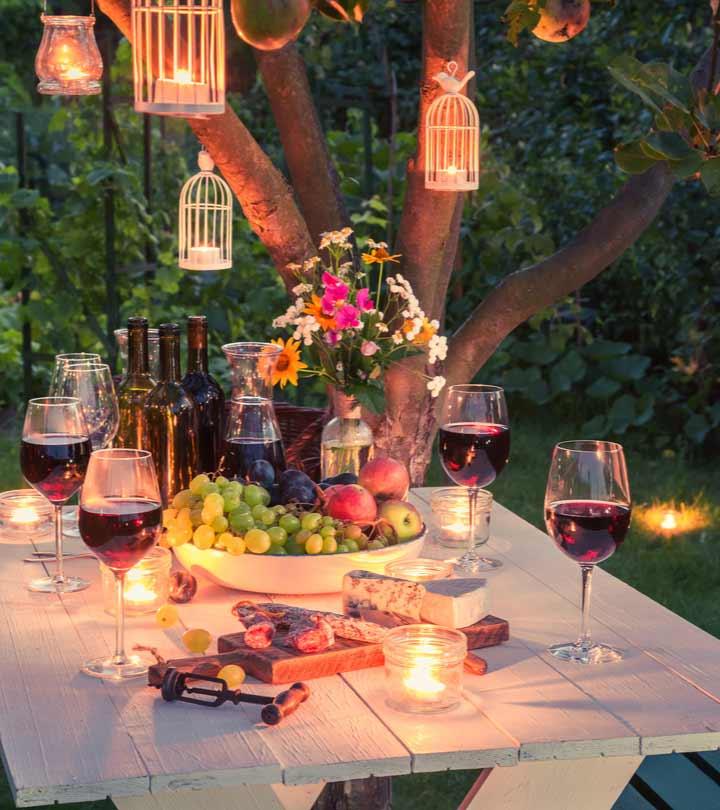 Laughter, friends, drinks, food, and lots of dips. As we are already tired of being indoors during the pandemic, garden parties are like rays of sunshine. The good weather is already beginning, and with it, the desire to enjoy the outdoor spaces. In fact, some vintage garden tea party ideas will make you feel like going back to the world of Pride and Prejudice. From some fantastic cubes decorated with flowers to cards inspired by nature, a floral drink bar, or many lights to illuminate such a special party, these get-togethers are beyond fun. That is why today, you are going to read some garden party ideas that can serve as inspiration while choosing the garden party design ideas. Be it an event in style or a gathering of friends; these ideas will surely help you make the party a success. Now, read on to enjoy the outdoors and make your parties a huge success.
Best Garden Party Ideas
It's really great that the garden party is a four-season celebration without the shadow of a doubt.
Plan your garden party date when the temperature is good, for it will allow you to have a sense of joy and cheerfulness in the atmosphere that will create a good mood for everyone. It doesn't matter if you don't have any special reason to have this party, because rain-or-shine, the name garden party itself, is an influence of perfect excuse. So, let us step into the world of the chicest and most aesthetically perfect garden party ideas.
Garden Party Decoration Ideas
What style of decoration is better than the beautiful and charming vintage style? Scroll down to check these amazing ideas that are perfect for all kinds of garden parties, especially for the vintage ones.
 For a garden party, flowers and tropical leaves are the most important basics. The combination of these two turns each event into an enchanting experience that provokes many dreams and smiles. They are the most natural and fantastic decoration for every outdoor party to give a magical atmosphere full of aroma and good humor. Decorate it as a centerpiece or backdrop and see how the guests will not want to leave that fairy tale.
 If you are totally into the vintage, soft and tender colors are gonna be perfect. Baby pink is a favorite of the style, mint green too, white, soft blue, yellow, lilac, orange, gold, and also shades of brown – all in tender hues. Use these colors for table covers, crockery or vases too.
 You can ask your guest to look for royal garden party outfit ideas to wear at the party. This way, the party will light up like Queen Victoria's royal vintage garden parties of the 1860s.
 Do not dispense with the tablecloth. Use appropriate crockery depending on the type of event and glassware, which is adapted to the kind of drinks you are going to serve.
 Reserve an area for drinks, some foods, or desserts. Try not to overfill the head table and set up different product stations, as wedding planners do.
 Create a more relaxed and personal atmosphere, mixing chairs of colors, styles, and materials.
 The tropical is in fashion, so surely it will succeed. Hawaiian garden party ideas are an inspiration for natural beauty.
Garden Tea Party Ideas
Choosing the garden tea party decoration ideas is not an easy task, with so many options available. If you have not decided yet, we propose an unusual idea that your guests will love and enjoy. This is a special tea party for your guests and you. Here you will discover how to bring this fun celebration to life.
 Make the silhouette of a mug with bright colored cardboard, write on it the details of the party and surprise the guests. This will reveal the theme for the occasion. You can add a teapot to decorate.
 Since most children don't like tea, prepare hot chocolate to serve the little ones in cute little plastic cups.
 It's time for some clever decoration, and placing balls of yarn in many pastel colors all over the garden is a fantastic idea. Also, choose teapots and cups with cute tiny brown and cream-colored flowers and leaves printed on them.
 Flowers can not be missing at the tea party. Make many of them with the help of tissue paper or crepe and stick them on the walls or hang them wherever they fit like a glove.
 Get inspired by various tea flavors from around the world and let your guests experience taste.
 Hang plastic cups from the branches of the trees. If the party is in the evening, then along with the cups, the fairy lights will do the magic.
Garden Party Food And Drink Ideas
The food and drink go according to the party. When there's a party at home, and you decide to make the food and drinks by yourself, then you may find major difficulties determining the quantity of food to make, which food will be more successful, etc., etc. Definitely, in real-time, we lack ideas; therefore, in this article, we present you easy garden party food ideas for your dreamy celebration too.
 As for the non-alcoholic drink, you must calculate around one liter per person. You can consider having a good amount of light drinks. Add a mocktail bar and lots of cold drinks. For cold breeze weather, go for cinnamon buttered rum, whiskey, Irish coffee, or mulled gin.
 Various flavors of tea can be your best substitute for non-alcoholic drinks too.
 A toast to life with your loved ones will be the best. Choose champagne for a toast, and it can be calculated one glass per person.
 As for food, if you serve the main course, have a portion and a half per person and between five and eight appetizers per hour per head.
 Burger bar, for the win! Everyone loves hamburgers, whether they are meat, tofu, or fish. Offer them to your tribe.
 Homemade cake, cookies, chocolate, and custard are the only assets needed to make a party shine, for they're just delicious! There are thousands of recipes for homemade desserts that allow you to save and take care of your health.
 As for dessert, it is enough to prepare one per person. For the cake, you will not need more than two servings per person.
Garden Party Theme Ideas
A fun idea to entertain yourself these days is to organize a themed party for family and friends. Depending on your tastes and the occasion, we have many ideas for your theme party. If you are planning a garden party, be sure to prepare a rich decoration. Of course, it mostly depends on the guests, whether you need to focus on monochromatic décor or be more creative. Check out our list for themed party decoration ideas!
Here is a list of the theme parties available.
 An Afternoon At Buckingham Palace: Decorate your garden in the posh and most elegant style of the 1860s. Wear the best gown from your wardrobe. Adorn the party with cupcakes, macaroons, and dozens of flowers. Don't forget to include sponge cake with buttercream and raspberries – the ultimate Victoria Sponge.
 Disney Classics: Who wouldn't love to be a part of the Disney fantasy world? Request your guests to show up as Disney characters. Go for Beauty and the Beast-themed crockery. And for the food, choose the best dish from each of the movies and shows of Disney.
Avengers Assemble: Let all the superheroes assemble in their favorite suit. The colors can be as loud as possible, and there shouldn't be any shortage of balloons. Food and drinks should go according to guests' preferences and definitely to the visual of the movies. Keep a face painter if possible. This will make the party more variant.
 The Great Gatsby: The art deco feels with golden elements for decoration can take you back to the world of jazz and 20s glamour. Place a champagne tower in the center of the garden. Let your garden overflow with the feast.
 Spring In Italy: Never say no to pasta and cheese when it comes to Bel Paese. Go for the charcuterie plates and wine as a starter. Choose green, white, and red as the main colors. Also, you can ask your guest to wear outfits by combining today's fashion and traditional ideas.
When planning an outdoor party, there are many factors to consider, such as inviting the proper guests, preparing delicious food and drinks, and arranging the garden to put everyone in a good mood. In addition, a one-of-a-kind decoration can elevate the experience to new heights. Flowers, leaves, lights, crockery, workstations, and seating arrangement are key things that you need to take care of when it comes to setting the ambiance. As for food, pay attention to portions and choice of drinks. The inspired garden party ideas shared in this post can help you plan the perfect party. So, go ahead and give your favorites a shot!
Key Takeaways
You do not need anything but perfect weather to plan a garden party.
A perfect ambiance is what all your guests would be craving. So, decorate your garden with flowers and tropical leaves to leave them in awe.
Plan your menu perfectly, starting from appetizers to liquor and main course. Arrange alternative drinks like teas for those who do not consume alcohol.
The following two tabs change content below.