Does Garlic Help Acne? What Does Science Say?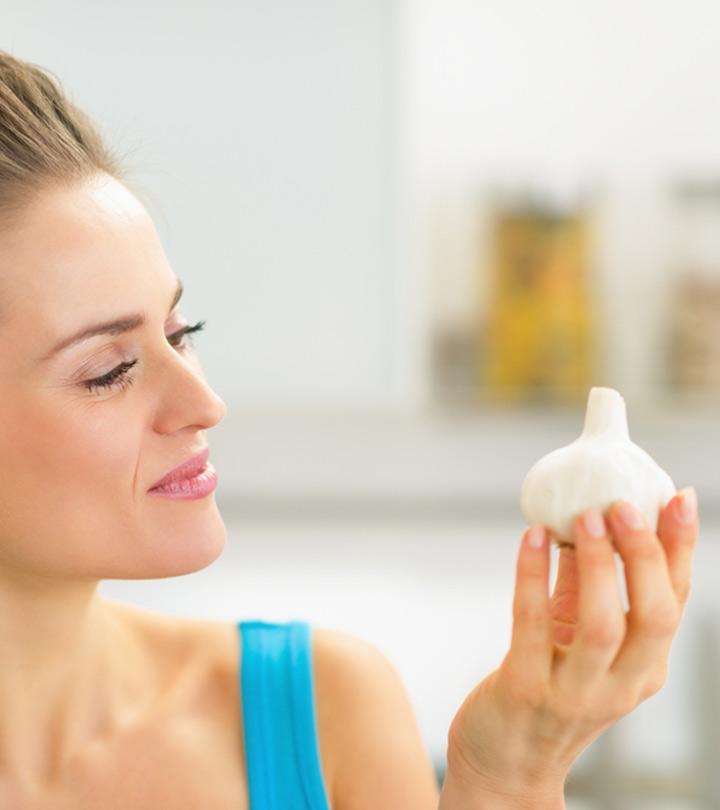 Garlic is popularly used in folk medicine to treat many ailments ranging from diarrhea to respiratory illness. It is also believed to treat various skin conditions, including acne. Is garlic just an old wives' tale or does it really have acne-busting properties? Find out here. In this article, we look at scientifically proven studies on garlic and its effectiveness against acne. Keep reading.
Garlic For Acne – Does It Work? What Science Says
In a recent study, 7.5 % of garlic juice was found to fight against Propionibacterium acnes, a bacteria that causes acne (1). This study had further demonstrated that using garlic juice in a gel form could be better due to its added stability. However, this study needs to be further validated by clinical trials.
Garlic has been used as a preventive remedy since ancient times to ward off infections. Scientific evidence reports that garlic does have anti-microbial properties against other species of bacteria like Staphylococcus, Salmonella, Vibrio, Mycobacteria, and Proteus (2). However, the exact mechanism of how garlic works to fight acne is yet to be studied.
For now, we can speculate that the antibacterial and anti-inflammatory properties of garlic may help manage acne.
If you are wondering how to actually use garlic to treat acne, we have got you covered. Read on to learn the different ways you can use garlic to treat your acne.
How To Use Garlic For Acne?
1. Garlic Puree
This simple homemade remedy is believed to be effective due to the antibacterial properties of garlic. Raw garlic can also be used, though a diluted version will be gentler on your skin. You can use this remedy thrice a week for the best results.
You will need
3 to 4 cloves of garlic
1 tablespoon of water
Process
Crush the garlic cloves.
Add water to make a thick puree.
Apply the mixture to the affected area.
Leave it on for 10 minutes.
Rinse with water.
Pat dry.
Apply a moisturizer.
2. Garlic And Yogurt
Yogurt has probiotics that may help treat acne (3). It is believed yogurt may also clear out clogged pores and dead skin cells that may otherwise contribute to acne. You can use this every alternate day to help get clear, blemish-free skin.
You will need
2 to 3 cloves of garlic
1 tablespoon of yogurt
Process
Grind the garlic cloves and yogurt to a fine paste.
Apply this mixture to the acne-prone area.
Rinse with warm water after 15 minutes.
3. Garlic And Rosewater
Rosewater is soothing and gentle on acne-prone skin. Rosewater and the plant's extracts have been reported to be effective against acne, thanks to their antibacterial properties (4).
You will need
3 cloves of garlic
1 tablespoon of rosewater
Process
Crush the garlic cloves and add rose water to make a thick paste.
Apply this mixture to the affected area.
Do not leave this on for more than 10 minutes. Rinse with lukewarm water.
Pat dry and follow with a moisturizer.
4. Garlic And Aloe Vera
This natural remedy is applied topically on the skin. It can be helpful to prevent future breakouts (5). Apart from hydrating the skin, aloe vera also has an anti-acne effect (6). This home remedy is perfect for people with sensitive skin.
You will need
2 tablespoons of garlic juice
2 tablespoons of aloe vera
Process
Add aloe vera to the garlic juice.
Apply this to the acne-prone area.
Rinse after 15 minutes
5. Garlic And Honey
Honey is a natural humectant and has anti-microbial properties (7). This remedy is perfect for those with dry skin. You should use this only once a week.
You will need
2 to 3 cloves of garlic
1 tablespoon of water
1 tablespoon of honey
Process
Crush the garlic cloves and dilute the mixture with water.
Take equal quantities of garlic-water mixture and honey.
Mix them thoroughly and dab the solution over your pimples or acne scars.
Wash after 10 to 15 minutes.
6. Garlic And ACV
ACV has anti-microbial properties that may help treat acne-prone skin (8). However, keep in mind to use diluted ACV on the skin. Undiluted ACV could be too strong for your skin.
You will need
3 cloves of garlic
2 tablespoons of diluted apple cider vinegar
Process
Grind the garlic cloves with ACV.
Strain the mixture with a cheesecloth.
Spread a thin layer of this solution over your acne.
Let it dry for 10 minutes.
Rinse with water.
Anecdotal evidence suggests that drinking garlic water or raw garlic juice may also help clear acne. However, keep in mind that consuming too much garlic has its own risks.
Precautions To Be Taken
Garlic is very strong in nature and can cause a slight burning or stinging sensation when applied to the skin directly. It is recommended to dilute it with water or other ingredients before topical application. Contact a doctor if you notice the following symptoms after applying garlic:
Redness
Swelling
Persistent tingling or burning sensation
Allergic reaction, skin irritation, or rash
Garlic is known to interact with various drugs and medications (mentioned below) (9). Keep this in mind before you ingest garlic-based home remedies.
Warfarin
Antiplatelets
Saquinavir
Antihypertensives
Calcium channel blockers
Quinolone family of antibiotics such as Ciprofloxacin, and hypoglycemic drugs
Conclusion
Studies have shown that garlic is effective against acne-causing bacteria. However, more clinical studies are warranted to substantiate the anti-acne effects of garlic. Anecdotal evidence provides a strong case for using garlic to manage acne. Do keep in mind that it is strong and can burn the skin – use it in a diluted form. When it comes to ingestion, garlic is known to interact with various medications. Hence, consult a licensed medical professional before you consume it.
Recommended Articles
9 Sources
Articles on StyleCraze are backed by verified information from peer-reviewed and academic research papers, reputed organizations, research institutions, and medical associations to ensure accuracy and relevance. Check out our editorial policy for further details.
The following two tabs change content below.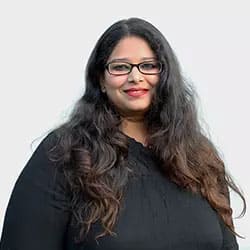 Annie Jangam is a Molecular Biologist with 7 years of research experience in Rice Functional Genomics and Nutrient Signalling with International Publications in Abiotic stress, Nitrogen, and G-protein signaling. She specializes in writing on Health and Wellness. She has been an avid reader since childhood and is passionate about stories that help decipher life and its meaning. She believes in Human Rights for all and that one should "love others like we love ourselves."