Top 10 Gemini Tattoo Designs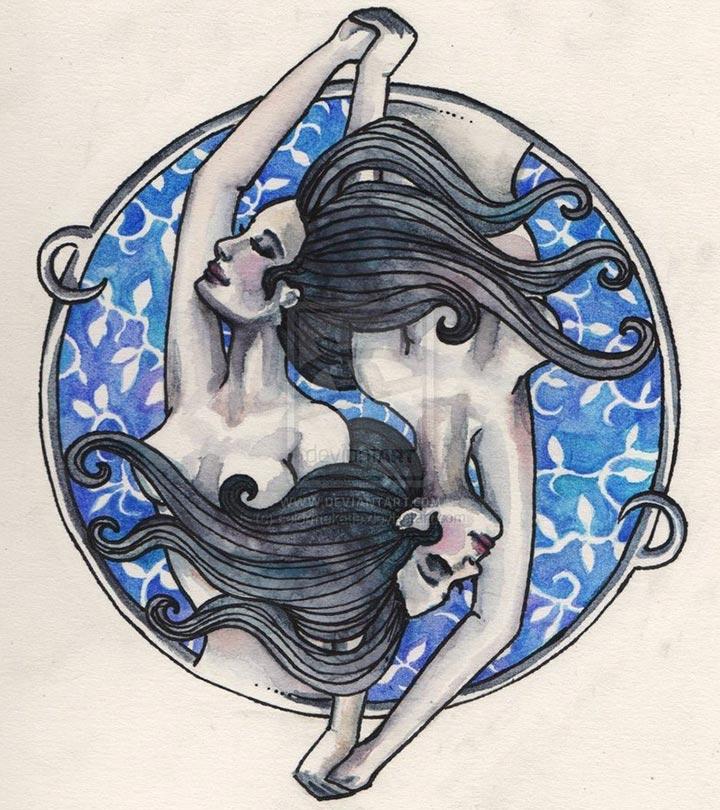 People born under the Gemini birth sign are known to be kind, loving, loyal, enthusiastic and witty. However, the Gemini are also extremely free spirited with a strong sense of individual style and fashion. Which is one reason why a Gemini would almost never shrink from having a tattoo inscribed that expresses their individuality. If you are a Gemini and you are proud of your birth sign, these top ten Gemini tattoos should effectively help you flaunt it.
Top Ten Gemini Tattoo Designs:
1. Gemini Twins Tattoo:
This depiction of the Gemini twins through tattoo art is bound to have all who see it spellbound. Make a note of the apparent shadow drawing effect and the use of dark midnight black that only serves to draw one's attention all the more towards this piece of art. It's only wise that you have this tattoo replicated by a seasoned tattoo expert.
2. Gemini Twin Fish Tattoo:
Normally fish signify the Pisces sun sign. However in this case, the pair of identical fish effectively depict the Gemini theme. Make a note of this tattoo shaped like a pendant for your neck which you can proudly wear if you are a Gemini.
3. Gemini Female Twins Tattoo:
This Gemini tattoo design is apparently the work of a brilliant artist. Make a note of the ultra feminine edge to this fine work of art and look closely at the elaborate headgear. This is definitely going to be a difficult work of art to replicate, so its best you find an experienced tattoo artist to inscribe this work of art exactly as it is depicted here on to your skin.
[ Read: Tattoo Designs ]
4. Gemini Black And White Tattoo:
This concept of Gemini art is common to retro era tarot card symbols and stands out for its abstract form and design sensibilities that have a mysterious effect. Take a close look at the macabre closed eyes and the merging hair and this tattoo will surely have you hooked.
5. "Gemini" In Gothic Script Tattoo:
This tattoo in Gothic script simply says "Gemini" and is an effective way to flaunt your birth sign. You can bring in your own ideas with the desired font or color or leave it as it is. It is definitely left up to you.
6. Gemini Birth Sign Tattoo with Stars:
Yet another Gemini symbol tattoo that signifies the Gemini birth sign with stars that effectively accentuate this trendy piece of art. This modern take on the age old Gemini sign is a clear indication that the lucky ones to have this tattoo inscribed on their skin are definitely stars.
[ Read: Eyebrow Tattoo Designs ]
7. Miniature Gemini Tattoo:
If you want to flaunt your birth sign and be subtle about it, this miniature tattoo that simply says "Gemini" in stylistic font is the perfect find for you. Easily replicated, you would not have much trouble finding an experienced tattoo artist to handle this piece of art. Keep it small and choose black for an amazing yet subtle effect.
8. Gemini Contrasting Twins Tattoo:
If you are fine tuned in to both your good and bad side and publicly acknowledge the angel and the devil in you, this Gemini tattoo is the perfect piece of trendy art for you. Get this tattoo to have a definite shock and awe effect on all who see it inscribed on your skin. To grab some public attention, flaunt it fearlessly on your bare skin.
[ Read: Top 10 Halloween Tattoos ]
9. Gemini Twin Fairies Tattoo:
This tattoo depicting twin fairies is true to the Gemini theme and is bound to get you a lot of admiring and often shocked looks. Stay true to the concept as depicted here and you have yourself a winner Gemini tattoo.
10. Gemini Sign Floral Tattoo:
Last but definitely not the least on our list, this Gemini tattoo with floral motifs is best replicated in small size and strategically placed on the nape of your neck, your ankles and on your wrists. This Gemini sign floral tattoo will help create an ethereal and colorful tattoo design.
[ Read: Forearm Tattoos ]
So which one of these top ten Gemini tattoo designs is your favorite? Please don't forget to drop in your comments below. Stay stylish, stay gorgeous.
Image source: 1 , 2 , 3 , 4 , 5 , 6 , 7 , 8 , 9 , 10
The following two tabs change content below.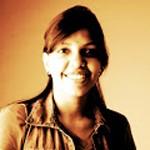 Latest posts by Shruti Goenka (see all)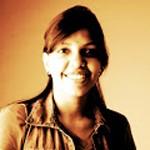 Shruti Goenka
Hi I am very passionate about makeup, fashion and health related topics, I always had a soft corner for makeup and beauty. I believe makeup has the power to enhance features and can turn flaws into strengths. Makeup keeps me busy and yet it gives me the opportunity to follow my passion.