Was the picturization of the Gerua song completely copied from Justin Bieber's "I'll Show You"?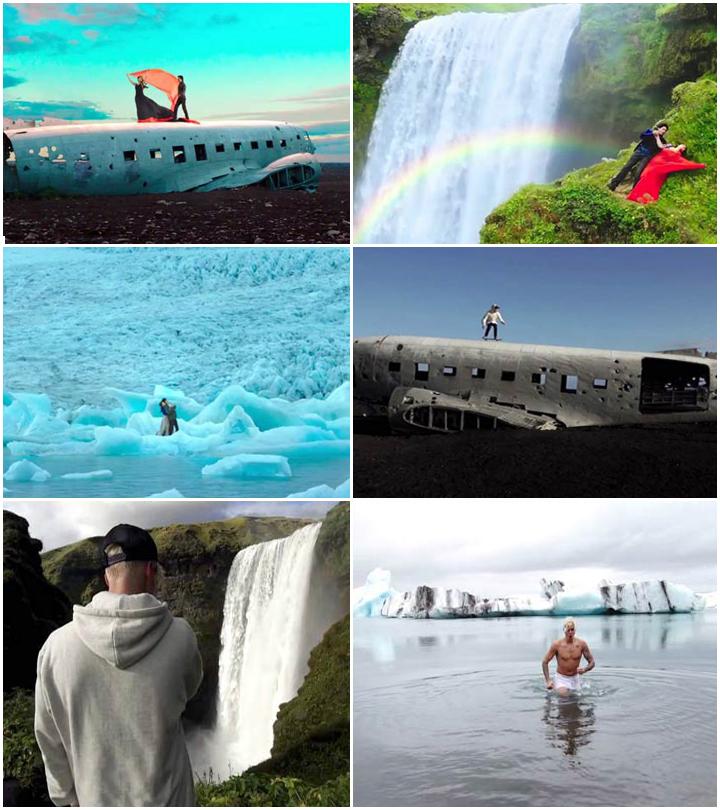 I've been listening to Gerua on loop since this morning. Shah Rukh and Kajol, back together, bring back memories of when I was in school and swinging to songs from Baazigar, DDLJ, and KKHH. Those days, it was all about first loves, crushes, heartbreaks, and first kisses.
Gerua, which means orange, is a song from Rohit Shetty's latest movie Dilwale. It sounds b.e.a.u.t.i.f.u.l. Such a melodious song! Arijit's voice is mesmerizing and Antara Mitra has done a great job as well.
What's also great about the song is the way it has been picturized and the locations it has been shot in Iceland. Absolutely stunning! But has the location featured in this song been completely ripped off from Justin Bieber's new song "I'll Show you"?
Here's JB's song:
Here's the Gerua song:
Take a look at both of them and decide which one has been picturized better. But in case you're interested in knowing the locations where the Gerua song has been shot, here are the stunning locations:
1. The intro, when SRK is walking towards the camera (0:19 in the video), was shot at Reynisfjara Beach in Iceland.
According to local myths, the large black rock formations are trolls that were caught in the sunlight and suffered petrifaction.
2. The stones formation on the beach where Kajol and SRK dance, about 0:55 seconds in to the video, has also been shot at Reynisfjara Beach in Iceland.
3. The aeroplane wreckage that SRK and Kajol dance on (1:45 in the video) is at the Sólheimasandur's black sandy beach. This plane crashed on Nov 24, 1973. It was a United States Navy airplane, C-47 Skytrain, also known as "Dakota", which was also in service in the Indian Air Force. This place had to crash land on Sólheimasandur's black sandy beach. Thankfully, the lucky crew survived this crash landing. The airplane's remains are still standing at the crash site, waiting for film crews to come and shoot near it!
You can also see Justin Bieber's skateboarding here in his video, so Sólheimasandur is quite the celebrity haunt now.
4. At 2:37 in the video, the spectacular waterfall you see is at Skógafoss, Iceland.
It's a waterfall situated on the Skógá River in south Iceland.
The waterfall was also used in the filming of Thor: The Dark World, as well as in The Secret Life of Walter Mitty.
5.The sequence where SRK is running on water, from 2:55 in the video, was shot against beautiful hills on one side and a beach on the other.There is a thin layer of water which is very clear and still and makes for an excellent photography spot.
The location is Stokksnes, which is close to the town of Höfn in eastern Iceland.
6. The glacial lake you see at 3:43 is the Jökulsárlón glacial lagoon. Amazing location! The lagoon is located near the Vatnajökull glacier and the temperature in the lagoon is a freezing 1 degree C (33.8 F). Want to take a dip here?
We've listed these locations so that you can visit Iceland and prance around like SRK and Kajol!
Iceland looks like an amazing location to visit. It has been used in multiple movies and songs. So go ahead and plan your next vacation here!
On whether Gerua's picturization was copied from or "inspired" by Justin Bieber's song, well, you can't really compare SRK and JB. SRK is several notches above JB. No offence, JB fans.
The following two tabs change content below.