Benefits Of Ginger Tea Backed Up By Science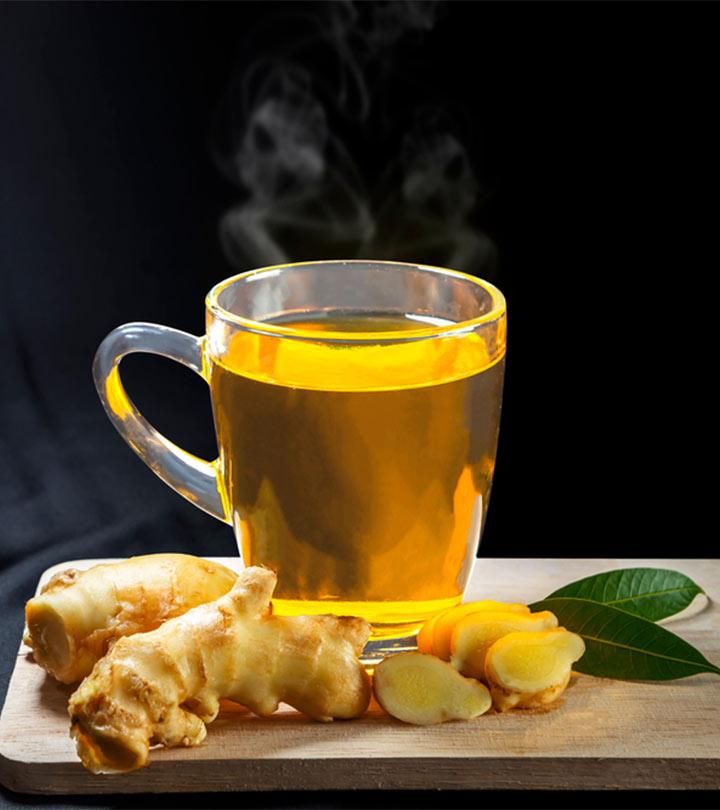 What you commonly call ginger is the underground stem of the flowering plant Zingiber officinale. It's found in kitchens around the globe for the benefits of ginger tea and its culinary use as a spice. Yummy ginger is present in candies, soda, alcohol (yes, there is ginger beer and ginger wine!), cookies, and more. But what beats all of these is a freshly made cup of ginger tea. Wondering what the big deal is? Well, this article is for you if you're wondering about the benefits of this magical herb.
Most Common Ginger Tea Benefits For Health
Traditionally, ginger has been used to treat various ailments ranging from nausea to high blood sugar levels. Many of its uses that you hear about have been passed down through the centuries. It goes without saying that the popularity of ginger has been quite high for a while; luckily, the benefits of drinking ginger tea are also backed up by Science.
1. Prevents High Blood Pressure And Keeps Your Heart Healthy
Is ginger good for high blood pressure? The answer is "Yes"! A study conducted to evaluate the effect of regular ginger consumption on chronic diseases (health conditions that generally last at least a year or more) confirms that ginger can prevent high blood pressure and other heart diseases. Gingerols, and shogaols, two of the active compounds in ginger, have a plethora of healing properties to keep your heart happy and pumping merrily (1).
2. Fights Obesity And Controls Blood Sugar Levels
You can warm yourself with a bright cup of ginger tea and shed weight sipping on it. A review of multiple studies conducted to explore the effects of ginger on weight loss and metabolism has some great things to say! Ginger not only helps to reduce body weight but also decreases waist-hip ratio, fasting glucose levels, and insulin resistance (2).
3. Alleviates Nausea From Morning Sickness Or Chemotherapy
Getting sick is sickening— and stressful! If you are pregnant or undergoing treatment for cancer, you may be relieved to know that anti-nausea drugs have a natural alternative in ginger. A systematic review conducted to investigate the efficacy and safety of taking ginger to improve symptoms of nausea and vomiting during pregnancy has great results for you. You can drink ginger tea or get all ginger water benefits with no risk to your baby to make nausea symptoms better. As a caution, it is best to not take more than 1500 mg daily, which is roughly a tablespoon of grated ginger. Also, discuss this with your doctor before you start (3).
A clinical trial with patients receiving chemotherapy was conducted to find if ginger could treat the associated acute nausea and vomiting. The conclusion? If you consume between 0.5 g to 1g of ginger per day, you may find your symptoms much improved (4). However, make sure that you get your doctor's opinion before you start consuming ginger regularly.
4. Supports Oral Health And Boosts Immunity
If you want a smile that shines and less frequent visits to the dentist, stock up on fresh ginger. That's because, according to a study, compounds called gingerols present in ginger work wonders to fight off some really nasty bacteria that can otherwise mess up your dental health.
There are other benefits of ginger tea besides being a natural, tasty, and easy-to-prepare antimicrobial elixir; it has antifungal, analgesic, and anti-inflammatory properties. This means that incorporating ginger into your diet can give your immune system a good boost (5).
5. Relieves Muscle Soreness And Pain
Aching from menstrual cramps, sore muscles after a workout, or a bout of migraine? A dash of ginger in your tea may just do the trick. The anti-inflammatory, antioxidant, and analgesic properties of ginger work together to alleviate symptoms of pain, according to a research study conducted to understand its role in pain relief (6).
Do all these benefits of ginger tea make you want to switch to a ginger tea diet pronto? You may want to slow down and head over to the next section to find out how safe ginger tea is for you.
Are There Any Side Effects Of Drinking Ginger Tea?
No, ginger, and more specifically ginger tea, has no severe side effects. The catch here for you is to not binge on ginger and err on the side of caution in certain situations.
Heartburn, Gas, And Diarrhea
It is hard to overdose on ginger tea, but if you have too many cups, you may reverse all the wonderful work ginger has done for your digestive tract and find yourself bloated and gassy. According to a review of studies that were conducted to look at ginger and its effect on human health, heartburn is a possible symptom of having more ginger than your body wants. Some mention of diarrhea as a side effect of ginger is presented, but there is not enough conclusive data on this (7).
Concerns During Pregnancy
This one's not really a side effect and rather a word of caution. Ginger has properties that make it act as a blood thinner, which may lead to bleeding. You, like many others, may be terrified of ginger right now and want to keep it at a distance, especially if you are carrying a baby. Rest easy because a systematic review of studies noted that 1g of fresh ginger up to four days a week is safe for the mother and child in the first trimester for the treatment of morning sickness (8).
Blood Thinning Effect And Possible Interactions
If you are on blood thinners, like Warfarin or other similar drugs, it is best to speak to your doctor before including ginger tea in your diet. Research shows that ginger has an anti-coagulation effect on the body. That means, it can slow down blood clotting and lead to bleeding. However, you need not be concerned unless you are due for surgery the following day or are taking blood-thinning medication. In these cases, follow your doctor's advice (9).
You must be eager to jump to where you are sitting cozy and drinking this exquisite elixir after learning about all the ginger drink health benefits, so here are some quick and quintessential recipes coming right up!
Recipe Time: 2 Sure-fire WaysTo Make Delicious Ginger Tea
Just like ginger tea benefits, ginger tea recipes are numerous. The creative possibilities of combining ingredients with ginger to make a fantastic cup brimming with health benefits are endless. For instance,
If you want to stop a cold coming on right on its tracks, you can make the most of lemon ginger tea benefits for the immune system. Lemon has been traditionally used to treat a common cold (10).
To make things simple for you, here's the most basic ginger tea recipe. Get this right and you won't have to spend cold mornings and late evenings wondering what to drink!
#1: The Simplest Ginger Tea Recipe For Keeps
Servings- 2 cups
Time
Preparation: 2 minutes
Process: 5 minutes
Ingredients
2 cups of water
1 piece of fresh ginger root
Preparation
1. Wash and clean the ginger to remove any dirt and soil.
2. Scrape away the peel of ginger with a spoon. If you have organic ginger, you can skip this step and leave the skin on.
3. Slice the ginger into 1 to 2 inch thick sections. Each cup uses 2 such slices.
Process
1. Pour 2 cups of water into a saucepan and put over medium heat.
2. Add four 1-2 inch slices of ginger to the water and bring to a boil.
3. Let it boil over medium heat for 5 minutes.
4. Strain and pour a cup to enjoy all the benefits of ginger tea.
5. (Optional) You can squeeze in a dash of lemon and/or drizzle a little honey for added flavor and benefits.
This earthy and mildly spicy tea is perfect served hot on cold or gloomy days. Hop on to the next recipe for a cool refreshing drink.
#2: Refreshing Honey Ginger Iced Tea As A Summer Cordial
Servings- 8 cups
Time
Preparation: 5 minutes
Total: 25 minutes
Ingredients
8 cups of water
8 tea bags or 2 tablespoons of loose black tea leaves
1/3rd cup of honey
2 teaspoons of finely-grated fresh ginger
Preparation
1. Put water to boil.
2. Clean, peel and grate a knob of ginger.
Process
1. Pour the bubbling water into a glass pitcher that is heat-resistant.
2. Dip the tea bags or add the loose tea leaves and let them sit steeping for 10 minutes.
3. Discard the tea bags or strain the tea and let it come down to room temperature.
4. Stir in the ginger you have grated and the honey.
5. Stash it in the fridge for it to chill nicely.
6. As a reward for your patience, pour and enjoy!
Now that you know how to make yourself a glorious cup of golden health, you may want to know why, as a woman, you should totally make best friends with ginger (the diamond is overrated, really!).
The Amazing Effects Of Ginger On A Woman's Body
The health benefits of ginger tea can be experienced by all; but as a woman, you get some exciting additional benefits besides all the ones you have read above.
Drink a warm cup of ginger tea to soothe muscle cramps during your period. Due to its anti-coagulation properties, chances are you may need to pass fewer blood clots and have a considerably smoother menstrual flow (13).
Lowered Risk Of Ovarian Cancer
Ovarian cancer poses a huge threat to the life and well-being of every woman. Luckily, a study undertaken to confirm the effect of ginger on cancer cells noted that ginger can prevent the growth of ovarian cancer cells, thanks to its anti-cancer properties. All the more reason to drink ginger tea every day, right (14)?
Who doesn't want to look forever young? A review of current evidence regarding the anti-oxidative and anti-inflammatory effects of ginger on human health has noted that ginger can control the process of aging. The best part? You can get some amazing ginger tea benefits on skin like fewer wrinkles, delayed age-lines, and an overall youthful look. Plus, the action of ginger and warm water can bring a glow to your skin (15).
There is one more interesting thing that ginger tea does to your body. It is about something no one wants to talk about, but everyone wants to do. Take a guess— that's right! It makes you poop. Is it bad poop or good poop? Read on to find out.
Does Ginger Tea Have Any Effect On Constipation?
Yes, the happy answer is yes. Drinking ginger tea can help you take a long and satisfying dump. A review of studies undertaken to analyze the effectiveness of ginger against gastro-intestinal disorders summarizes that ginger can help to move food more quickly through the intestines and pass smoothly (16).
.
Wondering how to get the most out of all the benefits of ginger tea by adding it to your health and fitness regime? Read on to find out how often is not too often for a cup.
Drinking Ginger Tea Every Day: Is It A Good Idea?
Yes, you can drink ginger tea every day without exposing yourself to any risk of ginger-related side effects. The recommended daily dose is 4g of ginger, according to a peer-reviewed published article consolidating evidence-based data on the herb. In any case, stay below 6g of ginger for making your tea every day, as quantities beyond that may trigger abdominal discomfort and other mild side effects. However, if you are pregnant, due for surgery, or undergoing treatment for cancer, diabetes, and high blood pressure, you need to be cautious and check your dosage with your doctor to continue getting ginger tea benefits (17).
In a nutshell, the numerous benefits of ginger tea far outweigh the potential risk of side effects that overconsumption of ginger carries. You can combine ginger with green tea to get ginger green tea benefits. You can also make the most of your culinary creativity to mix and match hot spices like cinnamon, star anise, and cool herbs like mint with ginger for an endless supply of happy, and healthy teas to drink.
FAQ's
1. Does ginger tea have caffeine?
No, ginger tea is a type of herbal tea that is naturally 100% caffeine-free.
2. Is ginger tea good before bed?
Yes, ginger tea is a good choice as a bedtime tea as it is caffeine-free.
3. Does ginger tea have tannins?
Ginger has tannins, in low quantities. White ginger has lower concentrations of tannin than yellow ginger varieties (18).
Sources
Articles on StyleCraze are backed by verified information from peer-reviewed and academic research papers, reputed organizations, research institutions, and medical associations to ensure accuracy and relevance. Read our editorial policy to learn more.
The following two tabs change content below.