15 Best Sleepover Games For Girls To Keep Them Busy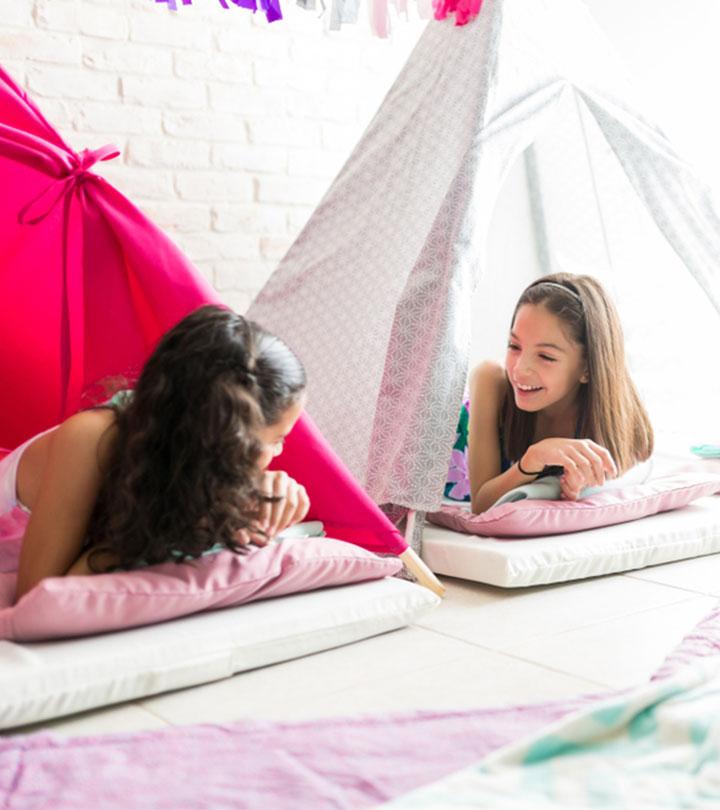 The perfect sleepover means fun activities and great entertainment. You will have a swarm of girls playing board games, gorging on snacks, and yapping their way. But are you confused about how to keep the kids engaged for your first slumber party? You need a game plan– tire the little minds, so they get exhausted and sleep eventually. If you are looking for things to do at a sleepover, we have got you covered. Here is a list of the 15 best sleepover games for girls to keep them busy. Scroll down to check them out!
15 Best Sleepover Games For Girls
1. Sleepover Ball Game
This game is an ice breaker and will help the new girls in the group get familiar with each other. All you have to do is dig in your garage to find big plastic balls and write questions on them using a marker. To make it more interesting, ask the girls to jot down the questions they want their friends to answer. The girls can toss the question balls at each other, keep answering them, and have a laugh riot.
2. DIY Pizza
Everyone loves pizzas, and what's better than indulging in an activity that not only engages your girls but also feeds their little bellies. Keep the pizza dough handy for them to flatten it, sprinkle cheese, and spread marinara sauce over it. You can also have a ready assortment of olives, bell peppers, mushrooms, onions, and tomatoes. Make sure they wear oven mitts while using the microwave for baking the pizzas.
3. Treasure Hunt
Make the sleepover party fun for the girls with a treasure hunt at home. Set up clues for each player, or you can ask the girls to come up with a set of clues and then swap. Rhyming clues for small girls will add an extra quotient of fun. Hide the clues inside envelopes and reserve a gift for the one who is quick to solve the riddles and claim the treasure.
4. Photo Props
Teenage girls love to click selfies. You can get some party props such as hats, sunglasses, crowns, and funky accessories. The girls can create some fun props and print the images if they like. A photo booth for the slumber party will be greatly appreciated. If they are ambitious, they can use the props and create a short movie for entertainment.
5. Blindfold Makeovers
Traditional makeovers for girls are a thing of the past at slumber parties. Blindfold makeovers would be a delightful and entertaining idea. The girls can work in pairs and blindfold the person who is applying the makeup. The results of this makeover activity will make them burst them into laughter.
6. Gazing At The Stars
If the girls want to stay up all night and savor nature's beauty, why not make this an opportunity to learn something new. Place a telescope in your backyard, and the girls can spot planets, stars, and constellations and look up more facts about them later.
7. Watching Sunrise
Cross your fingers, hoping that the kids have had a wink of sleep beforehand. If they want to stretch their hours and you hear them giggling early morning, treat them to a beautiful sunrise.
8. Cupcake Frosting
No one can ever outgrow chocolate sauce, M&Ms, sprinkles, and frosting to decorate a cupcake. Have varieties of cupcake toppings and baked cupcakes ready for the girls to grow wild and unleash their creative side. This activity can lead to a sugar rush later. You can also substitute cupcakes with ice cream toppings.
9. Indoor Camping
Indoor camping can be an excellent sleepover game if you want to recreate the summer camp vibe. This activity will relieve any anxieties regarding mosquitoes and rough weather conditions. All you have to do is build blanket forts or indoor tents for the girls at home. If the kids are old enough, they can work their way through this by themselves. This game can be paired with some snacks and their favorite movies.
10. Making Fancy Popcorns
What's better than to couple up a movie night with popcorns? The girls will love this idea. Try popcorns of different flavors, such as caramel, cheddar, bacon chocolate, creamery butter, and honey mustard, to make it more interesting.
11. Serve Hot Chocolate
We all know that hot chocolate, especially during winters, is a cult favorite of kids. Take any hot chocolate and add mix-ins like pumpkin spice, mocha spice, orange, or peppermint.
12. Pancake Brunch
After a night full of exciting activities, it would be a great idea to satiate their taste buds with a pancake breakfast. The girls can chat about all the fun they had last night while gorging on delicious pancakes. Adding whipped cream and their favorite fruit topping can be a hit too.
13. Fashion Show
How about using tin foil and toilet paper to create dresses? Let's plan a fashion show! The girls can unleash their aesthetic side and create outfits as they walk down the aisle like a supermodel.
14. Sleepover Pillowcase Craft
This craft idea for a sleepover party will keep the girls engaged and happy. Give your girls white pillowcases, markers, and fabric paints. Let them spill their creativity and imagination on the pillowcases and come up with great artworks.
15. Ankle Balloon Stomp
In the ankle balloon stomp game, each player has a balloon tied to their ankle. They have to pop the balloon of the other players while protecting their balloon from getting stomped. Turn on the music and let the girls have some fun and entertainment.
These sleepover games will help you plan a perfect slumber party. Choose the right mix of activities that will exhaust the girls and sedate them with some entertainment. Their talk about the eventful night will make your heart full and happy.
The following two tabs change content below.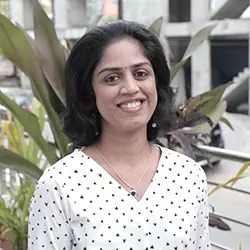 As Chief Editor, Harini sets the tone and editorial direction for StyleCraze to deliver engaging, interesting, and authentic content revolving around women's health, wellness, and beauty. She has over 14 years of experience in content writing and editing for online media. She specializes in the areas of Beauty, Lifestyle, and Health & Wellness and is proficient in Medical Sciences (Biology, Human Anatomy and Physiology, and Biochemistry). Her background in Biomedical Engineering helps her decode and interpret the finer nuances of scientific research for her team. Harini is a certified bibliophile and a closet poet. She also loves dancing and traveling to offbeat destinations.