How To Give A Hickey To Someone – 4 Simple Steps
It is not as painful as it looks but do remember to follow these precautions.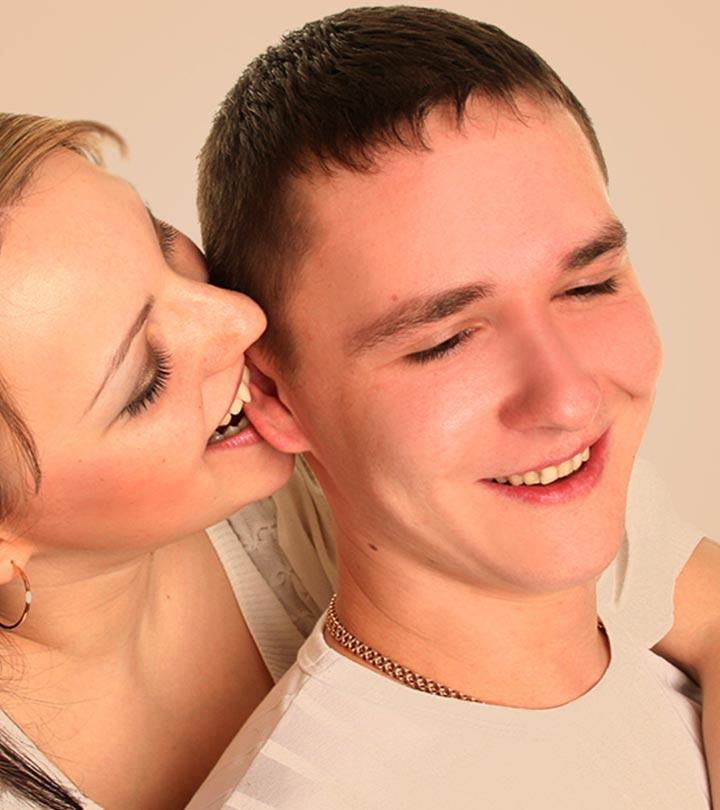 Are you bored of gifting your partner expensive gifts? Why don't you try and give them a special memento of love? Now that Valentine's Day is around the corner, lovers worldwide are busy planning surprises for their special someone.
You can also make the day memorable for your sweetheart without burning a hole in your pocket. Do you want to know how? Well, we are talking about hickeys! Have you ever had questions like how do you get a hickey, how do you give someone a hickey, or even what are hickeys? Well, we have your back in this article! From what hickeys are to how you can give one, we have covered it all. So, keep scrolling to learn more about them and give your partner a delightful time!

Fun Fact
In the animal kingdom, male mammals are frequently found to be nibbling at female mammals' necks while they are mating.
What Is A Hickey?

A hickey, love bite, or kiss mark is essentially a bruise that is red. Aggressively sucking or biting on another person's flesh usually creates hickeys. What does a hickey look like? Those who have engaged in romantic makeout sessions are probably aware of it. Leaking blood vessels cause the initial distinct red color. The bruise gradually turns purple and then brown. However, it is not as scary as it sounds! It fades if left alone, though it can take between two days to two weeks to completely disappear, depending on how deep the bruise is. One may use a mix of cold and warm compress and essential oil massages to ease the tension and stimulate blood flow in the area. But, as long as it does last, it is a sweet reminder of your partner.
Why Do Lovers Give A Hickey?

Hickeys are usually a sign of desire, passion, and romance and a way of marking territory or a loved one. It may simply be a passionate reminder of one's love for another. Remember that hickeys are sexual marks and people will often assume that you had an extra passionate time last night. It is always a smart idea to give your beloved a hickey on parts that are not very visible. It will help you avoid unwanted scrutiny in your love life. Hickeys aren't bad but can attract unnecessary attention at college, work, or family gatherings. If you cannot explain it and it embarrasses you, ask your partner to leave it at a more intimate and inconspicuous spot.
How To Give A Hickey

Now that you know what a hickey is and why people give each other one, you may want to know the all-important technique to give that memorable token of love. Follow these steps to know how to give a love bite:
Begin with some kissing and smooching to heighten the physical arousal before you explore that perfect spot for a hickey. Start with light kisses before graduating to more intense ones. If your partner enjoys the intimacy, she may be enthusiastic about getting a hickey.
Choose the location well. As mentioned earlier, hickeys are meant to be intimate, not tacky symbols of affection for public display. Usually, neck areas are popular spots for giving a hickey, which is fine if your partner has long hair. You can also consider other spots like the crook of the elbow or the inner thigh.
To give your partner a hickey, make an O with your lips and press them firmly on your partner's skin. Seal your love with your lips and leave no room for air.
Freely express your wild side by sucking hard enough to break capillaries. However, remember the tantalizing sensation of your lips should make your partner moan with pleasure and not pain. To give that perfect hickey, you need to keep sucking for 20-30 seconds.

Quick Tip
You can return to the same spot and repeat the process of giving a hickey if you and your partner want a darker bruise.
Caution:

Now that you know what a hickey is and how to give the best hickey, take a look at some points to remember before you go wild.
Remember, no teeth! You don't want to begin as a passionate lover and end up looking like Dracula, do you?
If 30 seconds of sucking seem weird, try some kissing and then another 10 seconds of sucking at the same spot.
Remember that saliva can be a dampener for your play of passion. Keep track of the amount of spit in your mouth. Leaving behind a sticky residue on your partner's neck or inner thigh might ruin her mood and your hickey.
Infographic: The Right Way To Give A Hickey
Nervous about giving your partner a hickey? Feels like everything you have read has not registered in your brain? Don't worry; we can help! Check out the infographic below to learn how to give your partner a hickey and a few cautionary tips to keep in mind to make the experience even better.


Hickeys are a great way to shower your love on your partner and remind them of your passion. However, these sexual marks should be left in intimate places to avoid unnecessary scrutiny from family and friends. Remember, the key is ensuring that the process does not look crude and involves using your teeth. Go through the steps listed above carefully before you decide to give a hickey to your partner. Once you feel confident with your technique, surprise them with your amazing pucker skills!
Frequently Asked Questions
How long do hickeys last?
Depending on the intensity, hickeys may last 2 days to 2 weeks. However, it may vary from person to person.
Key Takeaways
Hickeys or love bites are bruises that gradually turn brown. These are signs of passion or reminders of your love for or from your loved ones.
Choose the location well and express your wild side without causing undesirable pain or breaking the capillaries.
Do not bite or leave too much saliva during the process, making your partner uncomfortable or ruining their mood.