Glass Hair: A Step-By-Step Guide To Achieve It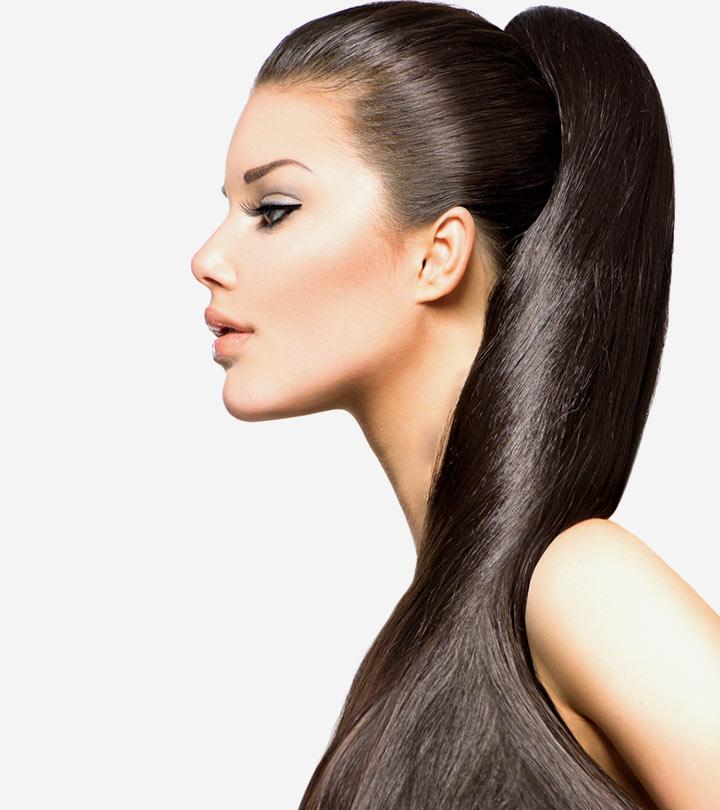 You have heard about glass skin. What about glass hair? This viral and celebrity-favorite hair trend is all about having poker-straight, silky, and super shiny hair that reflects light (remember Kim K's sleek, shiny and straight locks).
Getting glass hair is not as challenging as it appears. If you are curious to try it out, we have broken down the steps for you in this article. Keep reading.
What Is Glass Hair?
Glass hair refers to straight, silky-smooth hair with a high-shine finish, much like glass. This hairstyle is super easy to achieve at home and looks best on jet black and brunette hair. However, if you have light and blond hair, you can try this look. Just follow the simple steps below.
How To Get Glass Hair At Home: A Step-By-Step Tutorial
1. Start With Clean Hair
Cleanse your scalp and hair with a clarifying shampoo. Avoid any shampoo containing silicones, oils, and moisturizing ingredients that may leave a residue on the strands. Follow up with a nourishing conditioner to keep the strands moisturized and protect them from heat styling tools. Squeeze the hair dry with a microfiber towel.
2. Prep Your Hair
Apply shine booster serum to your damp hair. You may also apply a leave-in conditioner for added shine. Finally, apply a heat protectant to your hair. This will help minimize frizz and keep your locks smooth and straight.
3. Blow Dry Your Hair
Dry your locks before straightening them. Use a round brush and blow out your hair. For that, part your hair in sections. Take one section, wrap it around the hair brush, close to the roots. Turn on the blow dryer, keep it on the medium heat setting, and pull the hair section as you dry it. This will help smoothen the hair. Repeat the process with all the hair sections.
4. Use A Flat Iron
Before straightening, you may apply a lightweight oil to your hair. Part your hair in small sections and straighten them using a flat iron. Keep brushing your hair as you straighten it.
5. Work On That Shine
Finish off with a shine spray or shine serum for that sleek, glossy effect.
This is easy, right? Here are two products to give your hair the ultimate shine and glass-effect. Check them out.
Best Products For Super-Shiny Glass Hair
1. COLOR WOW Dream Coat Supernatural Spray
This shine serum claims to turn your hair super sleek, shiny, smooth, and frizz-free. It does not contain parabens, alcohol, or sulfates and is gluten-free. You can buy it here!
2. Kenra Platinum Silkening Gloss
This shine polish has a lightweight formula that makes the hair silky and smooth. You need a few drops of this product to get the ultimate glass hair. You can buy it here!
Wrapping Up
The glass hair trend has already taken the beauty world by storm. Follow the steps mentioned in this article to turn your hair super glossy and smooth right at home. However, it is equally important to maintain optimal hair health. It is because healthy hair exudes an unmatchable healthy shine. So, eat your veggies, follow a well-balanced lifestyle, and stay hydrated.
Frequently Asked Questions
How to use the L'ange Thermal Blowout Primer for a glass-like finish?
To use it, spray the product on damp hair and blow dry in sections.
Recommended Articles
The following two tabs change content below.