13 Best Gluten-Free Skin Care Products
Not just in food, watch out for allergic triggers in your skincare essentials as well.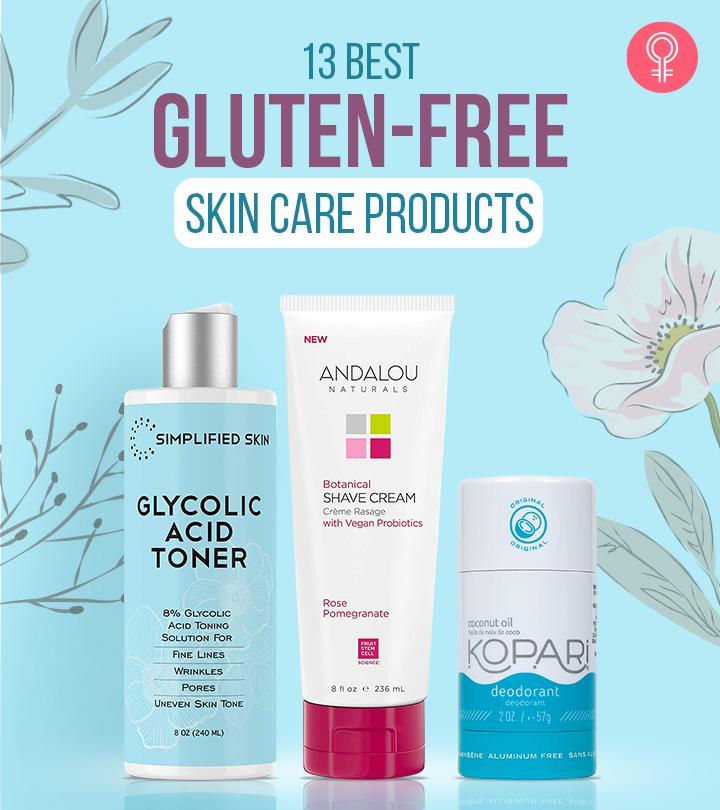 If you are allergic to gluten and looking for the best gluten-free skin care products, we can help you. Products made with gluten derivatives may cause skin irritation and other allergic reactions. For instance, many beauty products like lipsticks and lip balms may contain gluten, and ingesting them may cause harm. To help you, we have prepared a list of the 13 best gluten-free skin care products. Scroll down to check them out.
Advantages Of Using Gluten-Free Skin Care Products
Gluten is a protein found in barley, wheat, rye, and many other grains. Any product which does not contain any of these is called gluten-free. Listed below are a few advantages of using such products: 
Prevents Rashes And Allergies: Some people experience rashes, contact dermatitis, and allergies with gluten products. Individuals with celiac disease, an auto-immune disease, are prone to rashes, dry patches, and eczema, when exposed to gluten.
Prevents Ingestion Triggers: Products like lipstick, lip balm, or moisturizer can indirectly be ingested when you lick your lips, eat, or touch your lips with your fingers. Gluten-free products help you prevent instances of accidental ingestion of the protein.
Protects Sensitive Skin: Gluten-free products can help people with sensitive skin by preventing breakouts and irritation.
If you are convinced about the positive outcomes of using a gluten-free product, browse through the 13 best and pure gluten-free skincare products below.
13 Best Gluten-Free Skin Care Products
1. ANDALOU NATURALS Botanical Shave Cream
This product from ANDALOU NATURALS is a 98% nature-derived soothing shaving cream that suits all skin types. It is formulated with vegan probiotics, aloe vera, and rosehip and argan oils that hydrate the skin, strengthen its moisture barrier, and make it velvety-soft. The blend of bio-active fruit stem cells extracted from heirloom apples and grapes protects the skin cells from premature aging. This cream makes it easy to glide on nicks, cuts, and irritation and makes your skin feel soft and hydrated. This product has got great reviews from the users for its high-performance.
Pros
Gentle
All-natural ingredients
Smells good
Vegan
GMO-free
Cruelty-free
Cons
None
Buy Now From Amazon
2. VANICREAM Cleansing Bar
The VANICREAMCleansing Bar is an oil-free, mild, and gentle soap ideal for daily use. It contains a Vanicream cream base that moisturizes and softens your skin. This dermatologist-tested soap is safe for people with gluten allergy. The non-irritating formula keeps your skin fresh, soft, and clean.
Pros
Dermatologist-tested
Non-comedogenic
Non-drying
Soap-free
Oil-free
Fragrance-free
Paraben-free
Sulfate-free
Formaldehyde-free
Cons
May leave a film on the body.
Buy Now From Amazon
3. VANICREAM Gentle Facial Cleanser
This dermatologist-tested facial cleanser from VANICREAM is unscented and designed for acne-prone and sensitive skin. It removes makeup, oil, and dirt without drying the skin or clogging the pores. This acne treatment is best suited for skin prone to eczema, psoriasis, ichthyosis, and winter itch. The gluten-free product is free of common skin irritants. Check out this video to know more about this product.
Pros
Dermatologist-tested
Non-comedogenic
Dye-free
Paraben-free
Formaldehyde-free
Betaine-free
Amine-free
Sulfate-free
Lanolin-free
Fragrance-free
Cons
Price at the time of publication: $8.86
The VANICREAMMoisturizing Lotion is a non-greasy formula that spreads easily on your skin to moisturize it and make it soft and supple. Use it after a shower, swimming, or sun exposure. It is dermatologist-tested and has been awarded the seal of acceptance from the National Eczema Association. It also helps soothe red, irritated, cracking, or dry skin.
Pros
Dermatologist-tested
Lightweight
Non-comedogenic
Non-greasy
Long-lasting
Dye-free
Fragrance-free
Sulfate-free
Phosphate-free
Formaldehyde-free
Paraben-free
Lanolin-free
Cons
Price at the time of publication: $13.49
The KOPARI deodorant glides smoothly on your skin without leaving any sticky residue. It is made with 100% plant-based actives to reduce body odor and offer long-lasting hydration. The unique blend of coconut water, coconut oil, and sage oil soothe your sensitive underarms. This dermatologist-tested deodorant has a light fragrance of coconut milk.
Pros
Non-sticky
Glides on smoothly
Vegan
Cruelty-free
Dermatologist-tested
Aluminum-free
Paraben-free
Phthalate-free
Baking soda-free
Cons
Price at the time of publication: $11.9
The Organic Moringa Oil from Mother Nature has anti-aging properties. It moisturizes your skin, prevents freeradical damage, firms sagging skin, and promotes a healthy, dandruff-free scalp. It can be used as a topical oil for silky-smooth skin and frizz-free hair or in your favorite food. The cold-pressed moringa oil is packed with therapeutic effects, antioxidants, and anti-inflammatory properties to slow down the aging process. The food-grade formula is perfect for a keto diet to add nourishment and boost immunity.
Pros
Lightweight
Multipurpose
Value for money
GMO-free
USDA certified
Vegan
Cruelty-free
Cons
Greasy
Hard-to-use dropper
Price at the time of publication: $24.95
This luxury facial oil from DRUNK ELEPHANT is derived straight from the marula fruit's pip. This virgin oil is formulated with chemical-free ingredients that reduce redness, wrinkles, blotchiness, and fine lines. It is rich in antioxidants, vitamin E, flavonoids, and phenolic compounds that protect your skin from environmental stressors and help it recover from the effects of chemical-laden products. This oil also contains omega 6 and 9 that rejuvenate, moisturize, and reset your skin.
Pros
Non-irritating
Non-greasy
Imparts glow
Vegan
Fragrance-free
Not tested on animals
Cons
Less quantity for the price.
Price at the time of publication: $58.0
This trio fromI DEW CARE consists of a serum, a foam cleanser, and a wash-off mask to clear the skin and soothe irritation. The heartleaf extract in all the products calms and clarifies the skin. The hemp seed oil in the Namaste Kitten Cleanser is rich in fatty acids and antioxidants that nourish the skin. The Yoga Kitten Mask has kaolin clay that absorbs excess oil and refines the skin. The Juicy Kitten Serum contains salix alba bark and moringa seed extracts that purify the skin.
Pros
Cruelty-free
Vegan
PETA Animal Test-free
Paraben-free
Sulfate-free
Hydroquinone-free
Triclosan-free
Oxybenzone-free
Cons
Price at the time of publication: $19
The Si Doux Skin Dark Spot Corrector penetrates deep into the skin to reduce dark spots caused by environmental damage and age. This potent formula is infused with kojic acid, butylresorcinol, salicylic acid, lactic acid, and morindacitrifolia extract that work together to repair cell tissues, prevent hyperpigmentation, and moisturize dry skin. It locks in moisture, nourishes your skin with vital nutrients, and reduces the appearance of fine lines, wrinkles, and age spots.
Pros
Lightweight
Absorbed quickly
Vegan
Suitable for all skin types
Smells good
Cons
None
Price at the time of publication: $16.99
The eos Lip Balm is an organic lip are solution to moisturize your dry lips. It has a vanilla bean flavor and leaves your lips soft and smooth. This lip balm is infused with natural butters, waxes, and oils to lock in moisture and keep your lips hydrated. It contains natural extracts like shea butter, coconut oil, jojoba oil, and beeswax that leave your lips feeling healthy and smooth. This formula was applauded by reviewers for its extraordinary performance.
Pros
Dermatologically tested
Dermatologist-recommended
Smells good
Hypoallergenic
Paraben-free
Phthalate-free
Cruelty-free
Cons
Price at the time of publication: $4.97
The Glycolic Acid Toner from SIMPLIFIED SKIN is a potent formula that gently exfoliates your skin to remove dead cells and make it look brighter, smoother, and younger. Its anti-aging benefits reduce fine lines, hyperpigmentation, sun damage, dullness, and wrinkles to redefine your look. The glycolic acid removes excess oil, dirt, and makeup traces while improving the skin's pH balance. This exfoliator also shrinks pores, hydrates, and nourishes the skin for even tone and texture.
Pros
Gentle
Non-greasy
Suits all skin types
Alcohol-free
Paraben-free
Sulfate-free
No animal testing involved
Cons
Overpowering fragrance
May dry your skin.
Price at the time of publication: $22.99
The Maryann Anti-Aging Cream works as an advanced face moisturizer that reduces fine lines and aging effects on the skin. This natural skin care product is fortified with hyaluronic acid to boost cell renewal and skin elasticity and brighten the skin tone. This anti-aging product also contains citric acid, vitamin C, aloe vera, and collagen that provide an anti-wrinkle effect and deep hydration to the skin to restore its natural balance. It firms sagging skin and makes it look smooth and youthful.
Pros
Non-greasy
Hypoallergenic
GMO-free
Cruelty-free
Cons
May pill up and flake off.
The besito eye cream reduces puffiness, dark circles, eye bags, and crow's feet. This unique formula is infused with vitamins K and E to enhance blood circulation and reduce fine lines and wrinkles. The allantoin, avocado seed oil, sunflower seed oil, and grapeseed oil keep your skin hydrated and make it look youthful, firm, and rejuvenated.
Pros
Dermatologically tested
Non-greasy
Paraben-free
Sulfate-free
Alcohol-free
Formaldehyde-free
No added hormones
Cruelty-free
Cons
May cause a burning sensation.
Why Trust StyleCraze?
Shiboli Chakraborti, the author of this article, is a certified skin care coach with a gift for unearthing the most excellent products for your skin needs. She believes that everybody, even those allergic to gluten, must have access to good skin care products. She recommends using these gluten-free products after going through numerous product reviews online and conducting extensive research on each product. Take care of your skin and prevent breakouts, rashes, and other types of irritation with these products.
Frequently Asked Questions
Do gluten-free products improve skin texture?
Yes. Gluten develops rashes, burns, and uneven bumps on your skin. Therefore, using gluten-free skin care products improves skin texture and appearance.
Are gluten-free products worth it?
Yes. Gluten-free products are safe for sensitive skin. They do not irritate or damage the skin texture and enhance its look and feel. Thus, they are worth it.
Can gluten be absorbed through the skin?
No. Gluten does not get absorbed through the skin.
Do gluten-free products clear your skin?
Yes. Gluten-free products balance your skin's pH level and soothe rough skin. They help treat acne and inflammation and offer clear skin.
How long does it take for the skin to clear up after using gluten-free products?
Gluten-free products may take 6 to 24 months to eliminate the rashes and clear your skin.
Does gluten age your skin?
Yes. Gluten increases your skin's oxidation level and develops premature aging signs.
Recommended Articles