20 Gorgeous Goddess Braids Styles To Go Gaga Over
Oshun. Lakshmi. Athena. Goddesses are a huge part of cultures all around the world. So it comes as no surprise that the world of fashion decided to take some style inspiration from it. Goddess braids are thicker versions of cornrows. They, like cornrows, are braided very close to the scalp and are meant to act as a protective style that can last for weeks. And, of course, they make you look like nothing less than a goddess! Now, there are a number of ways that you can style your goddess braids – as a fauxhawk, a bun, a crown braid…the possibilities are endless! Read on to find out our top 20 styling ideas for goddess braids.
But first, let's look at how you can actually goddess braid your hair at home.
How To Make Goddess Braids
What You Need
Braiding hair extensions
Wide toothed comb
Rat tail comb
Sectioning clips
Hair gel
Boiling water in a bowl
How To Goddess Braid
Wash and condition your hair to prep it for braiding.
Use a wide toothed comb to remove all the knots and tangles from your hair.
Plan out your partitions and divide your hair accordingly with the help of a rat tail comb.
Leaving out the section of hair you're going to braid first, clip up the rest of the sections with sectioning clips.
Pick up a chunk of hair extensions from your bunch that is as thick as you want your goddess braid to be.
Divide the hair extensions into 3 equal sections.
Right near the hairline, put the hair extensions at the center of the section of hair you are going to start braiding first.
Combine your hair extensions with your natural hair by dividing the latter also into 3 sections.
Rub some hair gel between your fingers to sleek down your hair as you are braiding it.
Simply braid the hair for two stitches.
Then, start adding more hair into the braid with each consecutive stitch.
Once you have run out of hair to add, simply braid the rest of the way down, right till the very end.
Dunk the end of your braid in some boiling water to seal it.
Repeat all the above steps on all the other sections to completely goddess braid your hair.
And voila! You have successfully goddess braided your hair! Now, let's jump into all the awesome ways you can style them.
20 Gorgeous Ways To Style Your Goddess Braids
1. Straight Back Goddess Braids
If this is your first time doing goddess braids and you want to go for something simple, here's a style that will suit you perfectly. These basic goddess braids are just thicker versions of cornrows and fairly easy to do by yourself. Accessorize them with some gold beads to add a bit of bling to your look.
2. Coiled Spiral
This is a hairstyle truly fit for a goddess (like you). This singular goddess braid coils all the way around your head to create a beautiful spiral effect. Not only is this style stunningly beautiful but also super functional during summers as it keeps all your hair up and away from your neck and face.
3. Mixed Cornrows And Goddess Braids
When it comes to protective styling, there's really no set formula for what you can and cannot do. You could, for instance, combine two styles to create one that is uniquely your own. These straight back goddess braids with some thin cornrows spiraling in and out of them do just that.
4. Goddess Braids Fauxhawk
You don't have to give up on your dream of getting a mohawk just because you are too scared to shave off half your hair. A simple solution to your predicament is goddess braids! Go for these twisted goddess braids at the back and sides of your head and curl your hair on top to create an awesome fauxhawk!
5. Goddess Braids Pigtails
Who says that you have to leave pigtails behind once you leave middle school? You can still put your own sexy twist to them and rock them like never before. For instance, you can go for two goddess braids on either side of your head and add in some red hair extensions to create a bold hair look.
6. Goddess Ponytail
Listen up, all you athletes out there. Here's a goddess braids style that you'll be thanking me for. Go for some goddess braids that start along your hairline and converge at the crown of your head into a ponytail. It's easy to maintain and looks totally badass.
7. 3D Goddess Braids Bun
OK seriously, have you ever seen a more gorgeously intricate style? Because I sure have not. The 3D goddess braids at the front look like nothing less than a crown. The curly updo at the back has been done with loose hair to create an elegant and sophisticated style.
8. Undercut Goddess Braid
Have you always wanted to get an undercut but keep chickening out of it because you would have to shave off a significant portion of your hair? Do I have the perfect solution for you! Go for this single goddess braid on one side of your head and cut the rest of your hair into a short pixie to get this kickass look.
9. Swirly Goddess Braids Bun
Girl, if you wanna blow everyone away with a trippy hairdo, here's a style you need to check out. These alternating thick and thin goddess braids swirl back into a braided low bun to create a style that is a feast for the eyes. The style is whimsical but still manages to stay elegant.
10. Fishtail Goddess Ponytail
Wanna look like a badass warrior princess? Then, go for this stunning goddess ponytail style. Instead of normal braiding, this goddess braid is done in a fishtail style to create an intricately beautiful look. A stark contrast has been created with the help of thinner cornrows on either side. This gorgeous look has been completed with the help of a simple ponytail.
11. Half Up Half Down Goddess Braids
What is life without a bit of color in it, huh? This half up-half up down goddess braids style is beautiful and badass all by itself to begin with. But, with the help of some burgundy hair extensions to add a pop of color, this awesome look has been elevated to a whole new level!
12. Goddess Braids Ballerina Bun
Have a big ballet recital coming up? Or you just want to channel your inner ballerina? Either way, this is a goddess braids updo that you have got to try out. Four goddess braids originate from all around your head to converge in the middle and form an elegant ballerina bun.
13. Goddess Crown Braid
When going for a protective style, you don't always have to go for a head full of braids. You can also just go for a single accent braid to up your style quotient. For instance, you could just go for a single beautiful goddess braid around the crown of your head and tie up the rest of your loose hair into a ponytail at the back.
14. Underbraid Goddess Braids
When you gotta look like a total BAMF, here's a goddess braids style that will serve you well. These two goddess braids have been done at the back of her head to create an undercut look. The short hair on top has been left in loose curls to create a total edgy and cool hairstyle.
15. S-Bun Goddess Braid
Weddings, cocktail parties or birthdays – here's a goddess braid style that is perfect for any and all occasions. This single goddess braid is shaped in an S and ends into a simple braided low bun at the nape of your neck. It's simple, chic, and oh-so-stylish.
16. Center Parted Goddess Braids Bun
When prom season rolls around, all girls are in a flurry trying to decide what hair look to go for. Well, here's a style that you can flaunt on the biggest night of your teenage life. This center-parted style has goddess braids on each side and two thinner cornrows running down the middle. The braids end in a low bun at the nape of the neck to create a mature and graceful look.
17. Crowned Fishtail Goddess Braid Bun
They say that less is more. But when I see this goddess braids style, I think more is more. This gorgeous hairdo makes use of all types of braided elements and then some. The crown goddess braid in the front and the fishtail braided bun at the back make for a style that is fit for a queen (like yourself).
18. Side Parted Goddess Braids Bun
Now here's a goddess braids style that you won't be able to take your eyes off of. These side parted goddess braids are a thing of beauty by themselves. But the highlight of this gorgeous style has to be the braided bun at the back that adds an elegant flair to this whole look.
19. Tomb Raider Goddess Braid
Is it just me or is this style very reminiscent of Angelina Jolie's iconic braided style in Lara Croft:Tomb Raider? This single goddess braid is styled in a huge braided bun at the top that descends into a single voluptuous braid at the back. There's no stopping you from absolutely slaying it with this killer hairstyle.
20. Royal Goddess Braids Bun
Girl, it's time for you to look like a Grecian goddess! And this fantastic goddess braids style is gonna help you do just that. The voluminous goddess braids go straight back from the front and come together in a beautiful braided bun at the back to create a style that is out of this world.
Well, there you have it, ladies! Our rundown of the top ways to style your gorgeous goddess braids. Comment below and let us know which style you are going to try out to unleash your inner goddess.

The following two tabs change content below.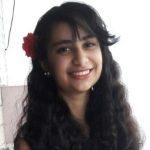 Latest posts by Arshiya Syeda (see all)