Why Should You Eat Goldenberries?
Keep your many ailments at a distance with this fruit packed with antioxidants.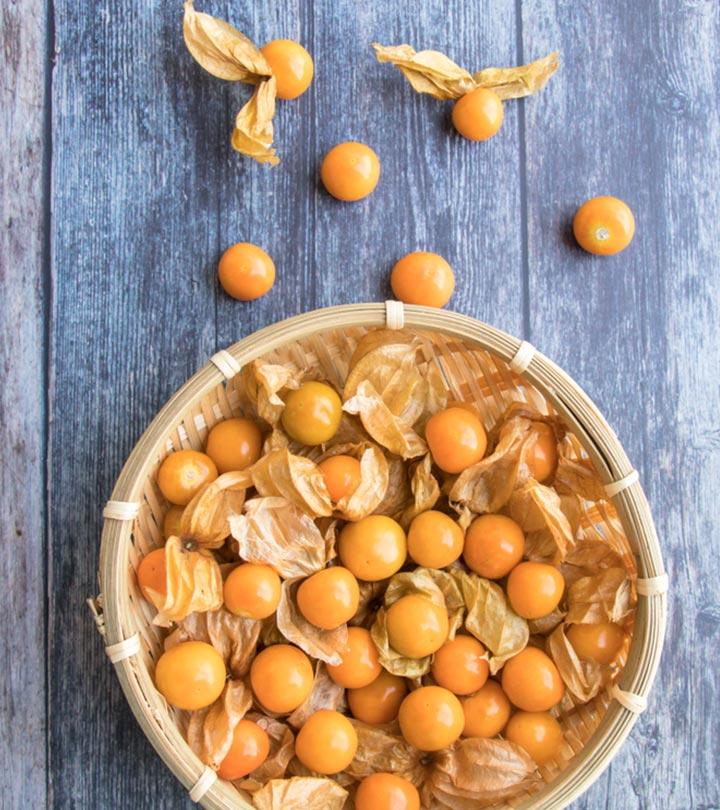 Goldenberries (Physalis peruviana) are South American orange fruits encased in paper-like husks. Due to the immense health benefits of goldenberries, they are considered a superfood. These bright fruits are loaded with antioxidants, carotenoids, and other natural plant compounds. Goldenberries have beneficial bioactive compounds that reduce inflammation, boost immunity, and improve vision. Goldenberries have a variety of health benefits and a rich nutrition profile. You can prepare various recipes with them. Let's learn more about the fruit's benefits and possible side effects. Keep reading to learn more.
What Are Goldenberries?
Goldenberries are a part of traditional medicine and were cultivated as early as 4000 years ago. They belong to the nightshade family and have a tart, tangy taste. Goldenberries are also known as poha berry, Inca berry, Peruvian groundcherry, cape gooseberry, and husk berry. These fruits are often consumed raw (in salads) and as jams, jellies, pies, and fruit-based sauces.
Goldenberries have a rich nutrient profile. The next section gives an insight into the nutritional breakdown.
Goldenberries Nutrition Facts
According to the U.S. Department of Agriculture, one cup (140 g) of goldenberries contains (1):
Calories: 74.2 kcal
Protein: 2.66 g
Fat: 0.98 g
Carbohydrates: 15.7 g
Calcium: 12.6 mg
Iron: 1.4 g
Phosphorous: 56 mg
Vitamin C: 15.4 mg
Thiamin: 0.154 mg
Riboflavin: 0.056 mg
Niacin: 3.92 mg
Vitamin A: 50.4 µg
This rich nutrient profile of goldenberries makes them a superfood with multiple health benefits.
Health Benefits Of Goldenberries
1. Reduce Inflammation
Goldenberries are used as a traditional herbal remedy for their anti-inflammatory properties. A study conducted by the University of Cartagena (Colombia) found that the anti-inflammatory effects of goldenberries prevented colitis (an inflammatory reaction in the colon) in rats (2).
In addition, the ethanol extracts of goldenberries have immunomodulatory effects, meaning, they can prevent the immune system from releasing pro-inflammatory mediators (chemicals that promote inflammation) in the body (3). Also, goldenberries contain compounds like withanolide, which may inhibit the growth of cancer cells, particularly colon and breast cancer cells (4).
Goldenberries reduce the risk of pulmonary inflammatory diseases caused by smoking (5). Another study conducted by the Chi-Mei Medical Center, Taiwan, found that 4beta-Hydroxywithanolide in goldenberries may prevent the proliferation of lung cancer cells (6). However, more human studies are needed to understand the anti-cancer benefit of goldenberries.
2. Have Antioxidant Properties
Goldenberries are rich in antioxidants and can neutralize harmful free radicals (or reactive oxygen species), which are one of the main reasons behind many health ailments, including cardiovascular diseases (7), (8), (9).
The ethanol and acetone extracts of goldenberries have the highest antioxidant properties and can prevent oxidative damage in neurodegenerative diseases (like Alzheimer's and Parkinson's diseases) (10), (11). However, more studies are required to understand the neuroprotective effects of goldenberries in humans.
Goldenberries also contain phytosterols, which are good for lowering LDL cholesterol.
3. May Boost Immune Health
Goldenberries have immunomodulatory effects. They are rich in polyphenols that can block the release of certain inflammatory immune markers, which cause inflammation in the body (12). The vitamin C in goldenberries promotes collagen production and cell repair and plays a key role in boosting immunity. However, more human studies are needed to prove this claim.
4. Improve Eye Health
Goldenberries contain carotenoids that help improve vision and reduce oxidative stress on the ocular (visual) system and prevent vision-related conditions like macular degeneration and cataract (13),(14), (15). They also contain lutein that prevents age-related macular degeneration (16), (17).
5. May Improve Bone Health
Goldenberries contain vitamin K, a fat-soluble nutrient that helps maintain bone health. A study conducted by the Technical University of Berlin (Germany) found that vitamin K in goldenberry oil promotes bone metabolism (bone growth, tissue formation, and maintenance) (18), (19). However, more studies are needed to understand the bone-related benefits of goldenberries in humans.
6. May Help Manage Diabetes
Goldenberries may help manage type 2 diabetes. This is because they are low in calories and have a low glycemic load. They are good for diabetes as well as weight management. Plants like goldenberries are widely used as phytomedicines by the indigenous tribes in Kenya to manage diabetes (20). However, studies are limited to prove the anti-diabetic properties of goldenberries.
Animal studies show that the bioactive compounds like phytochemicals in goldenberries can prevent oxidative damage and liver injury (21). The phenolic compounds and vitamin C in goldenberries can help reduce cancer risk (22). Also, goldenberries contain linoleic and oleic acids, which reduce the risk of coronary heart diseases (CVD) (18), (23).
If you are wondering how to eat goldenberries, keep scrolling to check out recipes.
How To Eat Goldenberries: Recipes You May Try
You can eat these fruits fresh or dried. They add a unique flavor to your dishes. Here are some easy-to-prepare goldenberry recipes you may try:
1. Goldenberry Fruit Smoothie
What You Need
10-15 goldenberries
1 cup of frozen pineapple (cubed)
1 ripe banana (sliced)
1 teaspoon of lemon juice
1 teaspoon of honey
1 peach (sliced or cubed)
¾ cup of ice
1/3 cup of almond milk
Process
1. Put all ingredients into a blender.
2. Blend on high for a minute or until smooth.
3. Pour into a serving glass, garnish with nutmeg, and enjoy!
2. Goldenberry Salad
What You Need
For The Salad
1 cauliflower (grated)
2 bell peppers (diced)
1 hothouse cucumber (cubed or sliced)
1-2 tomatoes (deseeded and cubed)
15-20 goldenberries
For The Dressing
2 tablespoons of lemon juice
1/8 teaspoon of ground black pepper
2 tablespoons of basil (finely chopped)
¼ teaspoon of kosher salt
1 garlic clove (minced)
1 cup of plain Greek yogurt
2 tablespoons of chives (minced)
Process
1. Add the dressing ingredients to a large bowl and mix.
2. Add the salad ingredients to the bowl and toss.
3. Garnish with extra goldenberries and chives.
3. Goldenberry Ice Cream
What You Need
1 tablespoon of dried goldenberries
1½ tablespoons of avocado
1 tablespoon of protein powder (soy, pea, or whey proteins)
½ cup of frozen pineapple chunks
½ cup of frozen orange
1 ripe banana (frozen)
1 tablespoon of lime juice
1/8 teaspoon of stevia
½ teaspoon of maple syrup or honey
Process
1. Put all ingredients in a blender and blend until smooth.
2. Pour the mixture into an ice cream mold and freeze for 1-2 hours.
You may use fresh or dried goldenberries for the recipes. Fresh fruits need to be stored properly for long-term use. Here are some tips.
How To Store Goldenberries
If you store goldenberries along with husks, they can last up to 35-40 days at room temperature. Goldenberries without husks can last for about two weeks if you store them in the refrigerator. Frozen berries have a long shelf life and can be stored for two years.
Consuming fresh and ripe goldenberries is safe. However, unripe goldenberries may cause some side effects.
Potential Side Effects Of Goldenberries
Unripe goldenberries contain solanine, a fatal toxic compound that may affect the nervous system and cause gastrointestinal issues. Consuming unripe goldenberries may upset the stomach, cause diarrhea, vomiting, cramps, and jaundice, and lead to paralysis and death (24), (25). However, limited studies are available on the side effects of goldenberries.
Goldenberries (or husk berries) are orange-colored fruits with a tart, tangy taste. They contain a rich nutritional profile and have a long history in traditional medicine. The many benefits of goldenberries are due to the presence of antioxidants, plant compounds, and carotenoids. The consumption of this versatile fruit may reduce inflammation, boost immune health, improve vision, maintain bone health, and manage type 2 diabetes. You can prepare many recipes with goldenberries like a smoothie, salad, and ice cream. However, eating unripe fruits may cause vomiting, diarrhea, and stomach upset. Hence, include them in your diet and enjoy their many health benefits.
Frequently Asked Questions
Can you cook golden berries?
Yes, you can cook goldenberries.
Are golden berries good for the kidneys?
Yes, golden berries are good for the kidneys. Golden berry juice can act against kidney damage (26).
Can you eat the skin of a golden berry?
Yes. The skin of golden berries contains three times more antioxidants than the pulp.
Key Takeaways
Goldenberry extracts help improve the immune system and prevent it from releasing chemicals that cause inflammation.
These wonder fruits also have anti-cancer properties, particularly against colon and breast cancer cells.
They have an impressive antioxidant profile, which helps prevent neurological, cardiovascular, and other diseases.
Sources
Articles on StyleCraze are backed by verified information from peer-reviewed and academic research papers, reputed organizations, research institutions, and medical associations to ensure accuracy and relevance. Read our editorial policy to learn more.