7 Best Golf Hats And Visors For Women, According to Reviews – 2023
Stay sun-safe and well-protected while you enjoy the best of this sophisticated game.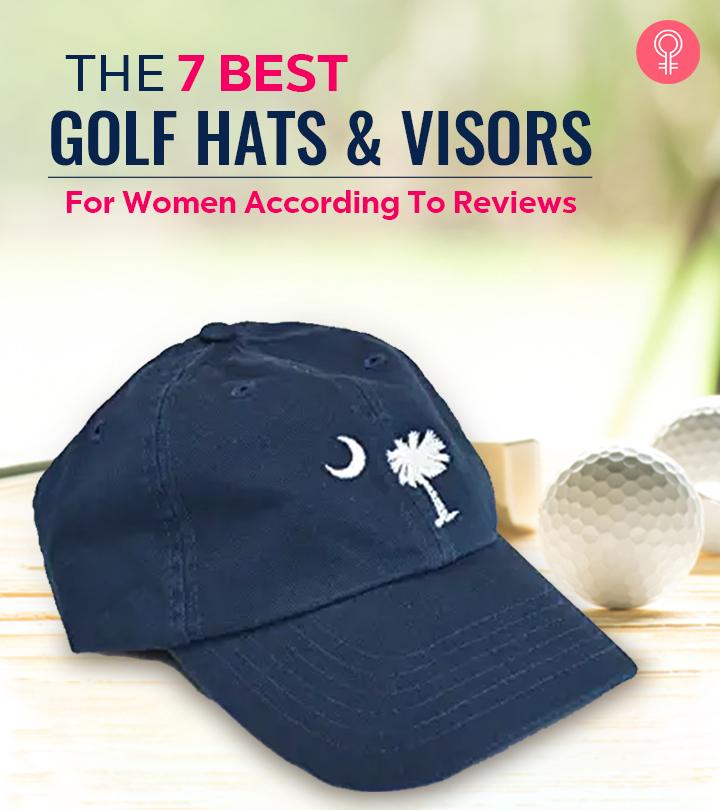 Golf is an elite game requiring players to wear a hat to prevent sun damage. Hence, here we have rounded a list of the best golf hats for women. After all, playing in the sun for long hours requires protection from UV rays which makes a golf hat an essential accessory. With so many hats in the market, it is never easy to decide and pick the best one, but our list of golf hats will make this task easier for you. These hats are useful, stunning, and worth the value. So, now when you're in the mood to play golf, you don't have to worry about getting sunburn. Now without any further ado, keep scrolling and pick the one you love the most!
The 7 Best Golf Hats And Visors For Women In 2023
If you want to combine style with luxury with your hat, look no further than the Ann Arbor T-shirt Company South Carolina State Flag Golf Hat. This embroidered hat is made from bio-washed chino twill, which is durable and wear-resistant. It has six low panel profiles with a breathable interior to avoid sweating. This cap is unstructured and snugly fits your head. It also has an adjustable back with a metal buckle-glide enclosure for easy adjustment. This hat is well-designed not only to be sporty but also to provide ultimate protection from the sun.
Pros
Good quality
Sun protection
Breathable
Adjustable metal buckle
Machine washable
Durable
Cons
Price at the time of publication: $19.95
A stylish white-colored stitch magnet Callaway Golf Hat is designed for comfort and functionality. It has a ball marker magnet at the brim for easy swapping of the ball marker. This cap is lightweight with a fitted closure. It has a standard cap feature like a wider brim for protection against sun rays and has a mesh knit at the back for breathability. It also has a Callaway signature logo embedded in the front.
Pros
Fitted closure
Lightweight
Breathable
Strong magnet
Cons
Price at the time of publication: $29.99
Glove It Coil Visor comes with fun fashion prints for a feminine look. This coil visor is very comfortable and comes with a built-in sweat belt which ensures optimum sweat absorption. It is made from 100% nylon which is lightweight. Its polyester brim is 35 inches wide which provides protection from harmful radiation on the face. It also features an adjustable coil that is comfortable and pressure-free.
Raluca Oita, a fashion designer with 8 years of experience, says, "To style this visor, pair it with a casual, athletic outfit such as a tank top, shorts, and sneakers. You can also accessorize with sunglasses or a headband for a more put-together look. Overall, it's a versatile and functional accessory that can add a touch of fashion to any active look."
Pros
Inbuilt sweatband
Adjustable coil
Comfortable
Multipurpose
Lightweight
Cons
Cannot be re-sized easily
Price at the time of publication: $19.95
The JFH Visor Golf Hat has an elegant look and is comfortable while ensuring you have a good time on the golf course. It looks great on and off the pitch. This classic vintage hat has 100% plush cotton construction and ensures proper protection from the sun. Its crown measures 4.5 inches with an internal diameter of 7 ¼ inches, which gives full coverage. Its brim has an ideal length of 4 inches for the sun's powerful glare. There are a variety of color options to choose from that you can match with your favorite golf gear.
Pros
Wider brim
Breathable
Moisture-wicking
Snug fit
Cons
Cannot be re-sized easily
Price at the time of publication: $11.49
Nike Women's Golf Cap is one of the most popular low-profile hats, offering style and protection. Its 100% dry-fit polyester fabric is moisture-wicking and gives full coverage. It also has a contrasting underbill with a wider brim for sun protection. It features a swoosh trademark of Nike in front with air holes on each side for breathability. It also has a velcro hook and looks closure for easy adjustment.
Pros
Sweat absorption
Lightweight
Full coverage
Wide brim
Adjustable velcro strap
Air holes
Cons
None

Price at the time of publication: $29.95
The innovatively-designed RRiody Sun Visor Golf Hat is made of polyester, which is lightweight and comfortable. It features a retractable brim size of 9.5 inches which can be elongated up to 31cm for exceptional protection from the sun. Its in-built sweatband is moisture-wicking and soft in texture. The circumference of this cap is 55-60CM with an adjustable back closure which is suitable for all sizes. It comes in seven colors to choose from to match your preference.
Pros
Breathable
Lightweight
Adjustable velcro
Retractable brim
In-built sweatband
Adjustable strap
Cons
None
Price at the time of publication: $13.99
Shinenut Straw Visor Golf Hat is made from recycled natural eco-friendly material. Its headband is made from 100% pure cotton, while the rim is made from tightly woven paper straw which offers a wide shade for your forehead, eyes, chin, and ears. This hat is easy to roll up and hang on a handbag while traveling. Its adjustable velcro closure gives a comfortable, snug fit even for the broader heads. Its large brim protects you from sun rays, while the sweatband is soft and moisture-wicking. This cap has a comfortable open top, which allows you to wear a ponytail or a bun and cool on hot days.
Pros
Comfortable
Lightweight
Easy to carry
Snug fit
Large brim
Anti-sweat band
Cons
None
Price at the time of publication: $18.99
Thinking about which style to opt for when picking a golf hat? Read the next section for a brief guide
It's All On Your Head: Your Ultimate Guide To Golf Hat Styles
Thinking of a perfect golf cap, the first thing that comes to our mind is the retro baseball cap design. Nonetheless, coming to a hat for a sport or an occasion, the possibilities of brands, texture, material, and designs are in the hundreds. In addition, the golf hats in themselves offer a variety of extensions like snapbacks, visors, bucket hats, and wide brim hats. Fortunately, we have compiled all the necessary options you need to take care of while choosing your ideal golf hat. Let's explore in the coming section.
What To Consider When Choosing A Golf Hat? (Buying Guide)
Check the list of parameters given below before you waste your money on a golf hat that does not fulfil your purpose. A perfect golf hat is much more than just a simple sun protection accessory. This guide gives a clear picture of the features of an ideal golf hat must-have. So, without further delay, let's begin.
Material: Golf hats are usually made by combining 2-3 different materials like spandex, nylon, polyester, cotton, linen, and wool. You should be selective about the material as each fabric has different qualities to offer. For instance, if it's cold, choose woolen, and for summer, cotton is the best. Similarly, if you want a lightweight, cool material, opt for polyester.
Fit: Second, comes the fitting. Your hat should be tight but not tight enough to leave marks on your forehead. Loose hats may fall off easily and distract you from your game.
Durability: Your golf hat should offer durability, or else you will end up spending more for a golf hat after a short duration. To ensure that your hat lasts long, it should endure harsh weather like sun, cold, rain.
Sweat Absorption: A golf hat with effective sweat absorption technology is a life-saver during hot summer days. This will make the hat feel lightweight and comfortable. Also, it will prevent rashes from occurring on the forehead due to excess moisture.
Ventilation: For extra comfort, a golf hat with good ventilation is preferable. Materials like polyester and cotton offer ventilation and keep your scalp moisture-free and cool. Visor hats are best for ventilation.
Cost: Last but not least, the cost of a hat is a significant deciding factor. This decision strictly varies from buyer to buyer, depending upon their budget. Ideally, a golf hat ranges from $20-$50.
Why Trust StyleCraze?
Baishali Bhattacharya, the author of this article, is a certified image consultant and a fashion connoisseur. Understanding the need for the perfect golf hat to keep your game on point, she has read through various product reviews across trusted online forums and curated this list of the top golf hats in the market. They are stylish, affordable, and keep the sun rays at bay so that you can bring out your A-game.
Frequently Asked Questions
What makes a good golf hat?
A good golf hat should be the one that protects you from the sun, is sweat-resistant, well ventilated, comfortable, and properly fitted.
Are golf hats different from normal hats?
Yes, golf hats differ from normal hats due to their design and functionality.
Is a hat necessary for golf?
You need a good golf hat to avoid scorching heat and maintain a fashionable look.
Can you wear any hat while golfing?
Yes. As long as it is serving the purpose, you can wear any hat while golfing.
How do you get sweat stains out of a golf hat?
Wash your golf hats in mild water or give them some spins in the washing machine to get rid of sweat stains easily.
Recommended Articles