58 Best Hobbies For Couples To Strengthen Their Relationships
Kick out the monotony to reignite the spark in your relationship with some fun-filled times.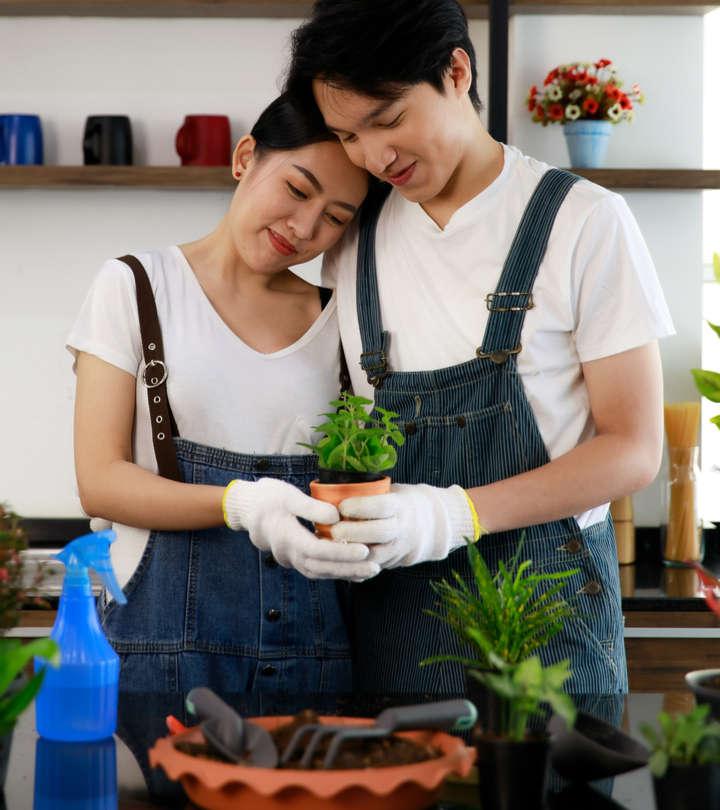 If you are tired of the same old movie nights and dinner dates, it's probably time to give your hobbies an upgrade. Here are some good hobbies for couples that can spice up your love life! It is good to have hobbies you like, but trying new things together is a great way to spend time with your partner. It keeps you on your toes, and you discover new things about each other. The best thing is you are spoiled for choice here. Scroll down to take your pick!
Why Are Couple Activities Important?
Your romantic life might get boring and monotonous after a while. The relationship can feel a little stale without endearing quirks and fun. You may get used to being together and stop going out after reaching a comfortable phase in your relationship. However, this attitude can hamper your relationship in the long run. Hence, new hobbies and couple activities that you can do together with your significant other are crucial. It is a great way to keep your romance alive and make things exciting.
Quick Tip
Couple activities can throw new challenges your way and show you how you can tackle them together. They can also provide an opportunity to grow together and strengthen your communication skills with each other.
Here are a few interesting hobbies that you can take up with your partner.
58 Best Hobbies Couples Can Do Together
1. Cook Together
If your mouths melt at the mention of pasta, lasagna, or pizza, try to cook these together at home. You can look up recipes for these new dishes online or join a cooking class to explore new combinations of food.
2. Go Hiking
If you and your partner love spending time in nature, taking up hiking as a hobby can be a great idea. Pick a safe hiking spot and spend time together exploring nature and discovering new trails.
3. Play Board Games
Playing board games is an entertaining way to spend time together. From Monopoly to Seven Wonders or intimacy card games, have fun and get romantic with this at-home date night idea. If you want to exercise your brain, play a round of chess together.
4. Read Books Together
Books are a great way to travel anywhere without leaving the comfort of your home. They can take you on a journey to the past or mystical land. Cozy up and choose a book that you and your partner like, and spend your time reading it together.

Quick Tip
Your partner and you can take turns reading aloud parts of the book to each other. Alternatively, you can create a "book club of two", read books on schedule, and then take turns to talk about the books you read during your club sessions.
5. Volunteer
Volunteering for a noble cause can help you both connect better. Also, contributing to society will make you feel satisfied. You will get to spend time with your partner and be able to share the joy and happiness of helping others.
6. Hit The Gym
If you want to get in shape but lack the motivation to work out, ask your partner to become your gym buddy. Exercising with your partner will motivate you to work harder. This way, you can get in shape soon and spend time together.
7. Learn A New Language
Learning a new language can be thrilling. Start attending online classes or join a part-time course. You can participate in events by a community of people who speak the language you want to learn. Use Google Translate, watch movies in your new-found language, and connect with online learners via chat groups. You will also slowly end up learning the intonations and mannerisms. Converse with each other in your new language to achieve better command of your skill.
8. Solve Jigsaw Puzzles
You can dedicate some time after dinner to a jigsaw puzzle activity. It will help you stay away from your phone and give you time to enjoy each other's company without any interruption. Chat away and tell each other how your day went while solving the puzzle. You can also frame the solved puzzle to keep as a memoir.
9. Join A Dance Class
Dancing is one of the most romantic things you can do as a couple. Just be in the moment and look into your partner's eyes while romantic music plays in the background – this will surely help reignite the passion and love in your relationship.
10. Go For Jogging
Running together may help get your heart pumping and the endorphins flowing. This may have a positive effect on strengthening your relationship. Jogging can uplift your mood by releasing the 'happy hormones'. This, in turn, can help create a better bond between two happy individuals and establish a deeper connection.
11. Garden Together
If you have a large backyard, gardening with your significant other can be a good idea. Work together to turn your backyard into a beautiful garden filled with vegetables and flowers. When your garden starts blooming, it will be a sweet reminder of what you and your partner can do as a team.
12. Go For A Picnic
If you like outdoor activities, a Sunday picnic with your partner can be a great idea. Don't forget to bring tons of foods, drinks, as well as sunscreen to keep you both safe from the sun. A book would add to the charm too.
13. Visit A Museum
If you and your partner are big history nerds, nothing can be more romantic for you both than spending an afternoon at a museum. Spark conversations with strangers or make new friends while making regular visits to the museum with your partner. This will provide an excellent opportunity to grow your social circle with like-minded people and explore each other's interests (or gain new ones!).
14. Prepare Cocktails
Try preparing different cocktails together with your partner. You will have tons of new drinks to try while talking or just hanging out. Begin with easy DIY drinks that do not require major bartending skills. Making cocktails at home is a never-ending process of trial and error, but that adds to the fun. If you plan a date night at home, this can be the perfect activity to surprise your partner.
15. Card Games
Card games can be a great way to spend time with your significant other. They strike the ideal balance between brain-boosting, leisure, and entertainment. From a round of poker, a playful session of UNO to some adult games, you can try your hands on any card game of your choice. Such games keep couples bonded and engaged like a team.
16. Rock Climbing
Rock climbing can be a perfect activity for you and your partner if you both are into adventure sports. Hit your local indoor rock-climbing gym to try out this activity. However, if your partner is scared of this activity, start slow.
17. Indulge In Tie-Dying
You can jump on the latest DIY trend and have fun creating some beautiful T-shirt designs with your partner. Look for a tie-dye tutorial online and start dyeing matching outfits. Wear them and get some pictures of your self-created merchandise.
18. Learn Interior Decoration
Sometimes, waking up to the same setup of furniture can make you feel bored and stuck. During such times, interior designing can come in handy. You can plan with your partner how to create more space in your home, choose color for the walls, and reorganize your furniture.
19. Wine Tasting
If both of you are interested in wines, go for a wine tasting session at your nearest wineries. You can also plan a wine-tasting session in the comfort of your home by ordering a variety of wines.
20. Start A Collection
From coins to seashells to stamps, you and your partner can start any collection together. Collect these trinkets and see your love grow with your growing collection.
21. Yoga
Yoga as a hobby can be greatly beneficial for you (and your partner's!) mind and body. It can help you both stay fit and relax your minds. Sign up for some yoga classes and practice it together daily.
22. Take Up Adult Coloring
Adult coloring has been in trend for some time now. It is a great way to relax and unwind after a long, tiring day. This activity can help reduce depression and save you from cognitive decline. So, go ahead and buy some coloring books and start coloring together.
23. Start Reorganizing
Reorganizing and throwing away unnecessary things that lie around the house may give you and your partner some peace of mind. Put on some good music and start decluttering your house. You can decorate your bedroom and keep a cozy corner for couples' time, such as book reading, enjoying coffee, and chilling out with some good music.
24. Learn Pottery
Pottery will require your undivided attention and dedication. However, this hobby is very relaxing and boosts your creative side. What's more? There are multiple ways to design pots of different shapes and sizes. Select your pick from the diverse art projects out there.
25. Painting
Expressing your thoughts through colors is a relaxing activity. And it doesn't require you to be a professional as well. Just bring some colors and paint your heart out with your partner. Let your romance flow through the brushes and celebrate your love for your partner. Alternatively, you can also join a painting class to improve your painting skills together.
26. Learn A Musical Instrument
Playing a musical instrument and singing together will surely make you happy and bring you closer to your partner. This hobby can strengthen your bond with your partner in a more romantic and aesthetic way. You can join virtual classes or learn to play by watching YouTube tutorials. And after you two have mastered the instrument, you can play each other's favorite songs.
27. Play Dominoes
Dominoes can help you improve your teamwork skills while getting rid of stress. It is a really easy and fun game that can be played in several ways without getting bored.
28. Try Viennese Waltz
Waltzing together will help grow intimacy with your partner. So, put on some romantic music, lock arms and eyes with each other, and dance the night away.
29. Meditate
Meditation, like yoga, is a great way to de-stress. This activity encourages you to be calm and more patient in a relationship. Meditating together takes your mind off worldly troubles, induces a sense of gratitude, and helps you both connect at a deeper level. You will find peace from within to keep your mind at ease.
30. Scrapbooking
Scrapbooking is a great way to preserve your memories. You can collect cute and funny pics and memorabilia from places you visited and store them in your scrapbook. It will be your time capsule to revisit your favorite memories with your partner.
31. Click Cute Photos
Be it for social media or the walls of your house, clicking photos together is a fun way to spend your time. You can dress up, use props, or pose with your favorite beach or forest in the background. These cool and creative photography ideas can keep your relationship interesting and the spark alive.
32. Go Birdwatching
Explore the parks or woodlands near your place and spend your day with your partner watching the birds. Birdwatching is a great way to connect with nature and relax. Make sure to switch off your cell phones and stay clear of any distractions.
33. Go Stargazing
Stargazing is one of the most romantic things you can do with your significant other. It is a good place to start if you and your partner share a love of astronomy and the night sky. Those intimate moments watching the star-filled sky can never be replaced by anything else. You can also invest in a good telescope to turn this romantic hobby into a joint-learning session about magical celestial objects.
34. Doodle
Doodling is a great way of creating something fun. So, just bring out your pen and paper, and start doodling anything that comes to your mind.
35. Go Camping
You and your partner will be able to spend your day under the sun, amid nature with birds chirping, and the night under the starry sky. Camping gives you the chance to have some time away from technology and spend alone time with each other. Being close to nature with someone you love can help stir up romantic connections and strengthen your relationship.
36. Arrange A Movie Night
Nothing can be more relaxing than watching a movie with a popcorn bucket while cuddling your partner on your comfy couch. The best part is you can fit them in around work and kids. It will help you unwind after a long day and keep your mind off any worries.
37. Play Video Games
From playing against each other to playing together to defeat strangers online, video games can be super fun. You can spend hours in video games with your significant other.
38. Go Surfing
Surfing together along the waves will surely help refresh your spirits. It is also a fun hobby to learn together and explore the ocean. You can try this at a lake nearby your place if you do not stay close to the beach.
39. Go On Bike Rides
Bike riding is a great way to explore your town while spending time with each other. You can either rent or buy bikes and tour around your neighborhood on a sunny Sunday afternoon.
40. Go Thrift Shopping
If you and your partner love everything antique, visit a thrift shop or a local flea market. It will fill both of you with joy and excitement. You can look around and collect anything that catches your eyes.
41. Go Fishing
Try fishing if you both happen to stay near a lake, pond, or any water body. It is a great way to learn about each other better while silently and patiently waiting for a fish.
42. Start A Home Business
If you and your partner are gifted with exceptional skills like painting, wood carving, pottery, or baking, you can start a small business at home. Turning your hobby into a business is not only fascinating but also will fetch you some money. You can set up a small-scale business online and sell your products of art.
43. Learn Calligraphy
Calligraphy is a visual art of creative and decorative handwriting. You and your partner can learn the skill and create beautiful handmade cards perfect for any occasion – birthdays, anniversaries, or Christmas. This will add a personal touch to your letters and greeting cards.
44. Karaoke Night
Sing your heart out with your partner. You can set up a karaoke machine at home and take turns singing. You can also add some disco lights to make the experience more realistic.
45. Start A YouTube Channel
From planning a video to shooting, editing, and uploading it – the process will keep you and your partner busy and motivated. You can start a travel vlog or cooking channel. If you are passionate about working out, try your hands at a health and fitness channel together.
46. Bake Together
Look up recipes in cookbooks and try baking with your partner. It is one of the sweetest activities a couple can do together, and in the end, you may get a sweet and delicious treat. This is a precious opportunity to deepen your bond and understand each other better. It keeps both parties engaged in an attentive and responsive way, essential for building stronger connections.
47. Start A Podcast
You two must have learned a lot of things after spending time together. Be it about relationships, life, or anything in between, you can share all your learnings in a couple's podcast. And who knows, with time, you two might become influential relationship experts with global recognition.
48. Try Indoor Sports
If rock climbing or hiking does not interest you, try indoor sports like badminton, table tennis, or squash. These games are great at keeping you fit and improving your teamwork. You can practice weekly with your partner to burn calories and relieve stress.
49. Go For A Paintball Match
Paintball matches are a great way to simulate war. However, you will need more team members to play this game. So, plan a match with a bunch of mutual friends and have fun shooting your enemies with paint.
50. Try Golf
You and your partner can start golfing together. Join golf clubs, take tips from them, and learn the techniques. You will soon master the art and be a pro in this classy game.
51. Go Kayaking
Take lessons on kayaking and paddle along a river or flowing lake. This hobby also works as a low-impact activity that can improve your muscle strength, fitness, and aerobic capacity.
52. Binge Watch A Show
Binge watching a show on Netflix or Hulu has been quite popular among couples. It is a lazy hobby – you and your partner can cuddle up and watch until your eyes are tired. Sometimes, doing nothing together can also be a great bonding activity.
53. Play Sudoku
Exercise your brain by solving Sudoku or any crossword puzzle with your partner. Discuss with each other and fill up those blank spaces. Your brain is focused on reaching the solution that gives you some respite from the source of anxiety and stress.
54. Try Pilates
Pilates will make you sweat and work hard. You and your partner can join a Pilates class and start burning calories together. This exercise is more than just a workout – it can also be beneficial for your relationship. It not only shapes your body but also forges peace of mind and inner serenity. This helps you manage your emotions better and improves your relationship.
Decide on schedule, set independent fitness goals, and think of it as a date. That's all, and you are good to go.
55. Babysit
Babysitting can be an educational activity for you and your partner if both of you are planning to have babies. It will provide firsthand experience of what it's like living with babies. This activity will make you understand parenting techniques, homemaking practices, and childcare needs.
56. Cosplay
Cosplaying can be exciting for couples into anime, games, historical movies, and sci-fi shows. You can design costumes for each other and attend cosplaying events happening nearby.
57. Tutor Children
You and your partner can offer part-time tuition to underprivileged children. The satisfaction of helping these children will fill your and your partner's heart with joy and happiness. You will also develop a sense of gratitude and a positive attitude towards life in the process and find a way to contribute to children's lives together.
58. Foster Animals
Helping animals can make you and your partner feel happy. You can foster shelter animals and give them a place to stay and feel safe. Fostering animals has emotional and psychological benefits. It provides a sense of fulfillment and helps manage your loneliness and monotony. You and your partner will get a new best friend out of the deal.
Spending some quality time with your partner can spice up your relationship. Sharing some interesting hobbies is an exciting way to keep the spark in your relationship alive. New hobbies and couple activities may help you connect with your partner deeply and strengthen the bond. Hobbies like cooking together, hiking, playing board games, reading books, and indulging in an outing with your partner may rekindle your romance. Hence, engage in a good hobby with your soulmate and enjoy your personal space.
Frequently Asked Questions
How do I tell my girlfriend about my hobbies?
Tell your hobbies in a passionate and fun manner without sounding condescending. Talk to your partner and see if there are hobbies that are common between the two of you. You can combine two similar hobbies into one activity. Make it a fun and creative date and experience it together.
Are hobbies important in a relationship?
Yes, sharing hobbies or developing new hobbies together can build and strengthen the relationship you have with your partner. It will help you understand them more and build trust and communication. However, that does not mean you cannot have different hobbies. It gives both partners a chance to explore and grow together.
Key Takeaways
Engage in new hobbies with your partner to rekindle your romance.
Experience a new side of your significant other as you learn and keep up with a new hobby.
You can accomplish this by playing cards, cooking together, or indulging in a fun outing like a museum trip or picnic.