60 Beautiful Good Morning Poems For Her To Brighten Her Day
Make some effort to make her happy and greet her in the morning with inspirational poems. You might be clueless about how to charm that special woman in your life, but we have got the perfect solution. You can lift her spirits right at the start of her day by sending good morning poems for her. Sweet and lovely poems add a special touch to your message and show how much you care about the recipient. Heartfelt poems pull at the soul of the reader with each line.
A poem would put her in a good mood, delight her, and set the tone for a lasting relationship. Listed below are some thoughtful good morning poems that will brighten her day. Check them out.
60 Beautiful And Romantic Good Morning Poems For Her
I don't love you as if you were a rose of salt, topaz,
or arrow of carnations that propagate fire:
I love you as one loves certain obscure things,
secretly, between the shadow and the soul.
– Pablo Neruda
You are not a premeditated list or a recipe of perfection
You are not a recorded inventory of adjectives that design a flawless human being
You are raw and flawed
A rainy day that forms a beautiful rainbow
An ugly sweater that warms my heart all-day
You are imperfect in every sense to the world and I love you twice as much for it.
– Julie Martinez
You're the thought that starts each morning,
You're the conclusion to each day.
You're all the things I do,
You are all the things I say.
– Melissa Collette
No mountain nor sea,
no thing of this world could keep us apart.
Because this is not my world…
you are
– Unknown
I find my place
In between your arms
In between the warmth of your embrace
and the scent of your neck
and the fierceness of your touch
I find my place lost inside your soul
– Cynthia Go
If I was was the sun and you were the sky I'd never set
I'd hover above the edge of the water waiting for you
to shine your stars on me so I could become bigger than what I am
I am brighter when I am with you
– Christy Ann Martine
I love you with a permanence
That endures the passing years.
I love you with a joyfulness
That subdues all doubts and fears.
I love you with an honesty
That was born within my heart.
I love you with the calm belief
That we will never part.
– Unknown
You're an ancient story to the golden ears,
An affair of epic tales and dawning beginnings.
The sun doesn't shine as bright as the light from your fingertips.
Good morning
– Unknown
They say we are like stars; falling to make each other's dreams come true.
For here I am, burning to the surface.
Because I've fallen through space and time for you.
– Unknown
My hands hum the melody of our love.
My mouth bleeds to sing words that can only be felt.
You are the breath behind my instrument.
And without you, there is no music.
– Unknown
You are present even when you are there.
You hold time in your hands and squeeze it so I can taste
The fruit of your soul.
Something so sweet that I want to be full.
– Unknown
You will stay in my life like a chorus
That is on repeat an eternal loop;
The melody so soothing and keeps me amused;
How lucky I am to be with you.
– Unknown
Hearing your name makes my heart drown
Into deep waters of love.
I will never make it to the unloved shores with your love.
– Unknown
When I'm with you my bones feel lighter than the air;
My stomach like a thousand butterflies
and all of the time
I know my soul is safe in your presence.
– Unknown
Till death do us part, they say.
I say, I will love you till this life to the next.
And if next life won't grace me with you,
I will still love you till the next one,
and the next, and the next,
Till death finally gives up on us.
– Cynthia Go
Constantly,
Consistently,
Continually,
I will choose you every morning and every day.
– Unknown
Some say there is nothing as beautiful as a rising sun,
But I acclaim there is nothing as beautiful as your lovely smile.
Good morning! Wake up and grace my life with your presence.
– Unknown
Of everything I have seen, it's you I want to go on seeing.
Of everything I have touched, it's your flesh I want to go on touching.
– Pablo Neruda
If I could have all the time in the world,
I know what I would do:
I spend the time in pleasure sublime,
Just by being with you.
– Joanna Fuchs
If I were a bird,
a robin or jay,
I'd fly to your house,
And serenade you every day.
– Unknown
Every morning I wake up knowing that I live
in the most beautiful place in the world,
because you opened your heart for me.
Good morning!
– Unknown
I love you with a deeper love than any human heart has ever known.
I love you with a soul that has lived a thousand lifetimes.
Always waiting to meet you again,
So I can promise to be yours forever.
– Christy Ann Martine
Every morning I wake up blessed knowing
you are
without warning, no hesitation
unblinking, forever and always
my only.
– Unknown
The stars,
The moon,
The infinite galaxies,
But there is still no one quite as magical as you.
– Unknown
I love you as the plant that never blooms,
But carries in itself the light of hidden flowers;
Thanks to your love a certain solid fragrance,
Risen from the earth, lives darkly in my body.
– Pablo Neruda
The colours of sunrise
Seem to fade away.
The hues of the morning mist
Seem less impressive every day.
In front of your beauty
None of them stands tall.
Compared to your radiance
Even the sun feels so small.
– Unknown
I wake up every day with your smile on my mind.
It's a beautiful sight to behold, so soft and so kind.
My dreams are filled with the thought of me and you.
I awake and smile, for my dreams have come true.
– Unknown
If you said you were cold,
I would wrap my arms around you.
If you said you were thirsty,
I would give you the ocean blue.
I would give you anything: the moon, the stars, the sunset too.
This heart in my hands I hold out to you.
– Unknown
If roses were red and violets could be blue,
I'd take us away to a place just for two.
You'd see my true colours and all that I felt.
I'd see that you could love me and nobody else.
– Kori Frias
You fill the room with sweet sensation,
distracting bits of information,
crowd the space where logic dwells,
distorting sights and sounds and smells,
touching me with tactile pleasure,
pushing me beyond a measure,
of reasonable doubt that soon I sense,
I'm nowhere in the present tense.
– Joanne Wasserman
Your beauty is that of a million diamonds glittering in the sun,
Each reflecting its own ray of light making brilliant patterns.
The angels gasp in the wake of your presence,
You are my life, you are my heaven.
– Unknown
Your skin is as soft as flower petals.
Your face carries the sun's bright light to me.
Your luscious lips touch mine like cold metals.
Your long graceful fingers wrap mine gently.
Your deep blue eyes reflect that of the sea.
How sweet your voice is as it sings lightly.
The refined swing of your hips; all for me.
– Unknown
You're my sun on a cloudy day.
You're my umbrella on a rainy day.
You're my everything, what can I say.
You're in my mind each and every day.
– Unknown
My love for you is like the raging sea,
So powerful and deep it will forever be.
Through storm, wind, and heavy rain,
It will withstand every pain.
– Unknown
Our hearts are so pure and love so sweet.
I love you more with every heartbeat!
– Unknown
You're the light in my tunnel.
You are my pot of gold.
You are the strength that gets me through
When despair has taken hold.
You're my once in a lifetime.
You make my life complete.
You are my blue ribbon
In the shadow of defeat.
– Phillip Roy
As long as the birds are singing,
As long as the fish can swim,
As long as the sun keeps shining,
I will love you in the bright or dim.
– Unknown
You showed me love that's so true,
Gave me comfort to believe in you.
You stayed beside me and held my hand,
Taught me in hard times you're always there to understand.
– Unknown
They say silence is Golden,
I believe it is true,
Because in that Golden silence,
my thoughts occur of you.
– Shelagh Bullman
Calm the winds as angels sing.
Lovers' tune and flowers bring,
Little buds caressed by dew,
Sending pretty thoughts of you.
– Randy Batiquin
I awaken with thoughts of you,
Consumed by your presence in my mind.
I can feel your touch,
I smell the essence of your skin.
You're intoxicating.
As I look beside me, no one is there,
But your light radiates around me.
– Unknown
I wake up every day with your smile on my mind.
It's a beautiful sight to behold, so soft and so kind.
My dreams are filled with the thought of me and you.
I awake and smile, for my dreams have come true.
– Luke O. Meyers
A squillion stars shine in the sky.
Soaring angels sing sweet songs nearby.
I wake and smile, my dreams are true.
The star in my arms, my sun, is you.
– Peter C. Free
The sun can burn my skin.
The beams blast from afar,
But the sun is no match to your powerful smile
That can heal my frozen heart.
– Tyquan L. Norwood
I know I have an angel.
She was sent from heaven above
To protect me every day
And give me lots of love.
She's there when I'm lonely.
She sits by me when I cry.
She encourages me when I'm down
And makes me want to try.
– Unknown
I hold our love in the palm of my hand as one would a newborn:
with awe and delicacy, with softness and protection, with the promise to nurture.
I hold our love in the palm of my hand as one would a stone found on a sunny ocean shore,
with respect for its strength, with wonder for its resiliency, with deference for its journey to the shore.
I hold our love in the palm of my hand as one would a diamond,
with humility of its beauty, with amazement at its density, with humbleness of its potential to withstand the harshness.
– Rosa Livingstone
If I thought for just one moment that this would be my last breath,
I'd tell you I'll love you forever, even beyond death.
If I thought for just one moment that your face would be the last I'd see,
I'd take a million pictures and save them just for me.
– Dana Schwartz
Love sits on my shoulder and whispers in my ear.
It tells me how you love me and the words I want to hear.
Love is growing with you and filling in the gaps.
Love is our tomorrows, our future, and our past.
– Jac Judy A. Campbell
I wish I were a bird;
every morning I would fly to your place
and sit at the window
to be the first one every day
to see your lovely face
I wish I were the dew
when you pick the rose
and smell its scent.
I would silently wish you morning
and kiss you on your nose.
– Sagar Yadav
I ran in blessed drizzle,
I walked across the silver deserts.
I dived under golden sun gleams, and
I passed thousands of seas;
To get to the Seven Gates.
To get your love.
– Unknown
This feeling I have, I wish I could freeze.
It's deep within and makes me shake at the knees.
It's my love for you that keeps going strong;
And when you're with me I know nothing can go wrong.
– Elaine Chetty
I never knew love until I found you.
Always thought it was a myth until you showed me it was true.
A fairytale story that I thought would never come true,
But all that changed when I ran into you.
– Unknown
You are the sun that shines brightly throughout my day.
You are the gravity that holds me down in every way.
You are the moon that shimmers throughout my night.
You are the stars that glimmer oh so bright.
– Unknown
Me without you
is like a leafless fall,
a snowless winter,
and a flowerless spring.
Me without you
is like a colorless rainbow,
a sunless day,
and a starless night.
– Nikki Wilfong
No ocean can fathom the depth of my feelings
Nor can the sky above.
I love you more than you can imagine.
Nothing can measure our love.
No fire burns brighter than the light you emit.
I couldn't compare to lips so sweet,
Or the feel of your tongue on my neck.
Nothing can measure our heat.
– Unknown
You're the beauty in the sunrise,
The soft warmth shining in the trees.
A joyful lightness that's in your eyes,
The slightest tingling from the breeze.
– Jennifer D. Etheridge
In the shadow of your warm love
I feel so safe and secure,
And your soft, caring hands
Urge me on to bravely endure.
Your smiles soothe and ease the pain
Of another dark and lonely day;
The rainbow appears amid the rain,
My sorrow as quickly melts away.
– Elizabeth Barrett Browning
You are my first thought in the morning,
My last thought at night.
For you, I have always been longing.
You bring me so much delight.
– Unknown
When you make love to me everything seems right,
You seem to take my hand and guide me through the night.
You reach to take my fears and throw them to the past,
You penetrate my soul in hopes to make it last.
– Dina Johnson
Amazing and beautiful,
Not a flower or a tree.
Much prettier than that,
And only I can see.
Loving and caring,
Right down to the core.
Filling me with happiness,
And so much more.
– Eric Pribyl
Infographic: Morning Date Ideas
A good morning poem is a great way to brighten your partner's day first thing in the morning on a busy day. Suppose you both have a day off, or a free morning, wouldn't it be wonderful to spend some quality time or do something fun together! If you are looking for morning date inspiration, check out the infographic below for some wholesome ideas.
A simple "good morning" poem will make your lady love happy and brighten her day. If you want to keep your relationship alive, never miss a chance to let her know how important she is in your life. Send her a sweet poem with romantic lines as a "good morning" greeting to make her happy. It will give her immense joy and a positive vibe to start her day. So, send her any one of these heartfelt "good morning" poems listed above to strengthen your bond.
Recommended Articles
The following two tabs change content below.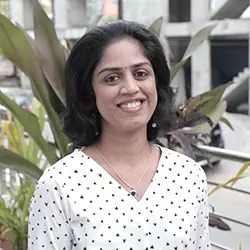 As Head Of Content Operations, Harini sets the tone and editorial direction for StyleCraze to deliver engaging, interesting, and authentic...
more