50 Cute Good Morning Texts For Him – Brighten His Day With Your Message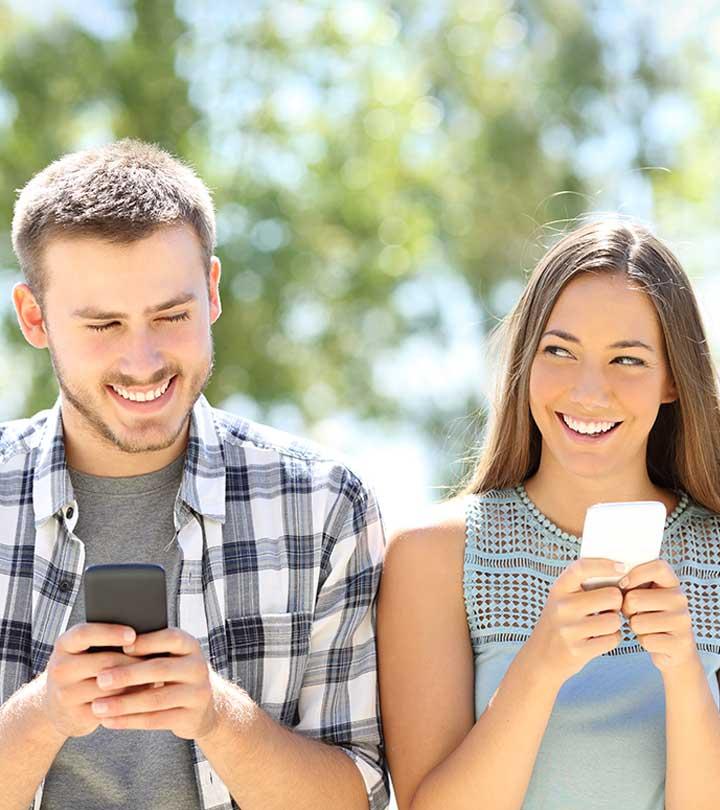 Did Cupid get you fair and square? Now, you stay up all night long, dreaming about him with a silly grin on your face? Congratulations, you have a bad case of the love bug! This is probably one of the best phases of your life – the promise of young love in the air, the nervous handholding – and some stolen kisses, maybe? Show your lover what a cute girlfriend you are by sending him flirty good morning messages. You can WhatsApp him, text him, or even DM him on Insta! So, without further ado, let's take a look at these good morning messages for him.
Sweet Good Morning Texts For Him
#1 Good morning, my love. I hope your day is as wonderful as my life has been after meeting you!
#2 This message is meant for the sweetest person in the world, and whoaaa… now you are reading it! Good morning.
#3 I need you more than I need my coffee this morning! And you know, I AM a coffee addict!
#4 The dream of my life is to wake up next to you, and yes, it will come true soon. Good morning, my bae.
#5 Hey baby! I can't let you start your day without telling you how much I love you! Have a great morning!
#6 Good morning to the love of my life. You complete me <3.
#7 Good morning! The best part of my morning routine is sipping coffee and thinking of you – I love you, sweetheart.
#8 I hated mornings until I found a man worth waking up next to. Good morning!
#9 Just wanted to tell you that I think of you the first thing in the morning and the last thing before going to sleep. Good morning!
#10 My heart skipped a beat the moment I felt you wake up. Good morning, sweetheart.
Isn't it sweet to wake up to a love-filled text from your bae in the morning? Apart from adding a touch of romance to their mornings, it also makes your relationship more loving. If you want to nurture your relationship into one that has better communication and more love,  check out this course from mindbodygreen.com! Aptly titled How To Have The Greatest Relationship Of Your Life, this instructional video class is designed to help you create a meaningful and sustainable relationship. It will help you find loving ways to communicate with your partner and find true love with each other. Check it out here!
[ Read: 101 Reasons Why I Love You ]
Flirty Good Morning Texts For Him
#11 Just checking in – is the most handsome guy in the universe awake yet?
#12 Hey, you sexy thing! Hope you have a great morning and a super chill day at work!
#13 Want to come over for some breakfast and…? Trust me, there isn't a better way to start your day! You are welcome ;)
#14 Brrr… it's so cold and rainy today! I wish you were here to warm me up with your hugs and caresses.
#15 I dreamt that I kissed you and woke up missing you. Please come hug me, and I won't ever let you go.
#16 I am counting down the nanoseconds until I get to see you again! I love you, hottie! Good morning.
#17 Good morning, sunshine! My day starts and ends with you.
#18 Arrghhh… I hate waking up! Because then, I can't dream of you anymore  Good morning.
#19 I went to bed smiling last night – because of you. I woke up smiling – because of you. Good morning, my happiness.
#20 I don't want my pillow anymore! I would rather be sleeping in your arms. Buenos Dias, mi amour!
[ Read: 101 Cute Names To Call Your Boyfriend ]
Funny Good Morning Texts For Him
#21 You are being placed under arrest for being too handsome. Your punishment is to be silenced with kisses. Good morning!
#22 I do hope you know CPR dude, because you just take my breath away! Good morning!
#23 Listen, you have to stop making me think about you, ok? I'm busy. Just kidding, love me!
#24 Hey sleepyhead! I looked online at the restaurant's menu for our date tonight. Want to know what is on the menu? Me-n-u ;)
#25 Do me a favor – stand in front of the mirror and say good morning to the sexiest man alive!
[ Read: 52 Cute Things To Say To Your Boyfriend That Will Make Him Feel Loved ]
Long Good Morning Texts For Him
#26 My love, mornings without you here by my side are what I hate the most. I can't wait for you to be with me, so I can melt in your arms again. You are, and always will be, my reason to live. Good morning!
#27 Hey tiger (roarrrrr)! As a morning present, I am sending over some virtual kisses to tell you how much I miss you. Muaah muaah muaahh. You will get the real ones only when you come over in person. And maybe more *wink*wink*!!
#28 You are the cheese to my sandwich, the peanut butter to my jelly, and the Oreo to my milk. Just wanted to wish you a good morning, and – oh no, I'm hungry now. Om nom nom.
#29 Every morning, I thank the universe for gifting you to me. You are my addiction, my faith, my nirvana. I can't get enough of you. I wish you could take a peek into my soul and discover how much I love you.
#30 Good morning, babe. I wish I could explain to you how it feels to wake up every morning to realize you are mine, and I'm yours. Forever. It is truly a magical feeling – it's like there are a hundred butterflies in my tummy! I love you so much.
[ Read: How To Tell If A Guy Likes You — 50 Signs He Is Smitten ]
Cute Good Morning Texts For Him
#31 Let's switch off our phones, call in sick at work, and spend all our time cuddling in bed. Good morning, my love!
#32 If I could, I would relive every moment of my life I have spent with you. I love you, my heartbeat. Good Morning!
#33 Good Morning. You are the sky, I am the horizon. You are the ocean, I am the beach. You are the heart, I am the beat. We belong together. Forever <3
#34 Good morning, babe. Every day, you spoil me with your love and little acts of kindness. I just cannot start my day without first thinking of you.
#35 Wanna know how long our love will last? Multiply all the stars in the universe by a million. I love you, good morning!
#36 Mornings are my favorite part of the day! Know why? Because every time I open my eyes, I get to see your kind, loving face. I adore you <3 Good morning handsome!
#37 My world was black and white, you are the one who added color to it! Without you, my life is empty. Have a great day, my love.
#38 Mi amour, let's not do anything today! Happiness is in little things, and there is nothing that can make me happier than spending time with you. Good Morning!
#39 I am blinded by your love – you mean the world to me! Have a great morning my love.
#40 Look at you sleeping so peacefully! I wish I could be that strand of hair that has fallen on your face! I want to wake up with you holding me in your arms – forever. I love you.
[ Read: 61 Quotes For Your Husband For Every Occasion ]
Romantic Good Morning Text Messages For Him
#41 I wish I was in your arms right now. Being away from you is torture! Good morning baby.
#42 I woke up today and realized that nothing could replace the empty space you leave on my bed! You are supposed to be here, smothering me with your kisses. I miss you, bae. Good morning.
#43 I was thinking, I love the way you take care of everyone around you – your parents, your siblings, your pets. Let's grow old together! Good morning 
#44 If only I could have woken up next to you this morning! You are the sunshine in my life, and I can't imagine a second without you!
#45 I just can't have a good day unless I wish you a good morning first – because you come before everyone else. I love you baby, have a great day!
#46 The only thing I like better than dreaming of you is waking up and finding you snoring on my bed! I am so lucky!
#47 Is it weird that I woke up just now and I already miss you so much? I am obsessed with you, my love. Good morning.
#48 I love waking up to the fact that out of the 7.7 billion people on Earth, I get to be your girl. I am so lucky!
#49 I miss you, sleepy head. Wake up, grab your coffee, and call me! I can't start my day without listening to your voice
#50 You are the only prayer that came true. And the only one I needed to. Have a great day.
Every single day, send him a little reminder that he has set your heart on fire. With these super sweet and flirty good morning texts for him, you will make his day and keep him yearning for more! Of course, it's best if it is penned by you, but we all need a little inspiration sometimes to get started. The point is, these messages will show your man how much you value him, how crazy you are about him, and that he was the first person on your mind as soon as you woke up. It will show him, in not so many words, how much you care. So, go ahead and start texting!
Recommended Articles:
The following two tabs change content below.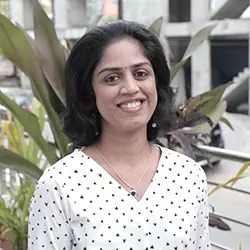 As Chief Editor, Harini sets the tone and editorial direction for StyleCraze to deliver engaging, interesting, and authentic content revolving around women's health, wellness, and beauty. She has over 14 years of experience in content writing and editing for online media. She specializes in the areas of Beauty, Lifestyle, and Health & Wellness and is proficient in Medical Sciences (Biology, Human Anatomy and Physiology, and Biochemistry). Her background in Biomedical Engineering helps her decode and interpret the finer nuances of scientific research for her team. Harini is a certified bibliophile and a closet poet. She also loves dancing and traveling to offbeat destinations.