101 Quotes To Wish Your Loved One A Good Night
Let these words lull your loved one to blissful dreams and peaceful sleep.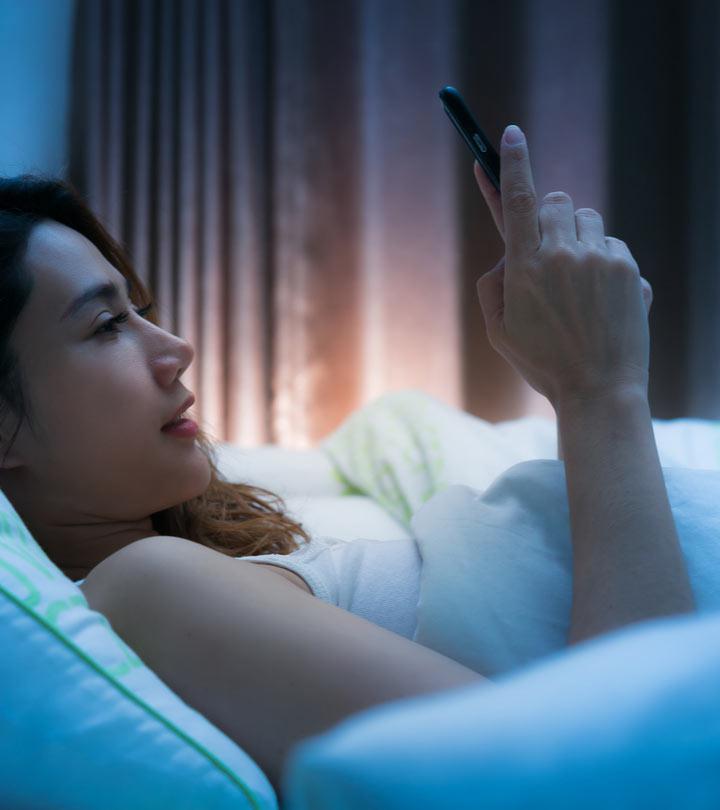 Is there anything as amazing as hitting the sack after a long, hard day? No! But, there sure is something that can make your night even better! We are talking about sending your loved one a beautiful "good night" quote that will be the perfect ending to their day. Good night quotes can help you express your feelings easily. If you ever feel that you are at a loss for words, we have got your back. This awesome list of "good night" quotes is all you will need to wish your special someone sweet dreams. Check it out!
Good Night Quotes For Him
 "The day is over, the night is here, know that I love you today and forever, my dear." – Catherine Pulsifer
 "I wish for you a good night, a good sleep, and when you awake with energy and passion you will abound." – Kate Summers
 "Your hand touching mine… This is how galaxies collide." – Sanober Khan "
The day is over, it's time for rest. Sleep well, my dear, you did your best." – Catherine Pulsifer
 "The best bridge between despair and hope is a good night's sleep." – E. Joseph Cossman
 "Any fool knows that bravado is always a cover-up for insecurity. That's the truth. And on that note, I'll say goodnight. God love you." – Bobby Darin
 "Let gratitude be the pillow upon which you kneel to say your nightly prayer." – Maya Angelou
 "Night has come. It is time for you to sleep, my love, so we can be happy tomorrow as we usually are." – Ambika
 "Always end the day with a positive thought. No matter how hard things were, tomorrow's a fresh opportunity to make it better." – Harry Dean Stanton
 "Sleep, my love, dream happy dreams. You are the only one who has ever touched my heart. It will forever be yours." – Stephanie Meyer
 "There is something to be said for the night. The darkness holds a sense of promise, as if anything could happen. Good night!" – Meg Collett
 "May the nights always be aglow with the bliss of the day, with unharmed hands and feet and kissed cheeks." – Sanober Khan
 "I just want to say good night, sweet prince, may flights of angels sing thee to rest." – Harry Dean Stanton
 "The night is longer than a day for those who dream, and day is longer than night for those who make their dreams come true." – Jack Kerouac
 "When I say good night to you, I am wishing you a pleasant and restful sleep. Not a night where you have to count sheep, but one that you will wake rested and fine." – Catherine Pulsifer
 "Night is the wonderful opportunity to take rest, to forgive, to smile, to get ready for all the battles that you have to fight tomorrow." – Allen Ginsberg
 "May the good memories of today lull you to sleep." – Kate Summer
 "Touch your heart and shut your eyes, dream sweet dreams and sleep tight!" – Nilam Roy
 "I love the silent hour of night, for blissful dreams may then arise, revealing to my charmed sight what may not bless my waking eyes." – Anne Brontë
 "Before you fall asleep every day, say something positive to yourself." – Enid Bagnold
 "May tonight be a lovely and serene bridge that will lead you to a wonderful tomorrow." – E. Joseph Cossman
 "For tonight, he will wander into a glorious quest off the night, and he lay down his head, will the angels guard him. Good night and sweet dreams." – Perpetua Ukakogu
 "A well spent day brings happy sleep." – Leonardo da Vinci
 "I love the silent hour of night,
For blissful dreams may then arise,
Revealing to my charmed sight –
What may not bless my waking eyes." – Anne Brontë.
Good Night Quotes For Her
 "Listen to the night sky; the mockingbird always sings you my lullaby." – Jmemo
 "I can't close my eyes without you in my dreams." – Luke Bryan
 "I have loved the stars too fondly to be fearful of the night." – Sarah Williams
 "If someone wishes you good night every day, you're happier than so many people." – Martin Freeman
 "Good night, dear friend! I say good night to thee. Across the moonbeams, tremulous and white, bridging all space between us." – Hester A. Benedict
 "The moon embalms me with her love and she kisses me good night. The nightingale sings her song of love when I take rest in the arms of darkness in the night!" – Avijeet Das
 "There may be a billion yesterdays and a trillion tomorrows, but there is only ever one today. I would never let one day pass without letting you know that I am thinking of you. Good night." – Gauravkumar Patel
 "Slow down your thoughts. Focus on your breaths. Get rid of the clutter in your mind. Prepare your body for rest. It's time to sleep and wake up refreshed and rejuvenated in the morning. Good night!" – J. Bastianich
 "An ending is always the start of something new. Good night." – S.H. BoBu
 "Good night. Let the stars light the way to where your dreams can be found awaiting your arrival." – Anthony T. Hincks
 "Each day I love you more, today more than yesterday and less than tomorrow." – Rosemonde Gerard
 "Good night! God keep you till the morning, and guard you safe from every harm." – Lyliam Williams
 "I wish for you a good night of sleep, sweet dreams, and a smiling morning." – Debasish Mridha
 "The stars and moon arrive just to wish you a good night. Let the light of the moon guide your dreams as you pass the night away." – Piquanter Ganapathy
 "And I start sleeping and dreaming and I think I'll dream about you all through the night." – John Mayer
 "As the night gets dark, let your worries fade. Sleep peacefully knowing you've done all you can do for the day." – Roald Dahl
 "Tonight, I would walk a thousand miles just to be with you. Missing you, my love. Good night." – Vish Askh
 "I know that you are the one, because when we are apart, I feel incomplete. I never want to be without you. Goodnight." – Prasad Dev
 "The moon is full, the night is deep, nature is alive—the only thing missing is you, next to me as we sleep." – Nicholas Staniszewski
 "I wonder how well you sleep at night, and what kind of dreams you have. I wish I could step into them as you step into mine. Goodnight, my beautiful." – Fred Parquet
 "This is the end of the day, but soon there will be a new day." – Bernard Shaw
 "Good night. May you fall asleep in the arms of a dream so beautiful you'll cry when you awake." – Michael Faudet
 "When I got to bed and cannot sleep, I don't waste time by counting sheep; I count all my blessings, one by one. Good night." – Eldred Herbert
 "Your future depends on your dreams, so go to sleep." – Mesut Barazany
 "I close my eyes, then I drift away, into the magic night I softly say. A silent prayer, like dreamers do, then I fall asleep to dream of you." – Roy Orbison
Romantic Good Night Quotes
 "How strange, to dream of you, even when I am wide awake." – D.J.
 "I have late night conversations with the moon. He tells me about the sun; I tell him about you." – S.L. Gray
 "My idea of a good night has always been having a lovely meal and a proper conversation." – Kirsty Gallacher
 "Take a look out your window now. Although we may be apart at the moment we can both gaze up at the same moon. Good night." – Sid Mohanty
 "I swear I couldn't love you more than I do right now, and yet I know I will tomorrow." – Leo Christopher
 "Day is over, night has come. Today is gone, what's done is done. Embrace your dreams through the night. Tomorrow comes with a whole new light." – George Orwell
 "May I kiss you then? On this miserable paper? I might as well open the window and kiss the night air." – Franz Kafka
 "I don't wanna close my eyes, I don't wanna fall asleep, cuz I'd miss you, babe, and I don't wanna miss a thing." – Aerosmith
 "How did it get so late so soon?" – Dr. Seuss
 "Good night, sleep tight, awake full of joy at the morning light." – Theodore Higgingsworth
 "I love that you are the last person I want to talk to before I go to sleep at night." – Nora Ephron
 "You'll be the last thing I think of before I fall asleep and the first thing I think of when I wake up." – A.G. Henley
 "Believing that you are mine forever is what makes me get up in the morning." – Anonymous
 "Another day, another pang that you are afar." – Byron Caldwell Smith
 "Good night, good night! Parting is such sweet sorrow, that I shall say good night till it be morrow." – William Shakespeare
 "When I want you in my arms, when I want you and all your charms, whenever I want you, all I gotta do is dream." – The Everly Brothers
 "Old dreams come in the still twilight to kiss goodnight…" – Frank L. Stanton
Good Night Love Quotes
 "I miss you in waves, and tonight I am drowning." – Denice Envall
 "To all, to each, a fair good-night, and pleasing dreams, and slumbers light." – Sir Walter Scott
 "I love you without knowing how, or when, or from where. I love you simply, without problems or pride; I love you in this way because I do not know any other way of loving but this, in which there is no I or you, so intimate that you hand upon my chest is my hand, so intimate that when I fall asleep, your eyes close." – Pablo Neruda
 "The time between good night to good morning, all poetries are mentioned by her with his love and their good memories." – Vaishal Sheth
 "My night has become a sunny dawn because of you." – Ibn Abbad
 "Go to sleep knowing that I loved you this day, and each tomorrow my love grows stronger. Good night!" – Catherine Pulsifer
 "And tonight, I'll fall asleep with you in my heart." – Anonymous
 "You know that place between sleep and awake, the place where you can still remember dreaming? That's where I will always love you." – J.M. Barrie
 "Thinking of you keeps me awake. Dreaming of you keeps me asleep. Being with you keeps me alive." – Anonymous
 "Dream sweet dreams for me; dream sweet dreams for you." – The Beatles
 "Never apologize for burning too brightly or collapsing into yourself every night. That is how galaxies are made." – Tyler Kent
 "I fell in love the way you fall asleep: slowly, and then all at once." – John Green
 "I have found the one whom my soul loves." – Song of Solomon 3:4
 "Dreaming of you is my greatest escape." – Perry Poetry
 "Good night, my angel. Time to close your eyes." – Billy Joel
 "You know you're in love when you can't fall asleep because reality is finally better than your dreams." – Dr. Seuss
 "May you dream of lovely things and wake to find them real." – J.J. Heller
 "I've tried so many times to think of a new way to say it, and it's still 'I love you.'" – Zelda Fitzgerald
 "Good night! And sweetest dreams be thine through all their shining way, till darkness goes, and bird and rose with rapture greet the day." – Proctor
 "The moon will guide you through the night with her brightness, but she will always dwell in the darkness, in order to be seen." – Shannon L. Alder
 "We love the night and its quiet; and there is no night that we love so well as that on which the moon is coffined in clouds." – Fitz-James O'Brien
Funny Good Night Quotes
 "Throw off your worries when you throw off your clothes at night." – Napoleon Bonaparte
 "Goodnight, goodnight, goodnight. What more is there to say than goodnight?" – Jimmy Durante
 "The quietness of this beautiful night reminds me of you. How can I sleep peacefully at this night without disturbing you?" – Anonymous
 "As you end this day, before you sleep, remember to count your blessings, not your troubles." – Catherine Pulsifer
 "Sweet dreams, good night, and may your tomorrow be so bright!" – Kate Summers
 "Goodnight stars, goodnight air, goodnight noises everywhere." – Margaret Wise Brown
 "Good night now, and rest. Today was a test. You passed it, you're past it. Now breathe 'til unstressed." – Lin-Manuel Miranda
 "Sleeping is no mean art: for its sake one must stay awake all day." – Friedrich Nietzsche.
 "Now 4.7 million people are going to sleep, 2.5 million are dreaming, 1.3 million are watching TV. But one cutie is reading my sweet jokes. Good night!" – Anonymous
 "Sweet dreams, because anything else would be just a nightmare. Good night!" – Anthony T. Hincks
 "I think the best way to get a good night sleep is to work hard throughout the day. If you work hard and, of course, work out." – William H. McRaven.
 "If you feel a little bored, a little sick, a little lost, a little sad, you know what's wrong? You are suffering from a lack of Vitamin Me! Good Night!" – Anonymous
 "My idea of a good night out is staying in." – Martin Freeman
 "Life begins at night." – Charlaine Harris
That was our list of the 101 best quotes to wish your beloved a good night. Go ahead and send the ones you like to your special someone and see your relationship blossom. Or, simply send them to your friends and let them know you were thinking of them!
Frequently Asked Questions
Is good night capitalized?
Typically, the phrase "good night" is not capitalized when used as a text message or in a sentence. But "good night" may be capitalized in emails when used as a salutation.