Gorgeous Barbie Inspired Makeup To Try Out – Tutorial With Detailed Steps & Pictures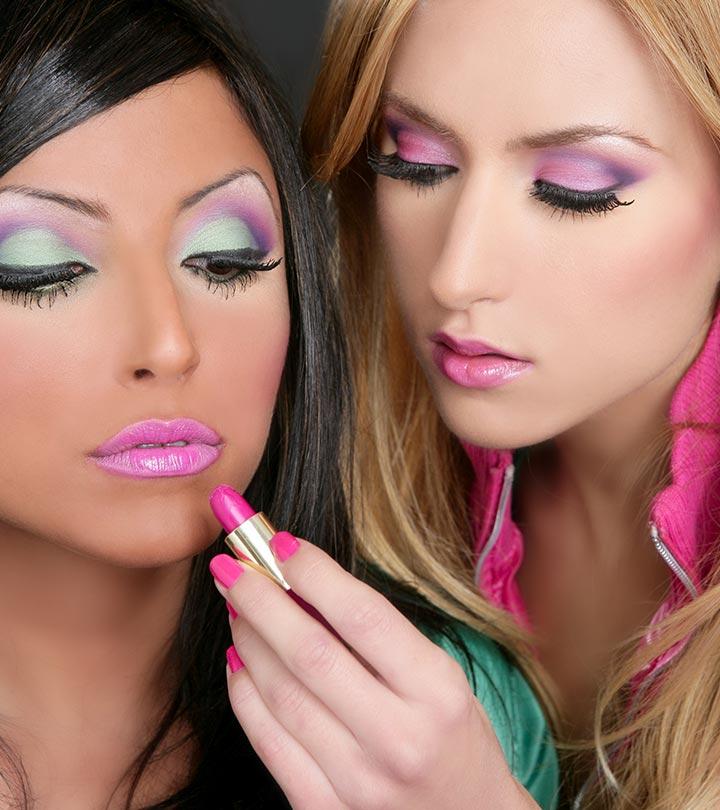 Growing up, we all were fans of Barbie and wanted to look like her. She is beautiful with well defined features and a sweet smile, which anyone could fall for. Wish to look like Barbie and live her life for once? No worries, here's a makeup inspired by the sweet Barbie makeup look.
Barbie Makeup Tutorial:
So, are you ready to 'doll' up with this barbie doll makeup tutorial?
Step 1:
Start by applying an under eye cream to hydrate your skin. Here, I used the Banjaras under eye cream. Then, apply a full coverage concealer to cover up eyelid pigmentation and achieve a flawless skin like Barbie. Here, I used the Kryolan Derma Camouflage concealer. Let's start with the eye makeup. Apply a creamy nude or white base to your eye lid area. This step will cancel out all the eye pigmentation and also make your eyeshadows pop out. I used the Oriflame nude kajal pencil as a base. Then, use a stiff eyeshadow brush and blend the cream base evenly. Apply a shimmery white eyeshadow all over your eyelid area. Application of lighter colored shimmery eyeshadows will increase vibrancy in the eye makeup and will also give an illusion of bigger eyes. Pat the eyeshadow softly in a dabbing motion and then soften the edges with the same brush for an even natural look.
Step 2:
Pick a very bright and vibrant hot pink eyeshadow and start defining your crease area of the eyes. To create depth for your eyes, you can take this color slightly above the natural crease area of your eyes, The eyeshadow has to be preferably in matte formula as it will create a strong dimension to your eyes. Here, I used a hot pink eyeshadow from the 120 eyeshadow palette. Apply the eyeshadow to the crease with a help of a pointed crease brush for maximum color intensity.
[ Read: Top 10 Barbie Hairstyles Of All Time ]
Step 3:
Apply a matte dark brown eyeshadow right on the crease area to define the crease strongly like Barbie. Use a very thin angled brush and draw the line by following the natural crease shape of your eyes. This step can be easily achieved by keeping the eyes open and drawing the line. I used the Elf Day on the Beach eyeshadow palette for the dark matte brown eyeshadow.
Step 4:
Use a fluffy blending brush to soften the edges of the brown and pink eyeshadow to create a natural eye makeup look. Here, I used an Oriflame blending brush.
Step 5:
Apply a nude or white colored eye kajal to the waterline of your eyes to define your eyes and also create an illusion of bigger eyes like Barbie. I used the Oriflame nude kajal pencil to get the look I wanted. Then, line your eyes with a black eyeliner to define your eye shape. Slowly wing the eye liner outwards to create an effect of longer almond shaped eyes. Here, I used the Kryolan eyeliner in black.
[ Read: Top 10 Barbie Hairstyles That You Can Try Too ]
Step 6:
Then, apply black kajal eye pencil to the lower lash line of your eyes. Here, I used the Lotus Herbals kajal pencil. Take a liquid eyeliner and draw small inverted triangular shape on your lower lash line to create an illusion of thicker lashes like Barbie. Though Barbie has brown lashes, black eye liner will work perfect for the Indian skin tone. Once done, apply a soft matte cream colored eyeshadow to the brow bone area of your eyes to define your eyebrows. I used the Elf Day on the Beach eyeshadow palette for the matte cream eyeshadow. Then, reapply the mate dark brown eyeshadow to the crease if it had faded out because of blending.
Step 7:
Apply a heavy coverage foundation in a shade lighter than your natural skin tone to replicate Barbie's radiant and flawless skin tone. Then, set it with an oil-free compact powder to prevent creasing of the product. Apply a soft hot pink blush to your cheek area to get a rosy glow like Barbie.
Step 8:
Now you are ready for some Barbie lips! Apply a bubble gum, hot pink lipstick all over your lips to create bright and vibrant Barbie lips. And there you are as beautiful as Barbie! Do try this look for themed parties, Halloween or any fantasy makeup party and wow the crowd. And you are done. Now, look like a sweet doll with this makeup tutorial of barbie. Hope you all liked it. Was this barbie makeup tutorial easy to follow? Do share your feedback with us in the comments section below.
The following two tabs change content below.


Pavai
hi, I am a MBA degree holder and very passionate about makeup and beauty, although my academic background is strongly related to finance and accounts, the inner me has a soft corner for makeup and beauty. I love painting, photography and makeup.