10 Gorgeous Bun Braid Updos To Inspire You
Still on the hunt for the perfect braided hairdo? Have you been on the lookout for that elegant braided hairstyle that can make heads turn? Well, we've got it covered! From high bun, halo braids to topknots, this season's braided looks have an edge but are still totally easy to pull off.
We have rounded up the best braided updos worn by Hollywood's brightest luminaries. Get inspired and be ready to start braiding!
Gorgeous Bun Braid Updos – Top 10:
1. High Bun Braid:
Ivanka Trump's high bun braid, which starts as a reverse French braid at the nape and flows up to the crown in a voluminous topknot is unique and trendy. The businesswoman has simply braided her hair and wrapped it around like a regular high bun, giving it plenty of dimensions; and that's just the reason we love it.
2. Topknot:
TV personality Nicole Richie's braided topknot hybrid with slick, side bangs is an easy-peasy hairstyle to copy for a high-impact look that requires minimum effort. For the 'do, simply intertwine the braid and wrap it around like a topknot while leaving a few strands of hair in the front. The finished result? Chic look with plenty of attitude!
3. Voluminous Halo Braid:
The halo braid, also known as a milkmaid braid or braided updo with a slightly ethereal feel, is the ultimate in girly glamour. Part sweet-and-sass and part chic-princess, the halo-braid is ideal for every occasion – from work to play. Feel free to style the voluminous braids sleek, or leave it natural and messy like Pixie Lott!
[ Read: Gorgeous Messy Bun Updos ]
4. Fishtail Bun:
Kate Beckinsale's intricate fishtail bun is simply a stunning piece of art. With plenty of beautifully curled strands clipped together in a sleek and polished way, the hairdo would suit both casual and formal events.
[ Read: Gorgeous Short Updo Hairstyles ]
5. Romantic Ringlets:
Musician Lindsey Stirling's pinned-up ringlets, accented with a loose crown braid and messy bangs look super-cute on her. This particular style calls for plenty of waves throughout the hair, which gives the asymmetric bun look a splash of femininity and elegance.
6. Double Braid Bun:
Actress Penelope Cruz looks divine with her thick double crown braids. She sports two fabulous braids with the rest of her hair pulled back into a simple thick bun. This look works wonders in every situation it's worn – whether it's a casual day out with the girls or a formal event.
7. Side Braids:
File this style under insanely chic: There's a ton of twists and turns happening here, and that's precisely why we love the Dark Angel actress, Jessica Alba's side braid bun updo. To achieve this look, Dutch braid the top and the bottom half of your hair separately, crisscross them, wrap it into a not-so-loose bun and pin it into place.
8. Heidi Braid:
When in doubt, take a cue from actress Poppy Delevigne who rocks the smooth and sleek Heidi/Crown braid (not to confuse with halo braid, as crown braids tend to be worn a little further back on the head than halo braids). For the look, simply create a middle part and smooth strands. Further create two side braids, wrap around the head and secure with a few discreet hairpins. To keep your hair looking smooth, invest in a silicone-free anti-frizz spray, and apply it liberally before styling your hair.
9. French Braid Updo:
Sometimes, the prettiest styles are the simplest — like this gorgeous french braid bun updo. Actress Sienna Miller's two matching braids on either side of the head are as elaborate as they are chic.
Make sure you don't mess with the hair too much, just a textured one as you see here.
[ Read: Messy Bun With Braid Hairstyles ]
10. Crown Braid With Bangs:
Actress Bella Thorne looks drop-dead gorgeous with her messy crown braid. Bella's braid can be recreated at home by braiding equal hair separately at the back. The two sections are then pulled forward above the ear and across the crown, and secured to form a crown halo. In addition, we love her rich, dark brown locks and the adorable wispy soft fringes – very flattering for her long face shape.
Hope this post has inspired you to try out this new hairstyle! Do give us your feedback in the comments box below. We would love to hear from you!
Recommended Articles

The following two tabs change content below.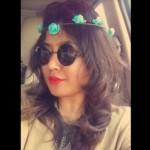 Latest posts by Anisha Pradhan (see all)