10 Gorgeous Messy Bun Updos You Must Try
Need some hair inspiration for the summers? From a messy bun à la Selena Gomez's to a perfect tousled updo like Julianne Hough's, we've picked out the ten most gorgeous messy updo's for you to try at home. So, go ahead and give it a whirl — we dare you!
Let's have a look at the 10 quick and easy messy bun updo hairstyles:
1. Wavy Bun:
Nothing screams "keeping it elegant and glamorous" quite like this classy wavy look from actress Jessica Stroup.
Replicate this feminine style by applying mousse to damp hair, and then blow dry with a round brush to create some volume at the roots. Next, take a curling tong and curl your hair in small sections. Allow the curls to cool, and then break them up with your fingers and spritz a texturiser to finish the look. There you have the best go-to bun for fancier occasions!
[ Read: Hair Buns For Short Hair ]
2. Blunt Bangs With Side Swept Bun:
Is there anything more cute and chic than bangs and messy bun? Of course not! And that's exactly why we absolutely fell in love with Zooey Deschanel's adorable messy side bun updo. The messy high bun adds some sass and fun to the look, while the fringed bangs give this style a burst of coolness and energy. Needless to say, this look works wonders in every situation it's worn – whether it's a casual day out with the ladies or a formal event where dressing sharp is key.
3. Messy Topknot:
If you want to add a little oomph to your boring topknot, try adding a little volume on the loose topknot like Vanessa Hudgens. The best part about this laid-back hairstyle is it can be worn anywhere – to parties, out with friends or even to the gym! To create it, you simply gather your hair into a ponytail on top of your head. Loosely secure with a band. Wrap hair around the loose band and secure with another band for a tight, yet messy look and voilà: a cool look that barely takes any extra time at all.
4. Loose Bun:
Actress and singer Selena Gomez's bun is messy to perfection. The Heart Wants What It Wants singer looks beautiful with her loose bun and wispy flyaway hairs.
To replicate her look, create a centre part and brush all your hair into a loose and messy bun. Secure your bun at the back of your neck for a contemporary look, and for added fun –leave your bangs loose to frame your face. And if you still need even more glamour, add a pair of flashy earrings to the mix.
[ Read: Messy Bun With Braid Hairstyles ]
5. Effortlessly Messy:
Actress Nikki Reed's effortlessly messy bun is a versatile look that can be worn to a glam social event or just out to the movies. The deep side part and loose sweep makes it a go-to style for ladies looking for elegance at its finest. To recreate this look, simply wrap small sections of hair loosely around the curling iron, spritz some hairspray and tie them into a ponytail. Wrap this ponytail to create a loose side bun, pin hair in place with bobby pins, as you twist. Perfecto!
6. Braided Low Bun:
Actress Gwyneth Paltrow demonstrates how to work a dishevelled bun with wavy hair at the Golden Globe Awards. The low, loose braided bun is subtle and the simple curled bang around the face adds a significant layer of beauty and bliss. To pull off this simple and fun style, create a side part and brush all your hair into a ponytail. Once your hair is in a simple pony, begin braiding. Next, wrap the braid around the elastic to create a bun. Secure with bobby pins and a strong-hold hairspray. The perfect candidate to go with your favourite little dress.
7. Teased Updo:
We can't get enough of actress Maria Menounos's brilliantly teased updo. To recreate her impressive messy look, begin with teasing your hair by combing it backwards until you have a bouffant. Then, brush hair all the way back and gather into a messy ponytail. Take hold of the pony, twist it around the rubber band and secure the bun with bobby pins. Pull strands of hair from the bun for that perfect hairstyle for fancy events.
8. Voluminous Bun:
Singer and actress Miley Cyrus's updo is a perfect example of how to look glamorous, not over styled. This edgy style adds a significant amount of dimension and depth to the hair, giving the appearance of fuller and thicker locks. To duplicate Miley's look, pull your hair back from your face, twist it a bit, and give it some extra volume by misting light hairspray. Match the hairdo with your favourite dress or even wear it with a pair of jeans and a crop top for a fresh look.
9. Tousled Updo With Hairband:
WOW. There are too many reasons to love this messy bun updo. Let's begin with the adorable loose updo. So obviously trendy and they frame Julianne's face beautifully. And check out that blonde hair color! To get this look, pull your hair into a loose ponytail and secure it with elastic at your crown. Twist and wrap your hair into a messy bun, then loop the ends through the elastic. For an obvious win – finish with a contrasting-colored hair band. So, if you're not already dreaming about giving this style a try, you should think again.
[ Read: 50 Lovely Bun Hairstyles For Long Hair ]
10. Bun With Curls:
Country singer Taylor Swift let us know it's absolutely fine to go natural once in a while with her gorgeous curly look. This particular style calls for plenty of natural waves throughout the hair, and threw it into a medium-high bun. The end result? A completely natural hairstyle with added volume and a splash of femininity. So, if you're a woman with beautiful wavy or curly hair, feel free to switch it up and throw your naturally stunning locks into a bun that will make everyone's heads turn.
So, get your curling tongs ready and start twisting — you'll feel infinitely chic. Do let us know how this post has helped you. There is a comment box below!
Recommended Articles:
The following two tabs change content below.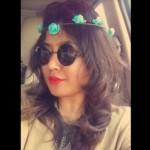 Latest posts by Anisha Pradhan (see all)