Natural Makeup Look – A Step By Step Tutorial With Pictures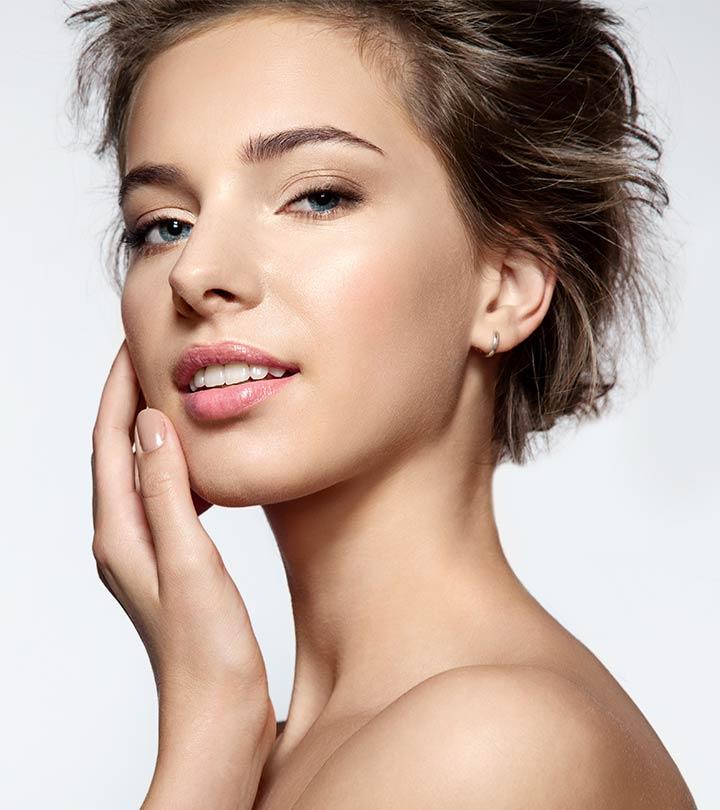 When you're going for a natural makeup look, finding the right makeup to wear and applying it the correct way can be more complex than you think. The no-makeup makeup look is an art and is trickier to pull off than it sounds! This is a look countless celebrities have been wearing in recent times because nothing can beat that naturally flawless, effortless look, not even your full-face glam. If you like to keep it simple and look like you're barefaced, we've got some handy tips and a tutorial to show you how you can cheat a fresh-faced glow every day!
What you'll need is a whole lot of practice and a little bit of effort to master the art of the evergreen natural but elegant makeup look. Let's begin with the natural makeup tutorial.
Natural Makeup Look – Tutorial
Here's what you'll need to slay this no-makeup makeup look. #IWokeUpLikeThis
What You Need
Lightweight, hydrating moisturizer
Radiance primer
Luminizing foundation (or a lightweight one)
Concealer
Eyelash curler
Mascara
Eyeliner pencil in black
Bronzer
Cream Blush
Lipstick
Step 1: Prepping Your Skin
Prepping your skin is key to slaying this look or any look for that matter. Make sure you cleanse, tone and moisturize your face properly with a lightweight moisturizer before you begin. It's crucial to prep your skin with a primer – and the best option would be to choose a radiance primer like the Estee Lauder – The Illuminator Radiant Perfecting Primer. This will give you an ultra smooth base and will help your foundation glide on like a dream. You'll also have a super fresh, glowy finish.
Step 2: Applying Your Foundation
Pick a lightweight foundation or a tinted moisturizer in a shade that exactly matches your skin tone. If you can't seem to find your exact shade, mix two shades for a flawless finish. Try the Maybelline Dream Flawless Nude Fluid- Touch Foundation if you want to achieve that dewy, fresh glow. Use a buffing brush to blend in the product. We recommend the Real Techniques Expert Face Brush – it buffs in the formula incredibly well and your skin looks skin-like, rather than giving your face a masked look. Now, the trick to make your face look like it has nothing on is to buff, buff, and buff some more. So take some time to do this in detail.
[ Read: How To Apply Foundation Perfectly ]
Step 3: Time For Concealer
Brightening your eyes and banishing any dark spots or redness is what's next. Use a concealer that you love. We recommend trying the Maybelline Fit Me! Concealer – it's super pigmented, it won't crease, and it stays put all day long! Draw a V-shape underneath your eyes – like an inverted triangle, and use your buffing brush to buff the product out, until you can't see any harsh lines or patches. Remember, blending is key!
Step 4: Moving On To The Eyes
Once you're done with your base, it's time to enhance your eyes (in the most subtle manner possible.) Start by curling your lashes using a high-quality eyelash curler. We recommend trying the Revlon Lash Curler No. 8 – it's of great quality and is affordable at the same time. Once you achieve your curl, it's time for mascara! If you want to volumize and lengthen your lashes with one product – the Maybelline Lash Sensational Mascara does wonders to give you gorgeous, fluttery long lashes. One layer of mascara does the trick for this look – for both your upper and lower lashes. Next, use a black eyeliner pencil to tightline your upper lash line, to give an illusion of thicker and darker lashes. We can't get over the Urban Decay 24/3 Glide-On Eye Pencil in black – it's extremely pigmented and long-lasting.
It's also a great idea to groom your eyebrows and add some definition – nothing too major since it's all about subtlety. Use a brow powder to fill in sparse areas of your brows, and apply it with a thin, flat angled brush.
[ Read: How to Create Perfect Winged Eyeliner? ]
Step 5: Warm It Up With Bronzer
When we say bronze it up a notch, don't go overboard because this look is all about keeping it simple. Use a subtle bronzer and slightly brush it along your cheekbones and hairline to warm it up a bit. Try the Too Faced Chocolate Soleil Matte Bronzer to create an over-warmth – it's infused with 100% real cocoa powder!
Step 6: Add A Flush Of Color To The Cheeks
For your blush, cream blush without any kind of shimmer or glitter looks most natural. It has a texture similar to that of your skin and is also very sheer. For a lit-from-within effect, try the Stila Convertible Color – it's a cheek and lip cream, and it gives you that perfect, translucent color. Use a blush brush and put a little bit on your cheeks, blend it out well with your buffing brush.
Step 7: Perfect Your Pout
Add some color! The perfect lip color is one of the secret ingredients to a stunning no-makeup makeup look. Depending on the shade of your blush, there are a few ways you can go – if your blush is coral or a brighter pink – tone it down with a muted lip color or a tinted lip balm. If you want a natural pink shade – try the M.A.C Lustre Lipstick in Syrup. Pick a shade that is closest to your natural lip color – for that "my lips, but better" look.
Voila!
And ladies, that's how it's done! A fresh, lit-from-within, no-makeup makeup look that you can literally wear every day – whether it is to work or to a movie date. Also, it's great for every season!
Tips: How To Nail The Natural No Makeup Makeup Look
Now that you know what products you can use and the techniques you can try to achieve a naturally gorgeous look, here are a few tips, tricks, and hacks to nail this look even more!
Invest in good skin care products and make sure you always keep your face well hydrated. Remember, the basis of this look is to showcase and embrace your natural face – so make sure you take proper care of your skin and follow a healthy and nutritious diet.
Always exfoliate your lips beforehand with an old toothbrush and some lip balm to get rid of that nasty dead skin. Who doesn't love soft, supple lips?
The main trick is to go light-handed with your cosmetics – a natural makeup look is far more attractive as opposed to the heavy, full-glam face.
When it comes to your eyes, opt for definition and not drama. A great tip is to apply a black or brown eyeliner pencil to the top waterline of your eye. After applying it, shut your eyes really tight – this helps push the pigment of color into the roots of your lashes while deepening the appearance of your natural lash line. Finally, take a cotton bud and remove the majority of the pencil from your waterline – this way your lashes will look naturally defined sans the harsh lines!
Don't use your bronzing powder all over your face – this will give you that fake tan appearance. For a more natural finish, apply it around the outside edge of your face and lightly under the cheekbones.
For your lips, try not to go with a bold pigmentation of your lip color. Make it softer by dabbing on a lip stain and diffusing the color with your finger.
Use a clear brow gel to set your eyebrows in place. This little step will add so much structure to your face by grooming those brows and keeping them in place all day.
We do believe in natural beauty, and yes, all women are pretty without makeup – however, the right makeup can be pretty powerful! (Words from Bobbi Brown herself!) We hope this tutorial  on how to apply makeup to look natural helped. Do you have any personal favorite hacks for doing a natural makeup look? If yes, share them with us in the comments section below.
Recommended:
The following two tabs change content below.