Easy Natural Makeup Look With A Step-By-Step Tutorial
With these simple tips, achieve a flawless 'no-makeup look' with a long-lasting finish.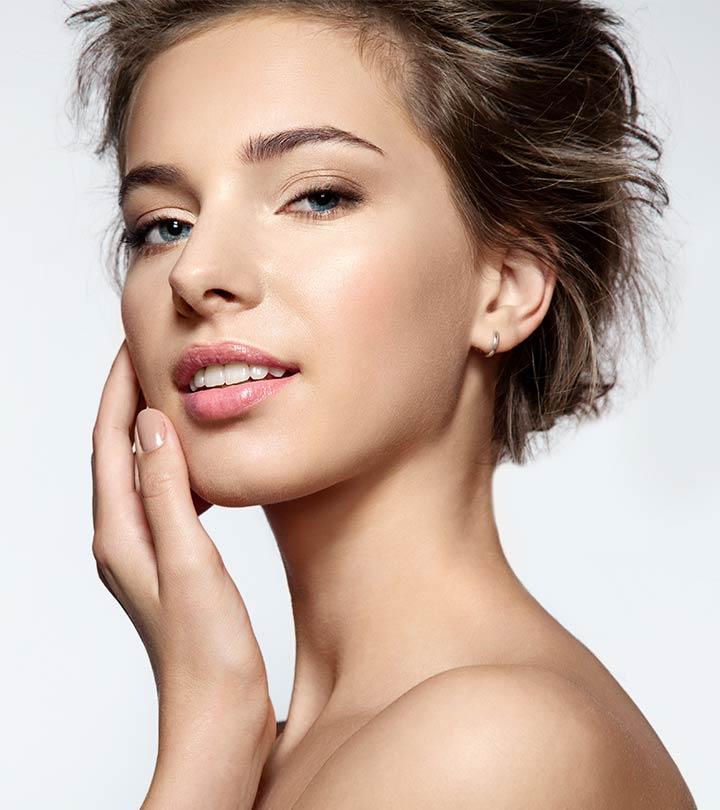 Creating natural makeup looks can be tricky. First, you have to find the right makeup items that match your skin tone and type. Then, you have to blend them to perfection. The no-makeup makeup look has always been a rage among enthusiasts and for a good reason. It allows you to embrace your features and accentuate them to create a stunning look.
Celebrities have often aced this look because nothing can beat natural beauty. So, if you want to try that minimal makeup look and cherish your beauty as well as imperfections, we are here to help. It might need some effort and attention, but trust us, natural makeup is worth all of it. Our exclusive tips and tricks will allow you to master the art and get a stunning look. So, swipe up for a simple but effective makeup tutorial.

Keep In Mind
Sun Protection: Always wear sunscreen under your makeup to keep your skin healthy and safe. Use a makeup sponge for reapplication or invest in a sunscreen stick.
Natural Glow: A cream-based or liquid highlighter can help add natural dewiness and sun-kissed shine to your cheekbones and temples.
Setting The Base: Avoid using a setting powder to set your base if you have dry skin. Instead, add a few spritzes of your favorite setting spray for a refreshing boost.
Attire: Natural makeup looks go well with all kinds of attires ranging from formal and party wear to casual and sporty styles.
Natural Makeup Look – Tutorial
Here's what you'll need to slay this no-makeup makeup look. #IWokeUpLikeThis
What You Need
Lightweight, hydrating moisturizer
Radiance primer
Luminizing foundation (or a lightweight one)
Concealer
Eyelash curler
Mascara
Eyeliner pencil in black
Bronzer
Cream Blush
Lipstick
Step 1: Prepping Your Skin
Prepping your skin is key to slaying this natural everyday makeup look or any look for that matter. Make sure you cleanse, tone and moisturize your face properly with a lightweight moisturizer before you begin. It's crucial to prep your skin with a primer – and the best option would be to choose a radiance primer like the Estee Lauder – The Illuminator Radiant Perfecting Primer. This will give you an ultra smooth base and will help your foundation glide on like a dream. You'll also have a super fresh, glowy finish.
Denitslava, a YouTube vlogger, shares her tips and tricks for a natural makeup look. She explains, "I think it's very important to have something between the foundation and your skin. Even if you don't have primer, you can still use your daily moisturizing cream. Just something that you use every day and it's suitable for your skin type. So if you have oily skin go add something more modifying. If you have more dry skin, use something more moisturizing (i)."
Step 2: Applying Your Foundation
Pick a lightweight foundation or a tinted moisturizer in a shade that exactly matches your skin tone. If you can't seem to find your exact shade, mix two shades for a flawless finish. Try the Maybelline Dream Flawless Nude Fluid- Touch Foundation if you want to achieve that dewy, fresh glow. Use a buffing brush to blend in the product. We recommend the Real Techniques Expert Face Brush – it buffs in the formula incredibly well and your skin looks skin-like, rather than giving your face a masked look. Now, the trick to make your face look like it has nothing on is to buff, buff, and buff some more. So take some time to do this in detail.
Step 3: Time For Concealer
Brightening your eyes and banishing any dark spots or redness is what's next. Use a concealer that you love. We recommend trying the Maybelline Fit Me! Concealer – it's super pigmented, it won't crease, and it stays put all day long! Draw a V-shape underneath your eyes – like an inverted triangle, and use your buffing brush to buff the product out, until you can't see any harsh lines or patches. Remember, blending is key!
Step 4: Set Your Makeup
Use a setting powder to set your makeup, absorb extra oil for all-day shine control, and maintain a more natural and universal appearance. The Laura Mercier Translucent Loose Setting Powder is a cult favorite that doesn't remove the glow from the skin and keeps the makeup intact all day. Using a cotton ball or a powder brush, remove any excess powder.
Step 5: Moving On To The Eyes
Once you're done with your base, it's time to enhance your eyes (in the most subtle manner possible.) Start off by using a neutral or earthy makeup palette on the eyelids to give a subtle lift to the eyes. Then move on to curling your lashes using a high-quality eyelash curler. We recommend trying the Revlon Lash Curler No. 8 – it's of great quality and is affordable at the same time. Once you achieve your curl, it's time for mascara! If you want to volumize and lengthen your lashes with one product – the Maybelline Lash Sensational Mascara does wonders to give you gorgeous, fluttery long lashes. One layer of mascara does the trick for this look – for both your upper and lower lashes. Next, use a black eyeliner pencil to tightline your upper lash line, to give an illusion of thicker and darker lashes. We can't get over the Urban Decay 24/3 Glide-On Eye Pencil in black – it's extremely pigmented and long-lasting.
It's also a great makeup idea and trick to groom your eyebrows and add some definition – nothing too major since it's all about subtlety. Use a brow powder to fill in sparse areas of your brows, and apply it with a thin, flat-angled brush.
Step 6: Warm It Up With Bronzer
When we say bronze it up a notch, don't go overboard because this look is all about keeping it simple. Use a subtle bronzer and slightly brush it along your cheekbones and hairline to warm it up a bit. Try the Too Faced Chocolate Soleil Matte Bronzer to create an over-warmth – it's infused with 100% real cocoa powder!


Quick Tip
You can use a sheer or cream bronzer to create a sun-kissed look and elevate your no-makeup look.
Step 7: Add A Flush Of Color To The Cheeks
For your blush, cream blush without any kind of shimmer or glitter looks most natural. It has a texture similar to that of your skin and is also very sheer. For a lit-from-within effect, try the Stila Convertible Color – it's a cheek and lip cream, and it gives you that perfect, translucent color. Use a blush brush and put a little bit on your cheeks, blend it out well with your buffing brush. Another way is to use your ring finger to apply a bit at the tip of the nose and lower chin. Then, use both your ring finger and middle finger to gently blur it out for a natural flushed look.


Quick Tip
You can use a rosy-colored or cream blush to give a more natural tint to your look.
Step 8: Perfect Your Pout
Add some color! The perfect lip color is one of the secret ingredients to a stunning no-makeup makeup look. Depending on the shade of your blush, there are a few ways you can go – if your blush is coral or a brighter pink – tone it down with a muted lip color or a tinted lip balm. If you want a natural pink shade – try the M.A.C Lustre Lipstick in Syrup. Pick a shade that is closest to your natural lip color – for that "my lips, but better" look.


Quick Tip
You can try shades like rosy mauve, nude, soft brown matte, cocoa butter matte, or peachy pink to complete your no-makeup look.
Voila!
And ladies, that's how it's done! A fresh, lit-from-within, no-makeup makeup look that you can literally wear everyday – whether it is to work or to a movie date. Also, it's great for every season!
Tips: How To Nail The Natural No Makeup Makeup Look
Now that you know what products you can use and the techniques you can try to achieve a naturally gorgeous look, here are a few tips, tricks, and hacks to nail this look even more!
Invest in good skin care products. Switch to organic ones if you belong to the sensitive skin category. use a face exfoliator to clean up the skin from the texture of dead skin cells, and make sure you always keep your face well hydrated. Remember, the basis of this look is to showcase and embrace your natural face – so make sure you take proper care of your skin and follow a healthy and nutritious diet.
Always exfoliate your lips beforehand with an old toothbrush and some lip balm to get rid of that nasty dead skin. Who doesn't love soft, supple lips?
The main trick is to go understated with your cosmetics – a natural makeup look is far more attractive as opposed to the heavy, full-glam face.
When it comes to doing natural makeup with eyeliner, opt for definition and not drama. A great tip is to apply a black or brown eyeliner pencil to the top waterline of your eye. After applying it, shut your eyes really tight – this helps push the pigment of color into the roots of your lashes while deepening the appearance of your natural lash line. Finally, take a cotton bud and remove the majority of the pencil from your waterline – this way your lashes will look naturally defined sans the harsh lines!
Don't use your bronzing powder all over your face – this will give you that fake tan appearance. For a more natural finish, apply it around the outside edge of your face and lightly under the cheekbones.
For your lips, try not to go with a bold pigmentation of your lip color. Make it softer by dabbing on a lip stain and diffusing the color with your finger.
Use a clear brow gel to set your eyebrows in place. This little makeup step will add so much structure to your face by grooming those brows and keeping them in place all day.
We get it: Once you use makeup, your face is not completely natural. However, using bare essentials like moisturizer, sunscreen, and lip tint, is not completely natural either. Natural makeup looks use just enough products to protect your skin, cover up inconsistencies, blemishes, spots, etc., and give a glow to your face. So, it is not really altering the natural look of your face by using bright colors and dramatic depths but only smoothing out your features with a touch of highlighting effects. We hope you find this natural makeup tutorial useful and that it helps you learn to apply makeup that does not appear made up.
Infographic: Healthy Habits For Naturally Healthy Skin
Whether you prefer the simple and natural or the dramatic and bold, you will find a makeup trick to suit you just fine. However, for your skin to remain naturally healthy and glowing, you need to adopt a good skincare routine and a healthy lifestyle.
Click the infographic below to learn more about the healthy habits you can adopt for naturally healthy skin.



Frequently Asked Questions
How can I make my makeup look natural without foundation?
Cleanse your face and apply moisturizer. Let the moisturizer set in for 10 minutes, and then apply concealer to mask any blemishes or spots. Dab over the concealed areas with a tissue gently to eliminate excess oils and make it appear natural. Once done. Reapply concealer to any leftover spots and follow it up with a liquid highlighter to accentuate the features where the light falls directly.
What are the basic types of makeup?
The basic types of makeup include natural, matte, HD, and celebrity makeup.
How can you create a quick and easy natural makeup look for everyday wear, without spending too much time in front of the mirror?
To create a quick and easy natural makeup look for everyday wear:
•You can use a tinted primer as your base.
•Apply some concealer under your eyes and blend it out.
•Add a little color to your cheeks with some blush.
•Line your upper lid with eyeliner.
•Apply some gloss or nude lipstick to your lips
Key Takeaways
Moisturize your face before doing makeup. It keeps you hydrated and prevents an ashy look.
Use a primer before applying foundation to your T-zone to minimize the appearance of pores.
For a natural look, pick a medium-coverage lightweight foundation.
Do not forget to apply concealer according to your skin tone. It helps brighten up the face.
Watch this video tutorial to learn about amazing makeup tips and techniques. By the end of this video, you will be skilled to do your own makeup easily for any occasion.
Personal Experience: Source
i. EVERYDAY NATURAL Makeup Tutorial
https://www.youtube.com/watch?v=NI7h5WOcixU
The following two tabs change content below.