20 Gorgeous Ways To Style Copper Hair Color
Gold. Silver. Rose gold. When it comes to metallic shades in hair colors, it feels like we've seen just about everything under the Sun. But you've seen nothing until you've seen copper hair. This red toned metallic hue can be amped up to replicate the look of raging flames or toned down to look like soft embers. Whichever way you choose to go, one thing is for sure—you will never be overlooked or sidelined ever again. So, here we have compiled the best variations of copper hair color that you can style your hair in! But let's first look at how you can color your hair copper right at home!
How To Color Your Hair Copper
What You Need
Box of copper hair color
Old t-shirt (that you won't mind for ruining)
Hair brush
Sectioning clips
Vaseline
Bleaching kit
Bowl
Rubber gloves
Hair dye brush
Shower cap
Hair tinting brush
Color safe shampoo
Color safe conditioner (will probably be included in your box of hair dye)
 What To Do
Put on your old t-shirt that you don't feel bad getting red stains on.
Brush out all the knots and tangles from your hair
Part your hair horizontally and vertically to divide it into 4 sections.
Roll and clip up 3 sections of your hair, leaving a front section loose to start dyeing first.
Apply Vaseline all along your hairline and on your ears so that you don't stain your skin with the dye.
Put on your rubber gloves.
Follow the instructions and time duration given on your bleaching kit to mix, apply, and wash off the bleach from your hair.
Mix your copper hair dye in a bowl by closely following the instructions given on the box.
Picking up half-inch sections of hair at a time, start applying the hair dye from the ends and work your way up the length of your hair with the help of your tint brush. Stop applying dye at about 1 inch below your roots.
Use your index and middle fingers to work the dye into and all along the length of your hair.
Repeat this process until you have applied the copper hair color on all four sections of your hair.
Put a shower cap on and leave the dye in for the duration of time indicated on the box for the color to develop.
Wash off the dye with water until the water runs clean.
Wait for an hour before shampooing and conditioning your hair with color safe products.
[ Read: Best Copper Hair Colour Products – Our Top 10 Picks ]
Now that that's out of the way, let's get into the best ways that you can style the very gorgeous copper hair color!
20 Breathtaking Styling Ideas For Copper Hair Color
1. Copper And Peach Ombre
Come fall and the world's obsession with pumpkin spice everything is kicked into overdrive. Gain inspiration from this fall delight by going for this copper on top/peach on the bottom ombre look that is as stunning as hair color looks get. Style your hair in loose waves to show off the gorgeous copper and peach dual tones in all their glory.
2. Russet And Copper Highlights
If you're drawn towards earthy tones and natural colors when picking out your hair color, here's a look that you'll definitely love. Highlight your light hair with some muted copper and russet brown shades to create this natural hair look. This copper color job looks especially beautiful when styled in curls and a romantic updo.
3. Bright Copper All Over
When winter rolls around and Christmas spirit is in the air, experimenting with vivacious hair colors is a great idea. If you're feeling particularly courageous, go for this bold copper hue all over your hair to create a magnificent look that is straight out of a Grimm Brothers fairytale.
4. Soft Copper Balayage
Why go for a single copper hue when you can go for a variety of shades to help create a multidimensional look? This copper and ginger toned balayage style is soft and so pretty that no one will take their eyes off it. Style it in some open curls to complete the romantic vibe of this look.
5. Deep Copper Sombre
Coloring your dark brown hair may be a tad bit difficult because of the bleach you'll have to expose it to, but the stunning results at the end make it totally worth it. This rich copper sombre done on a deep mahogany brown base proves that elegance lies in subtlety.
6. Warm Copper Color Melt
No color job looks as breathtaking as a root melt that blends flawlessly down the length of your hair. Starting off with a rich auburn at the roots, this color job slowly transitions into a light copper shade to create a hair look that's one for the ages.
7. Subtle Copper Ombre
Emma Stone works miracles in the way she carries off literally any hair color. But she definitely looks the most in her element as a redhead. This subtle copper ombre with a strawberry blonde shade at the bottom is enchanting as it is, but paired with a short shaggy bob and bangs it creates a look that is absolutely breathtaking.
8. Light Copper With Rose Gold Tips
The only thing better than having one metal-toned color in your hair is having two! This light copper hair color look is airy and bright, to begin with. But dimension and an illusion of length have been added to this style incorporating a pretty rose gold hue at the ends.
9. Copper And Burgundy Highlights
Infuse the beauty of fall foliage into your hair with this multi-tone hair color look that you just can't say 'no' to. The deep burgundy, copper and honey blonde highlights used in this look complement chocolate brown hair beautifully. To make the most of the gorgeous depth and dimension created by this look, style it in big voluminous curls.
10. Copper Root Melt
Want to add a pop of color to your natural blonde hair but can't go too crazy because your workplace won't allow it? Then here's an understated color look that will work wonders for you. Just add a dash of muted copper at the roots and crown of your hair to create a pretty root melt effect.
11. Molten Copper
If a sleek finish is what your heart desires then a sleek finish is what you'll get with this copper hair color look. Add some depth to this cool toned copper look by dyeing the roots a deep mocha brown. Style the color job in a straight cut long bob to finish off the sleek look.
12. Multidimensional Copper Balayage
Can't choose between a bunch of copper shades? Then go for them all! Streak and highlight your dark brown hair with varying light and dark shades of copper to create a hair look that comes alive when hit by sunlight. A short bob done up in blow-dried curls will go perfectly with this color job.
13. Bright Copper With Mahogany Brown Lowlights
Want to create an illusion of volume in your otherwise thin hair? You can do it oh-so-simply while still fulfilling your dream of being a redhead. Go for a bright copper shade with a subtle rose gold tint all over your hair to lay down your base. Add in some rich mahogany brown lowlights on the undersection of your hair to create more depth and make it look more voluminous.
14. Rich Copper Balayage
Add a subtle hint of metallic beauty to your dark brown hair to mix things up with your hair look. These gorgeous balayage highlights in a glossy copper hue blend beautifully into dark coffee brown hair and make for an elegant and classy hair look that can be sported in a professional environment. It looks best in shoulder-length hair styled in big waves.
15. Copper And Auburn Blended Highlights
When two fiery reds come together, then a fire is bound to set ablaze. Magnificent shades of copper and auburn fuse together in this balayage look to make you look like the Daughter of Fire. The edgy and bold appeal of this look takes up a notch by styling it in a rough razor cut short.
16. Lined With Copper Balayage
Every cloud may have a silver lining but every gorgeous hair look has a copper one. To create a magical hair look straight out of a fantasy novel, color all your hair at the front in a soft copper hue. Highlight your dark hair at the back with shades of copper and caramel that blend together seamlessly to create a gorgeous multi-dimensional color look.
17. Intense Copper Balayage
Want to be the center of attention in every room you walk into? Then, girl, do I have a hair look for you. Go all out with your hair color by opting for this intense copper balayage that no one can take their eyes off even if they tried. Style this look in some pretty curls to complete the feminine vibe of this style.
18.  Copper Candy Floss
Candy floss (or cotton candy, whatever you call it) was probably a big part of your childhood. Awaken the child in you with this pink tinted hair color look that is the epitome of cuteness. This copper hair color with a pink undertone is feminine, sexy and the perfect hair color to put you out there.
19. Warm Toned Copper Highlights
If you use the words 'understated' and 'elegant' to describe your sense of style then here's a hair look that you will absolutely love. These brown toned copper highlights add a touch of warmth to your brown hair to make it look sunkissed. Pair this look with a short bob styled in low curls.
[ Read: 50 Messy Short Bob Hairstyles ]
20. Metallic Copper
What's the point in going for a copper hair color if you don't go all out? The best way to go crazy with your copper hair look is to go for a bright shade in a super glossy and metallic tint. A layered bob styled in blowdried waves is the perfect way to complete this brilliant hair look.
Now, wasn't that the most gorgeous rundown of a hair color you've ever seen? Comment below which of these copper hair color looks you can't wait to try out!
Recommended Articles

The following two tabs change content below.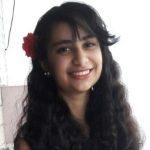 Latest posts by Arshiya Syeda (see all)