Gothic Eye Makeup Tutorial – With Detailed Steps And Pictures The gothic look is a dark makeup style and a favorite among college girls or teenagers who love the dark devilish look. It's a different genre of makeup which is considered extraordinary and sexy. So if you are willing to experiment with your makeup and get an easy but sexy hot gothic eye makeup look, then this tutorial will blow your mind.
It's not hard or extremely strenuous to create this look. You will need basic simple dark eye shadow colours.
Now where can you wear such Gothic eye makeup designs ? Not exactly a perfect choice for the day time but for an open air concert, or a party, or even for Halloween theme parties, this can be really cool. You will simply rock!
Gothic Eye Makeup Tutorial
Things You Will Need For Goth Eye Makeup:
Some simple and easy things that you will need for this eye makeup look are as follows:
A concealer and foundation
A face compact
Eye shadow (Colors needed for this look are, black eye shadow, a shimmery grey eye shadow and a silver highlighter)
Kajal pencil/Black liner pencil
Liquid Eye Liner
Mascara
Lash Curler
Lash Comb
How To Do Gothic Eye Makeup?
Following is the step by step process included in Gothic eye makeup.
Step 1: Apply Concealer, Foundation and Compact
On clean eye lids, apply concealer and foundation. Follow it up with a compact for a flawless texture. Before starting any makeup on any part of the body, it's very important that your skin is free from oil, dirt or grime. If your pores have oil or sebum locked in them and you are doing makeup over it, neither will your makeup sit and stay on your skin properly nor will your skin be able to breathe. Make sure your face is cleansed and dry from any hint of oil and dirt.
Step 2: Apply Silver Highlighter
This is a 3 tier makeup look. Easy and simple gothic look. Take your silver highlighter and start using it on to the brow bones. Next, use the same high lighter at the eye nose junction. Here follow light to dark colors tier.
Step 3: Apply The Burnt Shimmer Grey
Apply the burnt shimmer grey on to the crease just below the brow bones next. Blend well.
Step 4: Apply Black Matte Eyeshadow
Now take the black matte eye shadow and use it on to whole of the lid. Make sure you do not form a wing. Gothic looks with a shadow wing are not a choice of thing you would generally find.
Step 5: Apply Black Pencil Liner
Use a black pencil liner or kajal on to the lower rim. Make sure the lower rim lining is quite broad. This is a special gothic touch.
Step 6:
A tailed upper lining can be cool or just a broad lining keeping to the rim area.
A. Without Winged Formation
B. With Winged Formation
[ Read: How To Apply Winged Eyeliner Using Spoon? ]
Step 7: Gothic Eye Makeup Look
This is how the completed eye makeup look should look like.
Step 8: Use Mascara
Use a mascara in top to down way on the upper lashes and a zig zag form on to the lower lashes.
Step 9: Brush out Excess Mascara
Brush out any excess or clumps of mascara with a mascara brush.
Step 10: Curl Your Lashes
Use a lash curler if you want added curl.
[ Read: Best Eyelash Curlers in India ]
This is how it looks when completed. Use a real light nude pink lipstick. You may even just use a simple lip gloss and keep it extremely simple on the lips to set it in tune with the dark eyes. Accessorize your look with some metal neck pieces and black nail polish.
Hope you loved this tutorial. Please leave your feedback!
Recommended Articles
The following two tabs change content below.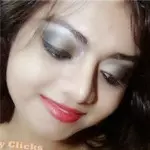 I love makeup,dance,dressing up,singing,writing ,acting (stage drama),eating and nail arts. I live life to the fullest and enjoy every moment as it comes.