What To Wear With Gray Jeans – 9 Outfit Ideas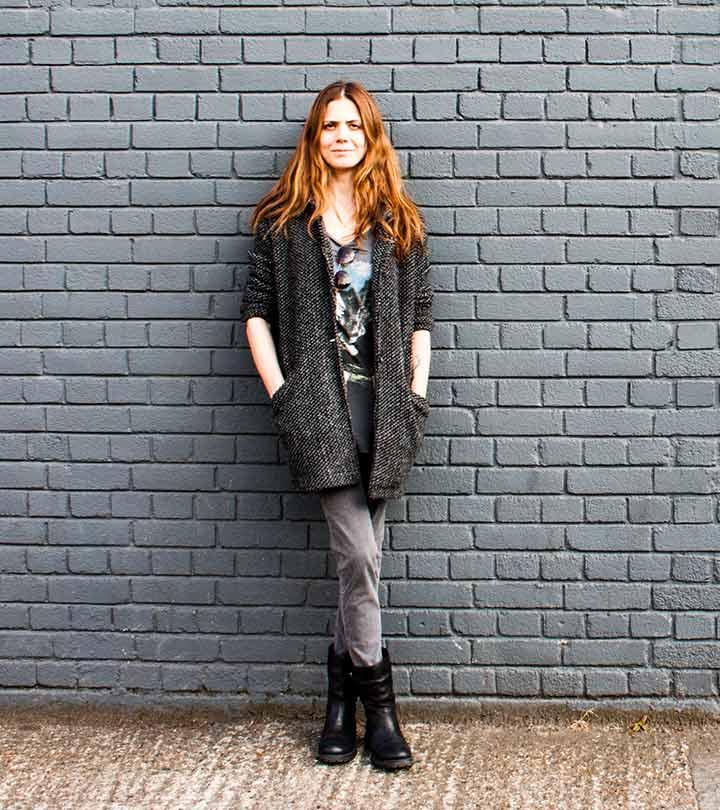 Gray jeans have always been an A-list fashion essential. They are a timeless trend that many fashion gurus seem to adore. A pair of gray jeans is a must-have for every season of the year. When compared to your conventional blue jeans, gray jeans are a breath of fresh air. Once you figure out how to style them, you can create fun outfits that will look stylish both at work and elsewhere.
We have put together 9 such outfit ideas that you can try out with gray jeans. Read on to know more!
1. Gray Skinny Jeans
Gray skinny jeans are great for boosting your confidence. They are comfortably tight, and you can flaunt your legs in the sexiest way possible. You can pair gray skinny jeans with a baggy pullover or a loose t-shirt. To glam up your outfit, you can put on a bold black belt. Stilettos are a great finishing touch, but if you are going for a more laidback and comfortable look, sneakers will also look great. This outfit looks effortlessly stylish.
2. Gray Pants With Black Shoes
Nothing works better than a black and gray combo. Its aesthetic appeal makes your outfit look dapper and cool. Gray pants with a smart gray blazer and a pair of slick black Vans are definitely worth a shot. Playing around with this color palette could be tricky, so keep in mind not to overdo it. With gray, simplicity is key!
3. Gray Jeans For Winter
The color gray was made for the winter season. It is dull but looks cozy and chic. You can create numerous winter outfits with gray jeans. Pair them with an oversized fur coat in neutral colors like white, nude, or black to look stunning. Go for pointed-toe boots or platform sneakers if you are going to be out and about on a cold winter day.
4. Gray Jeans For Summer
As mentioned earlier, gray jeans are a must-have for every season. Pastels are a great option for summer. They are pretty, light, and oh-so-feminine. You can wear pretty floral blouses or loose crop tops over your gray jeans. For shoes, go for a pair of sneakers or some cute kitten heels. You can take your outfit to the next level by throwing on a loose cardigan or a paperboy hat. Put on a pair of black or leopard print shades to finish off the look. Girl, you are good to go!
5. Gray Jeans With A Black Shirt
You can never go wrong with a gray and black outfit! It is cool and stylish, and if you style it right, girl, you can rock the hell out of that outfit. One way you can flaunt fitted gray jeans is with a cute black tube top. It looks super bold and adds charisma to your outfit. You can put on a black leather jacket to up the rock-n-roll quotient of this outfit. Accessories like a suede cap, a belt, or a pair of black shades are a great way to finish off this look.
6. Gray Jeans With Brown Boots
Boots are a great option to pair with jeans. Lucky for us, gray jeans and a pair of neat brown boots look super trendy together. This look is the right amount of bold, with a dash of neat and artsy. Brown boots teamed with gray jeans make a fashion statement you don't want to miss out on.
7. Gray Maternity Jeans
During pregnancy, it is crucial to feel comfortable in what you wear. It is essential to embrace the changes your body undergoes, but at the same time, you can't look like a sloppy mess. A smart, comfortable pair of gray maternity jeans is just what you need. They are neither too tight nor so loose that they look baggy. You can pair these gray maternity jeans with a neat black V-neck top and throw on a pretty floral stole. Now, this is an outfit you can feel comfortable and beautifully pregnant in.
8. Plus-Sized Gray Jeans
We're all here for body positivity! Jeans will help you rock your figure with confidence and pride. Opting for gray jeans is a smart move. They look stylish and comfortable and turn heads. Pair them with a cool white Levis t-shirt and a pair of colored sneakers, and you are ready to roll!
9. Acid Wash Gray Jeans
Acid wash gray jeans don't look very different from your regular gray jeans. They accentuate the gray tone and add a more aesthetic and natural appeal to it. They are easy to maintain and can be easily styled casual outfits. You can wear a pair of acid wash gray jeans with white graphic crop tops, polo t-shirts, or even floral blouses. They look effortlessly stylish with everything.
Those were a few of our favorite ways to style gray jeans. Gray jeans will never go out of style, and they look great on almost any occasion. If you see a cute pair of gray jeans, be sure to grab them. Did any of these outfits give you style inspiration? Let us know in the comments section below!
The following two tabs change content below.

Latest posts by Nooraine Firdouse (see all)