Angelina Jolie Makeup Tips & Step-By-Step Tutorial
It's time to take lessons from the "maleficent" beauty herself to make heads turn with your looks.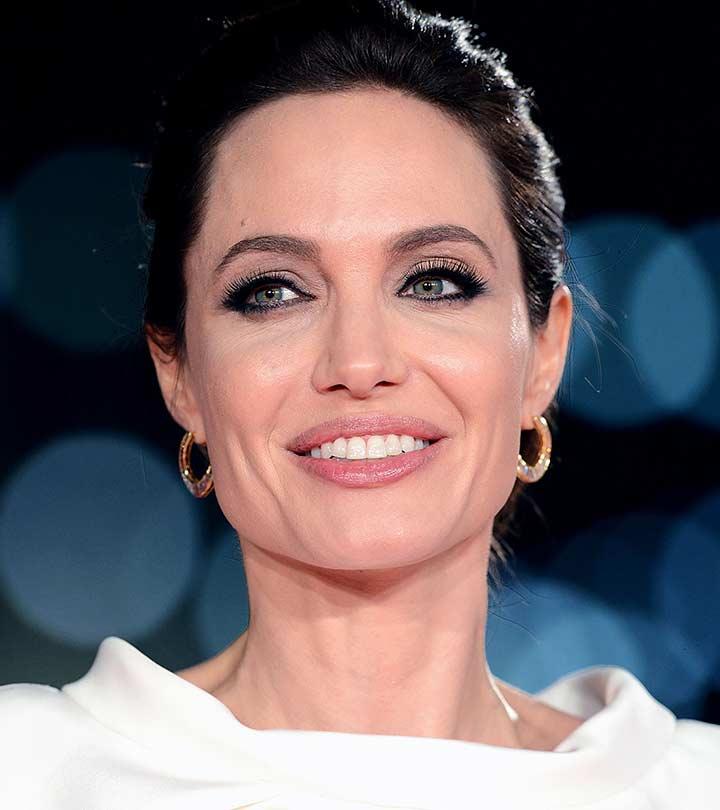 If you are obsessed with Angelina Jolie's makeup look, you have landed yourself in the right place. This article discusses the makeup tips and techniques inspired by the actress. So, without further ado, scroll down and read this article. It is time to look fabulous!
Angelina Jolie Makeup Tutorial
1.Base and Eye Brow:
Start off with a moisturizer,concealer and foundation for the normal base of the makeup.
For the high arched eye brows you can visit a professional for this or you can clean up with tweezers and get yourself the arched eyebrows of Jolie. Then you may need to use a hairspray on a brow brush and brush up your eye brows to get the desired shape. Finish off using a brow pencil to give it more enhanced color.
[Read:Angelina Jolie Without Makeup]
2.Eyes:
[Read:Angelina Jolie's Tattoos]
Time to talk about the Angelina Jolie eye makeup secrets!
Coming to the feline cats eyes of Jolie and how to get them , we will introduce a new revolutionary makeup technique in the world of eye makeup.
It's called tight lining of eyes.
It is known as "Invisible liner" in Asia and it is a technique to make eyes look even fuller and lashes darker. Suitable for all those who wants to get fuller lashline without fake lashes.
Things needed:
A black gel liner or cake liner and a push brush ,a black pencil liner and liquid liner.
How to Tight line your Eyes:
Step 1:Gently pull up your upper eye lid and carefully with the liner pencil fill in the gaps at the roots of the lashes, so that no gap remains. This step has to be carefully done so that you don't prick your eyes with the pencil liner. First few times you may end up pricking your eyes. So be very careful.
Step 2:Again pull up your eye lid and fill in the gap with liquid eyeliner .
(steps 3,4,5)
Step 3:Dip your flat brush in the gel liner or cake liner and push the brush, holding up your eye lids ,into the lash line carefully .
Step 4:With a Q-tip brush carefully (either dipped in makeup remover or slightly moistened) clean up all the smudges.
You eyes will look fuller and lashes bigger than before.
Applying Shadow :
Apply preferred brown or bronze shadow . Now with a black liquid eye liner draw a thin line beginning from inner end of eye to the outer , not stopping there but extending pass the edge of the eye and ending in a tapered extension. Must not be very broad , the line should be very thin.
Finish off the look with a pencil eye liner on the bottom rim of your lashes and volume enhancing mascara. You may also use a curler to curl your lashes after applying mascara if your want to. (You may want to add false lashes even after this step , depending on your lash thickness.
Lash Extensions- If your are bored of re-gluing and using false lashes , you may go in for lash extensions, but these are performed in specific places and clinics only.
3. Lips:
Step 1-With a cotton cloth moistened in luke warm water , or an old tooth brush moistened in lukewarm water rub the lips in circular motions to take all the dry skins off your lips and exfoliate them. You may also use a lip exfoliating scrub made of ground sugar and honey.
Step 2- Apply a good brand Lip Plumper (a revolution in lip enhancing technology) and start with lining the lips with a nude liner (esp. in the case of Jolie like makeup we need nude colors ) and remember the line will be a little outside the natural lines of your lips.
Step 3-Fill in with a nude lipstick or flesh toned lipstick that matches to the liner.
Step 4- Apply a compact powder on it slightly with a brush to make the lipstick last long.
Step 5-Fill in with a transparent lip-gloss. A transparent lip-gloss can give a great boost to plum your lips up.
4. Cheeks:
Jolie's face is made even more well sculpted with contour blushing. Take blush powder darker to your normal color .Suck your cheeks in and with the help of a contour blush brush , apply the blush into the hollows of your cheeks.
Once you are done following this tutorial, you will look just as fabulous as her!
Now that you know the tricks and hacks to nail Angelina Jolie's makeup look, you are very close to being a showstopper. You can add your creativity to the tips we shared to personalize the look to match your personality. However, do not forget to wear your confidence, because when you are confident, you will definitely stand out in the crowd. So, be you and love who you are.
Frequently Asked Questions
Does Angelina Jolie wear false eyelashes?
All actresses wear false eyelashes and hair extensions for PR events. Angelina Jolie is no exception. However, as revealed by her dermatologist Rhonda Rand, Jolie is one to have a strict and proper makeup removal regimen and she is big on skincare and all-natural products.
What lipstick does Angelina Jolie wear in Maleficent?
Jolie wore MAC's Russian Red for her look in Maleficent. Besides this, her stylist has revealed she also likes the Ruby Woo shade.
The following two tabs change content below.