What Goes With Olive Green Pants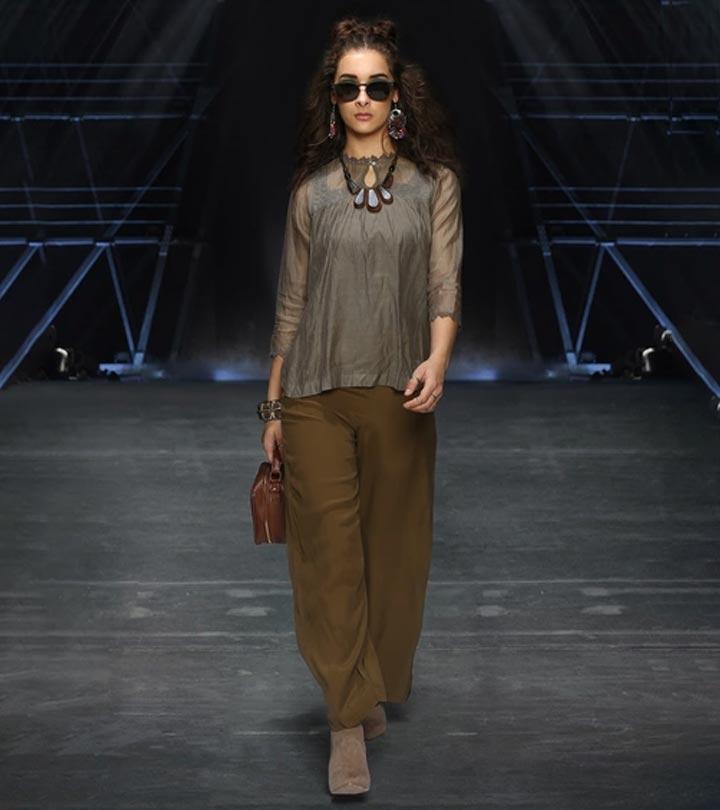 When we talk about pants of any kind, we are thinking dark, blue or standard colors. We overlook colors like olive green and don't realize what we are missing out on. Olive green pants are like your muted pants, except these are easier to style, versatile, and set you apart from others. And, come on, aren't we all bored of the other colors already? A lot of us are, and that's why these olive greens are turning out to be a wardrobe staple and a silent rage. And wondering how and what to wear with olive green pants? We have an answer to that as well. Let's take a look, shall we?
What To Wear With Olive Green Pants
1. Olive Green Jeans And Camel Trench
This fall, ditch all your denim and trousers for a pair of olive green pants. Follow the normal ankle boots, beach waves, tote bag, and big glasses look – you will be glad you did.
2. Skinny Olive Jeans And A Tank Top
Olive colored jeans can act as a great neutral color and are an interesting welcome break from our regular blue, black, and dark denim. Wear a white tank top, converse shoes, and a backpack for a stylish and comfortable day at the mall.
3. High Waisted Green Pants And Ruffled Top
Look oh-so-demure in these high waisted green trousers, and go for a classic color like black or white for the top – tuck it in, and flaunt ankle strap heels. Just look pretty.
4. Olive Green Pants With Denim Jacket
How can a new look be complete without an evergreen denim jacket? Just style it like you normally would, but enjoy the perks of a fashionable outfit.
5. Olive Green Jogger Pants
Joggers have come and taken over the minute they got launched in the market. Camo, olive green, and black are the hottest choice of colors with joggers. If you are in a grunge mood, throw on olive joggers, a crop top, combat boots, big glasses, brown lipstick, and finish it with a half bun.
6. Casual Trousers
Some of us shy away from the idea of wearing light-colored trousers, and hence stick to dark colors in an attempt to hide our unflattering flab. But, shun all of that away, because from plus size to petite, olive green looks great on any body type. Just pay attention to the fit and go along, but don't miss out on these.
7. Olive Pants In Fall
Fall is going to be you putting your brain to test as to how creatively you can use scarves, layers, and colors in your outfits. And winter, well, they test your patience apart from everything else. Anyway, wear casual olive-colored trousers with a drawstring and tuck in a plain white T-shirt, and marry this look with an animal print or a vibrant colored scarf. Finish it with a pair of white converse shoes or flats, depending on your mood.
8. Linen Joggers And Brown Boots
Feeling a little tropical today? Here's a look that complements your mood. Match a pair of olive linen pants with a baggy shirt and go for a sloppy front tuck. And to finish the look, go for ankle length boots and a cowboy hat.
9. Olive Green Pencil Pants
Olive green pencil pants look impeccably stylish for work. They go with all you typical muted and pastel tops, so you have nothing to worry about. But if you are the kind who likes to venture into slightly bold colors, understand the color wheel and your office work attire thoroughly first.
10. Red Cold Shoulder Top
Treat your olive green pants like your regular black or blue denim and pair it with some strong colors like red, yellow, corals, etc. – if that defines your personality. But if you don't want to pull a Lady Gaga, let the footwear and accessories underplay it completely.
11. Green Camo Pants And Informal Blazer
First of all, it's a brilliant way to add a zing to camo pants; secondly, don't you love how different things and colors have been brought together to nail this street style look? The tucked in camo pants over a white shirt, bold color pumps, and the informal oversized blazer to finish it. Hit it out of the park!
12. Olive Green Joggers And A Lace Top
People are all practically living out of their jogger pants, so if you are already onboard with the idea, give the olive green joggers a shot. Pair it with a black crop or lace top to give it an urbane twist.
13. Olive Green Denim With Stripes T-Shirt
White and black striped T-shirt is something every girl has in her closet. So take that out and pair it with your olive green pants, wear pumps, and strut around like a diva.
14. Green Pants And Off-White Shirt
Bring two mellow colors together and blend them for a minimalistic look. You can either go with a linen shirt and tuck it in or go for an open shirt with a tank top inside. Wear some bold pumps for good measure.
15. Off shoulder top
Wear a black off-shoulder top with your olive green pants. Go for a bare neck, beachy waves, and no makeup look. Sport flats or open sandals to finish this.
For an unassuming color, olive green pants can make quite an impact. Have you ventured into wearing olive green pants yet? Do you mean to try? Let us know by dropping in a text in the comments section below.
Recommended Articles:
The following two tabs change content below.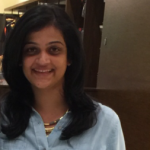 After working in Marketing and Business Development for a few years, Pratima Ati jumped ship to pursue two things she loved – fashion and writing. She's now a full-time Fashion & Lifestyle writer and has never looked back ever since. She sleeps early, reads often, and when she can't, she finally gives a closure to all the characters living in her drafts. Sometimes, they pass off as poetry too! That, and her training in Indian classical music and playing (learning) the veena keep her sane, civil, and bearable.