15 Olive Green Pant Outfit Ideas For Women (Comfy & Stylish)
Rock this warm and elegant hue in interesting pairings to steal the show at any outing.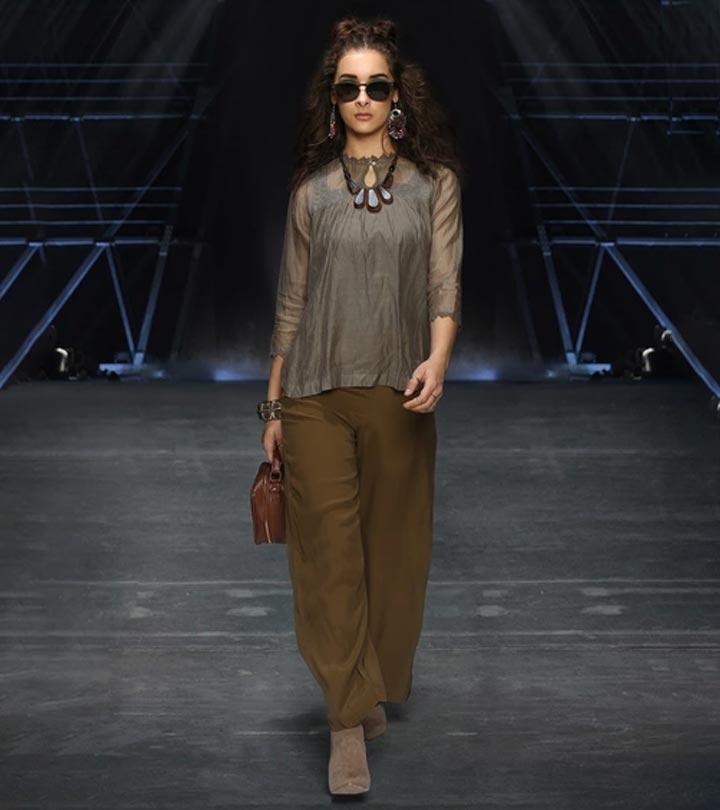 You can go all out when it comes to pants and try out many different colors apart from the standard ones, too, because It is not mandatory for your pants to always be blue, black, and white. Let's start with green pants. Green can refer to any of the different shades, tones, and tints including verdant, emerald, olive, forest, moss, sage, chartreuse, lime, kelly, army, khaki, or hunter. But we are focusing on olive green and to help you rock them, today, in this article, we are going to acquaint you with some of the must-try ideas for green pant outfits. All you have to do is scroll down and learn how to style some beautiful green-colored pants. So, without any further delay, let us go ahead and check it out because it is time to shift from wearing those standard colors.
Ace The Look
Clashing Colors: Avoid wearing green pants with clashing colors like other shades of green or bright colors like neon pink or orange.
Maintenance: Wash them in cold water and avoid bleaching the green pants, as it can cause discoloration. Store them away from sunlight.
Makeup: A neutral makeup look with soft brown eyeshadow and a nude lip or a bold lip color like red or berry complements the earthy tones of olive green pants.
What To Wear With Olive Green Pants
1. Olive Green Jeans And Camel Trench
This fall, ditch all your denim and trousers for a pair of olive green pants. Shades of green and brown are the best combination. Follow the normal ankle boots, beach waves, tote bag, and big glasses look – you will be glad you did.
2. Skinny Olive Jeans And A Tank Top
Olive colored jeans can act as a great neutral color and are an interesting welcome break from our regular blue, black, and dark denim. Wear a white tank top, matching converse shoes in white, and a backpack for a stylish and comfortable day at the mall.
3. High Waisted Green Pants And Ruffled Top
Look oh-so-demure in these high-waisted green trousers, and go for a classic color like black or white for the top – tuck it in, and flaunt ankle strap heels. Just look pretty.
4. Olive Green Pants With Denim Jacket
How can a new look be complete without an evergreen denim jacket? Just style it like you normally would, but enjoy the perks of a fashionable ensemble.


Quick Tip
Casual beige shoes or wedges will go well with this outfit.
5. Olive Green Jogger Pants
Joggers have come and taken over the minute they got launched in the market. Camo, olive green, and black are the hottest choice of colors with joggers. If you are in a grunge mood, throw on olive joggers, a crop top, combat boots, big glasses, brown lipstick, and finish it with a half-bun.
6. Casual Trousers
Some of us shy away from the idea of wearing light-colored trousers, and hence stick to dark colors in an attempt to hide our unflattering flab. But, shun all of that away, because from plus size to petite, olive green looks great on any body type. Just pay attention to the fit and go along, but don't miss out on these.
7. Olive Pants In Fall
Fall is going to be you putting your brain to test as to how creatively you can use scarves, layers, and colors in your outfits. And winter, well, they test your patience apart from everything else. Anyway, wear casual olive-colored trousers with a drawstring and tuck in a plain white T-shirt, and marry this look with an animal print or a vibrant colored scarf. Finish it with a pair of white converse shoes or flats, depending on your mood.
8. Linen Joggers And Brown Boots
Feeling a little tropical today? Here's a look that complements your mood. Match a pair of olive linen pants with a baggy shirt and go for a sloppy front tuck. And to finish the look, go for ankle length boots and a cowboy hat.
9. Olive Green Pencil Pants
Olive green pencil pants look impeccably stylish for work. They go with all you typical muted and pastel tops, so you have nothing to worry about. But if you are the kind who likes to venture into slightly bold colors, understand the color wheel and your office work attire thoroughly first.


Quick Tip
Pointed-toe pumps or strappy sandals in neutral or naturally-toned colors will look good with this outfit.
10. Red Cold Shoulder Top
Treat your olive green pants like your regular black or blue denim and pair it with some strong colors like red, yellow, corals, etc. – if that defines your personality. But if you don't want to pull a Lady Gaga, let the footwear and accessories underplay it completely.
11. Green Camo Pants And Informal Blazer
First of all, it's a brilliant way to add a zing to camo pants; secondly, don't you love how different things and colors have been brought together to nail this street-style look? The tucked-in camo pants over a white shirt, bold color pumps, and the informal oversized blazer to finish it. Hit it out of the park!
12. Olive Green Joggers And A Lace Top
People are all practically living out of their jogger pants, so if you are already onboard with the idea, give the olive green joggers a shot. Pair it with a black crop or lace top to give it an urbane twist.
13. Olive Green Denim With Stripes T-Shirt
White and black striped T-shirt is something every girl has in her closet. So take that out and pair it with your olive green pants, wear pumps, and strut around like a diva.
14. Green Pants And Off-White Shirt
Bring two mellow colors together and blend them for a minimalistic look. You can either go with a linen shirt and tuck it in or go for an open shirt with a tank top inside. Wear some bold pumps for good measure.
15. Off-Shoulder Top
Wear a black off-shoulder top with your olive green pants. Go for a bare neck, beachy waves, and no makeup look. Sport flats or open sandals to finish this.
Infographic: 5 Stylish Olive Green Pant Ideas You Should Try
If you are tired of good old denim and need to change things in your wardrobe, you have come to the right place. A beautiful pair of olive green pants with the right top can take your fashion game to the next level. To help you out, we have rounded up the top 5 clothing ideas you can experiment with. Check out the infographic below to know more!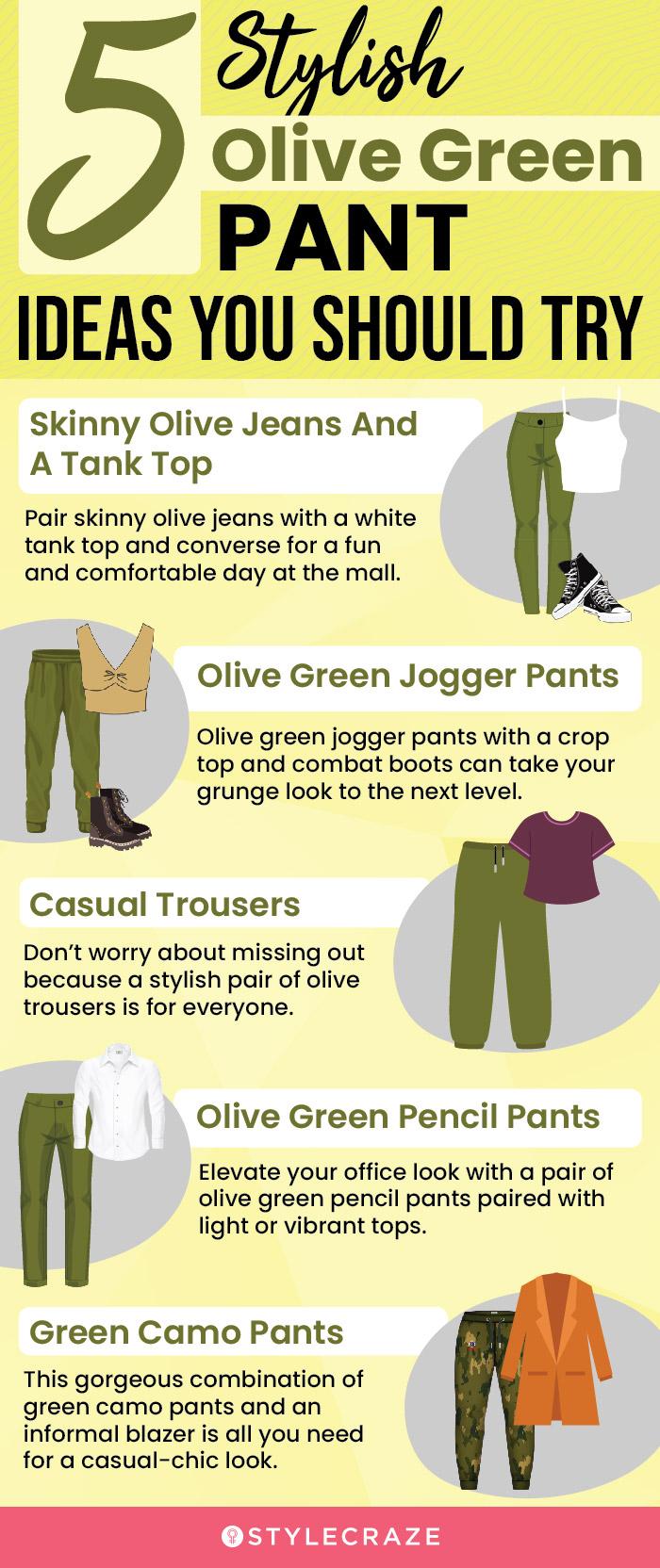 With the above green pant apparel ideas, you can now be well assured of making a style statement effortlessly. Olive pants help you stand out while not appearing too bright or loud in the face. Be it a brunch with friends or an official work meeting, pick any of the above-listed olive pants as per your comfort, fit, style, and occasion to rock the show.
Frequently Asked Questions
Does gray go with green pants?
Yes, gray tops go well with green pants.
What color goes well with green pants?
Neutral colors go well with green pants. You can also opt for a monochromatic look. Paola Farina, a Personal Stylist, says, "Elegant, and chic, monochromatic helps to elongate the figure. The olive ankle-length trench is the next object for the spring season. I also like bright olive with camel or tan."
How do you wear olive green pants in the spring?
You can pair olive green pants with a white tank top and a denim jacket. A white T-shirt with short sleeves or a light-colored tank top are also some good choices to wear with olive green pants.
Key Takeaways
Olive-colored bottoms come in the form of trousers, jogger pants, pencil pants, camo pants, and even denims.
The color olive can be experimented with various fabrics, patterns, and textures to create distinctive and striking looks.
The versatile color can be styled easily with denim jackets, trenches, shirts, blazers, a variety of tops, or just a simple t-shirt.
A white and black striped T-shirt and pumps paired with olive green pants can help you create the ultimate comfy look.
Do you want to learn how to style olive green pants in different ways? Look no further. Get creative and have fun with your look – mix and match to create unique looks from the suggestions in this video.
The following two tabs change content below.