Hair Brush Types And How To Use Them
Understand why you should be mindful about choosing the best hairbrush for your locks.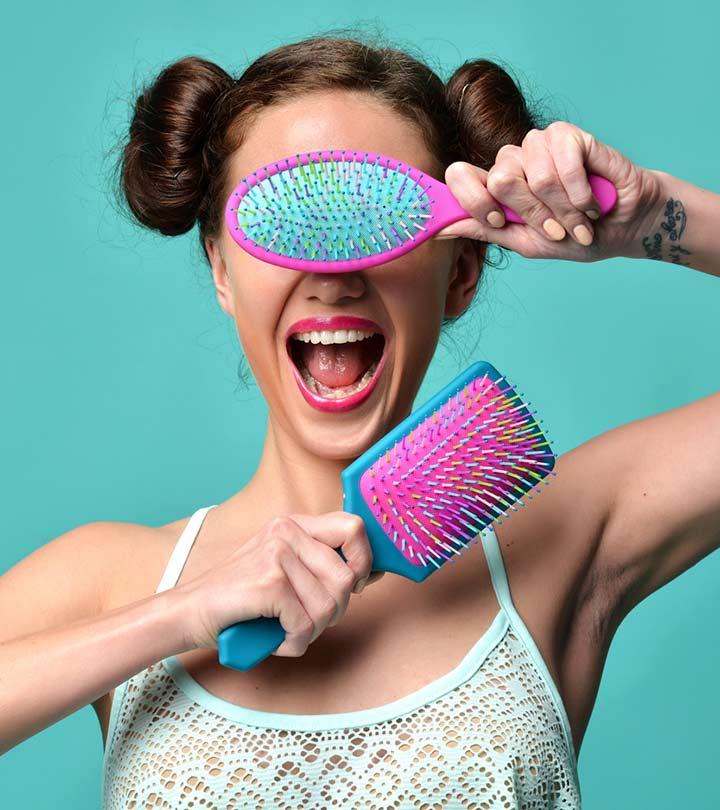 If you can't decide which brush to pick for your hair, you have come to the right place. With our detailed analyses of the different hairbrushes, we will help you select the best one for your hair. For the good health of hair, it is very important to have a good hairbrush that suits your hair and scalp needs.
However, selecting a hairbrush can be tough if we don't know which hairbrush is good for what purpose. Moreover, every hairbrush has its specialty. For example, some brushes are good for curly hair, while others work better with silky hair. Read on to know all about the different hairbrush types and their uses.

Fun Fact
The earliest known hair brushing devices date back to 8000 BC, Syria. These were combs made from animal bone and looked similar to the slim, plastic combs we use today.
Why Choose A Good Hair Brush?
Most of us tend to ignore the importance of picking the right hairbrush. A good hair brush that suits your hair's type and texture can affect the overall hair health and appearance. It can:
Detangle the hair
Minimize breakage
Reduce frizz
Prevent static
Not all hair brushes are meant for all hair types. For instance, a hair brush for straight hair will not work well on curly hair or vice-versa. Moreover, hair brushes have different purposes. Some are best for styling, while the others are suitable for detangling. They also differ in shape, depending on the purpose and hair type. You will find curved, cushioned, and rounded brushes. In the next section, find out which type of hair brush is suitable for what.
Types Of Hair Brushes: Which Hair Brush To Use And When
1. Paddle Hair Brush
Best For: Long and straight hair
Suitable For: Detangling
The paddle brush helps to quickly detangle the hair, getting rid of knots without tugging your hair. It has a flat and wide surface to allow easy movement and better coverage.
A paddle hair brush goes with the natural hair pattern. While it is best for straight hair, people with curly and wavy hair can also use this brush. However, if you have thick hair, choose a paddle brush with nylon or synthetic bristles.
2. Round Hair Brush
Best For: Medium to thick hair (wavy)
Suitable For: Blowouts
A round hair brush is apt for blowouts. This type of hair brush has a metal barrel that heats up when used with a blow dryer. The round brush helps tame frizz and adds body, volume, and bounce to the hair. It is available in different sizes.
Small brushes are useful for creating tight curls, while round brushes with large barrels are good for straightening or creating subtle waves. If you have fine hair, you can use round hair brushes. However, pick one that has mixed or natural boar bristles.
3. Teasing Hair Brush
Best For: All hair types
Suitable For: Adding volume
A teasing hair brush is best for all hair types including short or thin hair. It lifts the roots to create an illusion of volume. It teases the hair, creates texture to support different hairstyles, and adds a base at the roots. The point-ended handle is for sectioning the hair, and the brush is for teasing. Avoid this brush if your hair is fragile.
4. Wide-Toothed Comb
Best For: All hair types
Suitable For: Detangling wet hair
A wide-toothed comb is best for brushing wet hair to prevent damage and breakage. It also helps distribute conditioner and hair masks as it has thick teeth with wide gaps. This type of comb is also good for brushing thick and curly hair.
5. Detangler Hair Brush
Best For: All hair types
Suitable For: Detangling wet and dry hair
The detangling brush handles all hair types, including thick and curly hair, gently. It prevents hair damage from knots and breakage. Detangler brushes have wide and flexible plastic bristles to undo knots painlessly.
6. Rat-Tail Comb
Best For: All hair types
Suitable For: Parting and sectioning
The rat-tail comb is ideal for parting the hair into sections. It has a long and pointed end for sectioning and closely placed bristles to tease and backcomb the hair.
7. Vented Brush
Best For: All hair types
Suitable For: Quick blow dry
The vented brush works wonders in lesser time. If you don't have time to comb your hair properly, the vented brush helps you quickly blow dry wet hair. The holes allow the hot air to pass through, speeding up the drying process.
8. Boar Bristle Brush
Best For: Curly and fine hair
Suitable For: Styling
The natural boar bristle brush is best for distributing the natural oils throughout the hair length. It gently glides through the hair without snagging and is best for styling fine hair.
9. Loop Brush
Best For: All hair types
Suitable For: Brushing hair extensions
This brush has looped bristles that glide through the hair extensions without pulling them. Loop brushes suit all hair types.
Right from braids to updos, there is a specific brush for each hairstyle. Read the guide to know the hair brush for the most common looks.
The Best Brushes For Different Hairstyles
Straight Hairstyles: Paddle brushes are the best for a straight hairstyle. They have widely spaced bristles on a flat paddle to create a frizz-free and poker-straight look.
Curly Hairstyles: Curly hair is prone to tangles and knots. A wide-toothed comb is best for detangling curly hair with minimal damage. For styling, you can use round brushes. These are ideal for defining the curls and impart lift and volume.
Blowout Hairstyles: Round brushes work best for salon-like blowouts. Working with a round brush might seem tedious at first. However, it adds bounce and volume to your hair. You may also use a natural bristle or boar bristle brush to impart sheen to the hair strands.
Updo Hairstyles: For a perfect updo, you may need a mix of brushes. A wide-toothed comb helps to detangle the hair, and a rat-tail comb is good for parting the hair and teasing or backcombing the roots to add volume. Follow up with a boar bristle or an ionic brush to smoothen the strands.

Trivia
William Kent manufactured the first hair brushes with a handle and bristles in 1777 in England. The natural bristles were manually stitched into the brush handle.
How To Choose The Best Hair Brush For Your Hair Type
Choose As Per Your Hair Type And Concern
If you have fine hair, you should be extra careful about the brush. Use round, paddle, and vented models with hair enhancing properties. If you have coarse and thick hair, choose a boar bristle brush to distribute the natural oils across the hair length. If your hair gets tangled easily, use a brush with synthetic bristles or a combination of nylon and boar bristles to go through the strands. A soft bristle hair brush is best for wet hair.
Choose As Per Styling Needs
Pick a brush that meets your hairstyling needs. A vented barrel is best for an ultimate blowout. Use a round brush and a vented brush to increase the hair volume through waves and curls. Use a small round brush for tight and neat curls. If you have straight hair and looking for smoother results, use cushion brushes with nylon bristles.
Choose Thermal Barrels For Fast Drying
The barrels are as important as the bristles. The thermal barrels can hold the needed heat required for faster drying and regulate the temperature effectively to prevent heat damage. Also, check if the barrel has vents. Vented barrels allow free hair movement to avoid tangles. Simultaneously, tourmaline and ceramic barrels help in reducing frizz and add shine.
Infographic: The Right Hair Brushes To Choose As Per The Hair Type
Choosing a good brush keeps your hair protected and strong against damage and increases blood circulation to your hair follicles. It is always a good idea to use a brush that suits your hair type and texture. For example, while some hair brushes help maintain your curls, others work best on straight hair. Check out the infographic below to know which hair brush is suitable for your hair type.


People often do not care about the type of comb or hairbrush they use. However, picking the right hairbrush for your locks can significantly impact the appearance and feel of your hair. Not all hairbrushes are suitable for all hair types and serve the same purpose. Since you will be using a hairbrush daily, choosing the proper tool for your hair type and texture is critical for maintaining its beauty and volume. We hope that this hairbrush buying guide will assist you in understanding the choices you have and choosing the best hairbrush for your perfect hair days.
Frequently Asked Questions
Is it better to brush hair wet or dry?
It is always best to brush your hair when it is completely dry. Wet hair strands are stretched, weakened, and vulnerable; brushing them can lead to breakage.
Do brushes damage hair?
Brushing your hair incorrectly and using the wrong brushes can lead to damage.
Is brushing hair healthy?
Yes. Brushing your hair is healthy and necessary to keep it tangle-free, manageable, and shiny. However, you must know the right brushes and way of brushing for your specific hair type.
Is brushing your hair before bed good?
Yes. Hair experts recommend brushing your hair twice a day. In the morning as well as before going to bed at night. It ensures good hair health.
Key Takeaways
Hair brushes not only detangle your hair and reduce frizz but also improve hair texture and style.
A vented brush is great for blow drying your hair, while a round hair brush is great for styling and blowouts.
A boar bristle brush is suitable for curly hair, and a paddle brush is great for detangling straight hair.

Do you wish to learn about the different types of brushes and how to use them to create a perfect hairstyle? Check out the viudeo below and get ready to brush up on your hair brush knowledge!