32 Best Hair Color Ideas For Black Women
Turn into a diva with these gorgeous hair colors that complement dark skin tones.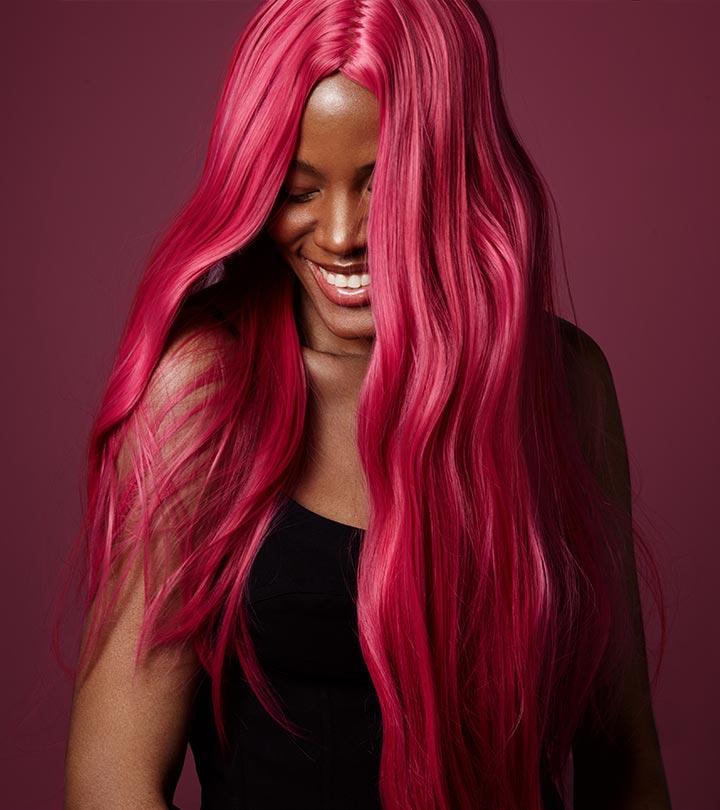 Black women love to play around with their hair, whether it is a hairstyle or color! But with so many colors on the market, which is the best hair color for black women?
A touch of red can make you feel fierce, a dash of green like a forest fairy, and a touch of pink can remind you of those teenage rebellion years. But hair colors have more benefits than simply adding a bit of pop to your naturally textured locks. A change of hair color can help conceal thinning hair and a visible scalp. Changing your hair color can also make your hair look thicker. Picking the right hair color helps accentuate your facial features and skin tone.
With so many benefits, it is time to pick the right color for your skin tone! We know that there are many colors for you to choose from. So, we've made it easy for you. Keep reading to check out the trending hair colors for black women!

Before You Get Started
Always choose a hue that complements your complexion to prevent the color from appearing too harsh.
Shampooing and deep conditioning are a must after the hair coloring process, as the dye may affect hair texture and health.
If you are going for permanent color, go to a professional and bring reference pictures with you.
Make sure you discuss your budget and upkeep. Some colors will require frequent touch-ups and salon visits.
32 Best Hair Color Ideas For Black Women
1. Bright Copper Hair
There's something just so impossibly chic about this glossy hair color! If you are feeling particularly courageous, opt for this stunning and bright copper hue all over your hair. For an added oomph, get a short bob cut, and stun everyone wherever you go! You can also opt for a balayage, with darker copper highlights at the top and lighter, sun-kissed copper hues at the bottom.
2. Multi-Color Highlights
If you want to give a new look to your hair but cannot decide on a color, say hello to this multi-colored look. Inspired by the rainbow hair trend, this color is perfect if you are tired of the regular blond and brown colors. Pair your hair with a bold makeup look and let your inner diva shine!
3. Blonde Highlights
A great way to accentuate your natural hair color is to get lighter highlights. Black women naturally have darker hair, so getting blonde highlights near your face can add definition to it.


Quick Tip
You can try out different shades like caramel, honey, platinum, two-toned ombres, or beige blonde highlights to give your hair a dash of color.
4. Metallic Gray Hair
Don't deny it! This woman looks fierce. I mean, she reminds me of a warrior. This light metallic gray shade is the perfect blend of courage, boldness, and edge. Pair it with a red or any deep lip color for a mindblowing combination. Move over classic salt and pepper look, this gray shade is taking over!
5. Dark Roots And Bleached Blonde Hair
This is the perfect slayer combo! Dark roots can make your face look longer while bleached blonde hair can accentuate features like your eyes and mouth. This blend paired with that deep plum lip shade is to die for.
6. Sahara Yellow
Doesn't this hair color remind you of desert sand? Yellow is an eye-catching color. Though this shade of yellow is loud, there's a subtlety to it that makes it easy on the eyes.
7. The Brown Blend
Dark chocolate or milk chocolate – why choose between the two? This color combination makes for a chocolatey mix. Now take that divine blend and throw it on your hair. It makes you want to keep touching your hair, doesn't it?
8. Winter Colors
Close your eyes and think of a cold winter night. You're probably thinking of a deep blue sky, the silhouette of a forest, and snow. That's all I could think of, staring at this blend of hair colors. Surreal is the only way to describe it.
9. Mermaid Hair
Contrary to popular belief, mermaids aren't sweet creatures. They are feisty femme fatales, and you need to think twice before messing with them. Let your hair become a part of your feisty nature with these deep shades of purple and green.
10. Purple With A Hint Of Red
African women love purple and its many shades. The color purple is feminine and also symbolizes energy, which is the perfect definition of a woman. Throw in hints of red to add some flavor to the look.
11. Cobalt Blue
Think of a perfect day. I'm sure the first thing that comes to your mind is a blue sky. A blue sky means freedom, that you are limitless. Color your hair in this stunning cobalt blue hue, and spread those wings and fly!
12. Teal Blue Highlights
Okay, I L-O-V-E this look. The teal blue highlights showcase her naturally black hair extremely well. Not to mention that lovely lip shade, flawless eye makeup, and those beads. There's no fault here, only perfection.
13. Pink Tips
Pink! As a young girl, I used to hate pink. But, over the years, I've realized that it's a strong color. It's the common bond between women, that unspoken code that all women like at least one shade of pink. Pink can be subtle or flamboyant. And bright pink ends add tons of pizzaz to an afro.
14. Merlot Hair
You had me at Merlot. Did you know that Merlot is derived from the French word for 'blackbird'? Trivia aside, this red wine-inspired hair color looks pretty great. Don't you want to swim in it?
15. Ginger Hair
Everyone who knows me knows I adore ginger hair. After all, it's the perfect mix of light brown, red, and hints of orange. While it does have that subtle look, it also screams "Bring it on!"
16. Red Streaks
This gorgeous lady's hair looks silky and soft, doesn't it? It makes you want to stroke it. Dark and bright red mingle to give you this hot-as-sauce look. The vivid streaks make the bob look ten times cooler.


Quick Tip
Experiment with different shades like copper, mahogany, auburn, dark or bright red streaks to up your hair game. You can pair it with burgundy or purple-red lipstick to complete your look.
17. Orange With A Pink Start
Envision a perfect sunset. It's sure to look something like this hair color look, right? There's something so captivating about a sunset that you can't seem to look away. It's the same with this color blend.
18. Brown Rose Gold
Rose gold, on its own, looks wonderful, but take a look at this chestnut brown rose gold mix. It's absolutely beautiful! The corkscrew curls make her face look slim while the hair color makes her pink lip shade stand out.
19. Purple Hair
Black women are known for experimenting with protective styles and crazy colors to match their personalities. Purple is one such color. Pair this color with faux locs to look badass.
20. Purple Streaks
If you don't want to commit to a full head of hair color, try streaks. It will show you how the color looks on your hair and if it complements your skin tone, without the fear that comes with getting your entire hair colored. If the streaks look bad, you can always color them back to your natural hair color very easily.
21. Coffee Topped with Chocolate
I'm an all-out coffee addict. My day does not start until I've had my daily dose of caffeine. Top it off with some dark chocolate, and it is a gift from God above. It's no surprise that I absolutely adore this trendy hair look sported by Rihanna. Excuse me for a few minutes while I get myself some coffee.
22. Blonde Bolts
Bolts of lightning. That's the best way to describe this hair look. Getting blonde bolts (streaks) near your face can help slim it down and make it look longer.
23. Aquamarine Dipped
Mermaids are said to protect aquamarine stones as it was their treasure. Sailors used to try and steal these stones as they were used as talismans for good luck and protection. It symbolizes calmness and letting go. But, above all else, it looks incredible – so, why wouldn't you want to color your hair in this stunning shade?
24. Bleached Blonde
This is a killer combination! Gray eyes, red lips, and bleached blonde hair. Makes you want to try it out, doesn't it? Imagine pairing this look with a black sweatshirt and leggings. Pretty stunning! What are you waiting for?
25. Jet Black
You know why they call the abyss black? Because it sucks you in! Black, the color that will never ever ever (say it like a Valley girl) go out of style. Jet black hair tends to pull people in. There's something oh-so-mysterious about it. You want to look away, but you can't.
26. Winter Bronde
This hair color combo is perfect for the winter. It is the perfect combination of metallic golden and silver with a dash of black. It's cold but with color.
27. Full Red Highlights
"All the women who are independent, throw your hands up at me!" Sorry, I couldn't help myself. After all, it's Kelly Rowland from Destiny's Child. I remember when she created a huge craze with her full-on red streaks. Since then, it's never been out of fashion.
28. Deep Champagne
Pop open that bottle of bubbly and take that celebration to your hair like Mary J. Blige here. Pair it with a bronze glossy metallic outfit, and I'm sure you'll feel like a queen!
29. The Toni Topaz
Ever since Riverdale's Toni Topaz made her entrance, her hair has taken on a life of its own. I'm sure if you searched, you might even find a whole Instagram account dedicated to it (it already has multiple hashtags). Her pink locks have made women all over the world drool! I don't think this craze will die down any time soon.
30. Goldilocks
Ne-Yo made the right choice! Gabrielle Union most certainly is Miss Independent. Those gold highlights on her natural brown hair make her look gorgeous. You can own this look – just like her!
31. Autumn Fall
I believe there is a perfect hairstyle and color for every season. This, in my opinion, is the blend for autumn. This mix of blonde, ginger, and dark brown reminds of fallen leaves during autumn.
32. Amazonite
Amazonite is a gemstone found in South Africa that is a stunning amalgamation of green and blue shades. If you are a nature lover, try this lovely blend on your hair. It looks like it's right out of a mythical book.
Infographic: Top 10 Glam Hair Colors For Black Women
Gone are the days when you had to worry about what hair colors would complement darker skin tones. Trends these days are all about experimenting with bold and unique styles. The more you open your mind to it, the more appealing even the most seemingly odd styles get.
Check out the infographic below for the top 10 hair colors that look absolutely glamorous on deeper skin shades.


We hope that this list of hair colors for black women has provided you with some amazing ideas. These vibrant and gorgeous hair color options will give you a complete transformation. Whether you want Sahara yellow, cobalt blue, pink tips, or any other option from the list above, you will look nothing but fabulous. So, without further ado, pick the one that has stolen your heart and try it. Once done, make sure to follow your haircare routine strictly to avoid dry and damaged hair.
Frequently Asked Questions
Does gray look good on dark skin?
Yes, gray hair is a neutral hair color that can be made warm or cool-toned to suit all skin tones.
Does burgundy hair look good on dark skin?
Yes, deep burgundy shades look great on dark skin tones.