9 Best Hair Dye Brushes – Our Top Picks For 2020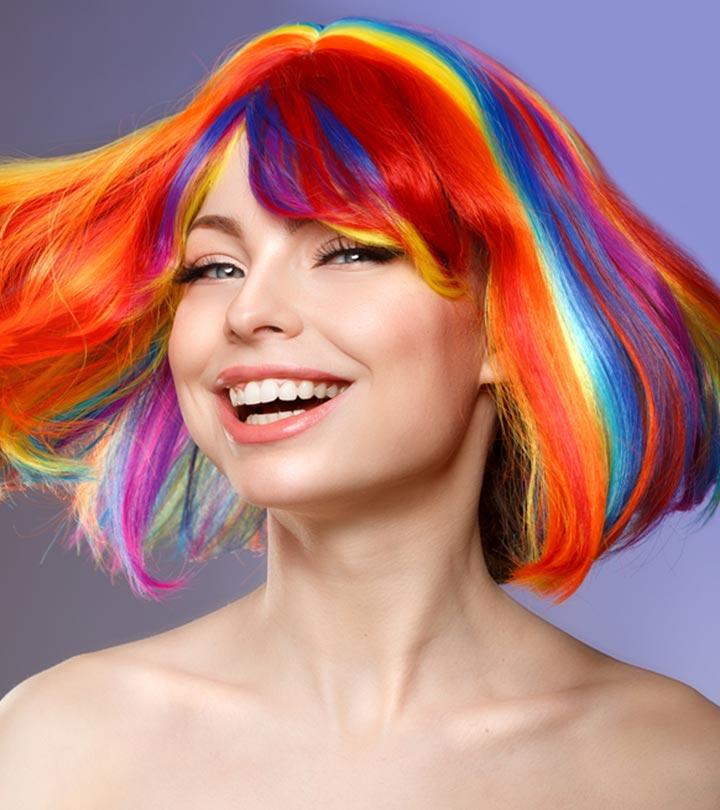 If you're looking for a quick yet evident transformation in your looks, the best place to start is with your hair. There are many hair coloring techniques from balayage, ombre, highlights, to the classic dye-all-your-hair styles. But no matter what style you pick, coloring hair at home can be a little intimidating. However, if you pick the right hair dye brush to paint your tresses in the color of your choice, you can expect a salon-style finish and impressive results.
We're sure you have your favorite color from your favorite brand on your shelf, and it's time for you to get a hair dye brush for pro-level hair coloring. Without any further ado, read through our list of the 9 best hair dye brushes and invest in a good one to get your hair coloring game right.
9 Best Hair Dye Brushes For Effortless Dyeing
The ATB 3-piece hair dye set is all that you need to color your hair at home. The set includes 1 brush, 1 mixing bowl, and a brush cum comb, so you don't have to invest in a bowl or a comb to dye your hair. The bristles of the brush are 0.98 inches, and the total length of the brush cum comb is 7.87 inches. The mixing bowl has 4 scales ranging from 50 ml, 80 ml, 100 ml, to 200 ml so that you can mix as much color as you might need based on the length of your hair. The brushes are lightweight, easy to use, and easy to wash, making them an excellent choice.
Pros
Comb included
Sturdy bristles for easy application
Small brush for coloring around the corners
Easy to rinse
Cons
Some may find the bristles of the brush slightly hard.
The Framar hair coloring brush is a lightweight, ergonomic brush that can be used for applying all kinds of hair colors and dyes. Whether you plan to go balayage or need to apply bleach, this brush does it all. The handle of the brush is made from plastic, while the bristles are made of synthetic nylon. The bristles are attached firmly to the brush to ensure that they don't shed when pressed against the scalp. The brush features tapered edges, which makes applying color behind the ears a cinch. Whether you use this brush to color your hair at home or for your clients at the salon, you can't go wrong with it.
Pros
Soft bristles
Tapered edge for high precision
Works for balayage and foil application
Ergonomic handle
Cons
Some may find the handle slightly flimsy.
This hair color applicator brush set includes 3 translucent brushes in pink, purple, and blue. All 3 brushes have slender, ergonomically-designed handles. They're ideal for applying dye as well as hair mask application. The bristles are made from high-quality synthetic that helps in even application. If you need to part your hair while coloring them, you can count on the brush's tapered end for the job. Overall, the brush has everything you need for an effortless hair dyeing experience.
Pros
Lightweight
2-inch wide
Comes in 3 colors
The pointed end helps in parting the hair
Cons
Some bristles may fall out after extended periods of use.
The Diane hair tinting brush is among the professional-grade ones that are ideal for salon use. This brush gently caresses your hair to color all sections of the hair evenly. If you're looking for a larger brush for full-coverage, this hair dye brush won't let you down. While the bristles help dye every strand of hair, the brush offers a firm hold even when you're wearing safety gloves.
Pros
Offers quick coverage
Pointed end for sectioning
The handle features circular depressions for a firm hold
Durable
Cons
The bristles may not be as flexible as expected.
This cute and peppy set of 3 Colortrak brushes lets you dye your hair in style. You'll find 3 brushes, one in pink, blue, and purple each with matching bristles. The body of the brushes have glitter sprinkles all over, making coloring hair all the more fun. The bristles are soft and easy to clean, and the brushes are 11 inches long. You can use them for highlights or to color all of your hair.
Pros
Wide brushes
Soft bristles
Suitable for bleaching
Available in 3 vibrant colors
Cons
Some may find the handle too long.
These professional hair color brushes are must-haves if you work at a salon or dye your hair frequently. The set offers 5 dyeing brushes with soft yet firmly held nylon bristles and a good-quality plastic handle. Since the bristles are made from nylon, the hair does not get stuck on the brush. The brush also catches a fair amount of dye, which makes coloring larger sections relatively effortless.
Pros
High-quality nylon bristles
Tapered end for sectioning
Sturdy handle
Reasonably priced
Cons
The white bristles may stain eventually.
These reasonably-priced hair color brushes come in a pack of 12 and are what every hair-coloring expert would look for. Measuring at 8.7x 1.9 inches, the brush helps in even and precise color application minus the mess. The bristles are made from nylon and hold up the dye well to save you the time and hassle of dipping it in the mixing bowl every other second. Once you're done coloring your hair, all you have to do is rinse the brush in warm water to get rid of the residual dye.
Pros
Lightweight
Reasonable
Soft bristles
Suitable for bleaching
Cons
Some may find the bristles too short.
This set of 3 wide hair dye applicators from Salon Supply covers larger areas and root touch-ups. If you're using multiple colors, you can conveniently use these 3 brushes without having to wash the same brush over and over again to dip into a different color. The bristles allow you to color areas that are hard to reach. Moreover, the bristles are optimally soft and are suitable for hair treatments, keratin application, bleaching, and foil application.
Pros
Extra-wide brushes
Feathered bristles for precision
Long handles for optimal control
Tapered tail for sectioning
Cons
May not be suitable for thick hair
This color brush for hair features a super sleek handle and firmly held bristles, making it easy to maneuver it for different coloring techniques. The bristles are made from premium materials and help in stirring and mixing the color well. It allows quick root touch-ups with great precision. Whether you plan to color your hair at home or use it at your salon, it can be a great addition to your hair dyeing kit.
Pros
Lightweight and sleek
Ergonomic handle
Ideal for highlighting
Durable
Cons
Your journey of coloring your hair the right way doesn't end at buying an ideal hair color brush applicator. It extends to knowing how you can color your hair at home. Here's a quick tutorial to help you dye your hair at home without going wrong.
How To Dye Your Hair With A Brush At Home?
Step 1- Pick the color of your choice.
Step 2- Test it on a small patch of hair to ensure you aren't allergic to it and to see if the result is close to what you imagined. Typically, it is best to do a patch test and wait for 48 hours before coloring your hair.
Step 3- Keep all the supplies ready, from a good-quality hair dye brush to a mixing bowl, a comb for parting, and bleach (if needed).
Step 4- Prep your skin by applying a cream so that you don't stain the skin around your hairline. Comb your hair and ensure that it is detangled.
Step 5- Create sections and start coloring. If you're highlighting a few sections, it is recommended to use foils and run your brush with precision.
Step 6- Give it a final finish at your hairline and corners around your ears.
Step 7- Wash off after 15 to 30 minutes. You can also check for instructions on the box of the hair dye you use. If your forehead is stained with color, you can use a cotton ball soaked in astringent to remove the stains.
Now that you know how to color your hair step-by-step and have a whole list of hair dye brushes with you, we're sure you'll be able to find the right one for your requirements. If you've been coloring your hair with your hands and are giving a hair dye brush the first try, you'll never want to go back to using your hands as brushes add so much more precision to hair coloring. So, get a good hair color brush and embark on a coloring adventure.
Frequently Asked Questions
Can I use a paint brush to dye my hair?
It is recommended not to use a paint brush for the hair because the bristles of a paint brush are crafted for hard surfaces like walls. Our hair and scalp require firm yet flexible and soft bristles that help in even color application.
What is the best hair color for home use?
You can pick almost any hair color from any brand if you know how to color your hair the right way. If it's the first time you're coloring your hair at home and you want it to be hassle-free, you can skip a few steps like bleaching your hair.
Should you comb through hair after applying hair dye?
You can comb your hair after applying the hair dye. Doing so after applying the color helps ensure that the color gets distributed evenly. However, it is only recommended when you're coloring all your hair.
Is it safe to color my hair at home?
Yes, it is safe to color your hair at home as long as you read the instructions on the hair dye pack carefully and take all the required precautions.
Do you need a tint brush to dye hair?
While many people use their hands to color the hair, tint brushes help in even application and color hard-to-reach places. Also, if you want to highlight a few strands, it is best to use a hair dye brush.