Top 10 Hair Extension Parlours In Delhi
What's better than sitting back and letting the experts weave their magic on your hair.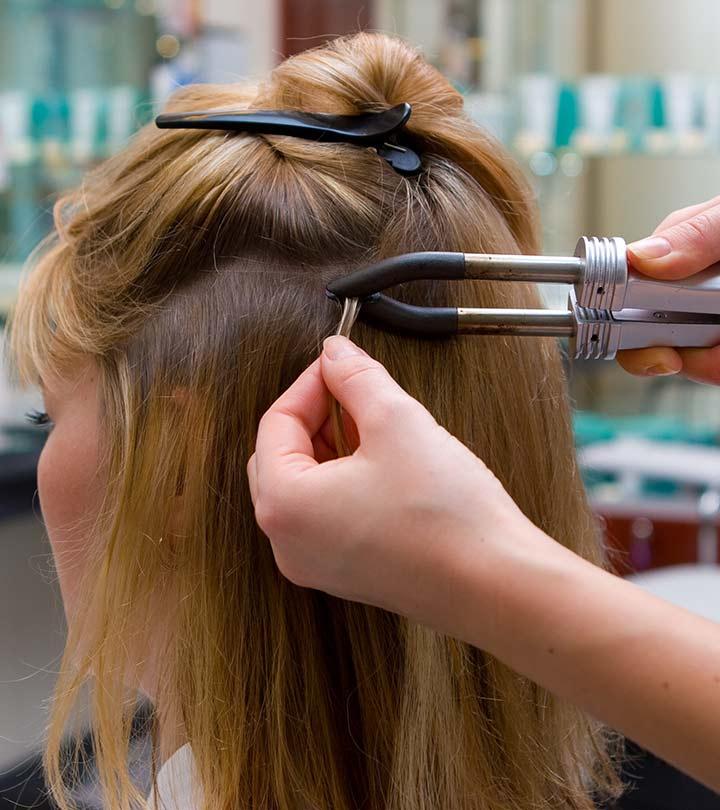 Are you looking for the best quality hair extension parlors in Delhi? Well, we have you covered. Hair extensions have become the hottest addition to the world of hair care and hairstyles. From clip-on to keratin, you have a myriad of choices for hair extensions. But you can't just get an extension from anywhere! Instead, it would be best to visit beauty parlours or hair care professionals offering special extension hair care services. So if you are in Delhi and looking to add some length to your tresses, this article is for you!
10 Best Hair Extension Parlours In Delhi:
Delhi is known for its fashion conscious populace. And the city also plays a host to a number of hair extension parlours! Here are the best among the best!
1. Diva Divine:
Diva Divine is one of the best hair extension boutiques in Delhi that offers a wide range of products, such as clip-in hair extensions, machine-wefted hair, ponytails, top headbands, keratin tips and at-home hair extension kits. It also offers its services through online shop and 50 accredited salons situated all over India.
Address: 16, Nizamuddin East Market, New Delhi – 110003
Phone: +91 (011) 46592891 / 9650377003
Website: http://www.divadivinehair.co.in/
2. The Planet Of Hair Cloning:
The Planet of Hair Cloning or PHC is basically a hair makeover centre that provides extension hair care products and services too. Here, you can get all sorts of extensions including clip-in, bonding, loops or micro-rings, hair fusion, pre-tipped keratin hair fusion, etc.
Address: T-136/5, ABC Building (Opp. Liberty Showroom), Shivalik Main Road, Malviya Nagar, New Delhi – 110017
Phone: +91 8375845551 / 8375845552
Website: https://www.planetofhaircloning.com/
3. Vandana Hair Extension:
Being one of the largest hair extension product manufacturers as well as exporters, it offers high-quality products at competitive prices. You can easily get the perfect extension to suit the type, texture, haircut, hair coloring, and style of your own natural hair here.
Address: H-52, Street No. 4, Solanki Complex, Tank Road, Karol Bagh, New Delhi – 110005
Phone: + 91 (011) 25818608 / 9810770374 / 9312328607 / 9971573763
Website: http://www.vandanahairs.com/
4. Amoli Hairs International:
Best quality products combined with a client-centric approach is what describes Amoli Hairs International the best. They offer virgin remy and non-remy human as well as Indian hair, colored extensions, keratin extensions, remy single drawn wavy and curly, non-remy double drawn, machine extensions, etc., to both national and international markets.
Address: R-579/80, Camp No. 5, Jwala Puri, Nangloi, New Delhi – 110085
Phone: +91 (011) 65100159
Website: http://www.amolihumanhair.com/
5. Xpressions:
Simmi Ghai's 'Xpressions – The Make-Up Studio' has 5 branches in Delhi and all of them are equipped with a unique hair boutique. The studio offers a wide variety of natural and artificial clip-on as well as keratin extensions for 'hair designory'.
Address: 42, NWA Club Road, Punjabi Bagh, New Delhi – 110026
Phone: +91 (011) 25229030 / 42464026
Website: https://www.xstudio.co.in/
6. Berkowits Hair And Skin Clinic:
Berkowits is a popular name in Delhi to solve both your skin and hair issues. All of their 4 branches offer a vast array of high-end volumizers that include pre-bonded or nail extensions, clip-on extensions, machine hair weaves, micro-cylinders or micro-ring and PU skin weft hair extensions.
Address: J -1, Kailash Colony, Opposite Summer Field School, Greater Kailash-1, New Delhi – 110048
Phone: +91 (011) 46664666 / 29244630 / 29244631 / 9999666625
Website: https://berkowits.com/
7. Sheen Wigs And Beauty Salon:
Sheen has been delivering great quality products and services to its customers for the last 25 years. The hair extension choices offered by the salon are clip-on, half wig, hair fall, and toupee, and the integration is carried out by experts to give you the most natural-looking tresses.
Address: 15A/29 W.E.A., Karol Bagh, New Delhi – 110005
Phone: +91 (011) 25725568 / 9818376776
Website: http://www.sheenwigs.com/
8. Beyond Faces Spa And Salon:
This well-known spa and salon in Delhi offers micro-wefting, which is a bit different from regular hair extensions. It is a revolutionary non-surgical hair treatment that is considered to have excellent effects just like an extension. But, you can enjoy the results for a significantly longer period of time.
Address: 368, Kohat Enclave, Pitampura, New Delhi – 110034
Phone: +91 (011) 64666187 / 64666188 / 9650808216
Website: http://www.beyondfaces.in/
9. Pannache Body Craft:
Being a spa, slimming, and beauty centre, Pannache offers a wide range of hair extension products too. If you are thinking of trying extensions to volumize your tresses for the first time, this place can be a perfect choice for you.
Address: Shop No 6, Kapil Vihar, Near Dell Showroom, Opposite Metro Pillar No 348, Main Road, Pitampura, Delhi – 110034
Phone: +91 (011) 66361189
Website: http://www.pannachebodycraft.com/
10. Complexion:
Last but not the least, visit Complexion to get some exclusive hair extension choices. It has a team of experts who can guide you through the whole process (i.e., from selection to integration) of getting your hair extended.
Address: D-14/197, Opposite Metro Pillar No 414, Rohini Sector 7, Delhi – 110085
Phone: +91 (011) 66739080
Infographic: Tips To Maintain Hair Extensions And Choose The Right Stylist
Installing hair extensions and maintaining them doesn't have to be complicated at all. Just ensure you go to an expert stylist and follow a proper aftercare routine to maintain them. This will ensure the extensions look healthy and last long. To help you out, we have summarized easy maintenance tips and things you should keep in mind before finalizing a stylist. Scroll down and check out the infographic below.

A few hair extension parlors in Delhi are well known for their services. Diva Divine, The Planet Of Hair Cloning, Vandana Hair Extension, Amoli Hairs International, Xpressions, Berkowits Hair And Skin Clinic, Sheen Wigs, And Beauty Salon, Beyond Faces Spa And Salon, Pannache Body Craft and Complexion are known for their expertise and customer satisfaction. These parlors have a team of experts who come up with the latest trends to give you the desired look. They can help you decide which extensions are best for you as well as show you optimal hair styling and hair care techniques, special hair products and extension hair care tips you should keep in mind, and the hairdos and hair accessories you can wear with them. If you are a resident of Delhi, you can visit any of the mentioned parlors for hair extensions.
Frequently Asked Questions
How much does a hair extension cost in Delhi?
The hair extension cost in Delhi may vary depending on various factors, such as the type of extensions and the length of the hair, and the salon or parlor you visit. It is better to contact salons before your appointment and ask about the price of hair extensions.
How much is natural hair extensions in Delhi?
Natural hair extensions are available in New Delhi for Rs 1200 per piece.
What is the lifespan of hair extensions?
The typical lifespan of clip-in extensions is between 3 to 12 months. Tape, weave, and fusion hair extensions have an average lifespan of 3 to 6 months, but with proper care, they can last much longer!
Can we put hair extensions on permanently?
The installation of permanent hair extensions is a continuous process over many months. They are sewn to your hair strand by strand. These extensions are attached to numerous strands using numerous micro rings or bonds, allowing them to last for at least 6 to 8 months.
Can you wash your hair with extensions?
Only ever use lukewarm water to wash your hair and hair extensions. Once your extensions are wet, wash your hair with 2 to 3 pumps of sulfate-free shampoo. To avoid damaging the bonds or clips, avoid washing the hair too vigorously.
Are hair extensions bad for thin hair?
Hair loss may result from the weave's tightness pulling your hair out. It's best to stay away from weave extensions entirely if you have thin hair. Numerous other hair extension types cause less harm and are better suited to thin hair.
Are hair extensions worth it?
Hair extensions are mostly advantageous. If you choose to add length and select premium, expert application of the extension, they will make sure that your natural hair is shielded from harm. In particular, if you frequently use heat tools or are prone to hair breakage or split ends, they will safeguard your ends and maintain their health.
Check out this video of the best permanent hair extension parlor in Delhi. Get the perfect look with high-quality hair extensions.