6 Best Hair Oils For Dandruff – Control The Itching & Flaking
No more flaking thanks to nourishing oils made from coconut, rosemary, basil, and more.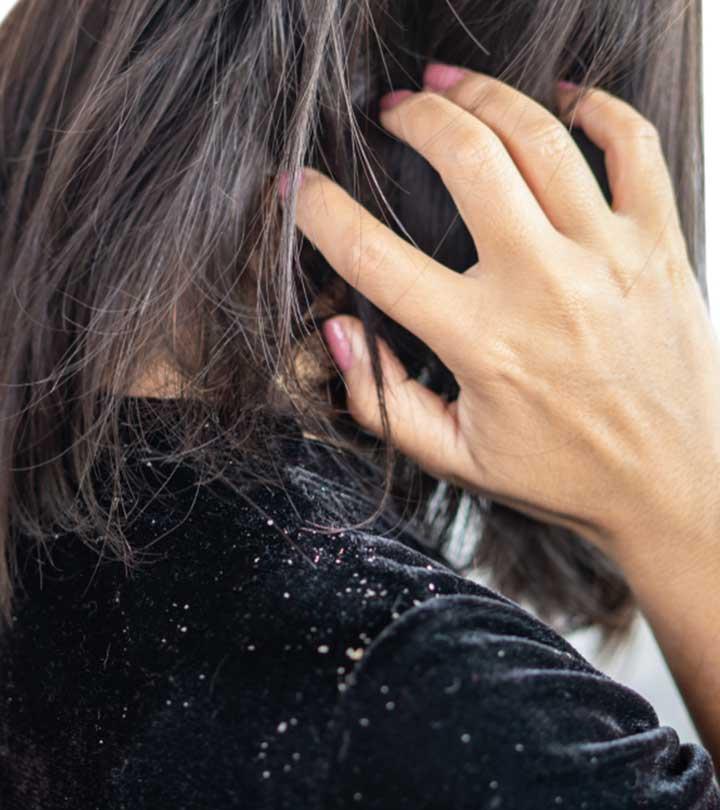 Dealing with dandruff is like having an annoying ex that never gets the message. It is embarrassing, persistent, and unwanted. But have you ever considered using hair oils for dandruff? Hair oils are a safe, natural, and effective treatment for dandruff, with lesser risks than most commercial anti-dandruff products that contain chemicals. They will not damage your hair and dry out the scalp. Scroll down to check out what oils you can use to treat and prevent dandruff.
What Causes Dandruff?
Dandruff is more common in winters when the air gets drier. Identifying the causes of dandruff is essential to administer the right treatment. The common causes of dandruff include (1):
Scalp irritation and excess secretion of scalp oils (the condition is also called seborrheic dermatitis) can lead to dandruff.
Infrequent scalp cleansing leads to the accumulation of dead skin cells, causing flakes and itching.
Excessive growth of skin cells can lead to the formation of Malassezia, a type of yeast that aggravates scalp irritation.
Certain hair care products that contain chemicals may worsen scalp dermatitis.
Whatever the cause of scalp dandruff is, you may most often treat it with the best hair oils for dandruff. Check the following section.
6 Best Hair Oils For Dandruff Treatment
Individuals who want to avoid chemical-based hair products are more likely to go for herbal hair oils. Using hot oil treatments for dandruff could also be a good idea as they smoothen the hair strands, reduce hair fall, improve hair growth, provide hair nourishment, and promote scalp care (2)
Let us take a look at some of the best oils for dandruff.
1. Coconut Oil
Coconut oil helps moisturize the scalp and improves hair health. It also helps reduce the fungi that may cause scalp dandruff (3).
2. Rosemary Oil
You can use rosemary oil for dandruff since it possesses specific antimicrobial and antiseptic properties. It also works as an anti-fungal agent (4). Some believe it also may help reduce scalp itching.


Quick Tip
Using rosemary oil is not advised for pregnant people, children under 7, and people with epilepsyi  XA neurological disorder that hinders brain activity, causing seizures, sensations, and loss of awareness. , hypertensioni  XA common condition during which blood pressure is higher than normal which can lead to the risk of heart problems. , and neuronal disordersi  XIt refers to disorders pertaining to neurons, such as epilepsy, autism, ADD, and learning disabilities. .
3. Basil Oil
Basil oil is extracted by steam distillation. Its dense proportion of important chemicals may reduce dandruff and help treat hair loss. It also may help treat an itchy scalp. However, more research is warranted in this regard.
4. Tea Tree Oil
Tea tree oil has anti-fungal and antibacterial properties and may help relieve dandruff and the associated scalp irritation (5).
5. Lemongrass Oil
In a study, an anti-dandruff hair tonic containing lemongrass oil was found to relieve dandruff symptoms (6). More research on the anti-dandruff properties of lemongrass oil is warranted.
6. Peppermint Oil
Peppermint oil has strong antimicrobial properties and may help treat dandruff (5)


Quick Tip
Always check for allergies before using peppermint oil as its primary component, menthol, is known to cause reactions in certain people.
These are the herbal oils known to help treat dandruff. In the following section, we discuss how you can use these oils.
How To Apply Anti-Dandruff Hair Oil?
Using anti-dandruff hair oils is simple. Massage a few drops of the oil into your scalp with your fingers. You can either leave the oil on your hair overnight or for up to 1 to 2 hours before washing it off.
Remember to keep the oil minimal. There is no reason to add more oil to your hair than what is necessary. You also need to keep a few things in mind after applying the oil.
What Should You Do After Applying An Anti-Dandruff Hair Oil?
Once you have applied your favorite hair oil, you must take care to prevent further damage.
Do not pull your hair for combing (either with a brush or your fingers). Hair subjected to a hot oil treatment can be weak. Tugging or pulling at it may cause it to break and fall.
Avoid pulling your hair into a tight hairstyle. Say no to tight ponytails or tight braids. If you need to pull your hair up, consider using a friendly clip to tie it into a bun.
Oiling your hair is a treatment that is enough in itself. You do not have to add an additional powdered hair mask or a creamy hair conditioner to improve your hair hydration levels. Multiple treatments can weigh your hair down. Hence, just focus on one.
Do not wash your hair immediately after oiling. Give the oil some time to seep down your hair shafts and penetrate your scalp pores. You can allow the hair oil to sit on your scalp for about 1 to 2 hours.
Now that you know the best ways to apply hair oil to control dandruff, let us understand the critical factors to be considered before you make a purchase.
What To Check Before Buying Anti-Dandruff Oils
Avoid splurging on just about any option. It is necessary to choose a hair oil suitable for your needs. Here are some points to consider before picking an anti-dandruff oil for your hair:
Always pick hair oils suiting your hair type. Choose an appropriate carrier oil to mix with the essential oils. You can even consult with a

dermatologist

i

  X

A medical practitioner or specialist in dermatology who is qualified to diagnose and treat various skin problems.

to see which would work best for you.
Choose products that contain natural ingredients.
You can choose essential oils either prepared by the distillation or the cold-pressed processes as they show great results(7)
Choose an essential oil without fragrances whenever possible. Fragrances may cause irritation to some individuals.
Keeping these pointers in mind can help you pick the best oil suitable to treat your dandruff. However, there could be some instances that warrant a doctor's visit.
When To See A Doctor?
The hair oils mentioned in this post could work in many cases. But should you see no results despite using them for a few weeks, you may have to visit your doctor. You also must visit your doctor if you experience any of the following symptoms:
Your scalp is turning red or inflamed. Your dandruff could be aggravating for some reason and may warrant a chemical treatment.
You are losing too much hair for no apparent reason (other than dandruff).
You notice dandruff flakes falling over your shoulders and clothes.
Infographic: Dos And Don'ts When Dealing With Dandruff
While dandruff may seem tough to get rid of, you can keep certain things in mind. Along with using the essential oil packs and home treatments mentioned here, the following tips can help manage this flaky scalp condition. Learn how to get relief from dandruff from the infographic below.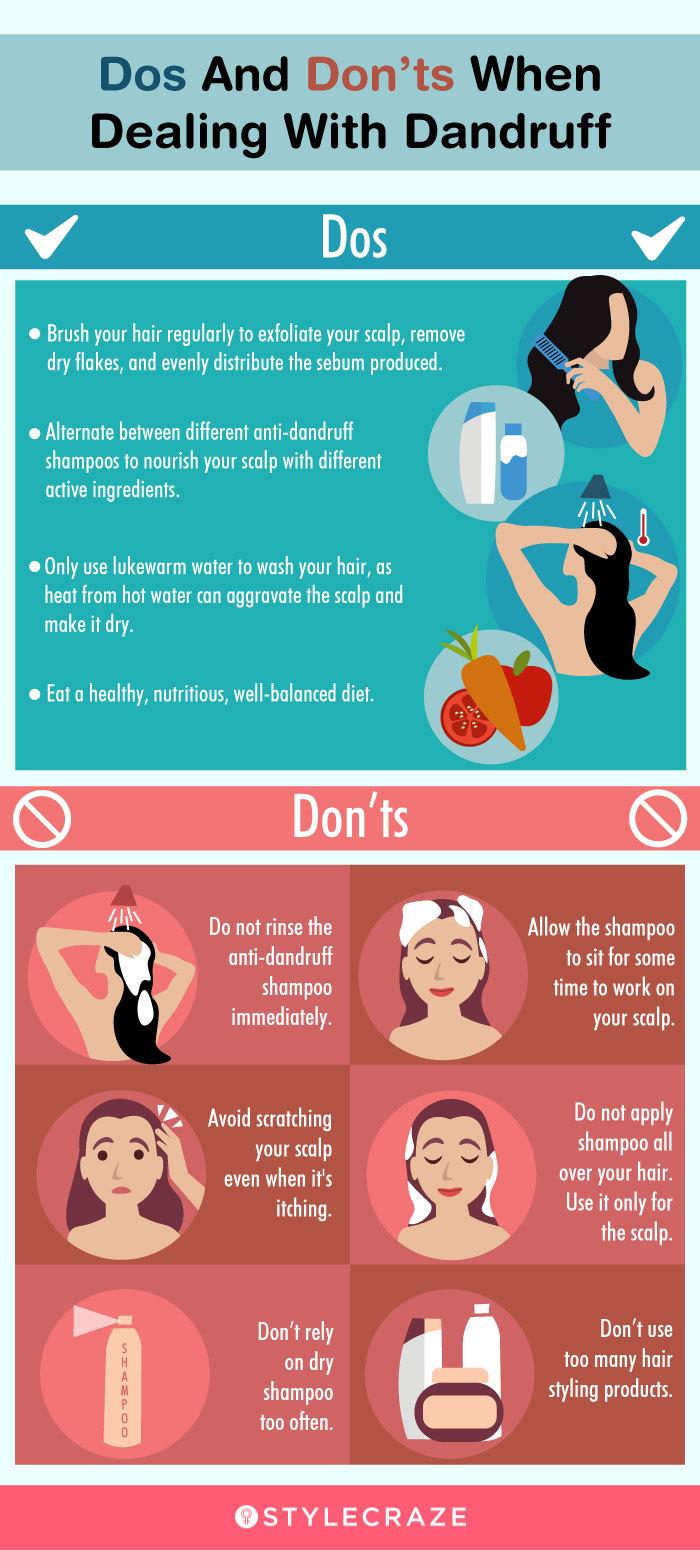 Final Words
The causes of dandruff are many and indicate a strong need to take care of your hair. While there are many over-the-counter lotions and shampoos available to treat dandruff, you may prefer natural remedies such as the oils mentioned in this post. Ensure you use these hair treatments regularly to see the results. But if the issue does not resolve, seek a doctor's help.
Frequently Asked Questions
Is castor oil good for dandruff?
Castor oil may be a good solution for dandruff. The oil has antibacterial and antifungal properties (8), which may help in effective dandruff treatment.
Does almond oil reduce dandruff?
Anecdotal evidence suggests that almond oil's moisturizing properties may help in treating dandruff.
How often should hair oils be applied to treat dandruff?
One can apply them daily but in small amounts to treat dandruff. Too much oil on the scalp can block the follicles and aggravate an existing dandruff condition.
Can certain hair oils worsen dandruff or cause other scalp issues?
Over-application of viscous natural oils, such as coconut or sesame oil may give you oily scalp conditions and worsen your dandruff. It is important to wash your hair with an anti-dandruff shampoo after hair oil application for better scalp hygiene.
Can hair oils be used on color-treated or chemically-treated hair to treat dandruff?
Yes, they can help reverse the damage incurred by your hair during these treatments. However, frequent hair washes after oiling may fade your hair color faster.
Key Takeaways
Dandruff is caused by many factors like increased sebum production, not washing your hair regularly, and a type of yeast called Malassezia.
Coconut, basil, and tea tree are some of the oils that help reduce and manage dandruff.
Let the oil sit on your scalp for a couple of hours before washing it off.
Always go for cold-pressed oils as they show better results.

Explore the most beneficial essential oils for dandruff. Watch this video to learn more about which oils to use for the problem, how to apply them, and more.

Sources
Articles on StyleCraze are backed by verified information from peer-reviewed and academic research papers, reputed organizations, research institutions, and medical associations to ensure accuracy and relevance. Read our editorial policy to learn more.
The following two tabs change content below.