6 Best Hair Rebonding Products To Get Silky And Straight Hair
Achieve glossy, smooth, and lustrous hair with these effective formulations. Thanks to Hollywood hotties like Kim Kardashian, poker straight hair is making waves across the world. Everyone's running to salons to get straightening treatments and Brazilian blowouts. But, hold on! If you dream of having sleek straight hair, here's something that can help you fulfil it – hair rebonding products. These DIY kits come with a straightening cream and a neutralizer. These rebonding products break the structure of curly hair permanently, thus making it straight. A neutralizer re-fuses the bonds in your hair and gives it a naturally straight look. Check out the best rebonding products available on the market right now in the list below.
Note: You need to touch up this treatment for the new hair growth every 3 to 6 months.
What Is Hair Rebonding?
In this chemical process, the natural bonds in your hair are broken with the help of a straightening cream. A neutralizer is then used to rebond the structure of this hair. The altered hair bonds straighten the hair. If you want to know more about this process, click here.
Now that you know how hair rebonding is done, let's check out the 6 best hair rebonding products available in the market right now.
Top 6 Hair Rebonding Products To Get Silky And Straight Hair
This intense formula is infused with organic silicone solvents with strengthening, protecting, and water-resistant features. It conditions and strengthens hair bonds. It works effectively on the complex structure of hair, giving it a straight look with silky feels. It also softens the hair and straightens it, making it healthy.
Pros
Easy to use
Non-messy
Non-irritant
Great for home use
Little product goes a long way
Cons
Price at the time of publication: ₹1100
2. Schwarzkopf Strait Glatt Straightening Kit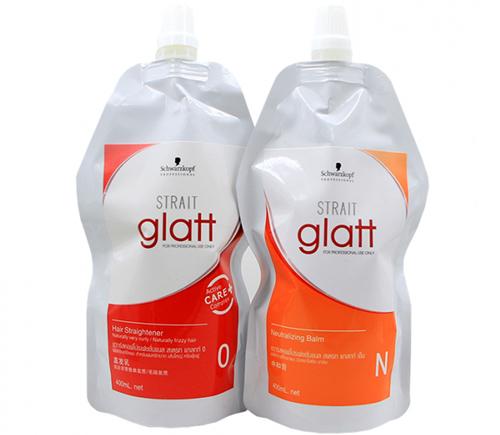 Schwarzkopf Strait Glatt Hair Straightening Cream straightens even the frizziest of hair, making it soft and manageable. The special keratin-care complex in it strengthens the hair fibers. It is designed to straighten naturally curly, frizzy, or wavy hair permanently. It also contains a wheat-based care complex that leaves your hair looking soft, silky, and shiny.
Pros
Improves hair texture
Strengthens your hair
Tames flyaways and frizz effectively
Adds shine to your hair
Cons
Can dry out your hair initially
Now that you know which are the best hair rebonding products, available on the market, it's time to check out a few points that you need to consider to find the most suitable products for your hair. Check them out below!
Things To Consider When Buying Hair Rebonding Products
The best way to find out everything about any product is by checking its ingredients. Scanning the ingredients list is necessary as it can help you avoid allergic reactions and side effects. So, if your skin is sensitive, don't ever skip the ingredients list. The common ingredients included in these products are:
Keratin: Keratin is a form of protein that adds elasticity to the hair. It ensures that the straightening effect lasts a long time.
Cyclopentasiloxane: It aids fast evaporation of the product and protects your hair color.
Wheat Protein: Hydrolyzed wheat protein helps in making your hair smooth and strong.
Argan Oil or Aloe Vera: These two nutritional additives supply hydration to the hair and keep its shine intact.
Acrylic Acid: This is a cross polymer that helps in balancing the moisture levels.
Cetrimonium Chloride: Prevents microorganism colonization in the hair.
At times, the potential side effects of hair rebonding products cannot be judged on the basis of the ingredients used in them. Therefore, it's recommended to go through user reviews to know about any adverse effects.
Hair rebonding products contain reasonable amounts of ammonia and artificial fragrances. Therefore, it's suggested to use the products in a well-ventilated area to avoid  breathing issues or watery eyes.
Frequently Asked Questions
What is the recommended process for using hair rebonding products?
Start by cleaning the hair thoroughly with a clarifying shampoo to remove any product buildup or residues. Next, a relaxant cream is applied to break down the hair's natural structure. Afterward, a neutralizing solution is applied to lock in the new shape. Finally, a deep conditioning treatment is applied to nourish and hydrate the hair after the chemical process. It is crucial to seek professional assistance when performing hair rebonding.
How often should hair rebonding products be used?
Hair rebonding is a permanent hair straightening treatment, and the effects typically last until the rebonded hair grows out or is cut. With proper care and maintenance, it lasts for six to eight months.
Are hair rebonding products safe to use at home, or should they be used by professionals only?
Hair rebonding products contain potent chemicals and involve the use of high heat through flat irons, making the process complex and potentially risky. For the best and safest results, it is advisable to leave hair rebonding in the hands of trained professionals.
Are there any specific hair types or textures that hair rebonding products work best on?
Hair rebonding products are most effective on hair types with natural curls, waves, or frizz. Also, consult with a professional hair stylist to determine if hair rebonding is suitable for specific hair types.
Recommended Articles:
The following two tabs change content below.