14 Best Hair Removal Products That Give You Smoother Skin – 2023
High-quality and easy-to-use products that remove unwanted hair safely and easily.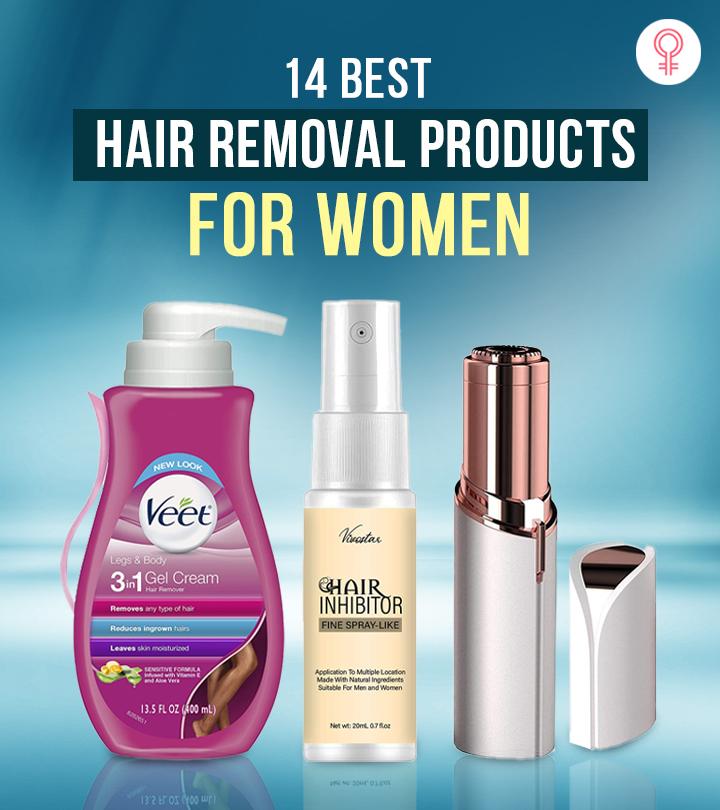 Regular waxing or threading appointments and the use of sharp razors regularly are not the only options to get rid of undesirable body or facial hair. While the former process may take a long time to complete, the latter may result in cuts and undergrowth on your skin. So, you should use other convenient hair removal products to remove the hair.
We have compiled a list of less painful and more suitable hair removal products. Take a look at them and choose the one that meets your requirements. Scroll down!
14 Best Hair Removal Products For Women
Pros
Built-in light
Suits all skin types
Suits all skin tones
Easy to clean
Dermatologically-tested
Hypoallergenic
Cons
Not suitable for thick hair
Price at the time of publication: $19.99
Pros
Easy to use
Comfortable gripping
Includes safety cover
Removes dead skin
Cons
Price at the time of publication: $5.45
Pros
Easy to use
Non-messy
Moisturizes skin
Suits sensitive skin
Long-lasting results
Dermatologically approved
Mild fragrance
Cons
May cause a prickly sensation
Not suitable for face and genitalia
Price at the time of publication: $9.22
Pros
 Suitable for all skin types
 Painless
 No drip formula
 Travel-friendly
Cons
None
Price at the time of publication: $5.79
Pros
Easy to carry
Ergonomic design
Rubber-padded handle
Disposable
Moisturize skin
Cons
No protective covering on blades
Price at the time of publication: $9.39
Pros
Smartlight
Massaging rollers
Two-speed settings
Easy to use
Easy to carry
Cons
May cause hair breakage
Time-consuming
Price at the time of publication: $39.94
The Vivostar Hair Inhibitor contains natural additives like essential oils that are safe to use and do not irritate the skin. The hair inhibitor can be used by both men and women and can be applied to multiple areas of the body. This effective solution has a sweet smell. It starts showing results within 30 days of use. It is suggested to use this product once a day after removing unwanted hair from your body.
Pros
Leaves skin smooth
Permanent hair removal
No hair regeneration
Painless operation
Leaves no black spots
Cons
Less quantity for the price
Price at the time of publication: $13.99
The Kapmore Facial Hair Remover Set helps remove unwanted hair from the cheeks, chin, upper lips, and brows. It removes hair from the roots and leaves your skin smooth and soft. These manual tools are for self-use and easy to carry or store. This one-time investment relieves you from the stress of parlor visits. You can use these tools at your convenience anytime, anywhere you want.
The kit includes tweezers that quickly pluck the annoying and stubborn eyebrow hair without any breakage or in-growth. The eyebrow razor has an angled blade that removes hair with precision while letting you give the desired shape to them. The spring threading wand gives your cheeks, upper lips, and sidelocks a hair-free look.
Pros
Ease of use
Portable
No-ingrowth
Long-lasting effects
Cons
Could hurt your skin a bit
Price at the time of publication: $9.99
Pros
Cost-effective
Clinically approved
Faster hair reduction
94% hair reduction
Comes with a skin tone tester
Cons
Does not suit darker skin tones
Price at the time of publication: $394.8
Pros
Long-lasting results
Smoothens skin
Suits all skin types
Cruelty-free
Cons
Does not suit coarse hair
Price at the time of publication: $16.99
The Vassoul Hair Removal Wax Strips are made with natural additives that stay gentle on the skin and effectively help remove unwanted hair. These strips are easy to use and remove hair in just a few simple steps. These waxing strips can be warmed with your hand to remove the hair in minutes. These strips have a decent size and can be cut to match your needs.
The natural ingredients like jojoba seed oil and beeswax essence render these strips safe to be used on arms, legs, underarms, back, and even the bikini area.
Pros
Easy to use
Save time
Easy to warm
Natural formula
Gentle on skin
Easy to carry
Cons
Difficult to remove coarse hair
Price at the time of publication: $11.99
The Sugar Paste Hair Removal by Sugaring NYC is safe to be used on any part of the body for the effective removal of hair. This professional sugar wax paste is entirely organic and easy to use. It offers better results than regular waxing. It also eliminates the need to use waxing strips. You just have to peel it firmly to get rid of the hair.
This paste can be applied multiple times on the same part of the skin. It causes no irritation or bumps. Besides, it offers results that last up to four weeks without causing any hair in-growth.
Pros
Easy to use
Long-lasting results
No irritation
No in-grown hair
100% food-grade ingredients
Cons
Price at the time of publication: $19.99
The imene Laser Hair Removal Machine uses a painless method to help you remove unwanted body hair. It uses the latest IPL technology, which is considered quite safe for hair removal. This laser hair reduction tool works by thinning the hair and effectively inhibiting hair regrowth in just a few weeks. This painless method uses flashes to reduce body hair. It comes equipped with 500,000 flashes.
It has two flash modes – the auto flash mode that is suitable to remove hair from larger areas like the legs, chest, and back, and the manual flash mode that is used for underarms, chin, bikini lines, etc. This device is easy to use and carry. It comes with an ice care head that helps prevent skin issues like burns, redness, and irritation. This device is not very effective on blonde, red, white, or gray hair.
Pros
Painless operation
Faster results
Safe for sensitive areas
Full-body hair removal
Compact design
Cons
Inconsistent results
May not suit red, blonde, gray, or white hair
Price at the time of publication: $79.99
The Latorice Rechargeable Eyebrow Trimmer & Facial Hair Remover is a portable and lightweight device. It comes with two heads – one for eyebrow trimming and the other for trimming hair on body parts like the bikini lines, underarms, legs, upper lips, and cheeks. These heads are suitable for all skin types and are hypoallergenic. The blades are safe to use and gently remove the hair.
This hair removal product is rechargeable and can be charged using a USB charger. It also has an in-built LED light that helps with thorough hair removal. This hair remover is very easy to clean – you just have to remove the cutter head and clean it with plain water.
Pros
Comfortable to hold
Painless operation
LED light
Rechargeable
Lightweight
Gentle to use
Cons
Price at the time of publication: $18.95
Why Trust StyleCraze?
The author, Shiboli Chakraborti, is a certified skin care coach whose passion lies in creating informative beauty and skin care related content for her readers. She understands that people approach hair removal differently, and each favors different methods. She has carefully weighed the pros and cons of the most popular hair removal products available on the market and analyzed their use feedback before curating this list of the best hair removal products.
Frequently Asked Questions
How can a woman get rid of facial hair permanently?
Methods like laser treatments can help with long-term hair removal. For permanent hair removal, you can go for a technique called electrolysis. The method uses an epilator and radio frequencies to destroy hair follicles and prevent the growth of new hair.
What is the white part you see when you pull out your hair?
The white part you see when you pull your hair is called the bulb. It can be big or small. The bulb is only seen under that hair strand that is lost from the follicle.
Can turmeric remove hair permanently?
Turmeric, when used with other ingredients, such as gram flour and milk, may help with hair removal. This paste works by prohibiting hair regrowth over time. This treatment is useful to remove fine hair on your face. But it may not be very effective in removing body hair.
Is it better to pluck or shave facial hair?
With plucking, your hair tends to grow back faster. But since you are plucking it from the roots, this growth is much slower than shaving. Plucking also is cost-effective. Though shaving helps remove hair fast, its results do not last long. Here, the hair also grows back faster and coarser.
For thicker hair, shaving could be an ideal option. But otherwise, plucking is preferable.
Is plucking chin hair bad?
Plucking one or two hairs from the chin is fine. But if you have more hair, waxing or threading is recommended.
Will hair removal products fade tattoos?
No, hair removal products do not fade tattoos.
At what age should one start using hair removal products?
Many people start using hair removal products around the age of 14 to 16.
What method of hair removal lasts the longest?
Electrolysis is a permanent hair removal solution but many people go for laser treatments that last for six months.