10 Best Hair Rollers & How To Use Them To Create Luscious Curls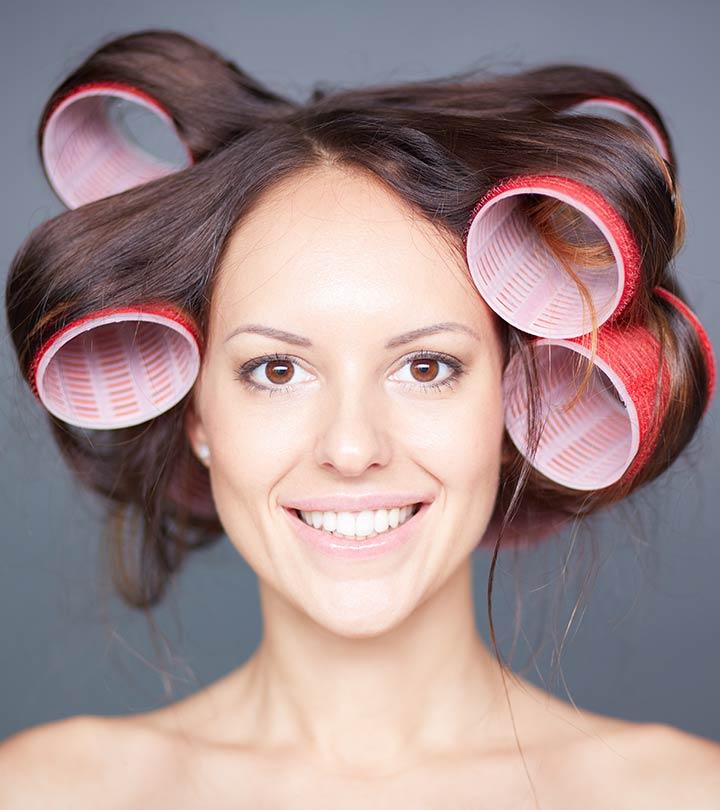 The charm of curly hair is undisputed. If you have straight hair, you can transform it into beautiful curls by using curling gels or heated curlers. However, the result might not last long. Instead, you need the best hair rollers to get desired results. These small tube structural designs are easy to use and suitable for different hair types. They are also available in different sizes to match your hair thickness and length.
Selecting the right hair roller can be daunting when the market is flooded with numerous brands offering hair rollers. So, in this article, we bring you a sifted list of the best hair rollers that will help you get perfect curls. Scroll down to pick out some rollers – transform your hairstyle and enjoy the beautiful compliments.

10 Best Hair Rollers Available In The Market
Conair Styling Essentials Self-Grip Rollers can create bouncy curls without using pins and clips. It comes in various sizes to give you both small and big curls. The set contains 31 rollers. Create your curls effortlessly as the roller can hold both fine and thick hair. It comes with a zippered storage bag that you can carry while traveling.
Pros
Voluptuous curls
Adds body to fine hair
Great for setting hair quickly
Does not require heat
Cons
Not suitable for thin hair
Did you know your hair can be easily styled when moist? Using that aspect as the key function, Caruso has come up with the steamroller. The soft foam rollers are infused with moisture that penetrates the hair follicles, giving you beautiful curls. As the moisture evaporates, perfectly set curls are unveiled that last for several hours.
Pros
Gives even curls
Effective on all hair types
Does not create static
Add shine
Pack contains 30 foam rollers in different sizes for tight and loose curls
Cons
Revive your hair with voluminous curls by using the Conair Magnetic Hair Rollers. The pack contains 50 rollers along with metal clips. These magnetic rollers are made of plastic. This makes wet hair cling onto the surface quickly due to static. Once you fasten your hair to these rollers, you can pin them up for a better grip. This way, you can get satin-silk curls effortlessly.
Pros
Neat, springy curls
Humidity-resistant
Suitable for all hair types
Budget-friendly
Cons
This unique hair roller comes with nylon sleeves. It is ideal for long hair. The nylon sleeves are feathery textured and can be used to secure the hair wound around the rollers. Your hair stays intact and does not unravel. This helps the rollers stay put all through the night. The nylon sleeves help in drying your hair quickly. The rollers can be used with hairdryers and flat irons.
Pros
Easy to use
Prevent your hair from getting tangled in the rollers
Defined curls
Prevent damage and frizz
Cons
Not suitable for thick hair
Look elegant and chic with luscious curls by using Sleep Styler Hair Rollers. Ideal for busy buzzers, you can now style your hair in sleep and look perfect by the time you wake up. With these super-absorbent heat-free rollers, you can curl your hair without worrying about damaging it. The comfortable and soft bedding provided by these foam rollers helps you sleep undisturbed. They claim to produce smooth and shiny curls in quickly.
Pros
The microfiber material helps dry your hair quickly
Soft and lightweight
Ideal for curly, coarse, thick, and fine hair.
Pack contains eight rollers, each 6 inches long
Does not cause frizz
Cons
'The girl with the cute curls' is what you will be named as after using Jumbo Spoolies. Spoolies are a kind of rollers that rose to fame during the 50s and 60s. They create classic curls that are fun to wear and easy to use. Spoolies have made a comeback to give you curls with a modern twist. These fun shaped rollers are zany and easy to use. Wrap your hair around the roller, and snap top-down cap in place. This protects your hair from damage and keeps them in place while you sleep.
Pros
Do not require heat
Curl your hair quickly
Can create different types of curls
Long-lasting curls
Do not damage your hair
Cons
These flexible, lightweight, and soft curling rods come in a pack of 42 that are distributed in 7 colors. Each color is a different size. This helps you create curls and waves of different sizes and styles. Twist your hair, wrap it around the roller, bend the rod in your desired direction, and fasten it by tying a knot. This way you can get bouncy and beautiful curls effortlessly. Rock your curls even while you travel as these rollers come with a convenient portable bag.
Pros
Easy to use
No pins or clips required
Suitable for different hair types
Long-lasting curls
Voluminous curls
Cons
These sturdy, non-breakable hair rollers are perfect for creating soft and smooth curls. Their grooved edges secure your hair in place without making it frizzy. Wrap your hair around the roller, secure it with the roller cap, and let it sit for 30 minutes. You will be surprised to see stunning and gorgeous curls unfold. They come in a pack of 6 rollers, each 2 inches long. They are ideal for thick and coarse hair.
Pros
Easy and quick to put on
Stay in place
Reasonably priced
No pins or clips required
Cons
Craft your curls with perfection by using these Diane Mesh Rollers. These rollers keep the airflow going and quicken the drying process. They claim to give you soft and bouncy curls that last until your next wash. They are lightweight and their results are long-lasting as they contain a layer of spiral wires embedded within.
Pros
Strong and unbreakable
Easy to fix
Quick application
Give salon-like luscious curls
Cons
Can get tangled in your hair
If you are looking for gorgeous waves and curls for long, short, and medium hair lengths, these self grip hair rollers set are the ideal choice. The plastic set contains 36 hair rollers of different sizes, 12 duckbill clips, and one foldable plastic comb. These lightweight rollers give you amazing added volume and desired curls. Easy to use and remove, these rollers are travel-friendly and also ideal for daily use.
Pros
Lightweight
Easy to tie and remove
Travel-friendly set
Cons
With the best products on the table,
let's get you familiarized with the steps to follow while using them
.
How To Use Hair Rollers?
1. Shampoo Your Hair
Clean hair is easier to style. Oily hair can be difficult to work with. You also don't want your hair to look greasy after curling it.
2. Spray Some Mist
Dampen your hair with a setting mist. If you are using velcro hair rollers, hair sprays or mists will protect your hair from getting frizzy. Also, wet hair can be styled quickly and will give you defined curls in no time.
3. Divide Your Hair Into Four Sections
This helps in finishing up the curling process quickly. It will also give you neater curls. By creating small sections, you will be able to work with your hair in lesser time. No chaos; only curls!
4. Wrap And Roll
Depending on the type of curls you want, you can choose the size of the roller. Large rollers give you wavy curls, and smaller ones give you tight curls. Wrap your hair around the roller, roll it up, and secure it with a pin or a clip. Let it sit for about 45 minutes. Unwrap to see the magic.
5. Set The Curls
It's entirely up to you to go heatless while air-drying your hair. Once your hair is wrapped and secured in place, spritz on some hairspray. This step saves time and gives quicker results.
6. Gently Remove The Rollers
This is the tricky part. Unwrap one roller at a time and unravel them slowly. Unwinding the rollers in a quick motion can create tangles and frizz.
7. Spread Out The Curls With Your fingers
Gently loosen the curls by shaking them up with your fingers. Often, they turn out too tight or uneven. Hence, run your fingers from the roots to the tips and spread them evenly. This will give you glossy and gorgeous curls.
8. Use A Hairspray To Hold The Curls
For the final touch, set those stunning curls with some hairspray. This will hold the curls in place and help them last longer.
Voila !
Recommended Articles