10 Best Hair Rollers & How To Use Them To Create Luscious Curls
Nothing better than these classic no-heat styling tools to achieve salon-perfect looks.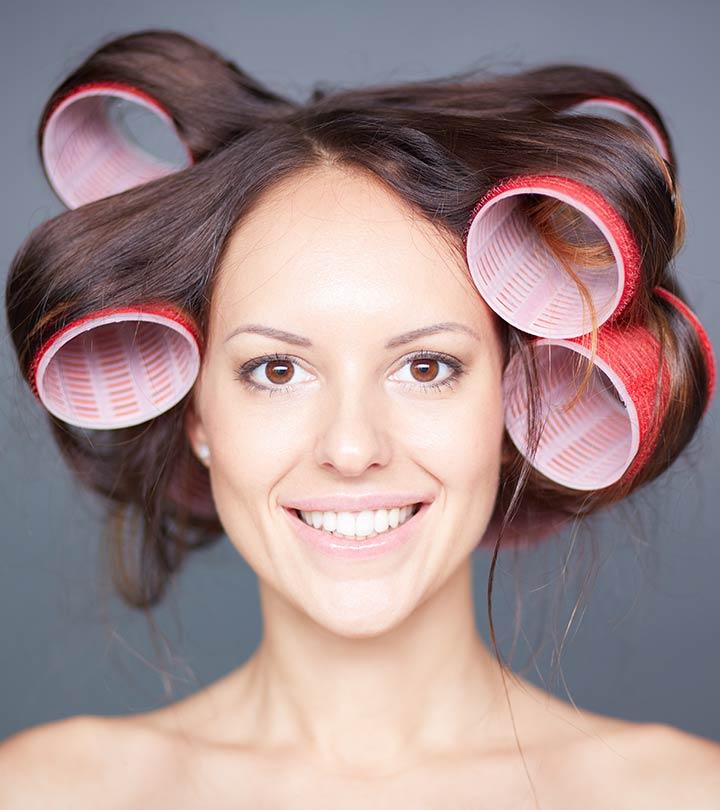 The charm of curly hair is undisputed. If you have straight hair, you can transform it into beautiful curls by using curling gels or heated curlers. However, the result might not last long. Instead, you need the best hair rollers to get desired results. These small tube structural designs are easy to use and suitable for different hair types. They are also available in different sizes to match your hair thickness and length.
Selecting the right hair roller can be daunting when the market is flooded with numerous brands offering hair rollers.
Hairdresser, Alexandro Vasquez says " I really love all types of rollers. It's amazing what you can create with them and for the ones with a lack of hair volume this is one of the best ways to create some volume for you. Make sure you have a good hairspray for the finishing. It will help for a long lasting effect."
So, in this article, we bring you a sifted list of the best hair rollers that will help you get perfect curls. Scroll down to pick out some rollers – transform your hairstyle and enjoy the beautiful compliments.
Why Should You Use Rollers For Hair Curling?
No Heat Damage: Most hair rollers do not require using heating styling tools. Therefore, your strands are safe from any heat damage, and so are your hands.
Fast Styling: Roll your hair up with rollers and use a hair spray to instantly get curly hair. It is a rather faster process if you compare it to using a curling iron.
Low Effort: Curling your hair using rollers is much less tiring whether you are using a setting spray, hair dryer concentrator, or letting it stay overnight. So, you can change your look as often as you want and style your hair differently every day!
Volumize Your Hair: Hair rollers add great volume to your hair. It can make your hair look healthy, shiny, and thick by adding extra bounce and volume.
If you are convinced that hair rollers are a great way of curling your hair, then read on because we have put together a list of the best hair rollers available online!
10 Best Hair Rollers Available In The Market
Conair Styling Essentials Self-Grip Rollers can create bouncy curls without using pins and clips. It comes in various sizes to give you both small and big curls. The set contains 31 rollers. Create your curls effortlessly as the roller can hold both fine and thick hair. It comes with a zippered storage bag that you can carry while traveling.
Pros
Voluptuous curls
Adds body to fine hair
Great for setting hair quickly
Does not require heat
Cons
Not suitable for thin hair
Price at the time of publication: $8.74
Pros
Gives even curls
Effective on all hair types
Does not create static
Add shine
Pack contains 30 foam rollers in different sizes for tight and loose curls
Cons
Price at the time of publication: $22.99
Revive your hair with voluminous curls by using the Conair Magnetic Hair Rollers. The pack contains 50 rollers along with metal clips. These magnetic rollers are made of plastic. This makes wet hair cling onto the surface quickly due to static. Once you fasten your hair to these rollers, you can pin them up for a better grip. This way, you can get satin-silk curls effortlessly.
Pros
Neat, springy curls
Humidity-resistant
Suitable for all hair types
Budget-friendly
Cons
Price at the time of publication: $14.49
This unique hair roller comes with nylon sleeves. It is ideal for long hair. The nylon sleeves are feathery textured and can be used to secure the hair wound around the rollers. Your hair stays intact and does not unravel. This helps the rollers stay put all through the night. The nylon sleeves help in drying your hair quickly. The rollers can be used with hairdryers and flat irons.
Pros
Easy to use
Prevent your hair from getting tangled in the rollers
Defined curls
Prevent damage and frizz
Cons
Not suitable for thick hair
Pros
The microfiber material helps dry your hair quickly
Soft and lightweight
Ideal for curly, coarse, thick, and fine hair.
Pack contains eight rollers, each 6 inches long
Does not cause frizz
Cons
Price at the time of publication: $45.99
Pros
Do not require heat
Curl your hair quickly
Can create different types of curls
Long-lasting curls
Do not damage your hair
Cons
Price at the time of publication: $35.99
These flexible, lightweight, and soft curling rods come in a pack of 42 that are distributed in 7 colors. Each color is a different size. This helps you create curls and waves of different sizes and styles. Twist your hair, wrap it around the roller, bend the rod in your desired direction, and fasten it by tying a knot. This way you can get bouncy and beautiful curls effortlessly. Rock your curls even while you travel as these rollers come with a convenient portable bag.
Pros
Easy to use
No pins or clips required
Suitable for different hair types
Long-lasting curls
Voluminous curls
Cons
Price at the time of publication: $12.99
These sturdy, non-breakable hair rollers are perfect for creating soft and smooth curls. Their grooved edges secure your hair in place without making it frizzy. Wrap your hair around the roller, secure it with the roller cap, and let it sit for 30 minutes. You will be surprised to see stunning and gorgeous curls unfold. They come in a pack of 6 rollers, each 2 inches long. They are ideal for thick and coarse hair.
Pros
Easy and quick to put on
Stay in place
Reasonably priced
No pins or clips required
Cons
Price at the time of publication: $5.99
Pros
Quick heating
Easy to use
Dual heat settings
Long-lasting
Come with a storage bag
Travel-friendly
Cons
Can leave ridges on your hair
Price at the time of publication: $139.99
If you are looking for gorgeous waves and curls for long, short, and medium hair lengths, these self grip hair rollers are the ideal choice. The plastic set contains 36 hair rollers of different sizes, 12 duckbill clips, and one foldable plastic comb. These lightweight rollers give you amazing added volume and desired curls. Easy to use and remove, these rollers are travel-friendly and also ideal for daily use.
Pros
Lightweight
Easy to tie and remove
Travel-friendly set
Cons
Price at the time of publication: $9.99
With the best products on the table, let's get you familiarized with the steps to follow while using them.
Which Hair Rollers Should You Use?
If your hair is blow-dried, it is best to use foam rollers. They will help you achieve voluminous curls and make your hair look bouncy and full of life.
If your hair is air-dried, then velcro rollers may be the perfect choice. These rollers stick to the hair locks effortlessly and add great volume once they are taken off.
If your hair is still wet or damp, you can use stick rollers. Stick rollers work efficiently in providing well-defined curls that look neat and glossy.
When choosing a roller for your hair, knowing the material of the roller is not enough. You must also look for good quality rollers that will help your locks attain the look you dream of. Consider the factors discussed below to find the best hair rollers for yourself.
What To Look For In Hair Rollers (Buying Guide)
Size: The size or the diameter of the roller should be chosen carefully based on your hair length and density and the type of curls you desire to get. A small-sized roller will help you achieve spiral curls whereas a large roller will help you get beach waves or bigger curls.
Additional Features: Some rollers come with heating features while others infuse moisture in your hair. Some rollers even help control frizzy hair. Some roller sets come with accessories like hair clips and pins that make the set wholesome on its own. Read the reviews and user experiences of the rollers you are considering before you decide on one so that you can get a combination of benefits from them.
Clean hair is easier to style. Oily hair can be difficult to work with. You also don't want your hair to look greasy after curling it.

Dampen your hair with a setting mist. If you are using velcro hair rollers, hair sprays or mists will protect your hair from getting frizzy. Also, wet hair can be styled quickly and will give you defined curls in no time.

This helps in finishing up the curling process quickly. It will also give you neater curls. By creating small sections, you will be able to work with your hair in less time. No chaos; only curls!

Depending on the type of curls you want, you can choose the size of the roller. Large rollers give you wavy curls, and smaller ones give you tight curls. Wrap your hair around the roller, roll it up, and secure it with a pin or a clip. Let it sit for about 45 minutes. Unwrap to see the magic.

It's entirely up to you to go heatless while air-drying your hair. Once your hair is wrapped and secured in place, spritz on some hairspray. This step saves time and gives quicker results.

This is the tricky part. Unwrap one roller at a time and unravel them slowly. Unwinding the rollers in a quick motion can create tangles and frizz.

Gently loosen the curls by shaking them up with your fingers. Often, they turn out too tight or uneven. Hence, run your fingers from the roots to the tips and spread them evenly. This will give you glossy and gorgeous curls.

For the final touch, set those stunning curls with some hairspray. This will hold the curls in place and help them last longer.

In the section below, we will discuss the kind of hair rollers that you can use to ensure safety and achieve the results you need.
Frequently Asked Questions
Are foam or velcro rollers better?
Foam rollers are better as they provide more comfort to the hair, and the user can do anything while wearing them.
What rollers are least damaging to the hair?
Steam rollers are the safest to use on the hair, as other rollers which use heat can cause hair loss.
What are the best velcro hair rollers?
The Diane Snap-On Magnetic Rollers and the Sleep Styler Large Hair Rollers are the best velcro rollers from our recommended list.
How long do you leave hot rollers in?
You should use hot rollers for only a short time (5 to 10 minutes) to get the best results without damaging your hair.
How do you use hot rollers on short hair?
You can use hot rollers on short hair similar to any other hair length. Just use a small-sized hot roller to complete the hair curling process.
What is the best material for a hair roller?
The best hair rollers are made of high-quality plastic, foam, and velcro.
What size hair roller should I use?
Use a small hair roller to provide a better grip if your hair is chin-length. For shoulder-length hair, go for a medium-sized roller. If you have long hair, use a jumbo-sized hair roller.