The 10 Best Sun Protection Sprays For Hair You Must Try In 2023
Not only your skin, your hair too needs protection against UV damage.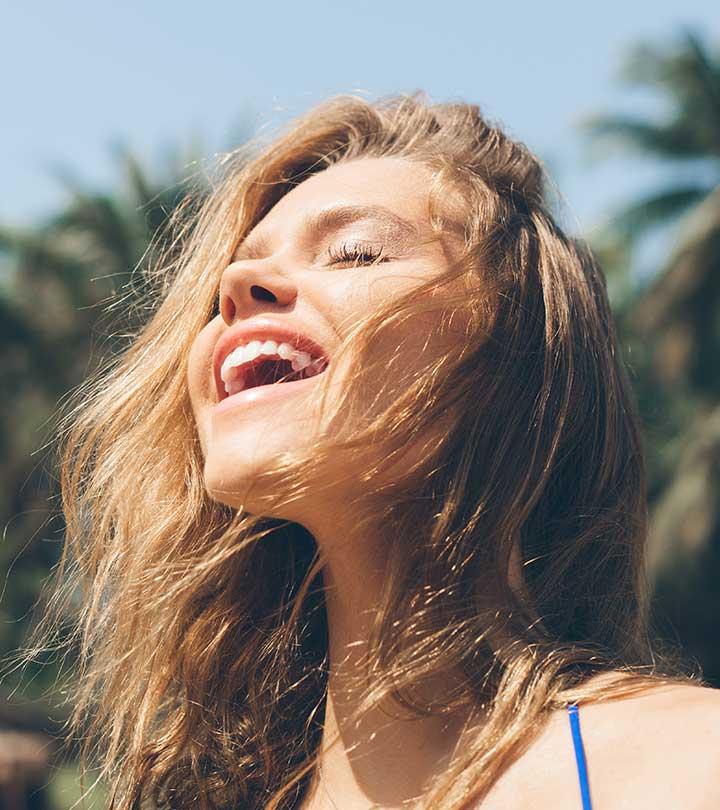 Did you know that just like your skin, your hair needs Sun protection factor (SPF) protection too? The harsh sunlight can potentially damage your tresses. That is why you need the best SPF hairsprays. Excessive sun exposure is one of the most significant damaging factors for your hair; the UVA rays fade hair color, and UVB leads to breakage. So, it would help if you took more precautions to keep your hair damage-free and prevent them from turning brittle and dry. So, if you want to enjoy the summer safely, protect your hair with the right SPF hairspray so that your hair is not so prone to damage. Whether you plan to hit the beach or step out in the sun, check out this post to find out the most amazing SPF hairsprays that have garnered uncountable positive reviews on various forums!
Top 10 Sun Protection Hair Sprays Available In The Market
This new sun care hairspray is taking the world by storm with its oil-spray formula. It is formulated with organic Indonesian Nyamplung oil that protects the skin and hair from the drying effects of the sun. Its exotic blend of senna extracts, plane tree extracts, and aloe vera defends your hair from UV damage. It also contains extracts of gold cob and sycamore to promote healthy and nourished hair. A quick spray can last all day.
Pros
Non-greasy
Water- and sweat-resistant
Leaves skin and hair feeling satin-smooth
Pleasant smell
Cons
Not suitable for oily hair
Aveda Sun Care Protective Hair Veil is a lightweight UV defense hairspray that forms an invisible layer on your hair to protect it from sun exposure. It contains UVA and UVB filters derived from wintergreen and cinnamon bark oils that protect your hair from the drying effects of the sun. This dermatologist-tested hairspray is made with nourishing ingredients such as sunflower seed oil, coconut oil, palm oil, shea butter, and other natural plant extracts. The hairspray also protects your hair and scalp from the damaging UV rays. It also contains ylang-ylang, neroli, and other flower essences that impart invigorating fragrance to your hair.
Pros
Prevents your hair from drying out
Adds shine to your hair
Hydrates your hair
Pleasant fragrance
Not tested on animals
Cons
 Not suitable for color-treated hair
Protect your hair from the unpleasant UV rays with this nourishing summer oil. Made with a blend of nourishing ingredients such as grapefruit, apricot, jasmine, and coconut, this moisturizing hairspray conditions your hair and prevents it from drying out. It is formulated with KPF 90 (Keratin Protection Factor) that provides your hair with UV and heat protection, castor oil that replenishes and nourishes your hair, and sesame oil that hydrates your hair.
Pros
Replenishes hair and scalp to give you healthy hair
Leaves your hair looking soft, silky, and shiny
Nourishes your roots
Pleasant fragrance
Cons
This lightweight sun-protective spray contains UV filters that protect your hair and its color from UV damage. It forms an invisible layer of protection on the surface of your hair cuticle against dehydrating UV rays. It protects your hair while preserving its radiance. It contains a blend of botanical ingredients like calendula, olive oil, castor oil, and vitamin E that provide softness, shine, and hydration. This nourishing hairspray contains omega-6 fatty acids that soothe your scalp and improve blood circulation. Plus, many Amazon reviewers praised this product for making their hair look glossy and healthy.
Pros
Non-greasy
Long-lasting effects
Adds volume to your hair
Pleasant fragrance
Cons
None
Wella Sun Protection Spray contains a vitamin complex that nourishes and smoothens your hair. This high-performance hair protector can be used before and during sun exposure. It keeps your hair hydrated and moisturized. It conditions your hair and seals the hair cuticles to fight frizz and split ends. This lightweight, moisturizing formula provides a glossy finish and improves your hair texture.
Pros
Long-lasting effects
Suitable for straight, fine, and dry hair
Adds volume to your hair
Reasonably priced
Cons
Takes time to show results
Philip Kingsley's Sun Shield hairspray is ideal for a beach vacation. It prevents damage from UV rays, chlorine, and salt water. This sun protector hairspray is infused with conditioning Hydro Elastin and sunflower seed extract that helps control frizz and breakage. This sun-safe formula nourishes and smoothens hair and prevents your hair color from fading. This hair nourishment formula repairs damaged hair cuticles and leaves your hair looking soft and silky.
Pros
Suitable for all hair types
A little product goes a long way
Adds shine to your hair
Good for hair color preservation
Long-lasting effects
Cons
The Living Proof Restore Instant Protection is a lightweight hairspray adds shine to your hair while protecting it against heat and UV damage. It is formulated with healthy hair molecules and a conditioning agent that moisturizes and hydrates your hair. It is made of a special UV absorber complex that creates a layer over your strands for UV and heat protection for 24 hours.
Pros
Provides maximum coverage
Free of parabens and silicone
Safe for colored-treated hair
Suitable for all hair types
Cons
This luxurious hairspray contains UV filters that protect your hair from sun damage. It is infused with sunflower seed oil that provides nourishment, shine, and protection to your hair, leaving it silky, soft, and hydrated. It minimizes dehydration and prevents color fading while adding radiant shine to your locks. This fast-drying hairspray is featherlight and perfect for daily use.
Pros
Hydrates your hair
Reduces frizz
A little product goes a long way
Pleasant fragrance
Cons
Leaves your hair feeling sticky
This sun shield oil spray protects your hair from sun damage and saltwater. It contains essential minerals and active proteins that protect your hair and restore its natural radiance. It forms a moisture-locking barrier around each strand to prevent your hair from drying out. It repairs damaged tresses and leaves your hair feeling silky, soft, and shiny. It is formulated with SPF 8.
Pros
Provides maximum coverage
Hydrates your hair
Long-lasting effects
Affordable
Cons
This weightless hairspray blocks out humidity and UV rays and protects your hair color from fading. It contains nourishing properties that provide antioxidants to your hair, leaving you with silky, smooth, and healthy-looking hair. It claims to fight frizz, repair damaged hair cuticles, and restore overall hair health. This nourishing hairspray coats each strand with vitamins E and A to give you damage-free hair. This product has received numerous positive reviews on Amazon and the users have reported that it made their hair look smoother and gave it an overall healthier appearance.
Pros
Conditions your hair
Improves hair strength and texture
A little product goes a long way
True to its claim
Cons
This was our rundown of the best sun protection sprays for hair on the market. All these products are curated after a careful and in-depth analysis of their reviews. Just like our skin, our hair and scalp too, are susceptible to damage by the harsh sun rays. Thus, it is important to use a sun protection hair spray with adequate SPF. Read the section below to learn more about why you should invest in hair sprays with SPF.
Why You Should Consider Using A Hair SPF For Your Strands
To Maintain The Hair Color: Excessive exposure to UV rays can make the color of your hair look lighter or faded as it has a bleaching effect on the strands. It takes away the natural color and pigment and reduces the density of the color you naturally have. Harsh sun rays make your hair look dull and lackluster.
To Maintain Hair Hydration Levels: The moisture along the hair shaft gets dried up due to exposure to the sun. This makes your hair appear dry and frizzy, and also prone to easy breakage. A hair spray with SPF can effectively protect the strands from getting damaged under sunlight by forming a safe coating on the strands.
To Avoid Burning Of The Scalp: Scorching heat hitting your scalp can be dangerous as it may lead to the burning of your scalp, extracting all of its nourishment at once. It is important to protect your scalp to avoid dryness and burns with the application of a hair spray with SPF.
To understand the kind of hair SPF you need in order to protect your scalp and strands, check out the section below.
What You Need To Know About Sun Protection Hair Sprays — A Buying Guide
Try to opt for a professional-grade hair SPF that contains plant extracts that are beneficial in blocking UV rays. This will allow your hair to remain shiny and hydrated. However, plant-based sun protection may not work on certain hair types and you may have to opt for stronger, chemical-based UV protection hair sprays. Mineral blockers, on the other hand, include ingredients such as zinc and titanium dioxide which are more effective in offering protection from the harsh rays. These are preferred over other chemical-based blockers like octinoxate and oxybenzone.
Most hair sprays with SPF also offer added benefits like adding shine and volume to the hair. Apart from protective ingredients, most of these sprays are enriched with active proteins and essential minerals to reduce frizz, repair damaged cuticles, and moisturize the strands.
Hair care products today offer multiple benefits and have so many additional features for all-around care. Look for hair sprays that are long-lasting and long-wearing. Also, it is best to opt for products that offer good coverage and do not require frequent reapplication.
It is important to consider the hair color when choosing a hair sun protection spray. Lighter hair colors such as blonde hair may face more fading of color. To avoid this, using a leave-in conditioner can be of great help. For red and brunette hair, the fading may not occur rapidly or significantly. However, you must ensure to protect it with a conditioning spray that offers mild to medium UV protection.
Why Trust StyleCraze?
Pooja Karkala, the author of this article, is enthusiastic to try various skin care and hair care products. She put in hours of research and reviewed various hair care products to provide the best hair sun protection spray. She relies on hair sprays that not only protect your hair but are also non-greasy and make your hair smooth and shiny.
Frequently Asked Questions
Does heat protectant spray protect from the sun?
No, heat protectant spray does not offer sun protection; rather, it is utilized to style hair.
Can I spray sunscreen on my hair?
Yes, you can apply sunscreen to your hair to protect your scalp from the sun's damaging rays. But a sunscreen spray made for the body can make your hair look greasy. Instead, go for hairsprays with SPF that will protect your hair from UV rays and keep your hair looking lively.
What is the best oil to protect hair from the sun?
Coconut oil is the best oil to protect hair from the sun.
Does argan oil protect hair from the sun?
Yes, argan oil protects hair from the sun as it has antioxidant properties that help to retain moisture in the hair and forms a barrier from the sun's rays.
How can I protect my hair from the Sun?
Use a hair sunscreen spray or wear a hat or scarf to protect your hair from the sun.
Recommended Articles