How Do Chia Seeds Help Boost Hair Growth?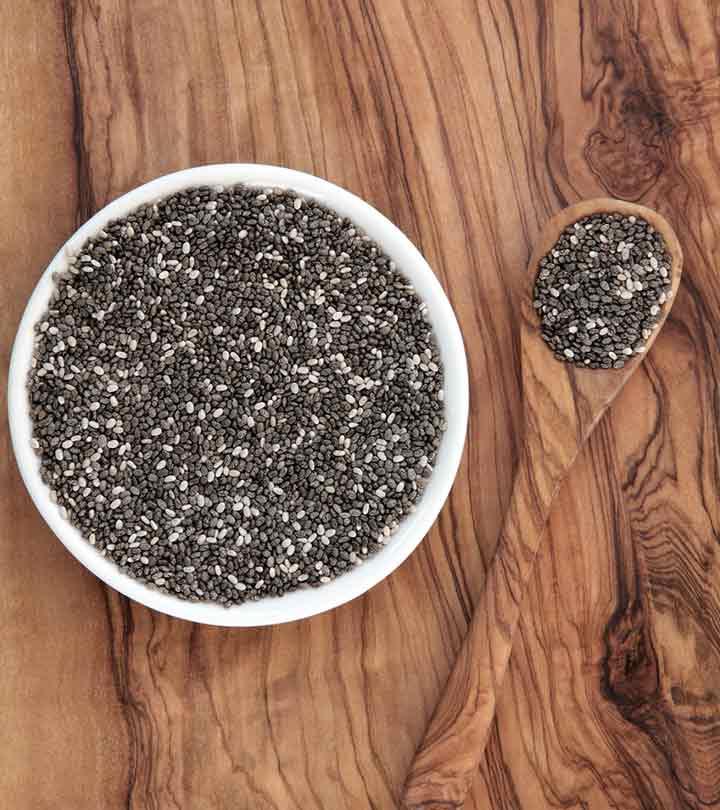 Chia seeds are rich in essential fatty acids, protein, fiber, vitamins, and minerals. They beat most other cereals, grains, and veggies in terms of their nutritional value. But they are not just limited to food and diet. Haircare enthusiasts use them in hair masks, gels, packs, and salves to make their tresses healthier and more vibrant. Chia seed oil is also getting popular as a natural hair emollient. Read on to know the benefits of chia seeds for hair growth and how you may use them.
Reasons Chia Seeds Are Good For Your Hair
1. May Condition Dry Scalp
Chia seeds are rich in omega-3 fatty acids. They help improve skin (or scalp) hydration and barrier function (1). Some believe applying chia seed oil with a carrier oil to a dry scalp may help treat dandruff.
2. May Boost Hair Growth
These seeds are rich in protein (2). They also have anti-inflammatory properties (3). The seeds may fight the ill effects inflammation may have
3. May Improve Hair Texture
Chia seeds contain more calcium, phosphorus, and magnesium than most other food grains. They also have a higher concentration of iron, selenium, copper, and zinc (3). These minerals are believed to be vital for promoting hair texture. Chia seeds may also boost hair shine.
Most of the benefits of chia seeds on hair are based on anecdotal evidence. While more research is warranted in this regard, using chia seeds for hair growth seems to show results.
Using Chia Seeds For Hair Growth
1. Chia Seed DIY Hair Gel
You Will Need
Chia seeds: 4 cups
Filtered water: 1 cup
Aloe vera gel: 1 tablespoon
An essential oil of your choice: few drops (optional)
A small-medium saucepan
A small-medium mixing bowl
Process
Combine 1 cup of filtered water with 4 cups of chia seeds in a mixing bowl.
Let the mixture sit overnight.
Transfer the mixture to a saucepan the following day.
Heat the mixture on medium heat for 10 minutes.
Strain the swollen chia seeds using a stocking/strainer.
Stir in a tablespoon of aloe vera gel.
Gently whisk.
Add a few drops of your favorite essential oil. Mix well.
Apply the hair gel to damp hair and let it sit for 20 minutes.
Wash off the residue and proceed with your hair care regimen.
Why This Works
The essential fats, protein, and vitamins of chia seeds may nourish the scalp, hair fibers, and follicles. The aloe vera gel conditions hair and hydrates dry scalp (4). Mixing chia and aloe makes a hydrating slurry that is easy to apply to your hair. This DIY hair gel is 100% vegan, gluten-free, and suits most hair and scalp types.
2. Chia Seed Deep Conditioning Hair Mask
You Will Need
Organic coconut oil: 6 tablespoons
Apple cider vinegar: 2 tablespoons
Organic honey: ¾ cup
Chia seeds: 1 teaspoon
A medium, microwave-safe mixing bowl
A glass jar or container
A microwave oven
Process
Combine all the ingredients in the mixing bowl.
Heat it in the microwave oven for 30 seconds to melt the coconut oil.
Mix the contents well. Set aside to cool.
Apply the hair mask to shampooed hair, from roots to ends.
Let it sit for 3 to 5 minutes.
Rinse well and proceed with your regular hair care routine.
Store the leftover mixture in a small glass container and use it whenever you please.
Why This Works
Coconut oil reduces keratin loss and hair damage by easily penetrating and nourishing the scalp (5). Apple cider vinegar has powerful antimicrobial properties (6).  It may balance scalp pH and impart hair shine. Crude honey may help treat seborrheic dermatitis and dandruff and even help prevent hair loss (7).
3. Chia Seed Damage-Control Hair Mask
You Will Need
Chia seeds: 4 teaspoons
Apple cider vinegar: ½ cup
Process
Soak the chia seeds in water for at least 30 minutes.
Drain the water and transfer the seeds to a bowl.
Add ACV to the swollen seeds and mash them. This will create a slushy paste.
Apply this paste to your hair, from roots to tips. Do this before shampooing.
Leave it on for at least 30 minutes.
Rinse and shampoo as usual.
Why This Works
Apple cider vinegar (ACV) has antimicrobial properties (6). Together with chia seeds, ACV may condition, nourish, and strengthen your hair, follicles, and fibers.
You may add chia seeds to soups, salads, smoothies, and juices for added nourishment.
Crush the seeds and add the powder to your puddings and desserts.
Sprinkle chia seeds on your breakfast cereals.
Add a teaspoon of chia seeds to a glass of lemonade or your morning tea.
Conclusion
Chia seeds are rich in essential fats, protein, amino acids, and minerals essential for hair growth and maintenance. While more research is warranted to further understand the benefits of chia seeds for hair, anecdotal evidence supports their use. Get a bag of chia seeds today and whisk a quick hair mask or gel using our recipes. With regular use, your hair will turn out shinier and healthier.
Key Takeaways
Chia seeds are packed with omega-3 fatty acids, proteins, vitamins, and minerals.
These nutrients may help boost hair growth and improve its texture.
You can prepare DIY hair gels and masks with this wonderful natural ingredient to boost the health of your hair.
Recommended Articles
Sources
Articles on StyleCraze are backed by verified information from peer-reviewed and academic research papers, reputed organizations, research institutions, and medical associations to ensure accuracy and relevance. Read our editorial policy to learn more.
The following two tabs change content below.