Hairstyles for Asian Women
Asian hair is characterized by silky smooth, straight and shiny- a type of hair women all around the world envy. So much our time and energy is spent in hair straightening and then in keeping them straight. And with genetically straight hair type and strong cuticles its very difficult for them to curl their hair! But with the right heating equipment everything is possible!
Here is Michelle Yeoh. So beautiful and so simple. A simple hairstyle Asian women with medium length hair. A beautifully balanced combination of soft curls and bangs without a defined partition.
Here are a few more of the latest Asian haircuts for women that you can try.
Option 1:
A center partition with your hair flowing down your shoulders. Perfect for you, if you have a small forehead and straight flowing hair and are on the look out for an elegant hairstyle choice.
Option 2:
This is slight variation of the previous style with soft curls at the tips of your hair. Looks so different and glamorous doesn't it? And all it took was a slight curling at the hair tips!
Option 3:
If you like to keep your hair short, choices are a plenty for you too! Here is one example of the short hairstyles for Asian women that shows how to keep it fun, simple, sexy and short at the same time.
Option 4:
This is another short hairstyle option. The 'old is gold' chin-length bob with some light fringes. Looks super cute! To add a little bit of fun look to it, throw in some highlights. That is if your a hair color person.
Option 5:
Another variation of the bob hairstyle! Its angular with hair length kept longer in the front and short at the back. Spice it up by adding a side-swept bang!
Option 6:
If you're not a big fan of having your hair on your face, here is the solution. Sport the bangs with no hair on your face. All you need to do is braid up the first few strands and pin it up! This is ofcourse an option only if you don't have a huge forehead.
Option 7:
This is another stylish look you can do with your hair. Let the bangs frame your face and with the hair on the other side, just take two to three sections and twist them up individually and secure with pins. Curl your hair from the mid-section of your hair length. And you are ready with these asian girl hairstyles.
Option 8:
If the summer is getting to you, pull your hair up. There is no reason why you can't have your hair up and look fabulous at the same time. Want to glamorize it? Tie it up with a bright colour ribbon.
Option 9:
This is one style that never goes old! Keep your hair at shoulder length and bangs on the forehead. So very cute!
Option 10:
But it isn't possible to keep your hair open at all hours. Ponytails needn't cramp your style anymore. A single pony with a colourful headband or may be two ponies just like your old school days. Isn't that cool?
With their soft facial features, don't you think they rock these asian hairstyles for women?
So which style are you aching to sport next??

The following two tabs change content below.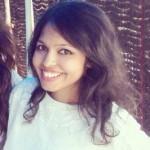 Latest posts by Karishma Sehgal (see all)